Hello friends, we're nearing the end of 2021 (the year we thought would be different from the last and wasn't, but at least we had our paper, stamps, ink and glue!) so it's time to look back and review some highlights!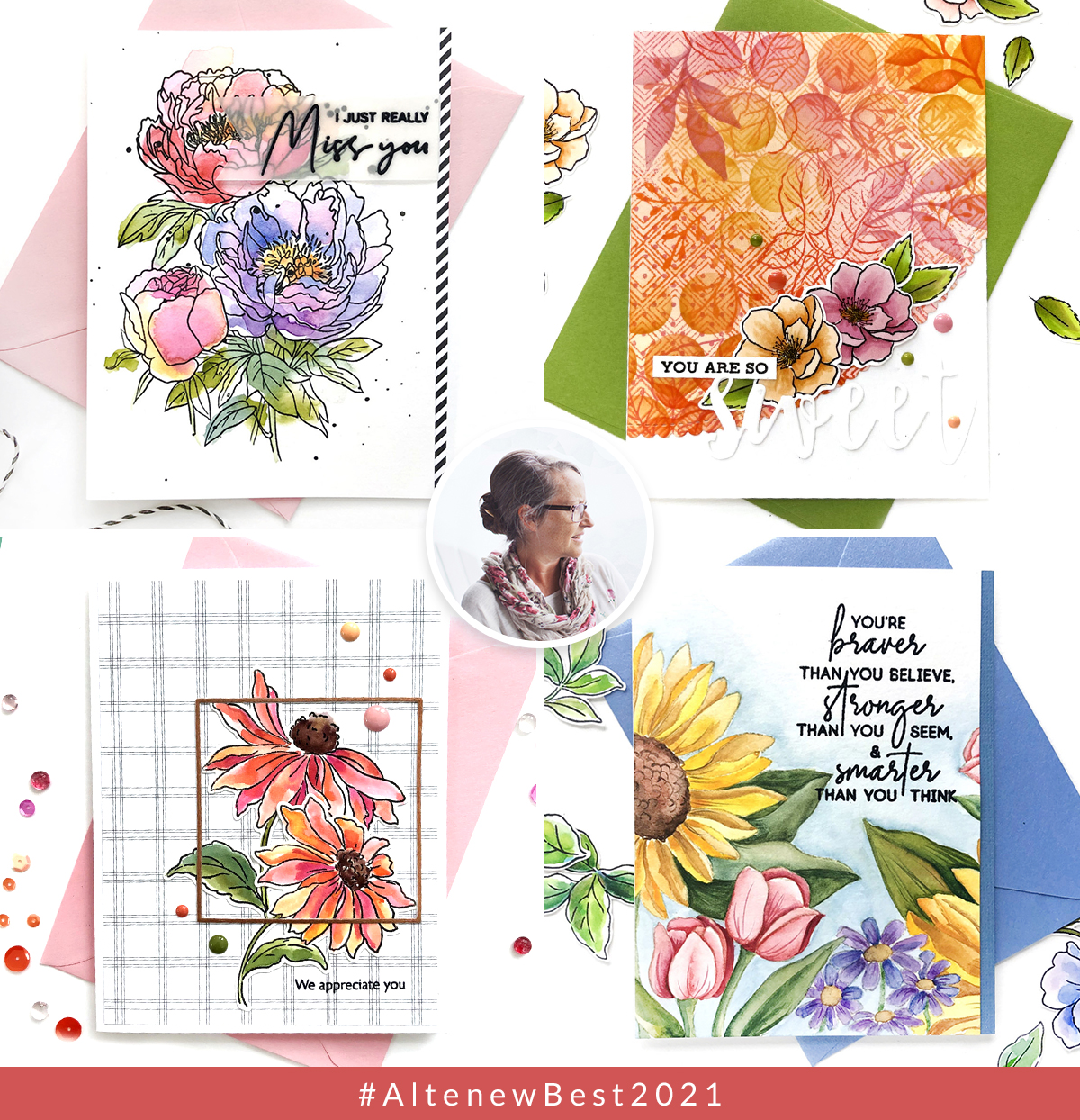 I'm joining Altenew today for a blog hop to review some of the favorites from the last 12 months! If you're arriving here from Nicole's blog, you're in the right place and if you're jumping in midpoint, you can click back to the beginning at the Altenew blog and be inspired by SO. MANY. BEAUTIFUL. PROJECTS!
This post contains affiliate links that are listed below. By clicking through to purchase products linked, you are helping to support this blog at no additional cost to you which allows me to continue to provide you with creative inspiration and instructive help.
As always there are too many favorites that make it hard to select just a few, so how about one favorite per month of 2021!
Here we go!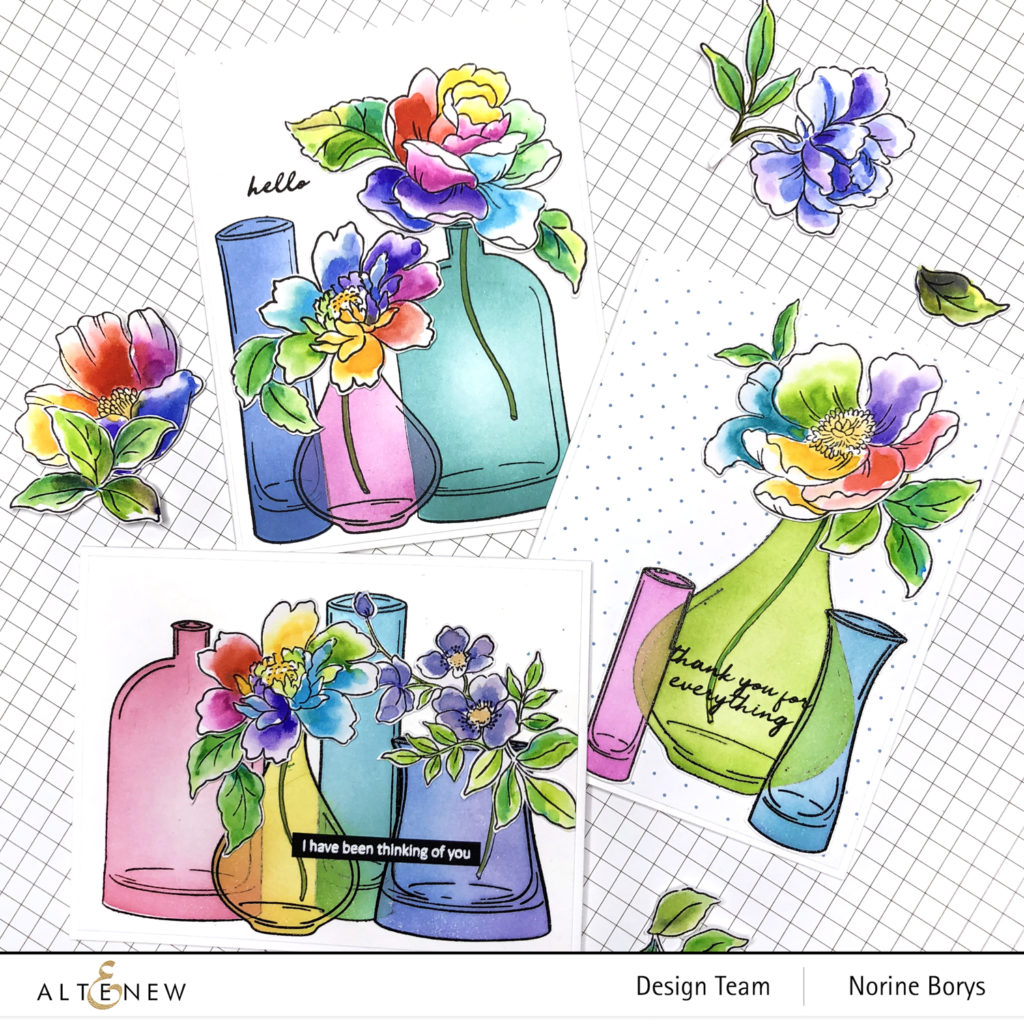 On January 30th I created and posted these cards along with*gasp* A VIDEO! which you can find here. I wanted to demonstrate ink blending in a transparent fashion and these bright, happy colors still do it for me! (Product links below).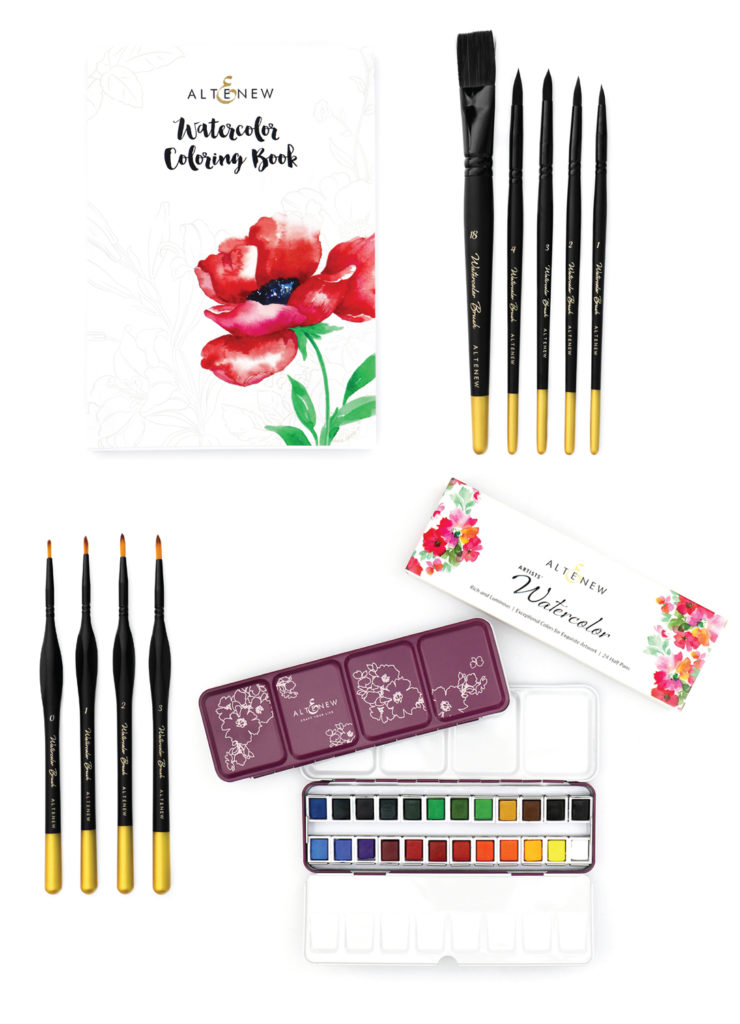 In February, Altenew released a gorgeous little coloring/painting book and I LOVE it!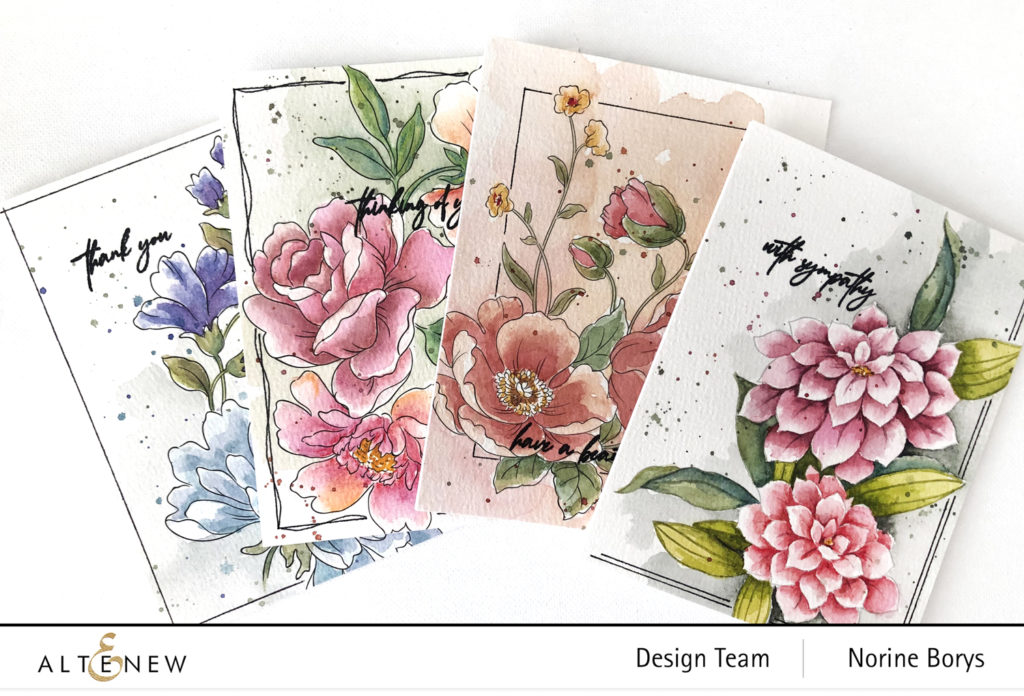 Here are four cards I made – three are like stamped outline images and the fourth is a no-line painting card. Please check out the post here for more.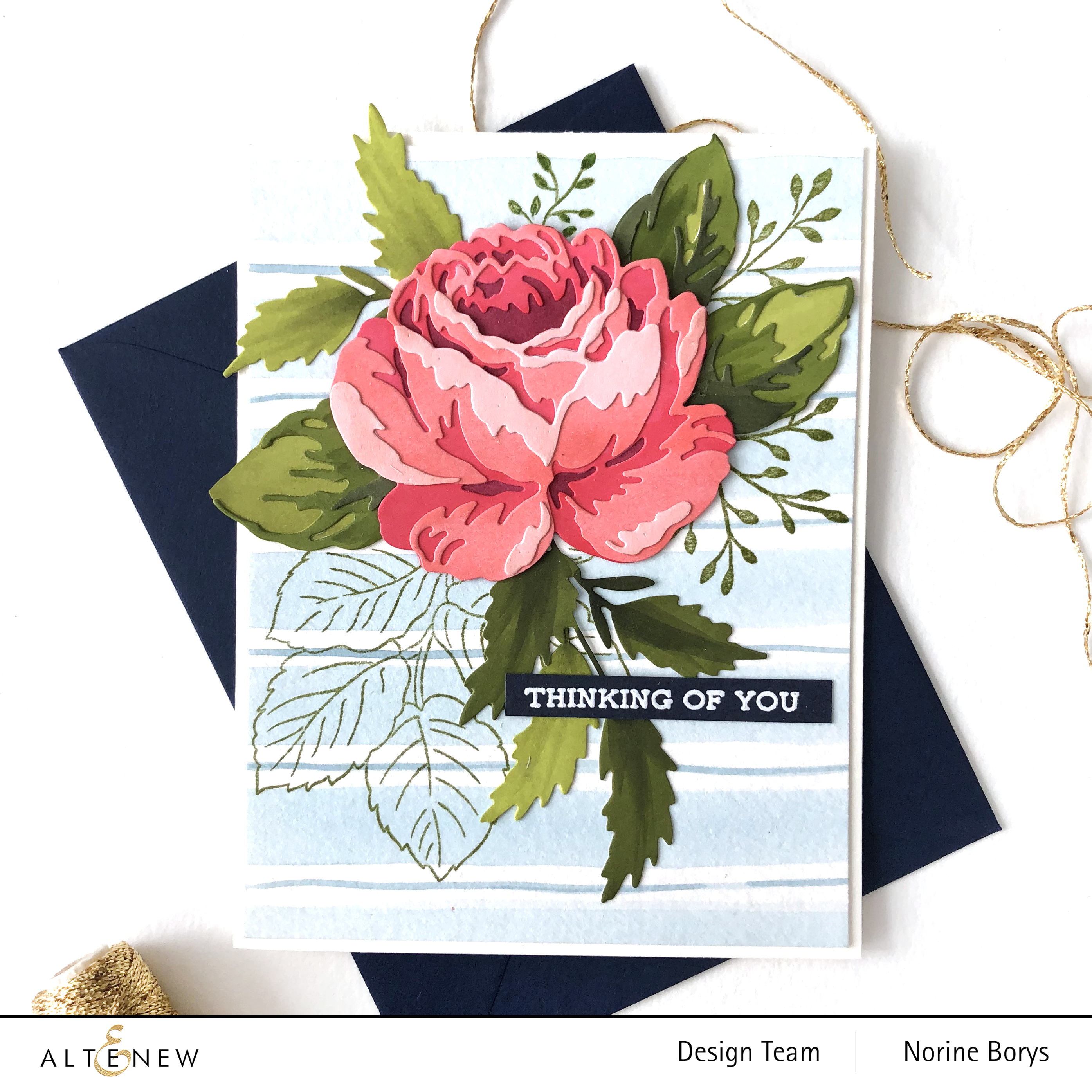 In March, Altenew released the Craft-A-Flower Antique Rose and I paired it with a couple of stamp sets for a background design. This post can be found here.
April's Build-A-Flower was this Coneflower set – included in my Fave Four graphic above. It's a layering stamp set but I used just the outline layer and some more Watercolor Brush Markers. Check out the post here.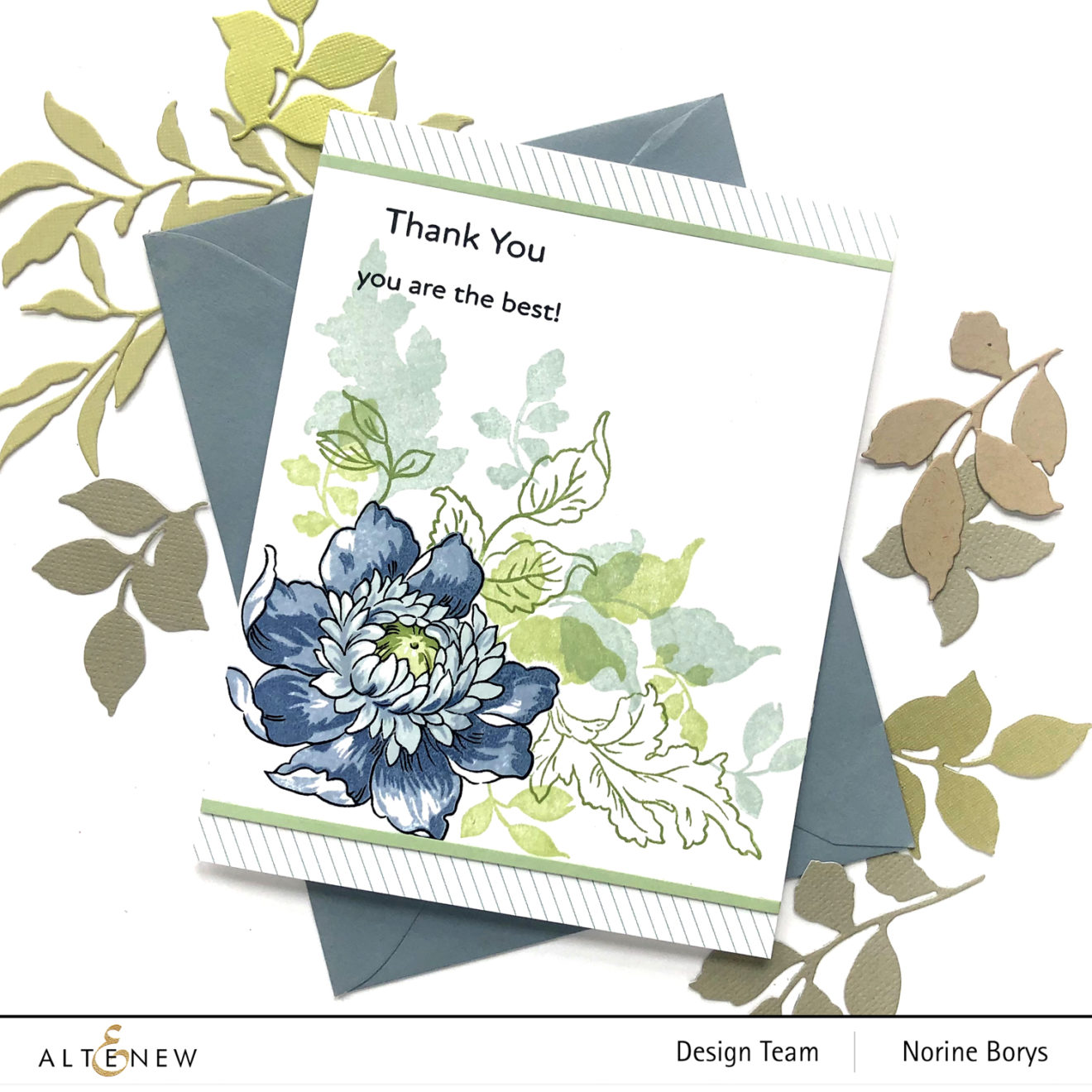 May was the release of the Altenew Majestic Bouquet stamp set, an 8"x 11" set of assorted outline and layering stamps that I used in varying combinations to create this card.
I wonder if you remember this double-fold vellum layered card in June, made with the Peeking Leaves Cover die? A bit more work than my usual card, but every bit worth it! See more here.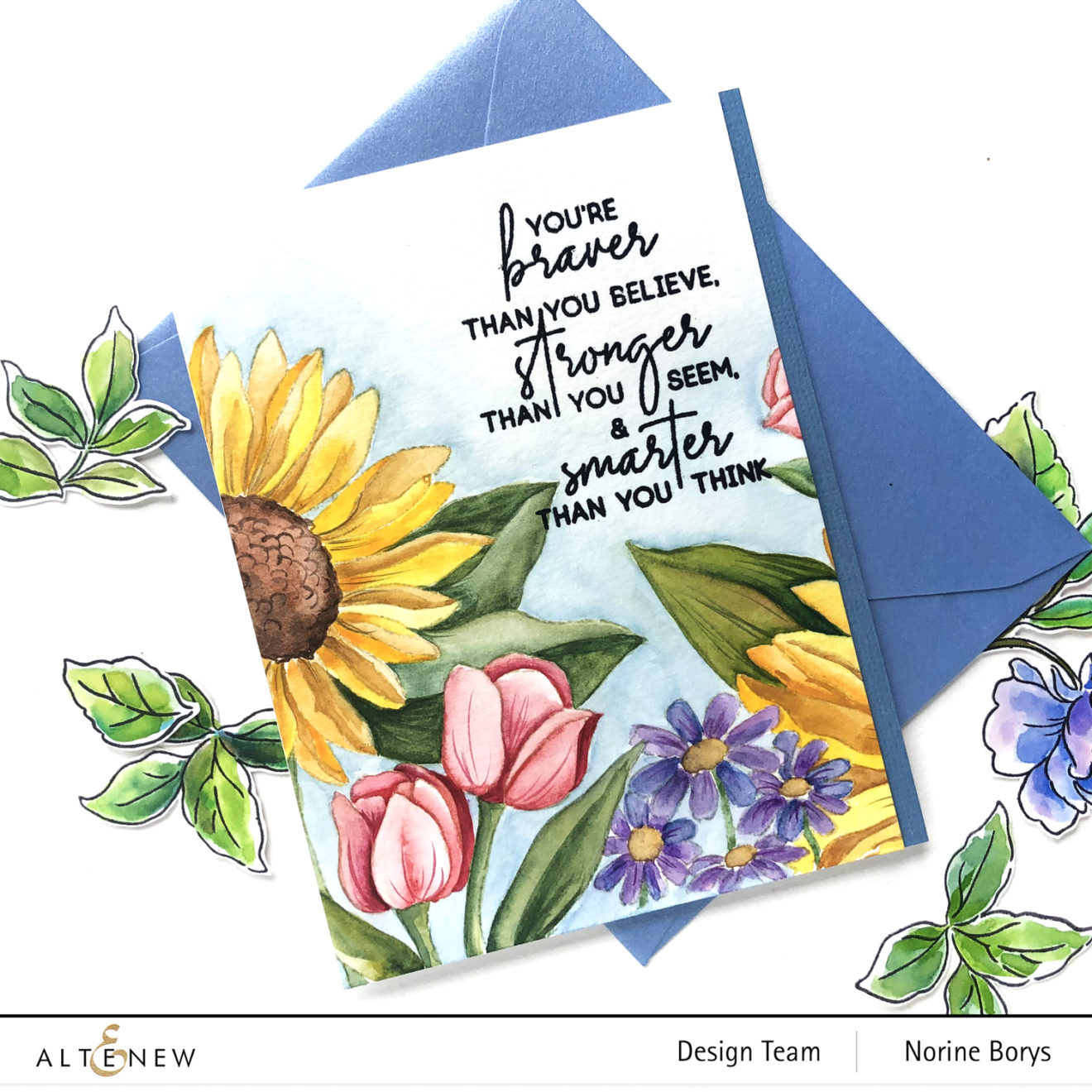 July was the first month for the Altenew Craft Your Life Project Kit, which includes stamps, dies, embossing folders and stencils, and I actually used all four products in the Seasonal Blooms kit to make 3 different cards. See the others here.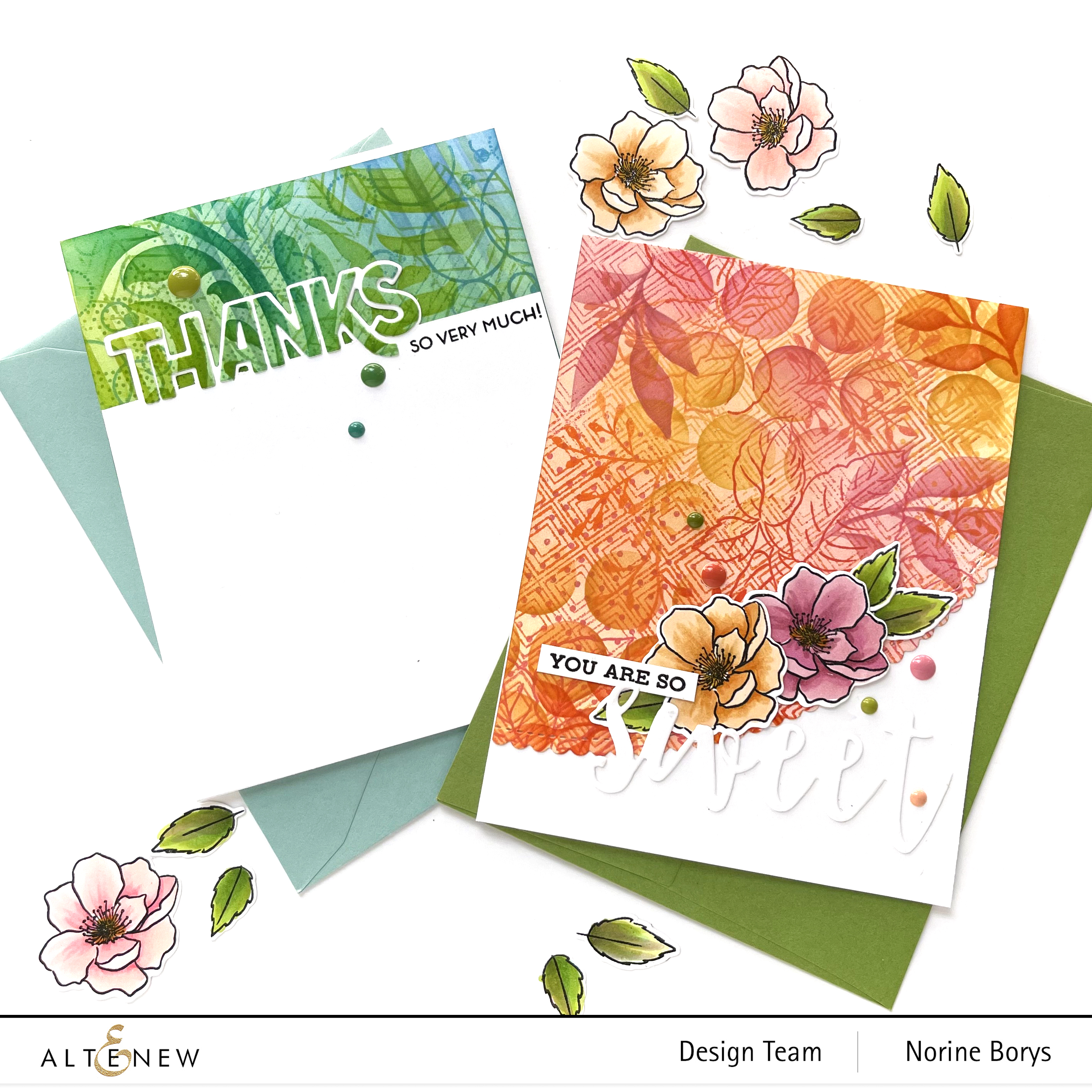 I used many multiple products including stencils, stamps and inks to add layers of color and design, creating my own patterned paper for these two cards in a post in August. I should do this technique again, I really loved the process!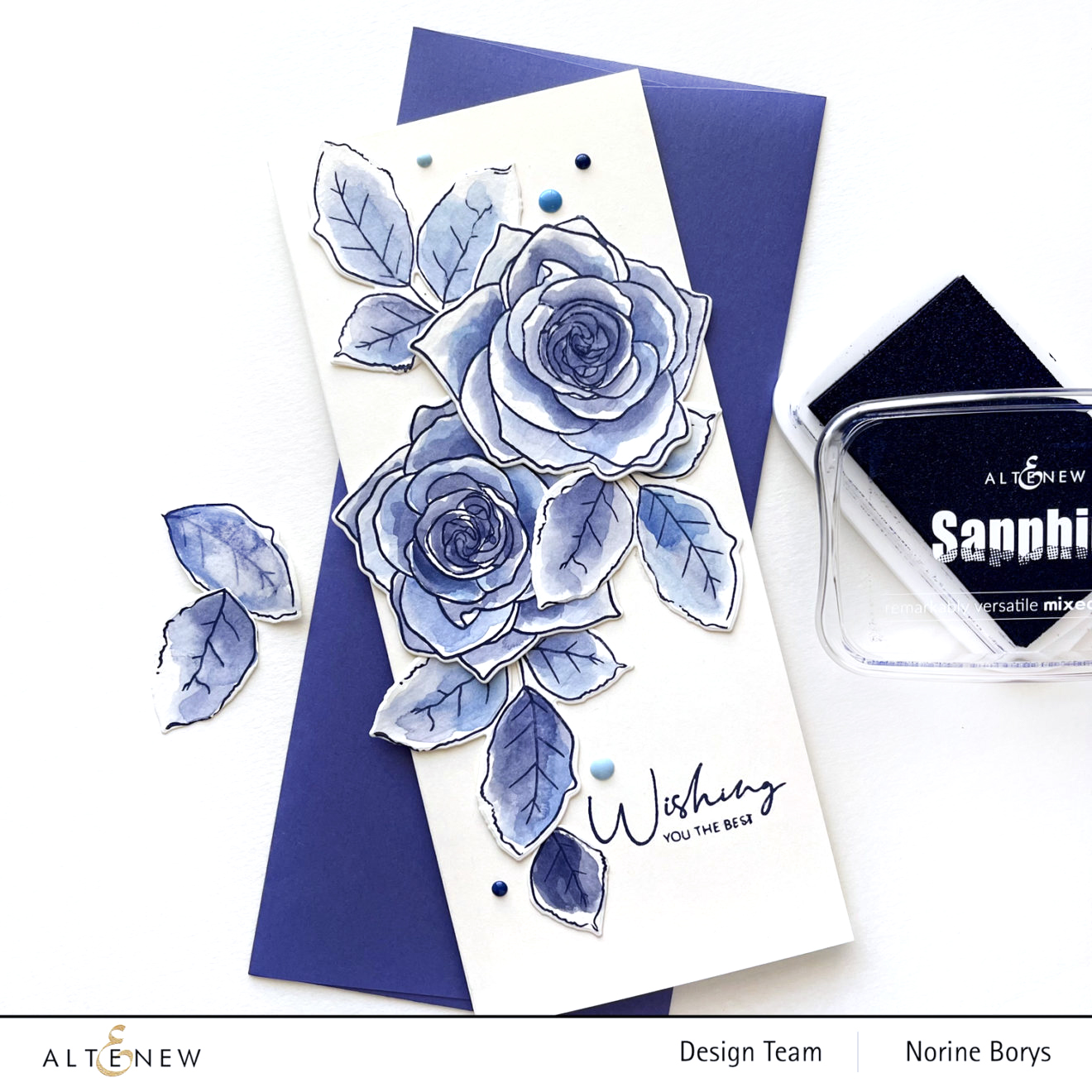 This study in blue, using Altenew's Mixed Media inks in the Glacier Caves color family, made it's appearance in September and I love how the slimline size is so well suited for such large and opulent blooms. Check out this post here.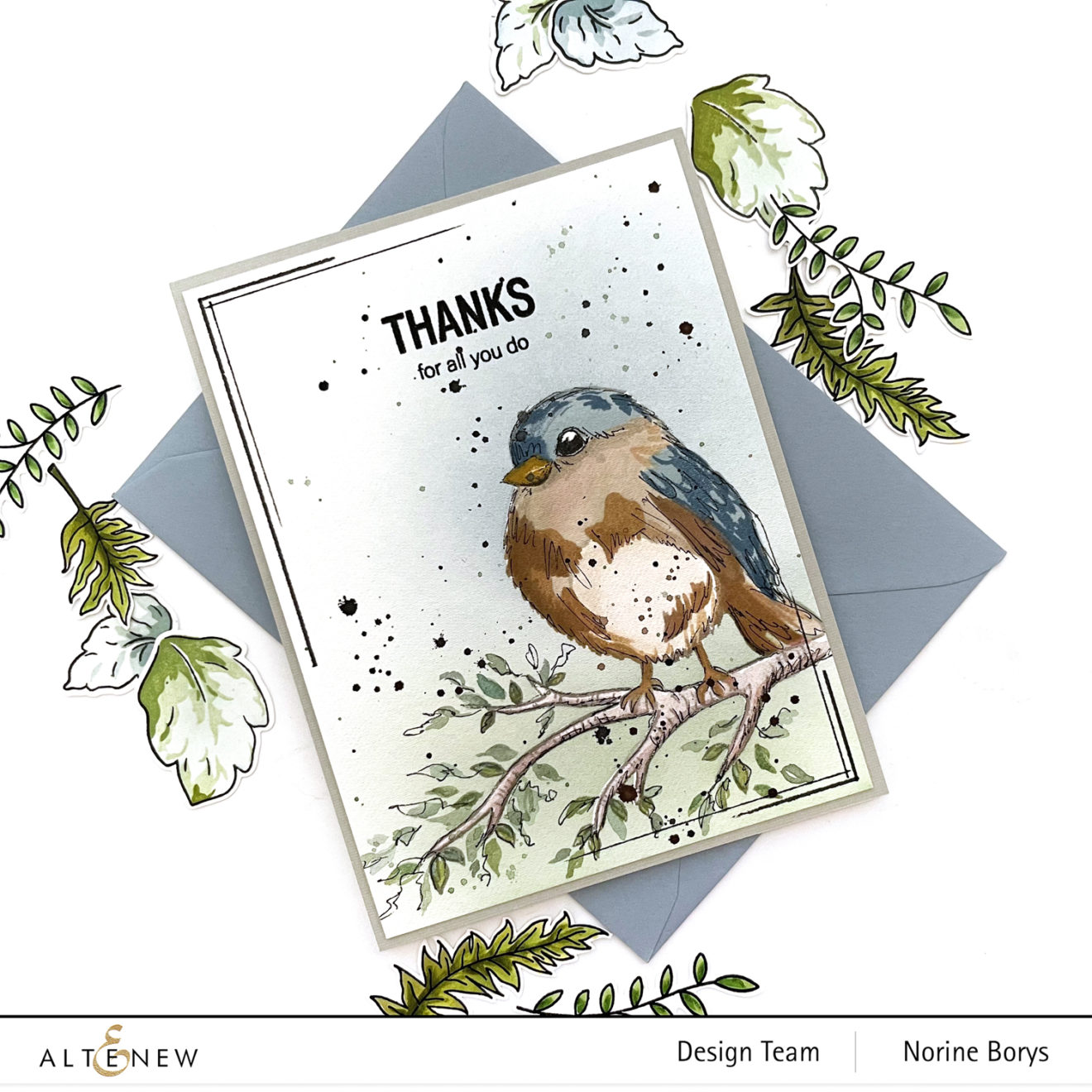 Amid all these floral cards, there has to be room for this sweet little Bird of the Woods card from October! I find that Altenew's ink colors are so well suited for this sort of "realistic" inking. You can see more here.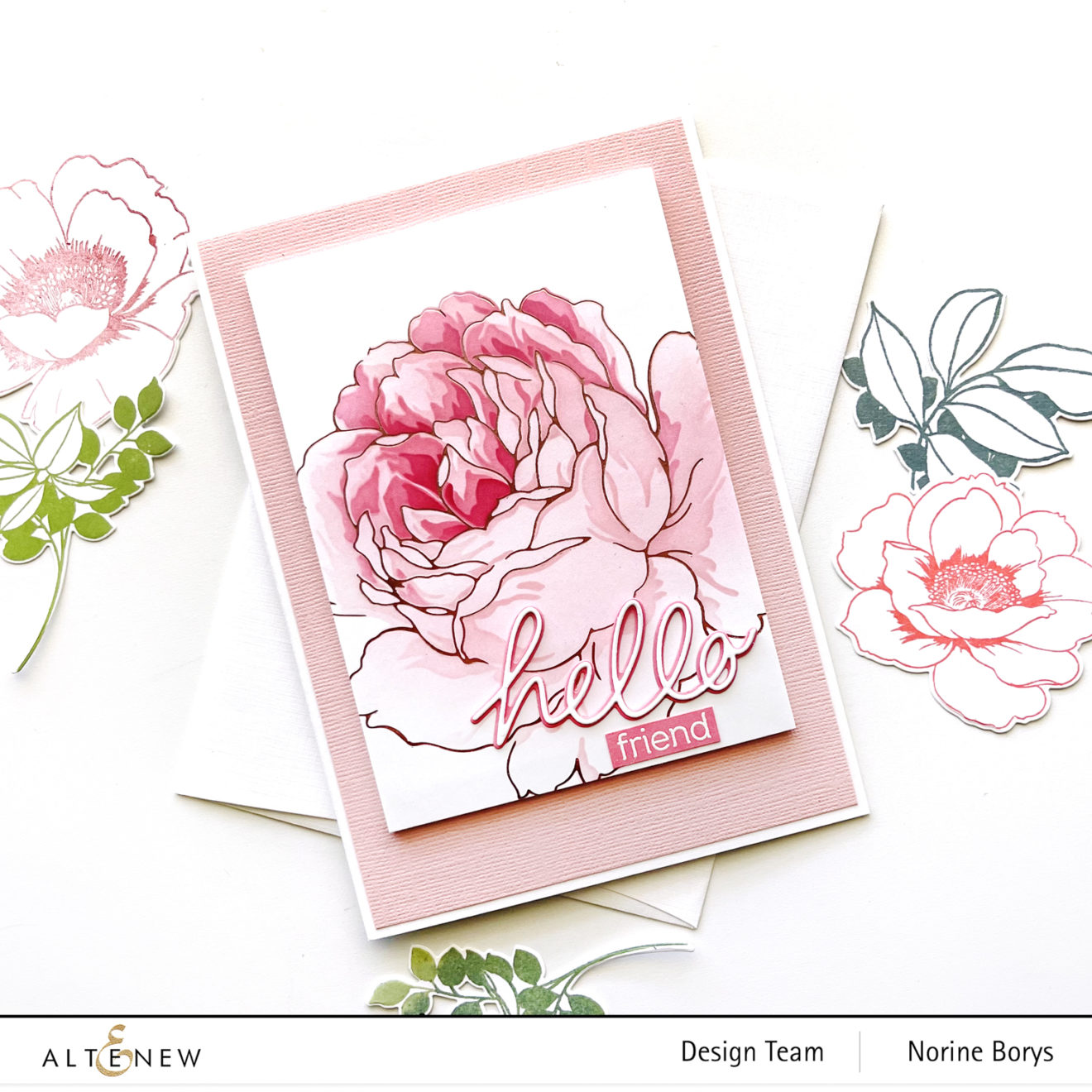 By the later half of this year I had finally caved to the Hot Foil trend and am I ever glad I did, when Altenew released this beauty in November! The Gilded Rose Hot Foil plate coordinates with a stencil set which I used on this card. You can see more of it here.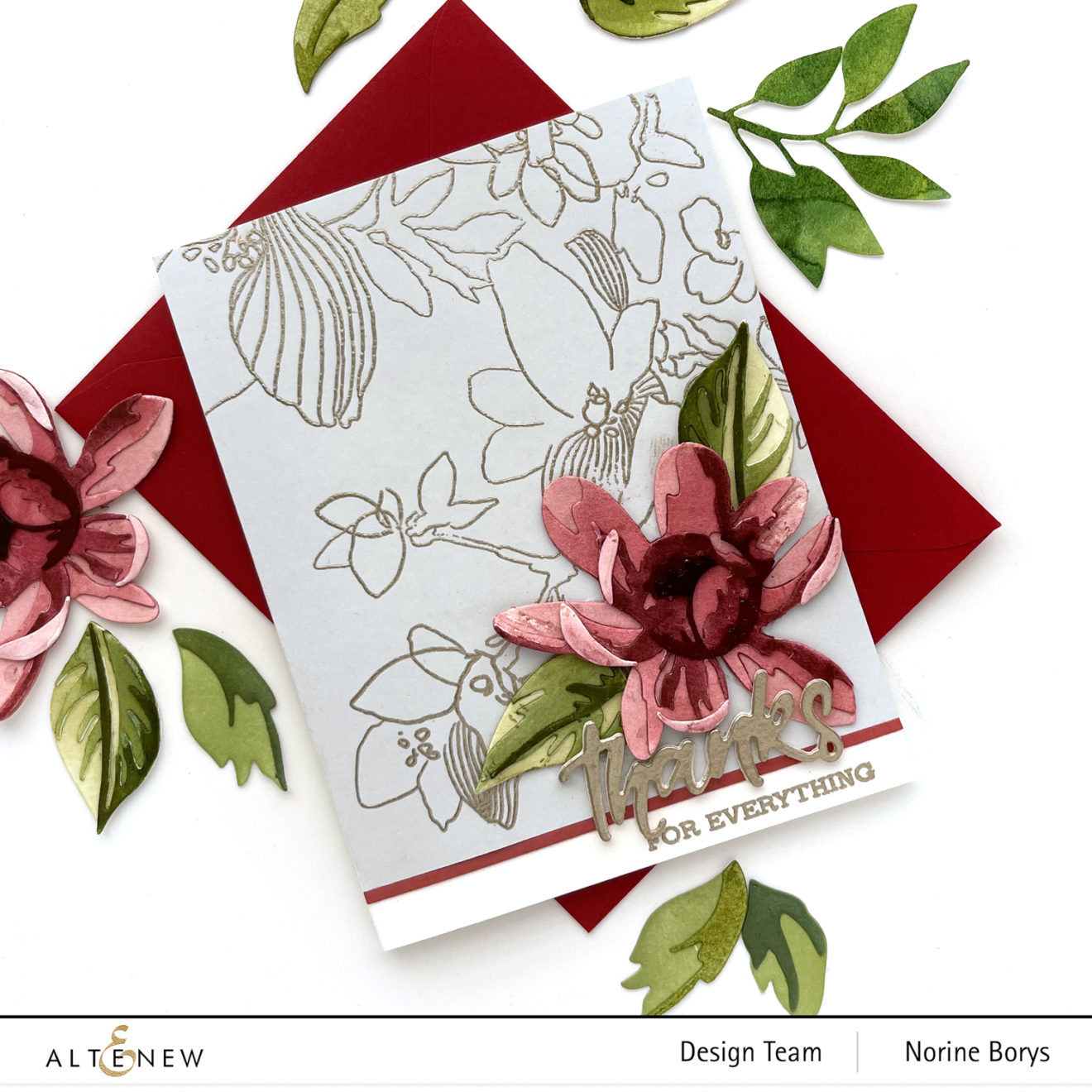 For my last favorite of the year, I have another Craft-A-Flower selection – this time the Carolina Allspice, which I layered against an outline stamped background floral. I watercolored the die cut layers and I love the subtle coloration that gives. This post can be found here.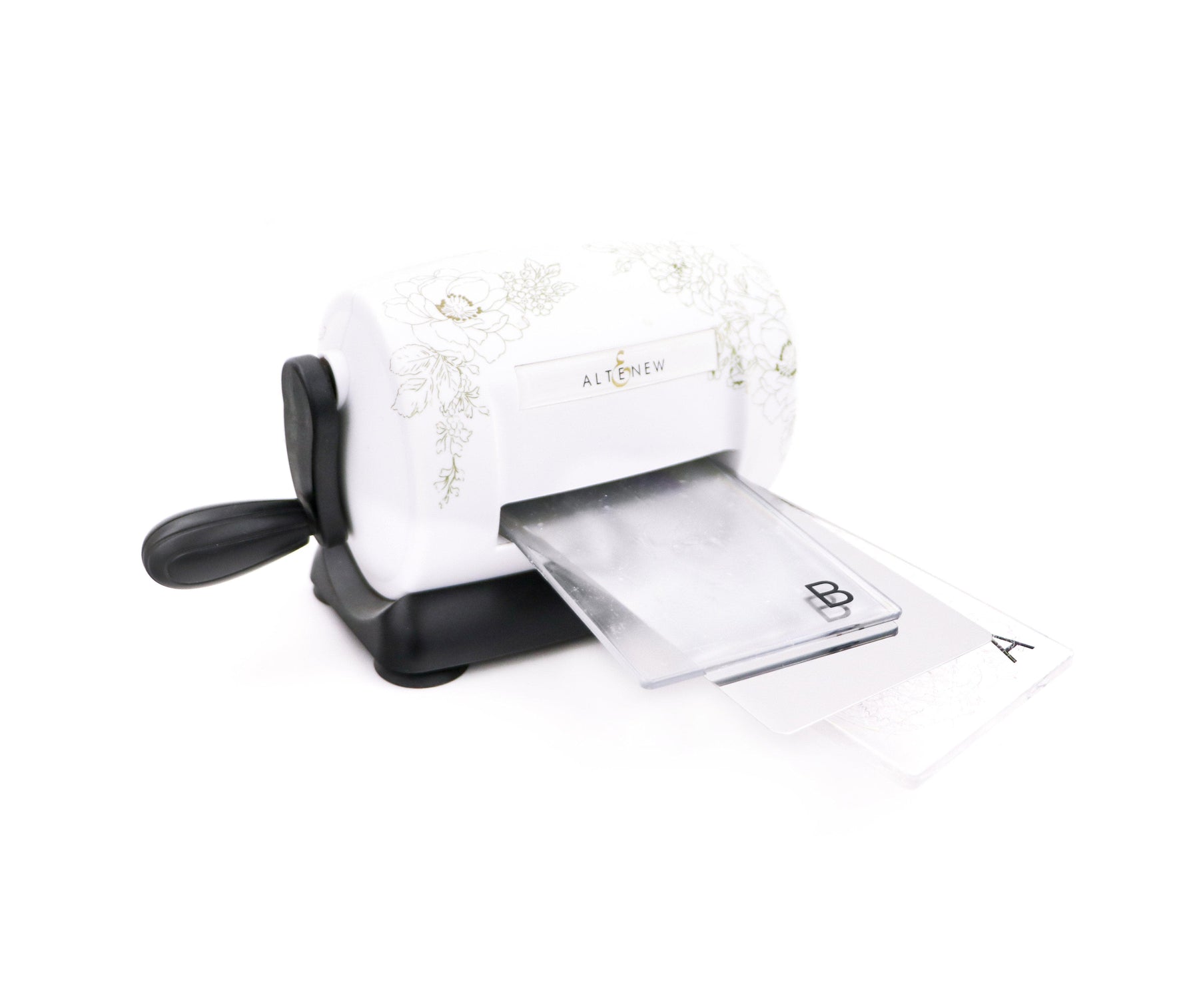 Before I go, I want to highlight one more favorite from 2021, and that is the Mini Blossom die cutting machine! Altenew sent this to me back in 2018 when I joined the design team and I'm embarrassed to admit that it's taken me till this year to really use it! The size is perfect and it sits right there on my table beside my mini paper trimmer and it's hard to know if there's another tool in my craft space that gets as much use now!
If you're interested in any of the supplies I used to create these projects, I've linked the main ones below for your convenience, and you can check the original posts for more comprehensive Link Lists.
Your next stop on the hop now is Pam Boedeker's blog, but before you go, be sure to take note of the prizes being offered!
Prizes:
Altenew is giving away a $30 gift certificate to 5 lucky winners and a $15 gift certificate to 4 lucky winners! Please leave a comment on the Altenew Card Blog HERE or share Altenew projects with #AltenewBest2021 on social media by 01/06/2022 for a chance to win. 9 winners will be announced on the Altenew Winners Page on 01/08/2022.
If you loved today's hop and want to see more "best of the best" you can click back to the 2019 and 2018 posts here.
Blog Hop Order:
SUPPLIES USED: