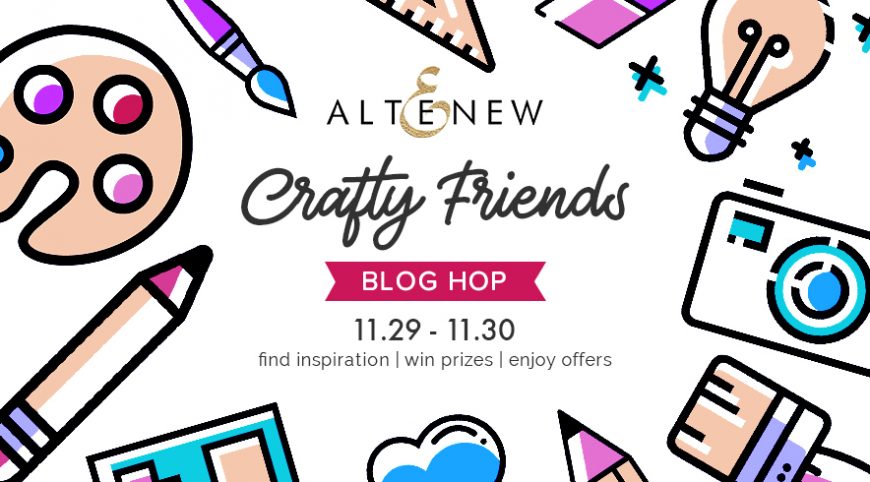 Howdy all!  Today is day 1 of our blog hop, and it's a fun one!  Altenew is heading up this two-day blog hop to celebrate the best thing about the paper crafting community – the friendships and connections it allows us to form.  You may have arrived here from the blog of Kathy Racoosin but if you've happened here by chance, be sure to click over to the host of the hop where it all starts – the Altenew Card Blog.
I've been paper crafting since 1997 and one of my earliest paper crafting friendships I made came about when a girl I met at a crop asked if I would be interested in sharing a hotel room in a distant city for a CKU-Scrapbooking event we were both planning on attending.  In any other realm that would seem creepy, right?  Bunking with someone you don't really know??  But I'd seen her scrapbook pages and knew she was ok!  "One of us" as it were.  Every day of our trip, she left me a little goodie bag of paper or embellishments in our room and that was when I came to understand just what a generous, giving person she is.  We are still the dearest of friends although our paper crafting pursuits have evolved – mine to card making and hers to genealogy, but we have celebrated birthdays, big family events (the arrival of grandchildren) and the ups and downs of life experiences ever since.  Besides Thelma, I've met and come to be wonderful friends with many other women, both locally and afar, and the shared common interest of paper crafting has provided the glue that cements our bond.  (That's a paper crafting analogy if ever there was one!)
 Today I'm sharing a card that I will send to one of my crafty friends to tell them that their friendship means a lot to me!  I created it using the
Flowing Butterfly stencil
from the recent stencil release, along with some
Sunkissed Metallic Shimmer Spray
mixed with
modeling paste
.
I began by blending the shimmer spray with the modeling paste to the darkest intensity I wanted, then dividing the paste in two and adding more paste to one of the parts of colored paste to create a paler version of the orange color.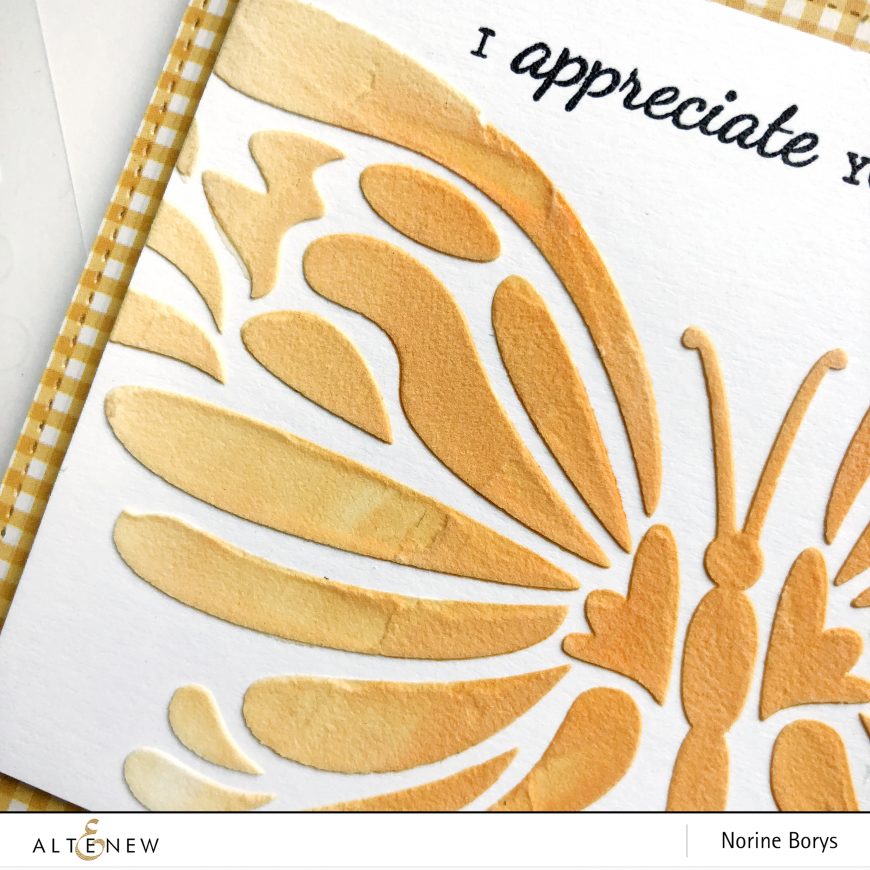 I taped the stencil to my card stock (masking off the smaller butterfly on the top of the stencil) and used a palette knife to smear the darker paste over the center of the butterfly shape.  Then I picked up some of the lighter color of paste and continued to smear paste over the openings from the darker paste to the edges.  Without any effort at all, you get this graded color blend that is quite lovely!  I set it aside to dry and loved the finished effect so much that I didn't want to detract from the overall design with a lot of distracting embellishments.
I added the sentiment  and then trimmed the design to a square and popped it up on black fun foam (to compliment the black inked sentiment) that is trimmed to the exact same size as the butterfly card stock.  You don't see the black when looking at the card straight on, but it shows from an angle and looks pretty cool.  Finally I created an enamel dot tail extending from the body of the butterfly and mounted the paste covered card stock onto some gingham patterned paper.  A simple yet striking balance.
Thanks for stopping by today!  Your next stop on the hop is Chameleon Art Products.  Besides all the creative inspiration you'll find on the hop today and tomorrow, there are prizes!
Altenew is giving away a $50 gift certificate to 5 lucky winners and one Altenew Academy class to 5 lucky winners. There are also 12 awesome friends who are celebrating with us, and they are offering the following prizes:
My Sweet Petunia: 3 MISTI stamping tools(Memory, Original, and Mini)
Jennifer McGuire Ink: Altenew $50 gift certificate & 10 handmade cards
Online Card Classes: 3 class spots
Create and Craft TV: £50 gift certificate
Ellen Hutson LLC: $30 gift certificate
Chameleon Art Products: 1 pack of 5 Chameleon Pens
Stamp & Scrapbook Expo: $25 gift certificate
Butterfly Reflections Ink: $25 gift certificate
Simon Says Stamp: $25 gift certificate
Scrapbook & Cards Today Magazine: 2 copies of Scrapbook & Cards Today Fall 2018 issue
Scrapbook.com: $25 gift certificate
Tombow USA: 1 pack of 10 Dual Brush Pens
Be sure to leave comments by Sunday, December 9th, 2018 for a chance to win! 37 winners will be chosen at random from the comments left on all of these blogs listed below and will be announced on the Altenew Card Blog and Altenew Scrapbook Blog on December 15th, 2018.
As well, I'll be drawing one name from all the comments left here on this post for a $20 Altenew gift certificate and will announce the winner by Dec 9, 2018.
Here is the complete list of the blog hoppers for today in case you should encounter a broken link.
Altenew Card Blog
Jennifer McGuire
May Sukyong Park
My Sweet Petunia
Kathy Racoosin
Norine Borys – you are here.
Chameleon Art Products
Svitlana Shayevich
Kristina Pokazanieva
Raquel Bowman
Keeway Tsao
Butterfly Reflections Ink
Virginia Lu
Laura Jane
Simon Says Stamp
Lilith Eeckels
Dana Gong
Alex Syberia
Stamp & Scrapbook Expo
Zinia Redo
Jessica Frost-Ballas
Zsoka Marko
Meghann Andrew
Kay Miller