Hey, hi! Happy Memorial Day. If you are in the military or have someone serving/who has served, we thank you for what you have given so that we can have carefree cookouts and fun times with family and friends!
I have a couple of catch-up cards to share today – from the May Technique Tuesday Animal House club kit called Opal and Otis the Otters.
This post contains affiliate links that are listed below. By clicking through to purchase products linked, you are helping to support this blog at no additional cost to you and that allows me to continue to provide you with creative inspiration and instructive help.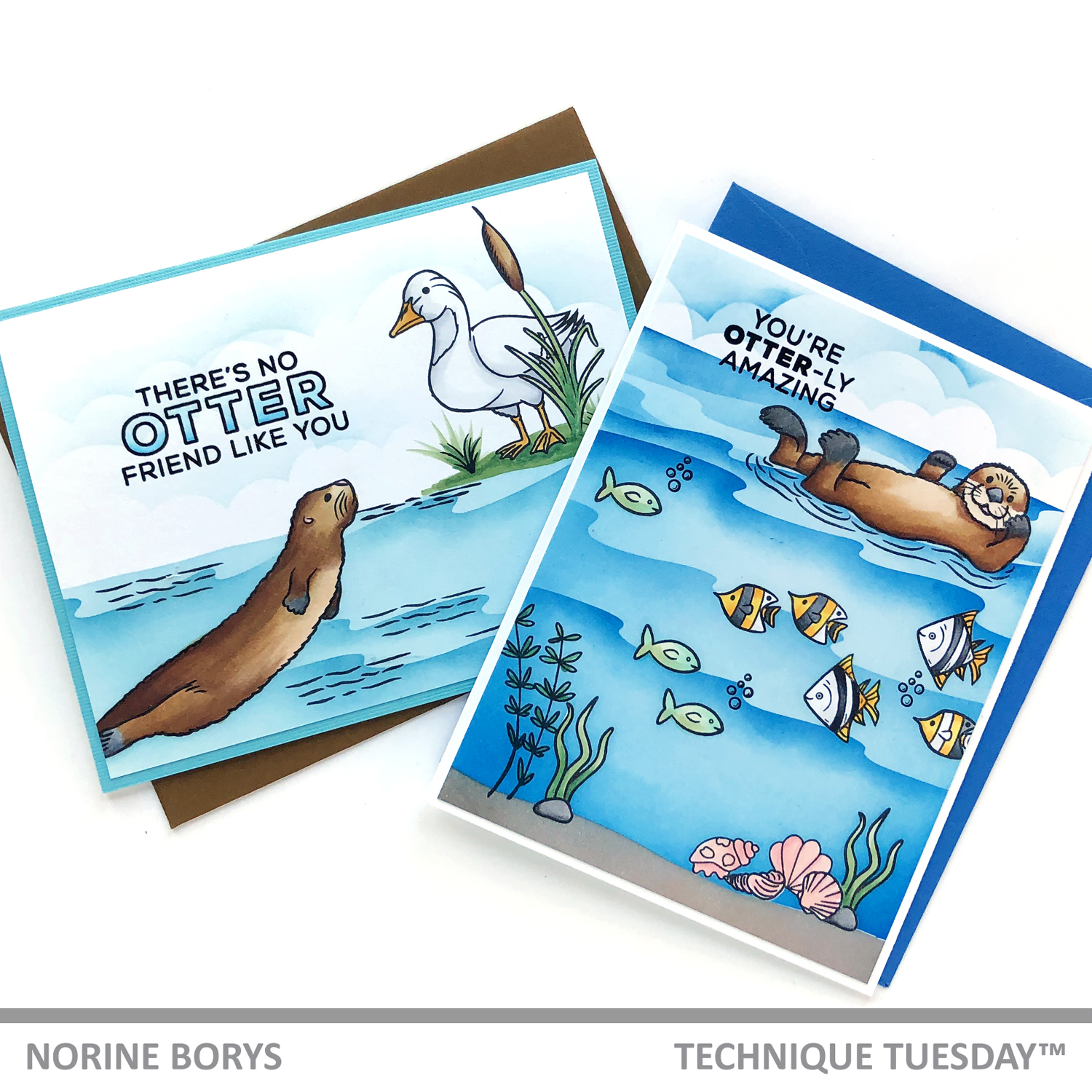 I used each of the otter stamps on two separate cards and incorporated several small stamps from other stamp sets that support the scenes.
For my first card, I used the stamp of the floating Otter, Opal? Otis? I can't tell actually, but he-she's have a good little float! I used seashell, fish and seaweed stamps from the Nancy and Nick, Phyllis and Finn and Sid and Susan stamp sets to create an underwater scene.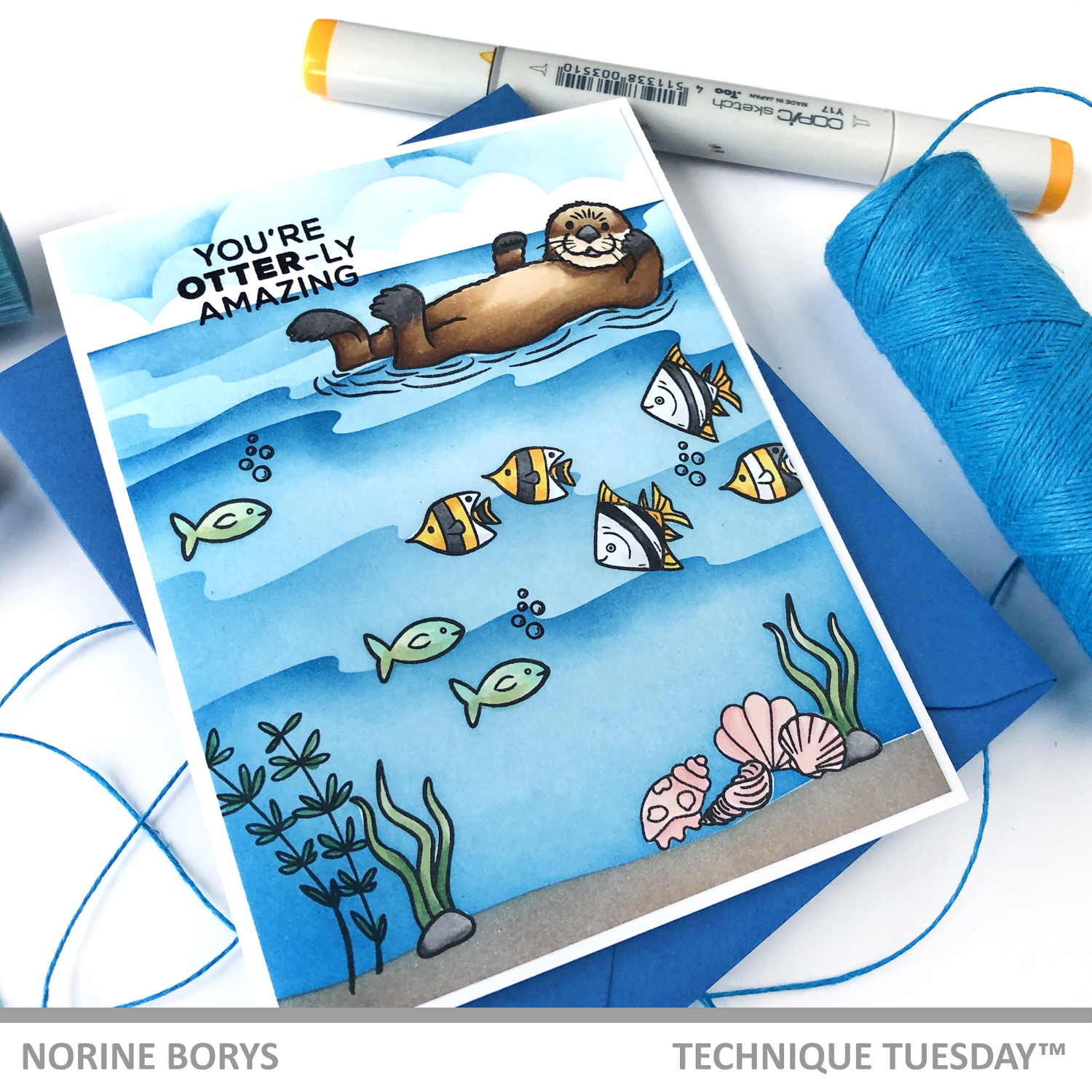 I also, I confess, did a LOT of masking. I stamped each of those individual images onto masking paper and fussy cut them to be able to cover up the colored images and ink-blend a background overtop.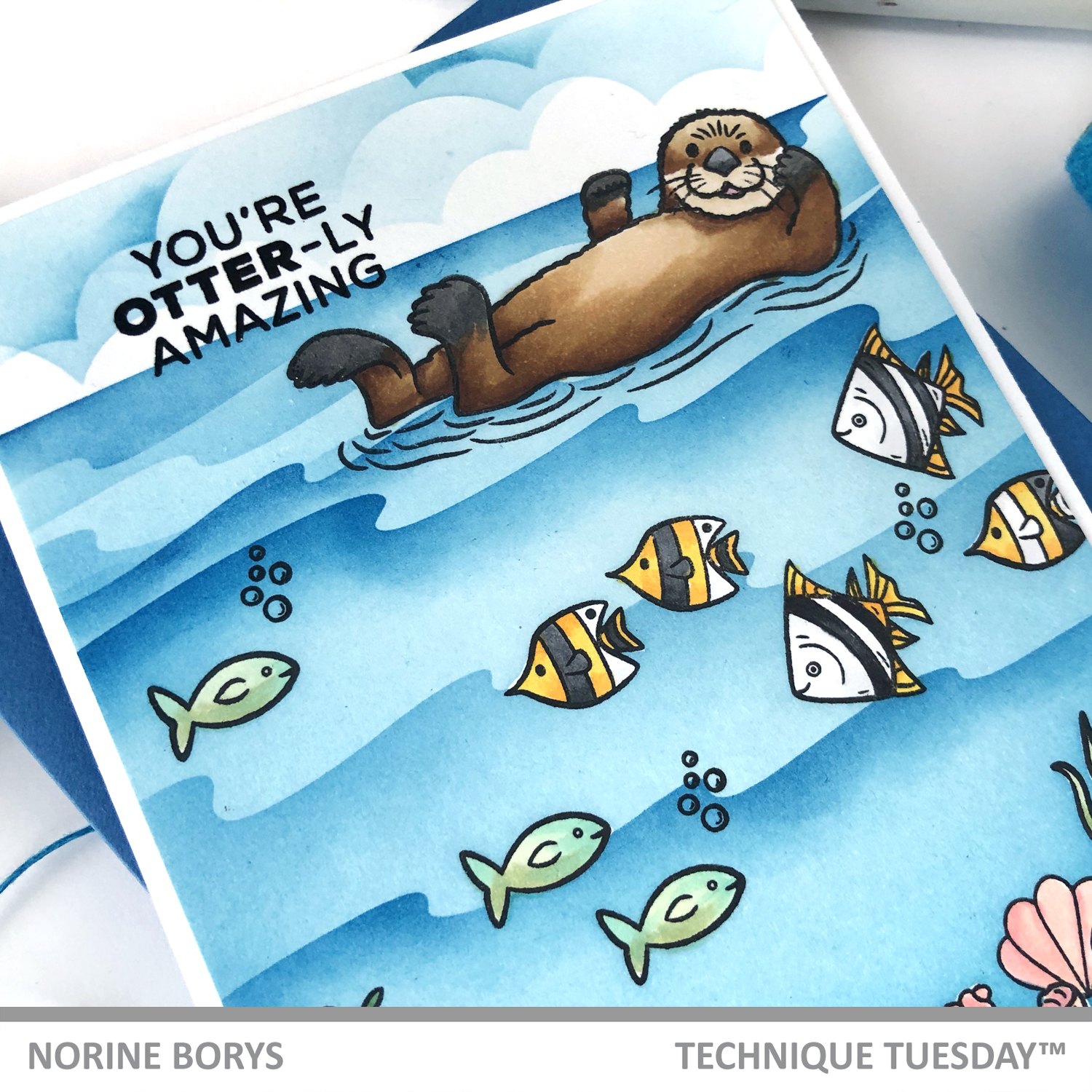 I stamped with Copid-friendly Simon Says Stamp Intense Black ink on Neenah cardstock and colored with Copic markers. Then, masking all the shapes, I ink-blended a light shade of blue for the background. I then die cut some "wave" edges from masking paper with a Hello Bluebird background die and used them to add more wavy lines with darker shades of blue ink.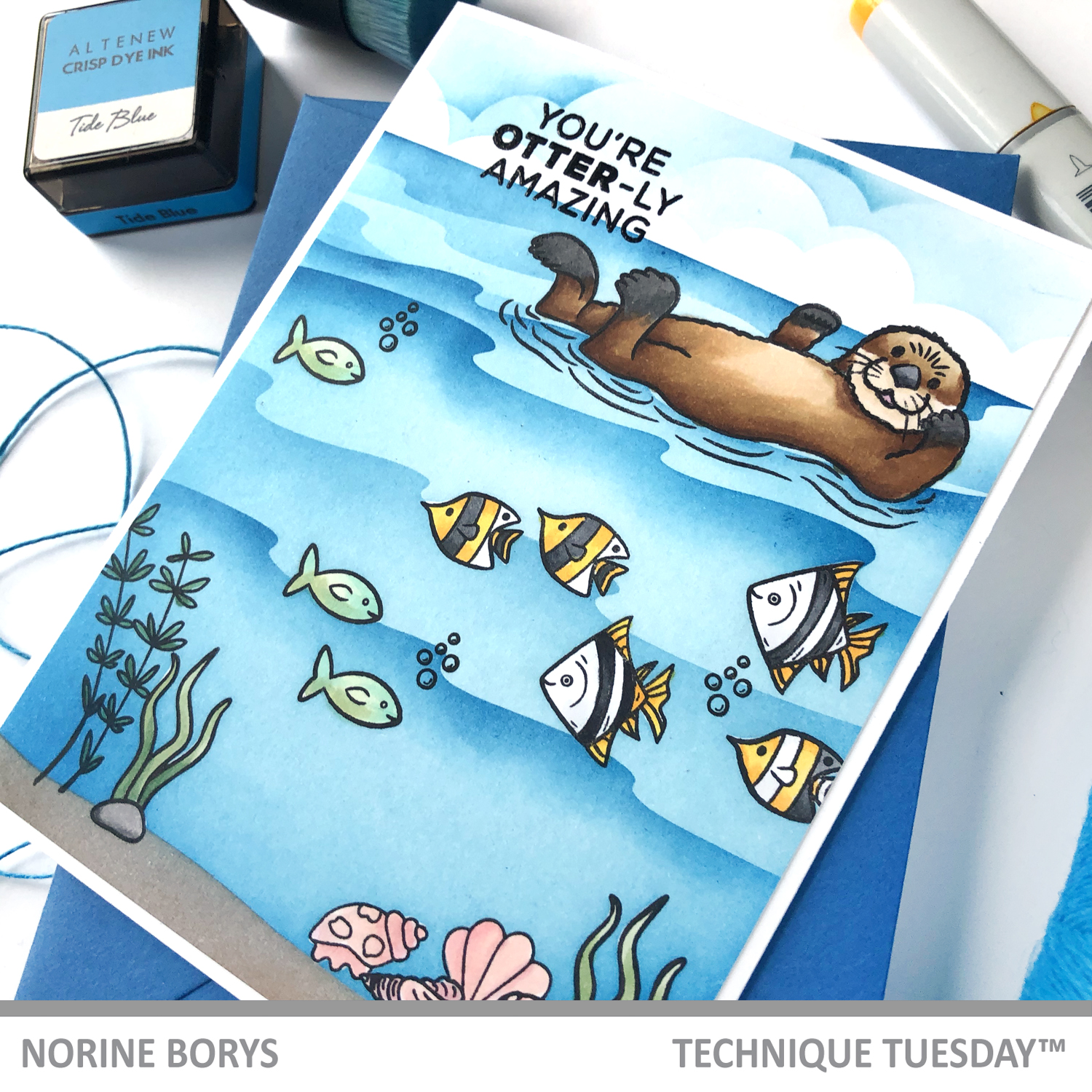 I masked the sandy sea-bottom and inked more color there, then used a cloud stencil to add clouds in the sky above the water line and finally, stamped a sentiment from the Otter stamp set before adhering it to a folded Neenah card base.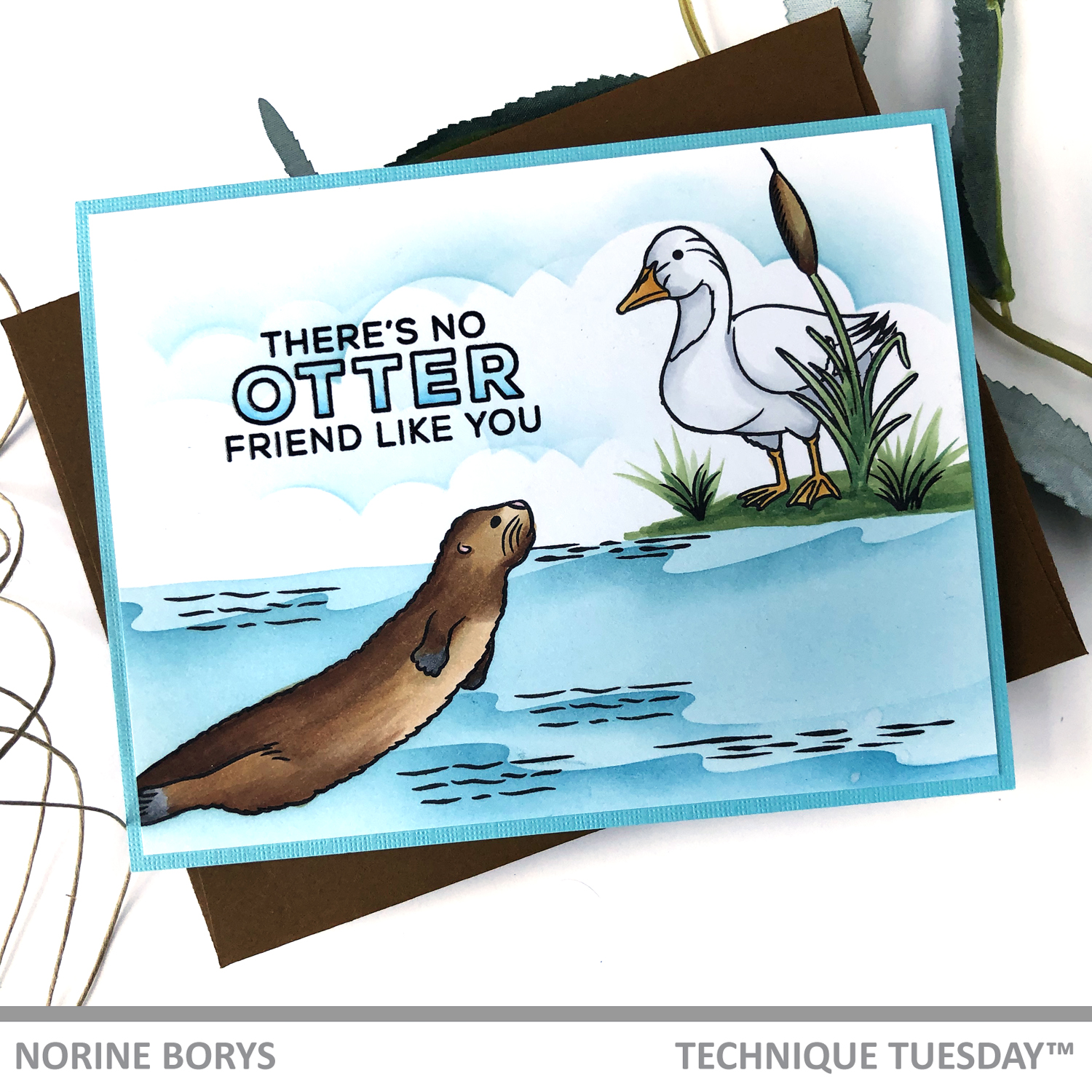 Next is a card using the second Otter stamp along with a couple of stamps from the Lucky Duck stamp set from Technique Tuesday.
Again, stamping, inking, coloring, masking and some more wave action! The duck, cattail and grassy tufts are from the Lucky Duck stamp set and the rest is from the Opal and Otis set.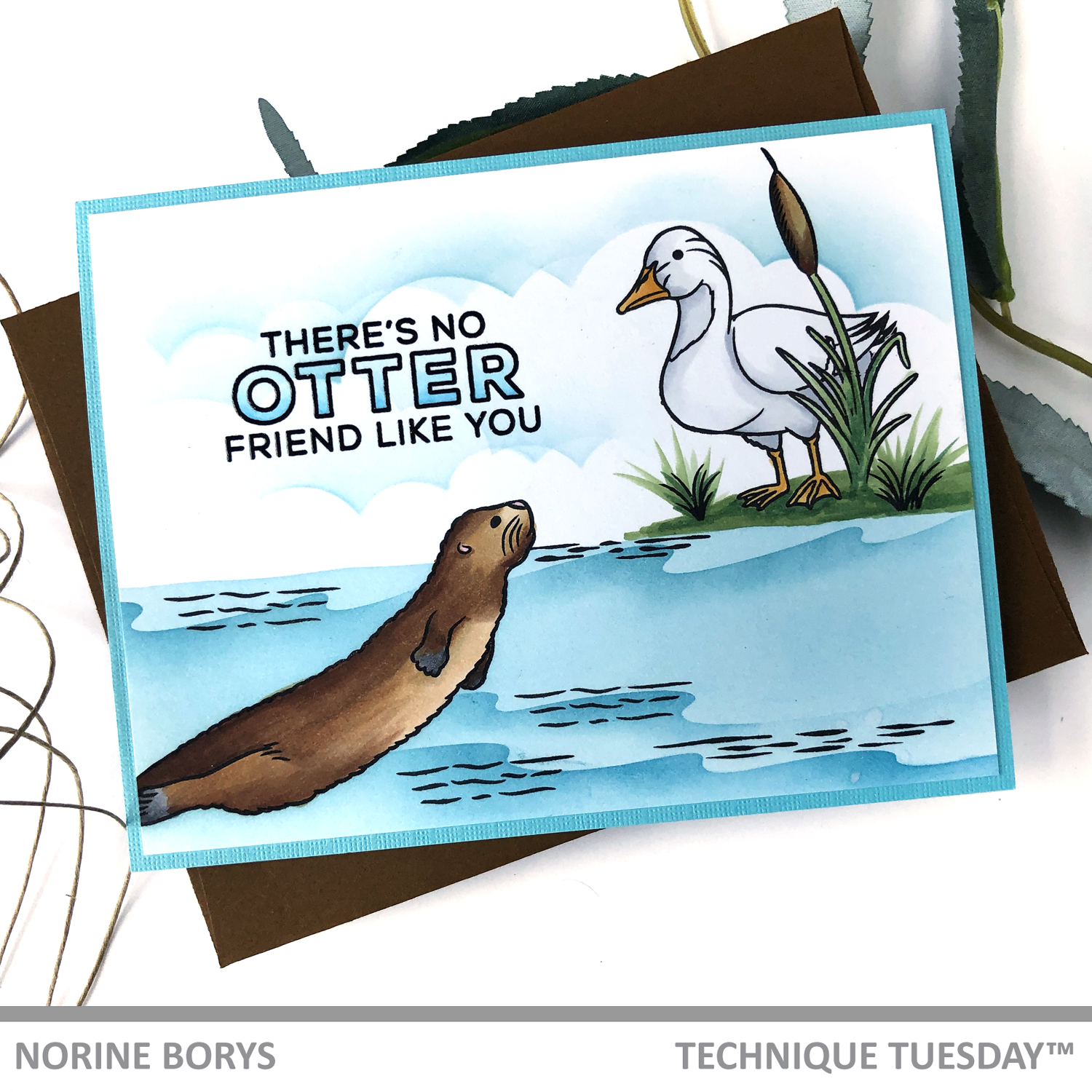 Originally I had a very lightly colored cloudy sky but realized as I photographed, that editing would remove the clouds because of how pale they were, so I went back with the Cloudy Sky stencil and layered on more ink, plus a couple of oopsies. But I'm telling myself that clouds in the actual sky overlap each other and have blurry edges so my card is really QUITE realistic, lol!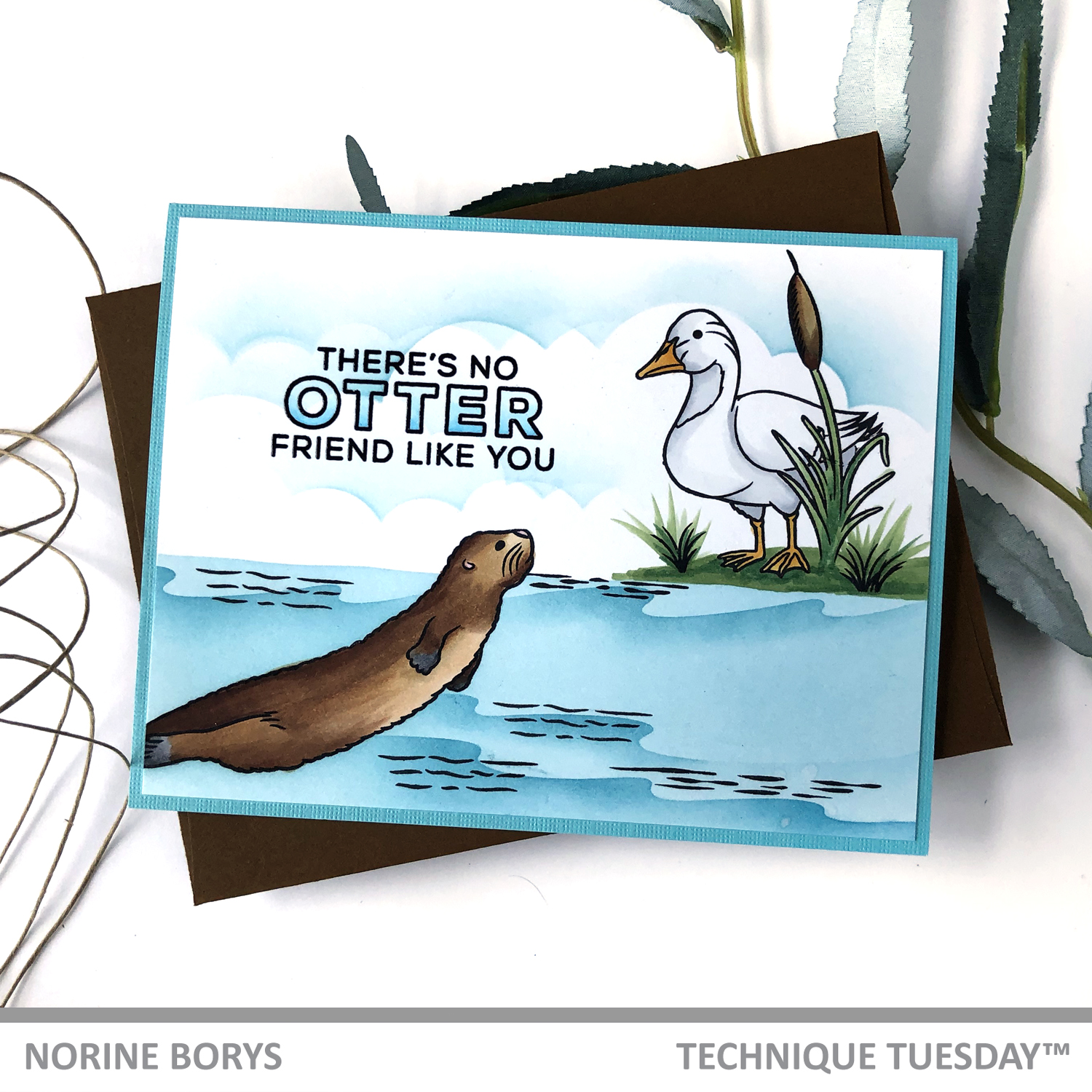 I re-used the same wave-masks from the 1st card and inked on more depth of color. I stamped a sentiment from the Otter stamp set that included open letters, coloring them in with coordinating shades of Copic markers.
If you love cute animal stamp sets with clever, punny sentiments, be sure to check Technique Tuesday's subscription page, including too, their floral club – The Greenhouse Society, plus, memory keeping and stand-alone dies subscriptions. You can find all that here.
Thanks so much for stopping by and enjoy your day!
SUPPLIES USED: