Hey, hi! I'm back today with some slightly overdue cards showcasing the very lovely collection of Susan's Spring Flora dies. The collection has a choice of 6 different spring flowers and today I am showcasing the Sweet Peas dies and the Ferns & Ivy die set.
This post contains affiliate links that are listed below. By clicking through to purchase products linked, you are helping to support this blog at no additional cost to you and that allows me to continue to provide you with creative inspiration and instructive help.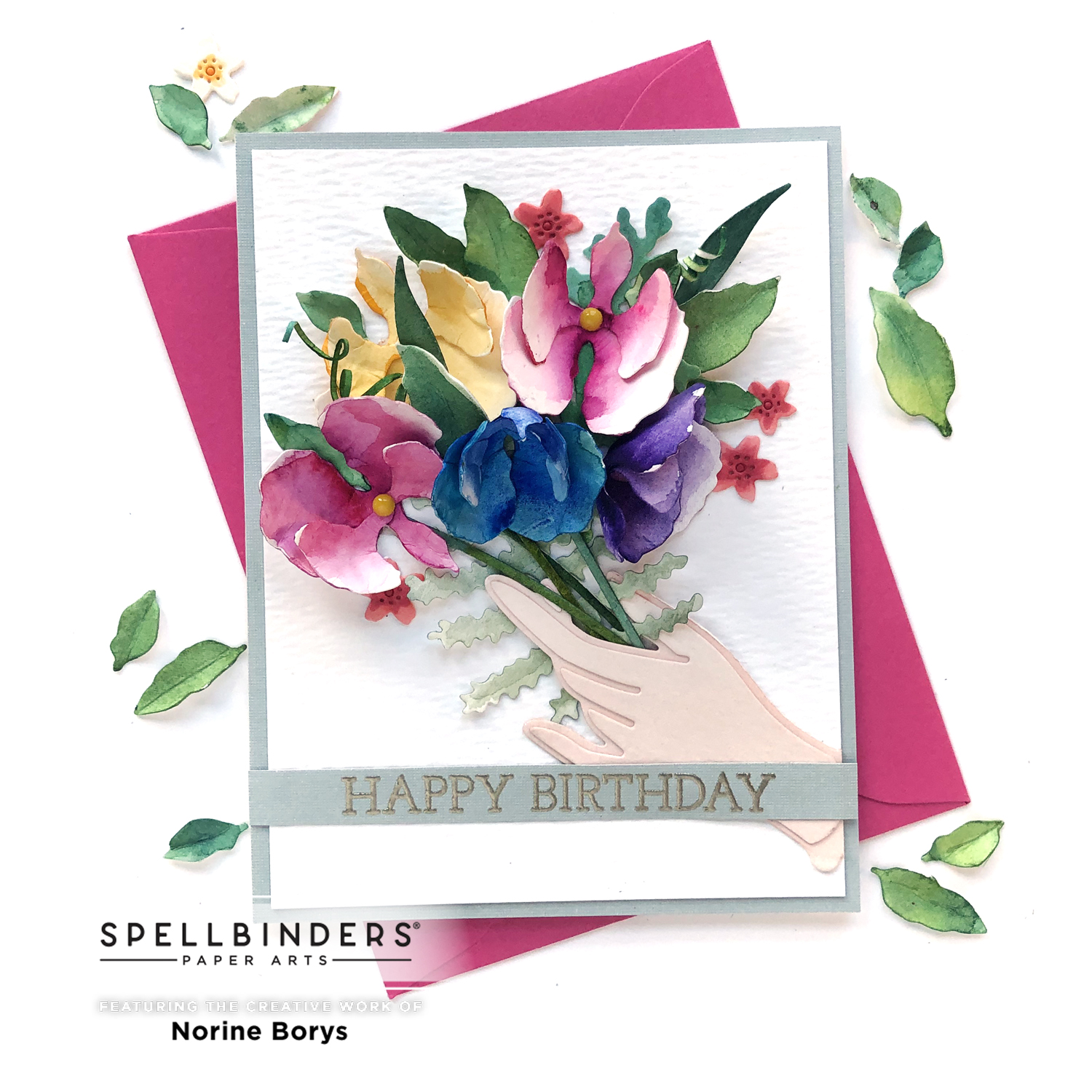 I rarely make cards quite this dimensional, (and I have some clear card boxes coming so that I can give these cards away without squashing or damaging them) but I had so much fun creating these, and I hope the recipients (whoever they might be…) will feel like they've been giving a bouquet of flowers – one that won't wilt and die!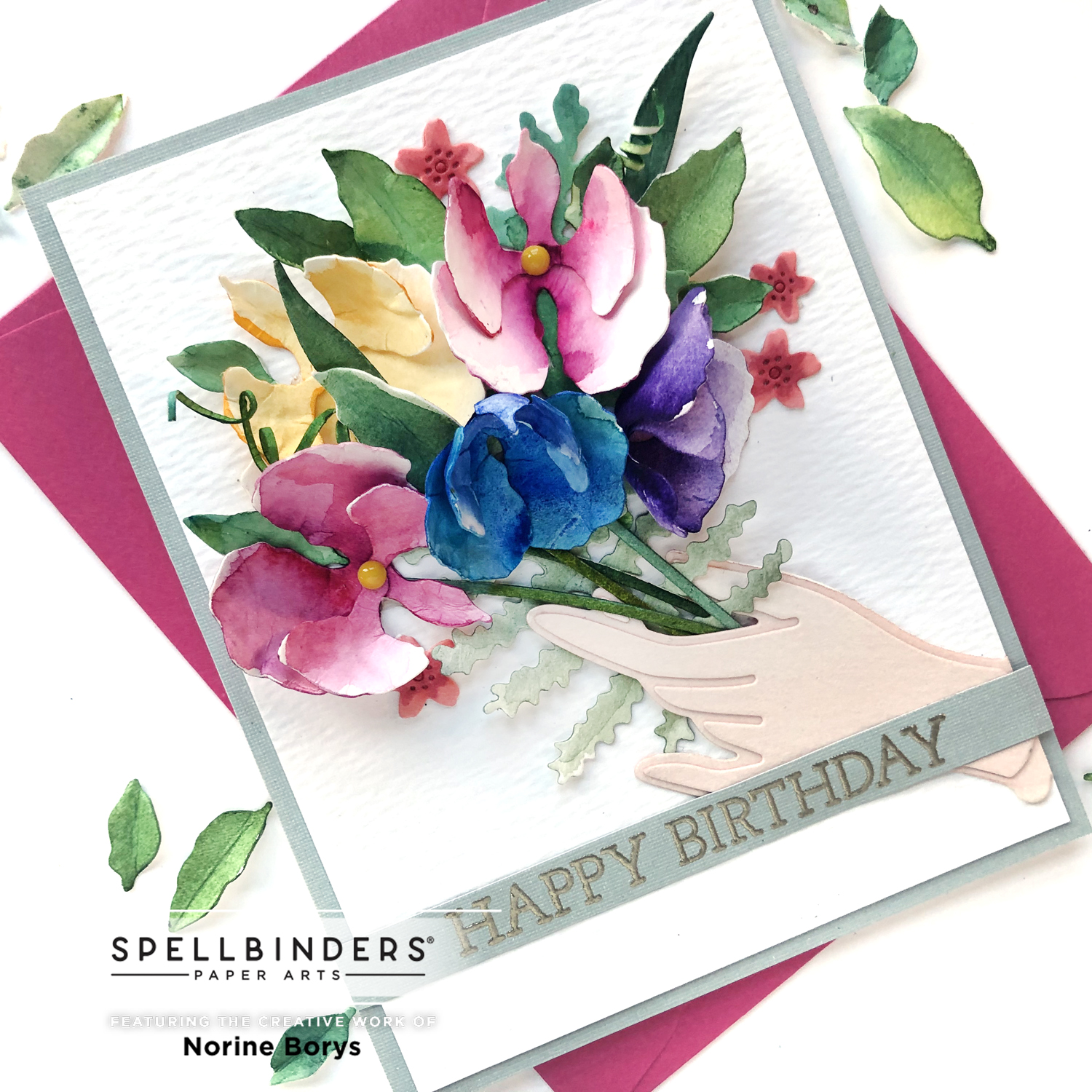 I started by die cutting all of the Sweet Pea and Fern & Ivy shapes from watercolor paper. Which is not the most pliable of papers for bending and shaping, but definitely the prettiest for when you want to watercolor your die cuts.
Once I had all the die cuts laying out in front of me, I used a large soft-haired paintbrush and plenty of water to begin painting the leaves and the 2-piece flowers. I set them aside to dry, then used the large ball end of an embossing stylus and pressed the petals into a soft mouse pad, to massage and shape them into the flowers you see.
I combined the dies from the Sweet Pea and Ferns & Ivy sets with a sentiment from this month's Clear Stamp of the Month set for May – Borders and Sentiments – which I stamped on a strip of the same cardstock that I used to mat the card panel and heat embossed with Platinum embossing powder.
I also die cut (from watercolor paper) and watercolor painted, the hand from the Handing You a Smile set, previously released. I tucked the flower stems into the hand and adhered it to the card front.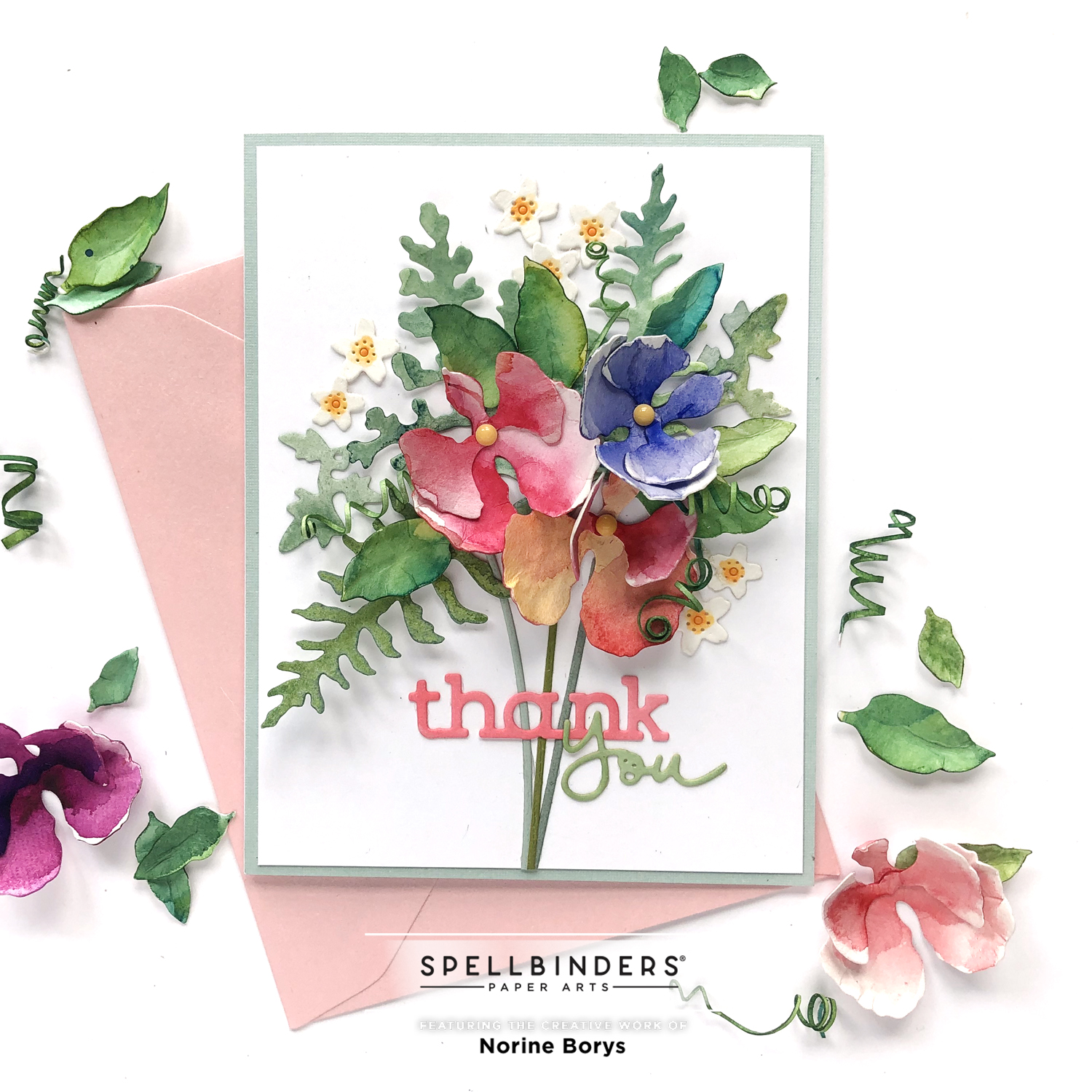 My second card is also made using the Sweet Pea and Fern & Ivy die sets. This card is a more straightforward style of bouquet and includes some small white blossoms from a previously released die set called Ornamental Floral Card Creator.
In addition to the die cut and watercolor painted leaves, ferns and Sweet Peas, I created and included some of the viney tendrils that you find on actual sweet peas. The tendrils that allow them to cling and climb and look so beautiful!
I made the tendrils by trimming very thin, skinny strips of watercolor paper, then flooding them with green watercolor paint and letting them dry. Just before they were fully dry, I gently wrapped them around a wooden skewer and held them a moment then set them aside to completely dry.
For the second card I used the dies from previous monthly die club kits to die cut the "thank you" words. The word "Thank" comes from the Hello & Thank You die set (Sept '20 SDoM) and the "you" comes from Our Favorite Font Sentiments (Dec 2019 SDoM kit – and on sale right now at 50% off!) I used Copic markers to color the word die cuts and adhered them overtop of the flower stems from the Handing You a Smile die set. With the degree of dimension and the weight of the watercolored papers, I pulled out my trusty old hot glue gun for adhering everything on these cards!
Thanks for stopping by today! Be sure to check back again soon for more Spellbinders Die projects related to spring and nature. And have a wonderful day!
SUPPLIES USED: