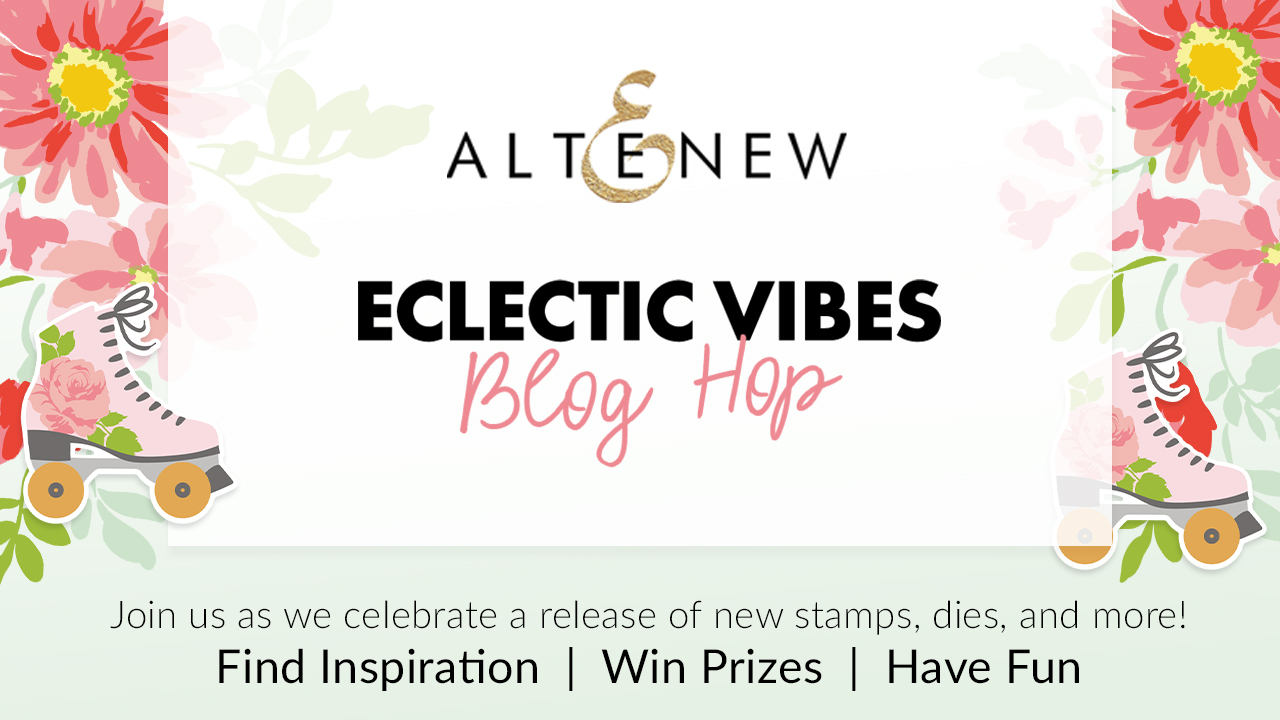 Hello, hi! Welcome to the Altenew Eclectic Vibes release blog hop – featuring the new stamps, dies, stencils and embossing folders in Altenew's July release! You should be arriving here from Vicky Papaioannou's blog, but if you're jumping in mid-stream, you can click back to the beginning at the Altenew Card Blog.
This post contains affiliate links that are listed below. By clicking through to purchase products linked, you are helping to support this blog at no additional cost to you and that allows me to continue to provide you with creative inspiration and instructive help.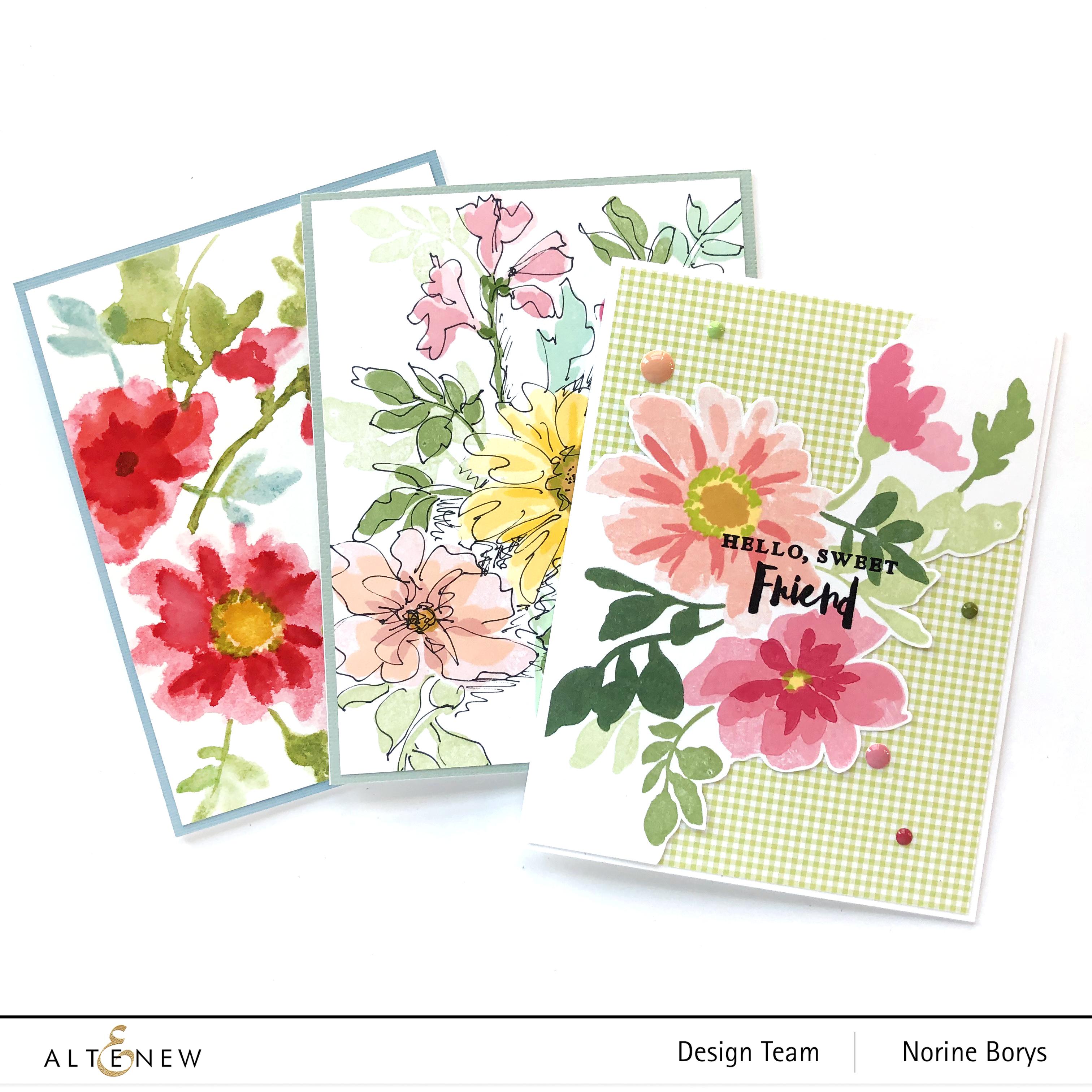 I have four cards to share today, beginning with these three made with the Watercolor Extravaganza stamp set.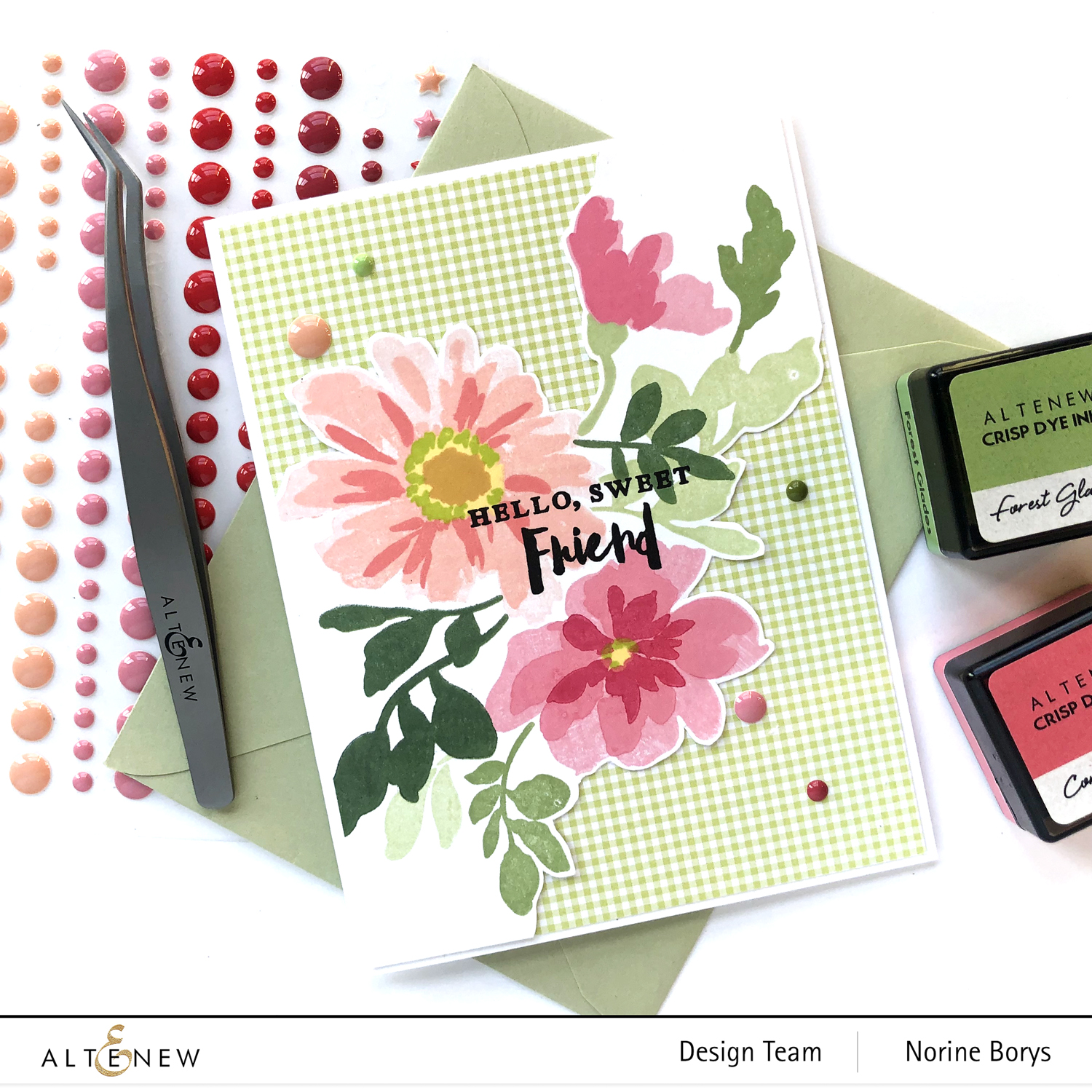 My first card is created by using the stamps in the exact way they were designed to be used, by layering all the separate stamp layers and adding greenery and leaves wherever you like.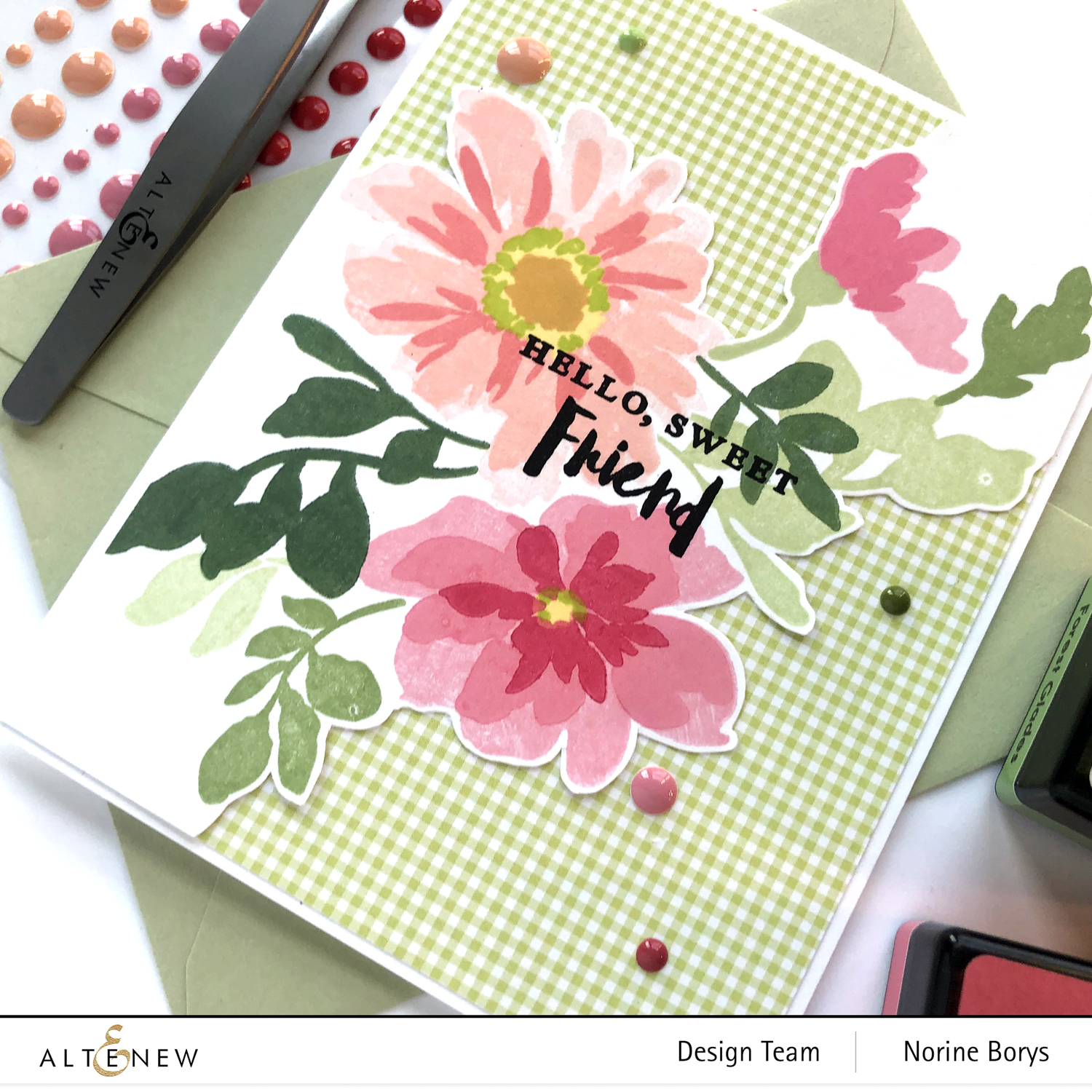 I arrange and stamped the flowers in a diagonal direction then fussy cut two sides to reveal a patterned paper beneath. I used one of the sentiment stamps in the Watercolor Extravaganza stamp set, and stamped with Obsidian Black Pigment ink for solid coverage. Then I finished the card off with some coordinating enamel dots.
Next up is a literal watercolor version of this stamp set. I stamped on watercolor cardstock and I used Ranger Distress Inks because they are designed to react easily with water.
I positioned the layering stamps on the door of my MISTI, then inked them up, one or two at a time, misted them with water from a misting bottle, and closed the door on the watercolor card stock.
I love the watery edges this technique produces, but I did also heat-gun-dry between layers to prevent all the layered stamping from entirely bleeding into the layer beneath.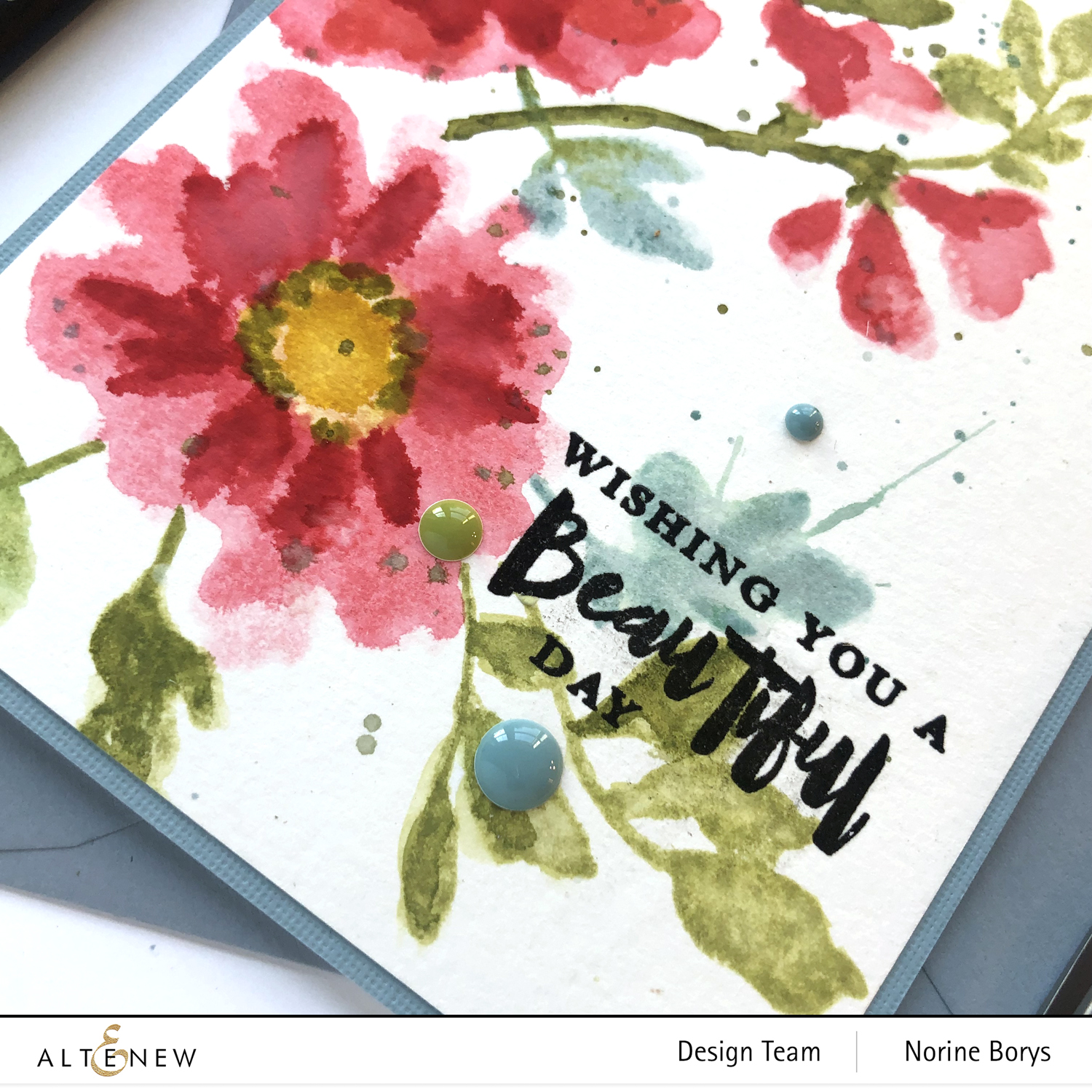 And take note of that blue ink splotch underlaying the sentiment, with it's radiating streaks. That happened when I inked the stamp, misted it with water then accidentally dropped the MISTI door on the paper! I totally love it and would like to replicate it, but it can be a little hard to control!
The other thing to take note of, is the handy dandy little tweezer in the photos above! That thing is my new best friend! I still have and use a reverse-pinch tweezer, but this new one from Altenew makes my crafting life easier in so many ways!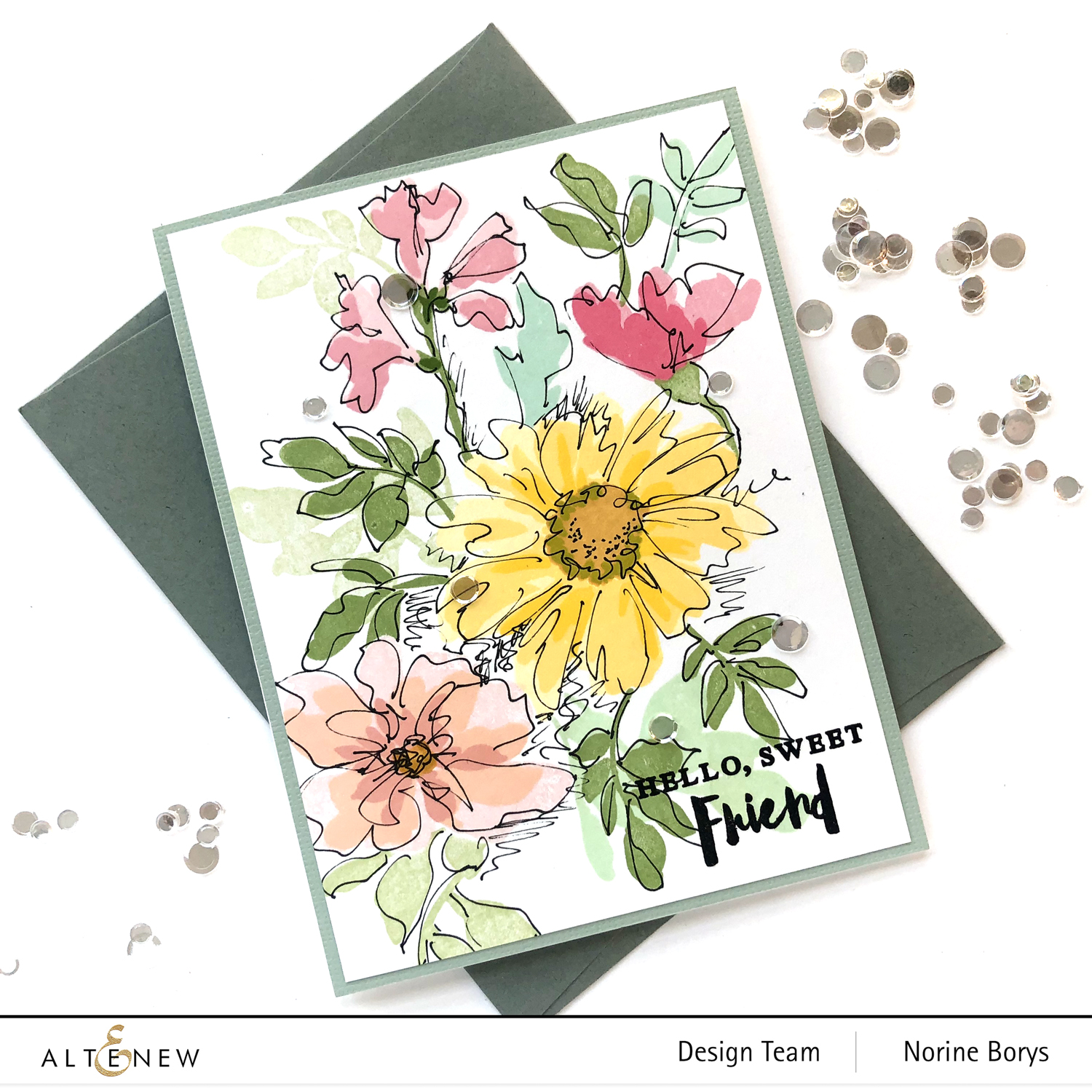 Finally, I had to try creating a card with this stamp set using one of my most favorite techniques of drawing squiggly pen lines to add vague outlines and produce a more "artsy" effect.
I stamped another arrangement of flowers and added all the layers in coordinating shades of ink, adding leaves in pale faded colors for the background, and darker colors for foreground definition. Then I went crazy with the Altenew Liner Pen. I used a very loose hand and tried not to follow the outlines exactly at all, adding extra squiggles and hashing where shadows would be.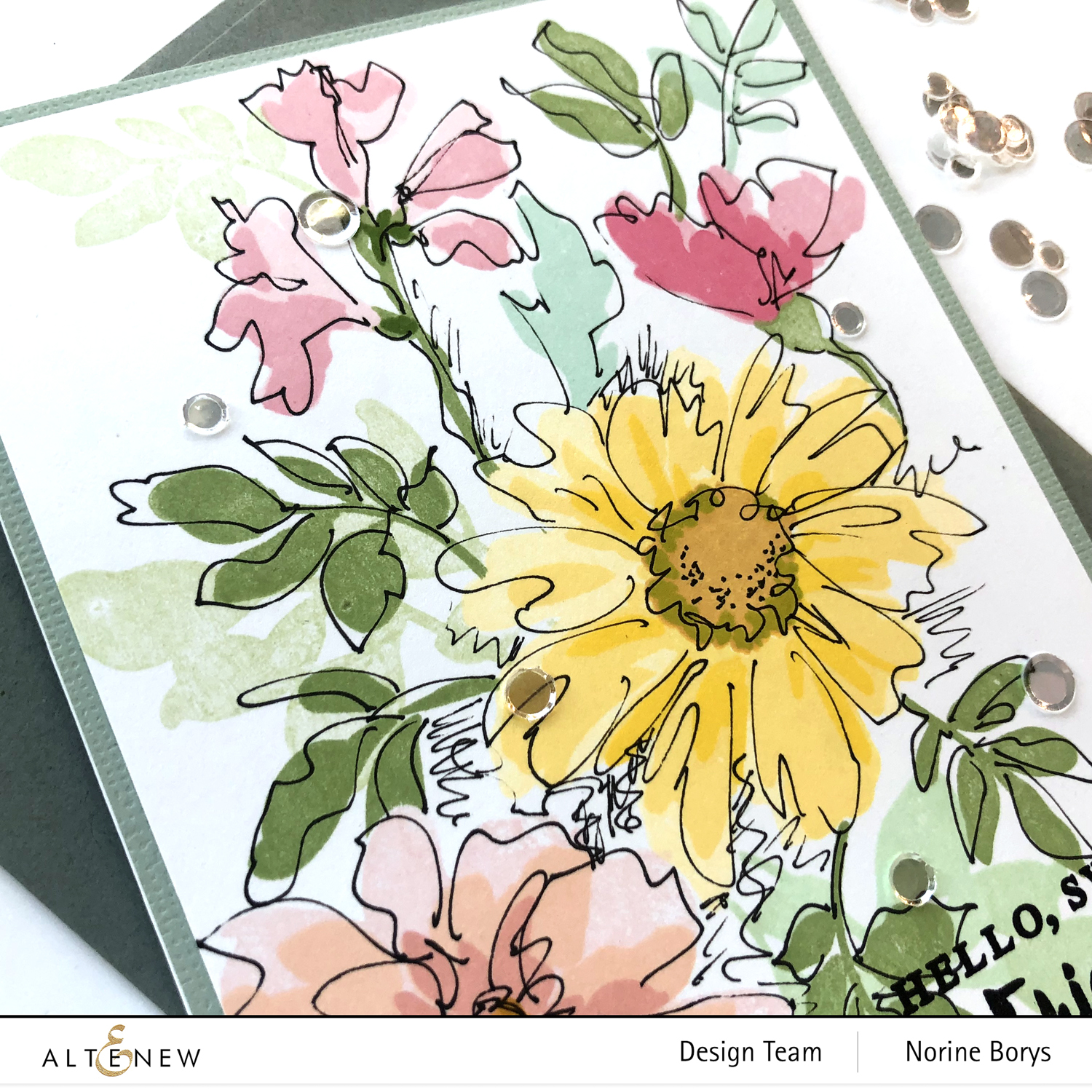 I stamped one of the sentiments in the Watercolor Extravaganza set and completed the card with some clear flat sequins.
The thing I love best about stamp sets like the Watercolor Extravaganza set is the freedom it gives to create your own arrangement every time! With two full bloom and two bud stems, plus a wide assortment of leaves, there is no limit to the watercolor works of art you can create with this set!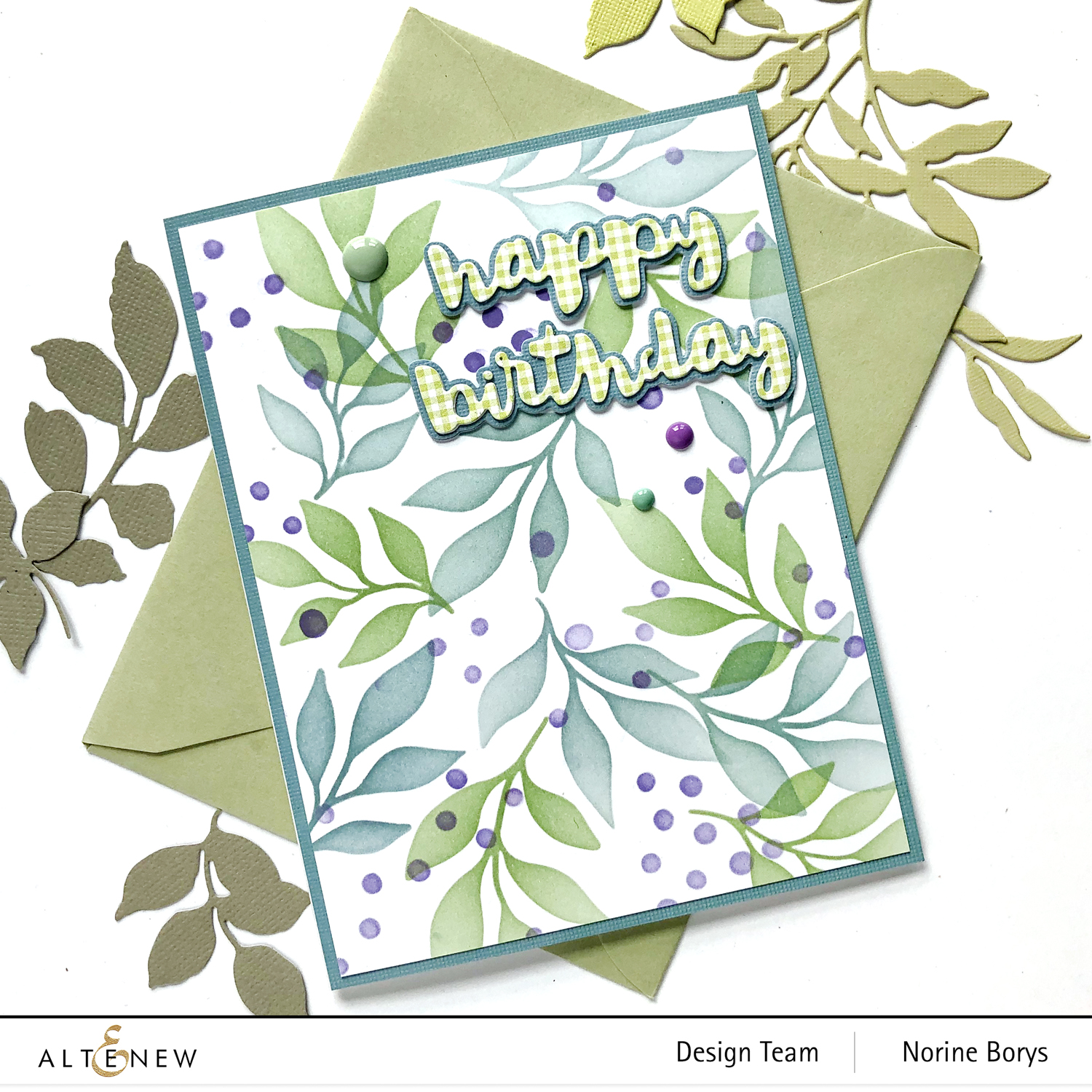 Finally, on to the last card, made with the Playful Patterns Builder Stencil Set. This is a stencil set with four separate layers that can be used any old way at all! There is no "correct" way to use them, or need to agonize over perfect alignment.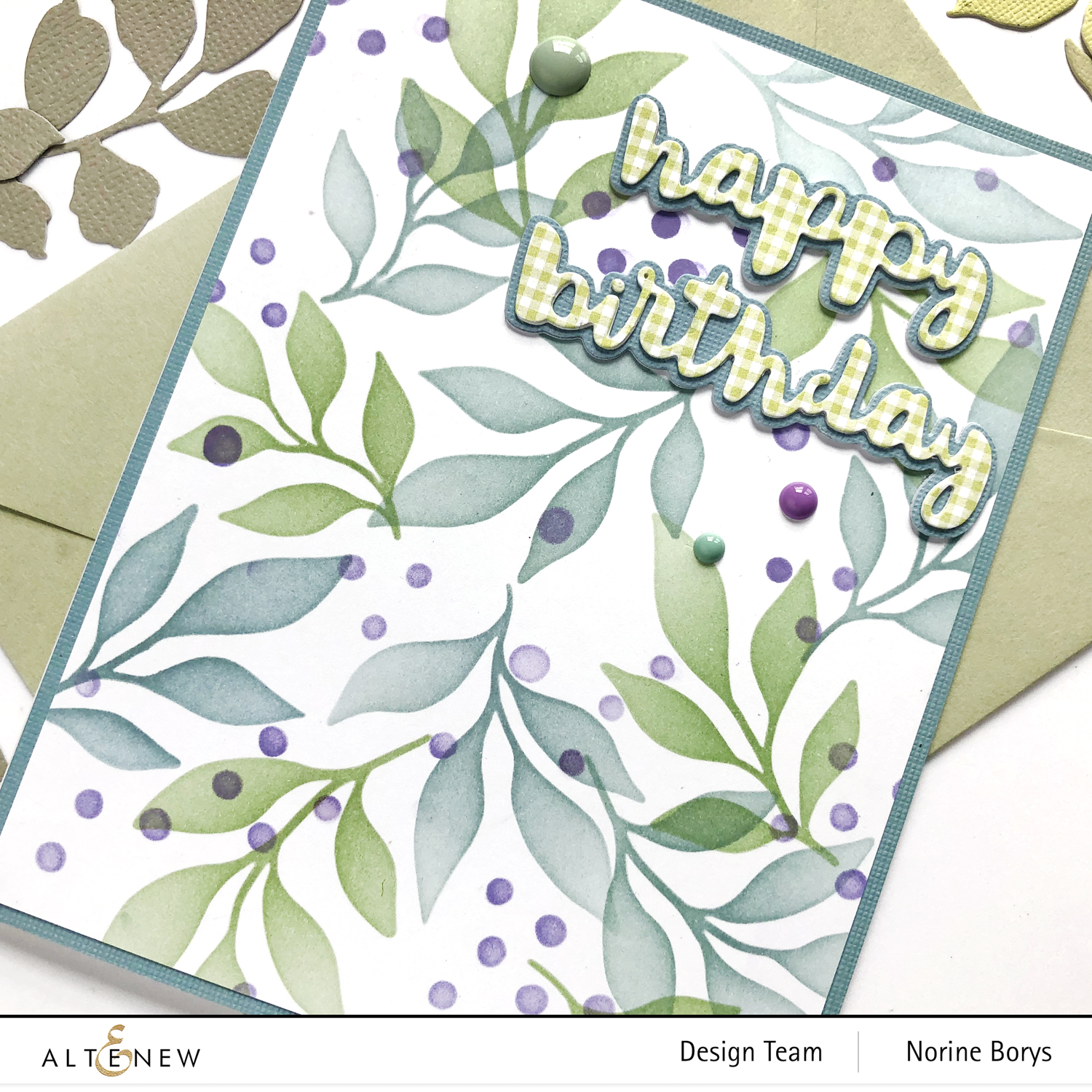 In fact, today's card uses only two of the stencil layers, the leafy sprigs layer and the dot layer. And I shifted both around to layer over top each other in different areas, in a way that pleased my own eye.
The greeting for this card is made with another of the July release products – the Just a Number Die set. I die cut the top layer from more gingham patterned paper and two more layers to add dimension, and the shadow outline layer from cardstock, with more layers behind it as well. Once again, the card is finished with some coordinating enamel dots!
Your next stop is Dana Joy's blog, but before you go, be sure to check out the giveaways and gifts being offered!
Giveaway Prizes
$300 in total prizes! To celebrate this release, Altenew is giving away a $50 gift certificate to 2 lucky winners and a $25 gift certificate to 8 winners! Please leave a comment on the Altenew Card Blog and/or each designer's blog post on the blog hop list below by 07/11/2021 for a chance to win. 
Altenew will draw 10 random winners from the comments left on each stop of this blog hop and announce the winners on the Altenew Winners Page on 07/13/2021.
Free Gifts
Altenew is offering a free gift promotion to celebrate the release. Here are THREE ways to get a FREEBIE to kickstart your creativity! Free gift will be added to cart automatically. 
Get a FREE brand new Eclectic Vibes Release Inspiration Guide (worth $5.99) with every order of high-value Eclectic Vibes release bundles. Shop HERE! *Exclusions apply.
Get a FREE brand new Creative Jump Start Class with every order from the new Eclectic Vibes release collection from 07/05/2021 through 07/11/2021. Shop HERE! 
Get a FREE brand new Eclectic Vibes Release Mini Inspiration Guide with every order from 07/05/2021 through 07/07/2021. Shop HERE!
Blog Hop Order:
Norine Borys – you are here.
Thank you so much for stopping by and enjoy the rest of this awesome hop!!
SUPPLIES USED: