Hey, hello! I'm late to the Spellbinders Open House Collection party, and I hope you don't mind that, but these die sets are SOOOO freakin' cute that late or not, I just have to gush and share!
This post contains affiliate links that are listed below. By clicking through to purchase products linked, you are helping to support this blog at no additional cost to you and that allows me to continue to provide you with creative inspiration and instructive help.
My first card is a 5"x 5" because I wanted to include all the pieces possible to create the sort of welcoming front door that I'd love to come home to! (We painted our front doors a dark faux woodgrain a few years ago, and I still love it, but I see fun colored doors in other neighborhoods and I just wonder if I could:
ever settle on a color choice that I really do love more than all the other colors in the fan deck!
and then be brave enough to paint my door that eye-popping shade??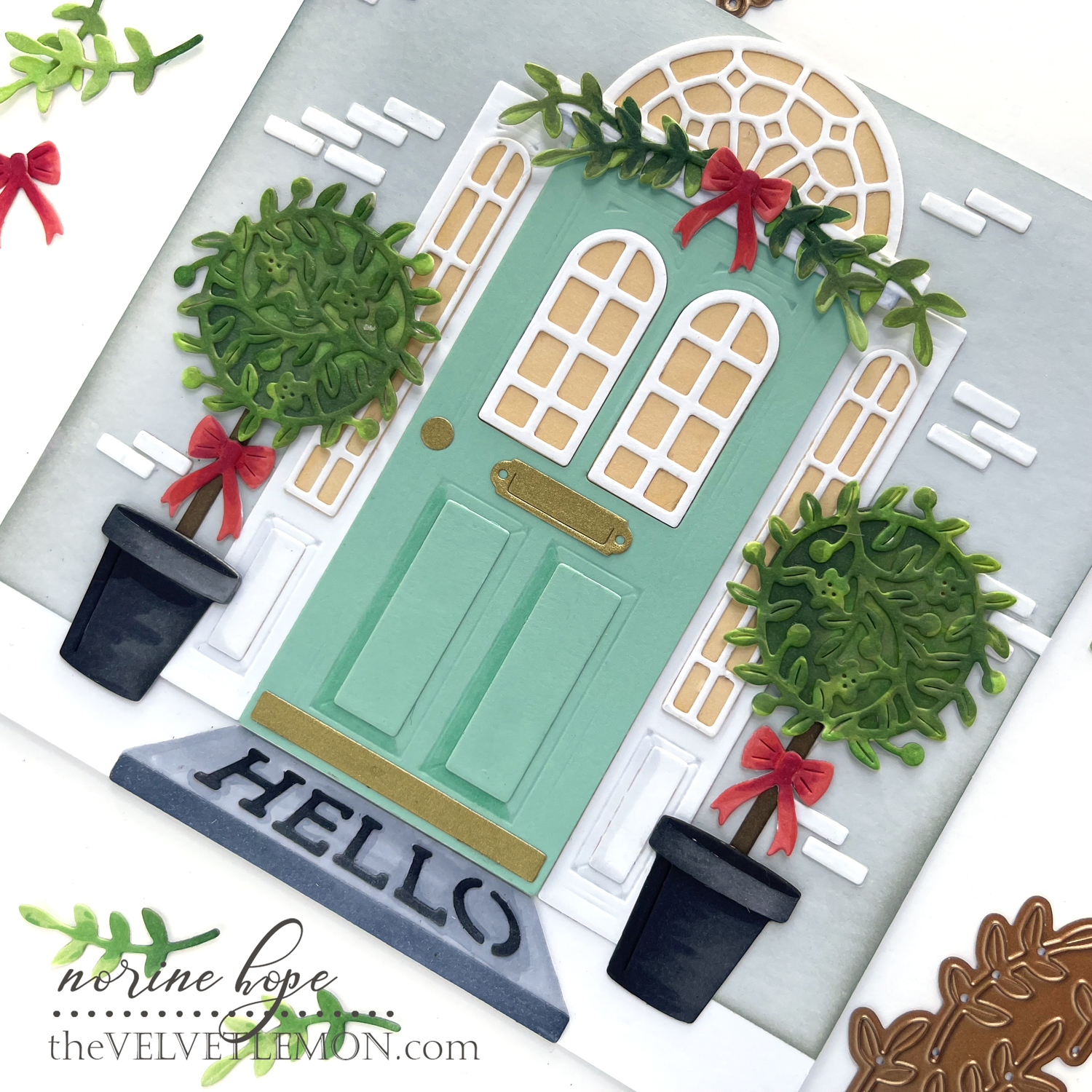 So, while I might be too chicken to paint my front door this shade of green, I can scratch that decor itch with a card or two! I combined the Open House Front Door Base set with the Open House Topiary and Open House Side Door Panel die sets.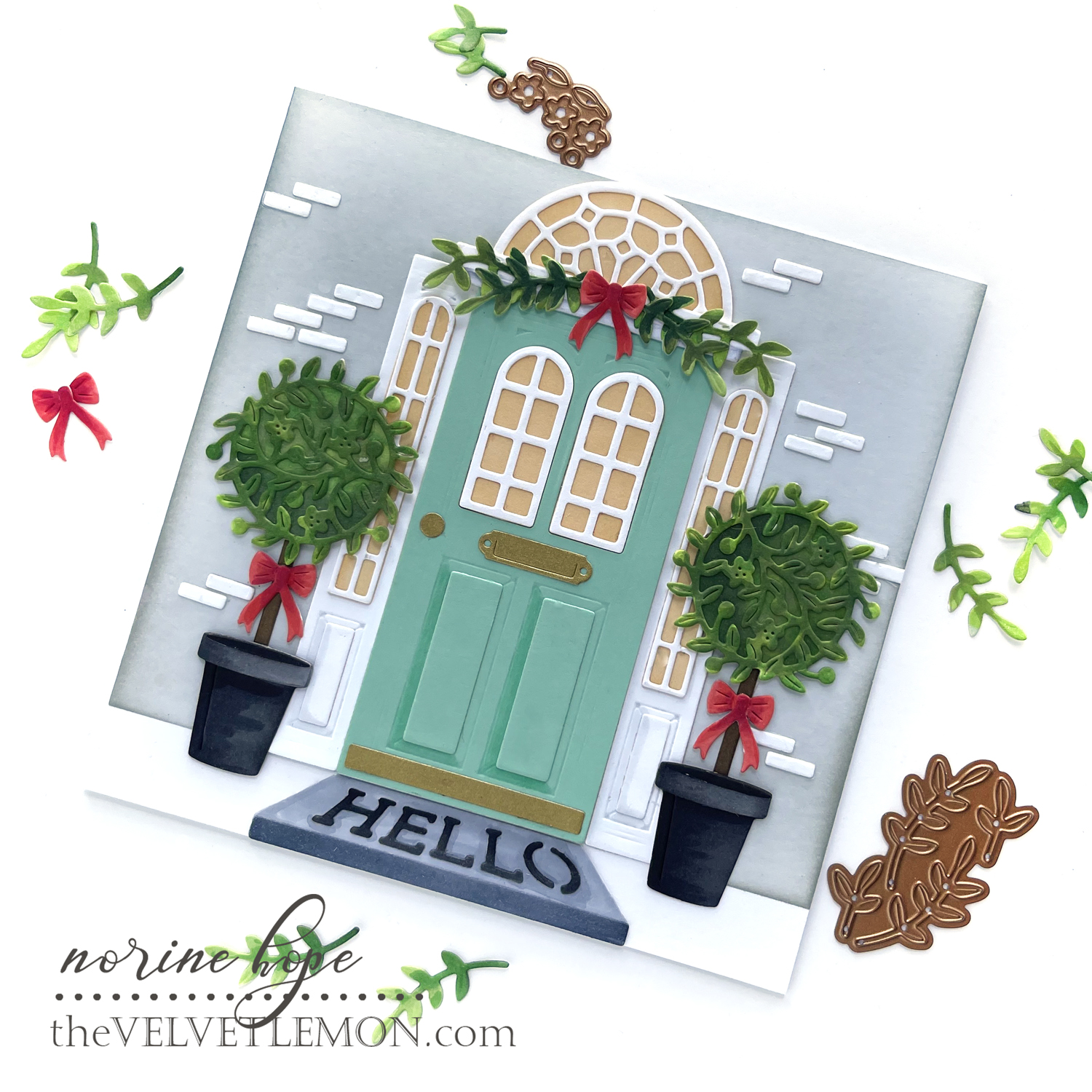 Other than the Lawn Fawn Mermaid shade of colored cardstock used for the door and a metallic gold paper used for the door knob, mailbox and kick plate on the bottom of the door, all the rest of the die cut pieces are cut from Neenah Solar White 110 lb cardstock and Copic-colored to the exact shades I wanted. The gray house is the front side of a folded card-base and is ink blended with a blending brush.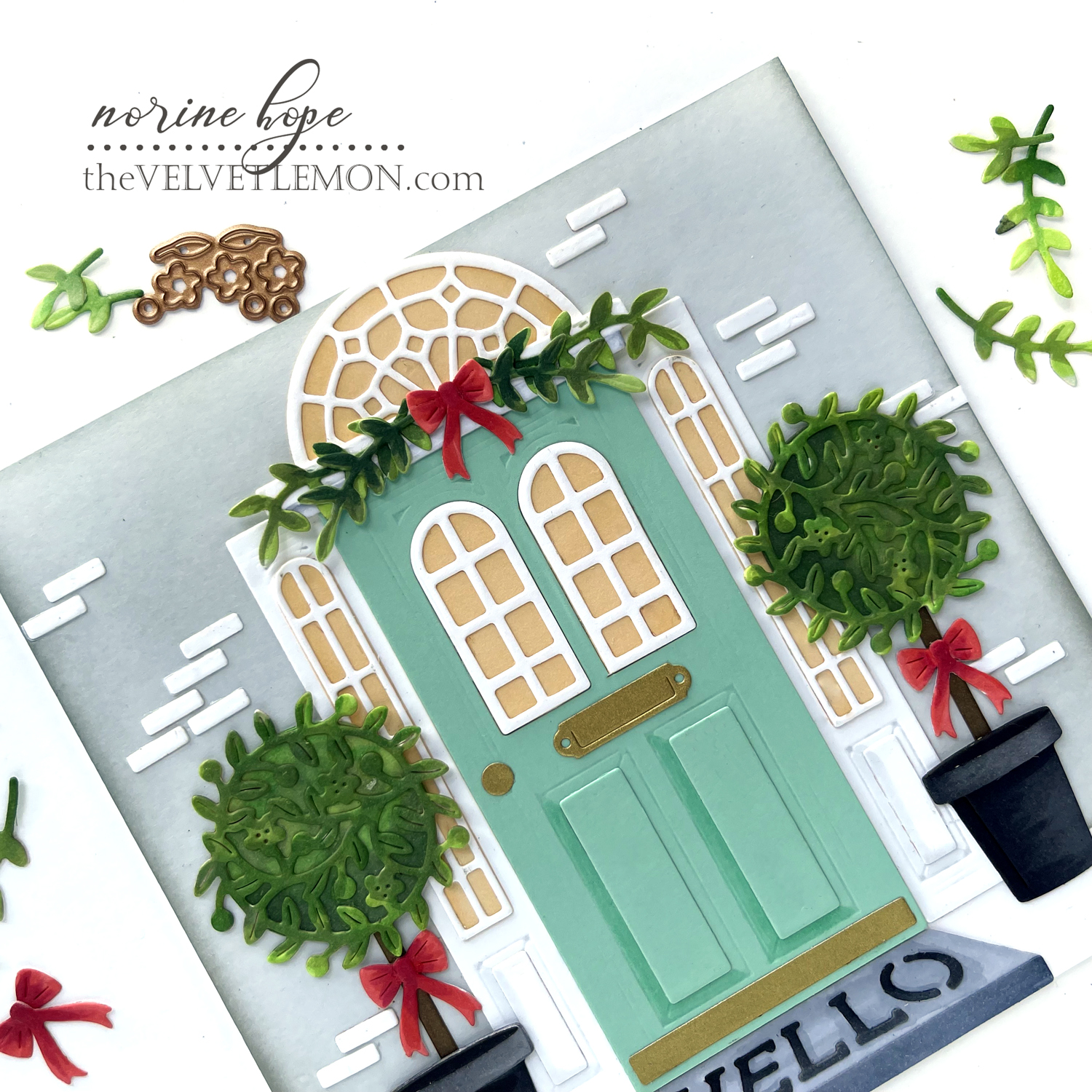 I did a thing with the negative punched out pieces from the side panel window frames and turned them into white bricks – and I love that look against the gray background! The "hello" welcome mat was die cut twice and the letters popped out of one of the die cuts, coloring them with a darker gray Copic marker before gluing them back into place overtop of the background letters of the first die cut.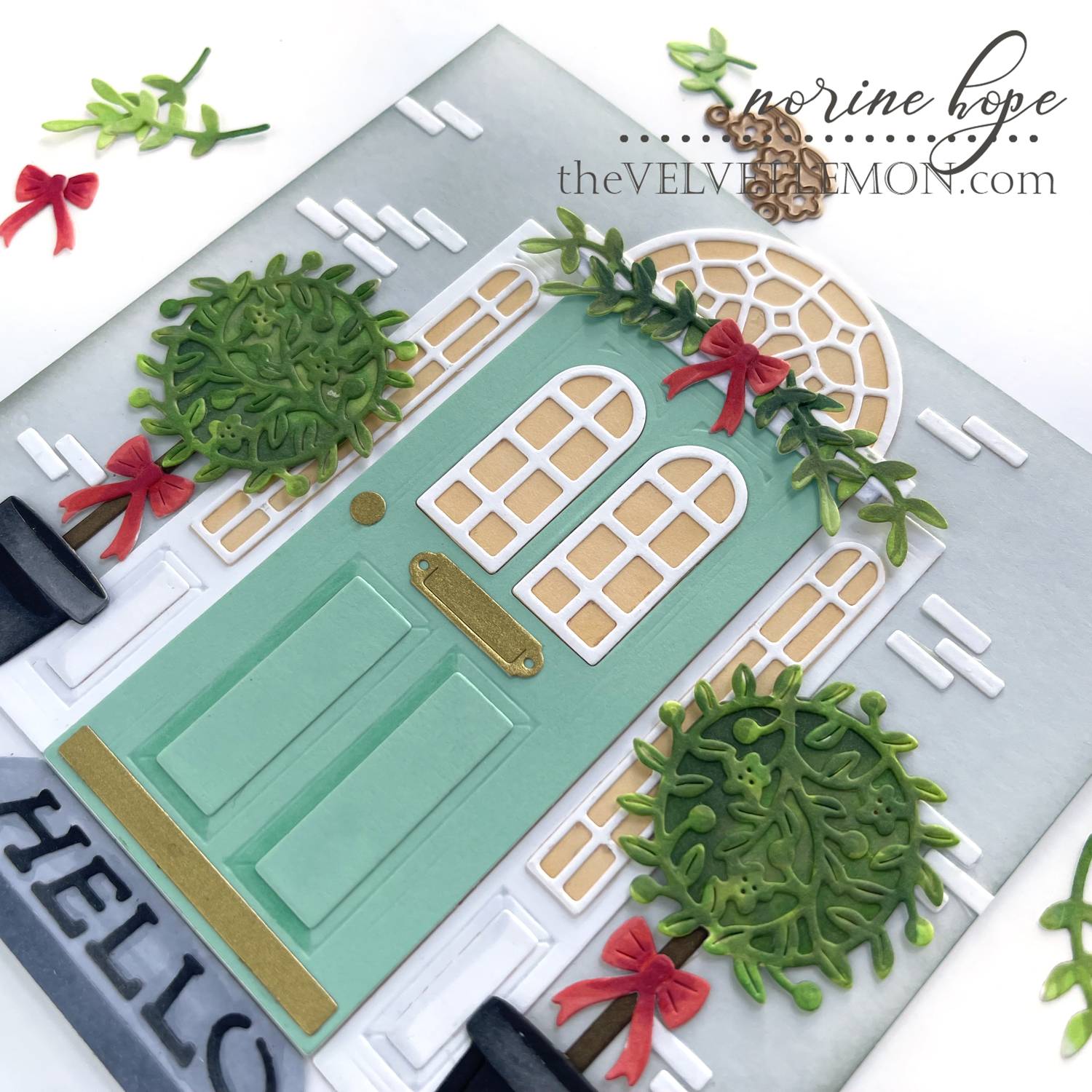 Once all the door/pieces and window layers were cut, colored and glued in place, I turned my attention to the seasonal greenery polishing up the front door so beautifully, creating a bough over the door made of leftover pieces from the Door Base set and building two matching topiaries at the front door and adorning them with lovely red bows! I added some shading in a few places with coordinating Copic markers, such as the lower panels on the door and side panels.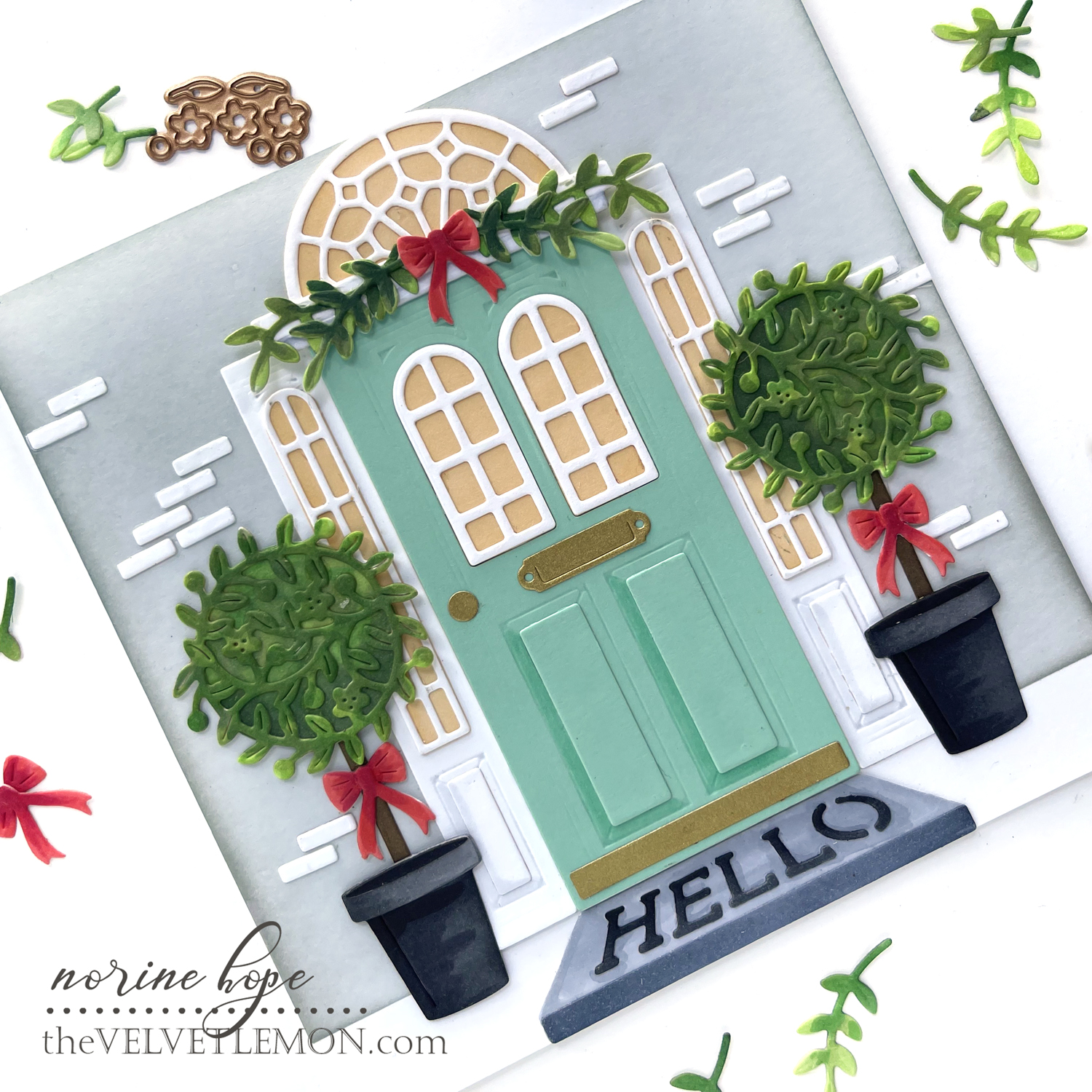 Next up is a simpler card that uses just the topiary from the Open House Topiary Dies.
I made this card a mini-slimline size to allow the double topiary to fill the card front comfortably.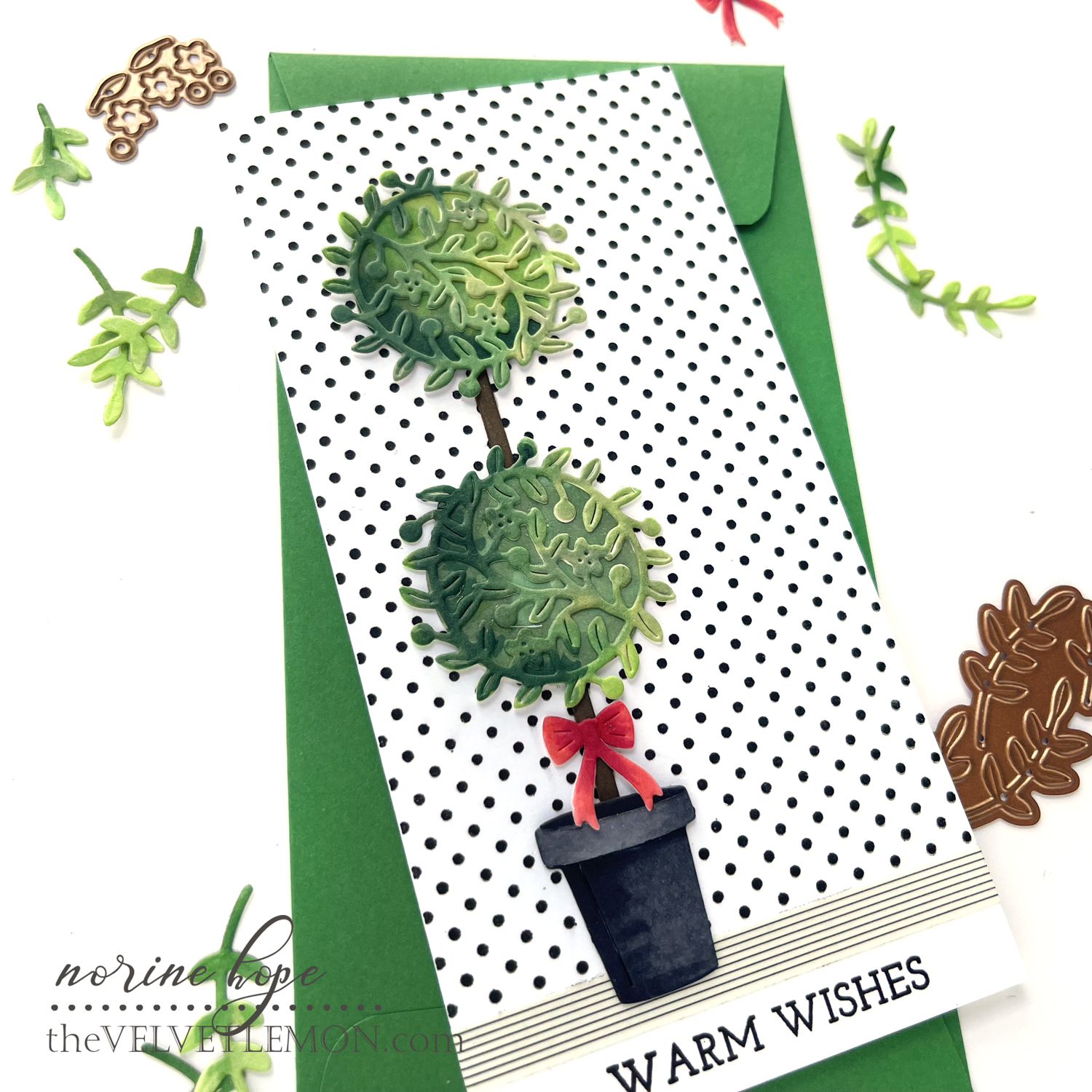 Once again, the pieces are all cut from 110 lb Neenah white cardstock and Copic colored.
For the card front, I stamped a polka-dotted background stamp on the front of a folded card base and added a narrow strip of striped washi tape along the bottom before stamping a sentiment from another Spellbinders seasonal stamp set. (link below).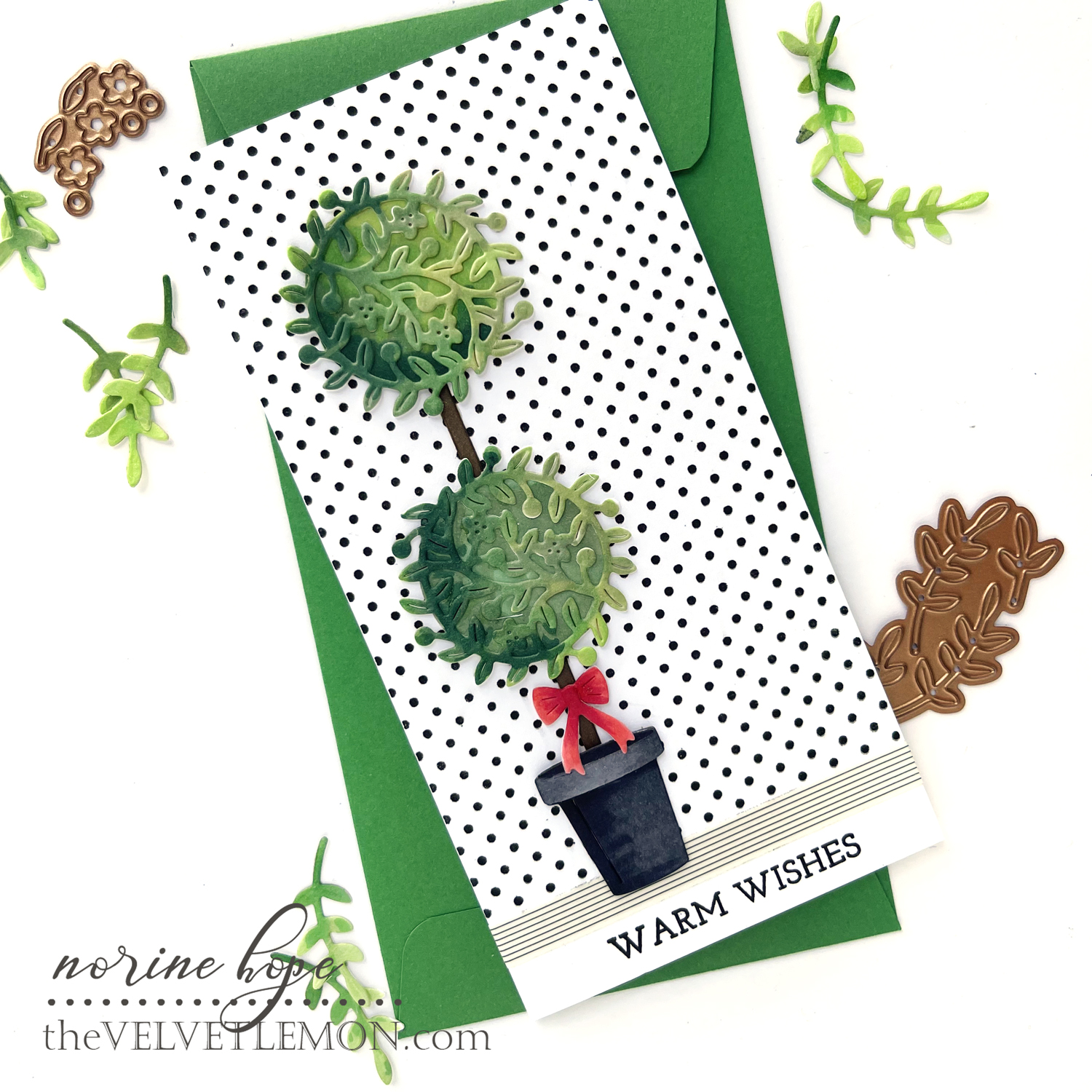 The topiary die cut it made up of a solid circle shape behind and a leafy circle shape for the top. The die set includes small flowers that can be added to the leaf ball but as in real life, I like my paper topiaries to be clean and classy! When coloring both die cut layers I assumed a light source by shading darker on one side and lighter on the opposite side.
Check back again soon for more cards-with-doors, as well as some cute snowmen and gnomes! Thanks for stopping by and have a wonderful day!
SUPPLIES USED: