Hey, hello! It's International Scrapbook Day and typically, that means fun events are held around the world to celebrate the hobby and the products and the friends the hobby bring into our lives! This year is no different! Maybe the gatherings are all online, but we can still chat and snack and laugh and ooh and aah over each other's photos and pages! I'm popping in today to share a few more layouts from my Traveler's Notebook. Pages I started during a recent Scrap Your Stash Zoom event hosted by Love is in the Details and completed since then.
My first layout is a fun adventure we went on last summer, when we accompanied our son and his family on the MSP light rail train into downtown.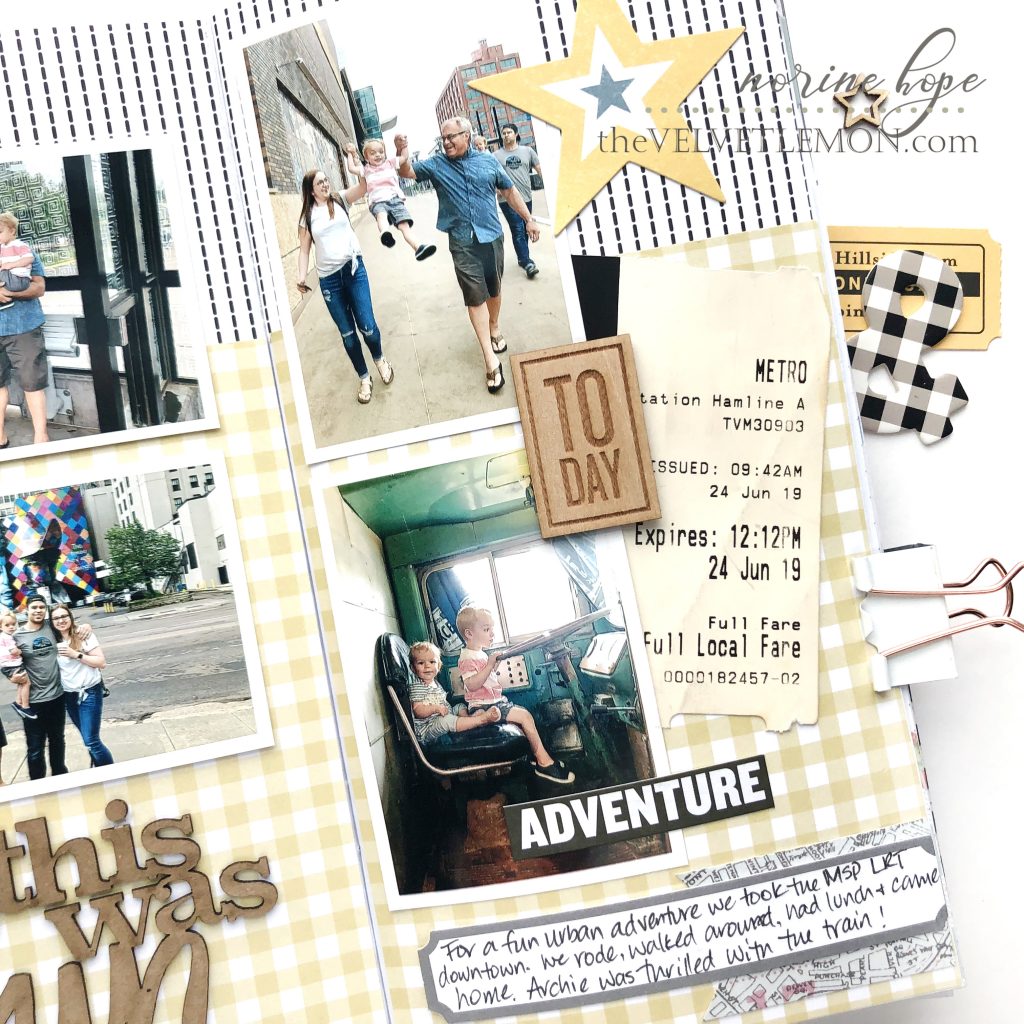 The purpose was mainly to satisfy Archie's passion for trains, but we turned it into an exploratory trip as well, checking out the streets, the architecture, the street art and finally having lunch in a vintage luncheonette called Mickey's Dining Car Diner. The hamburgers were huge and amazing!
And now I realize I included more information in this post than I did on the layout, and I'll have to add this to a tag that can be tucked somewhere on this page!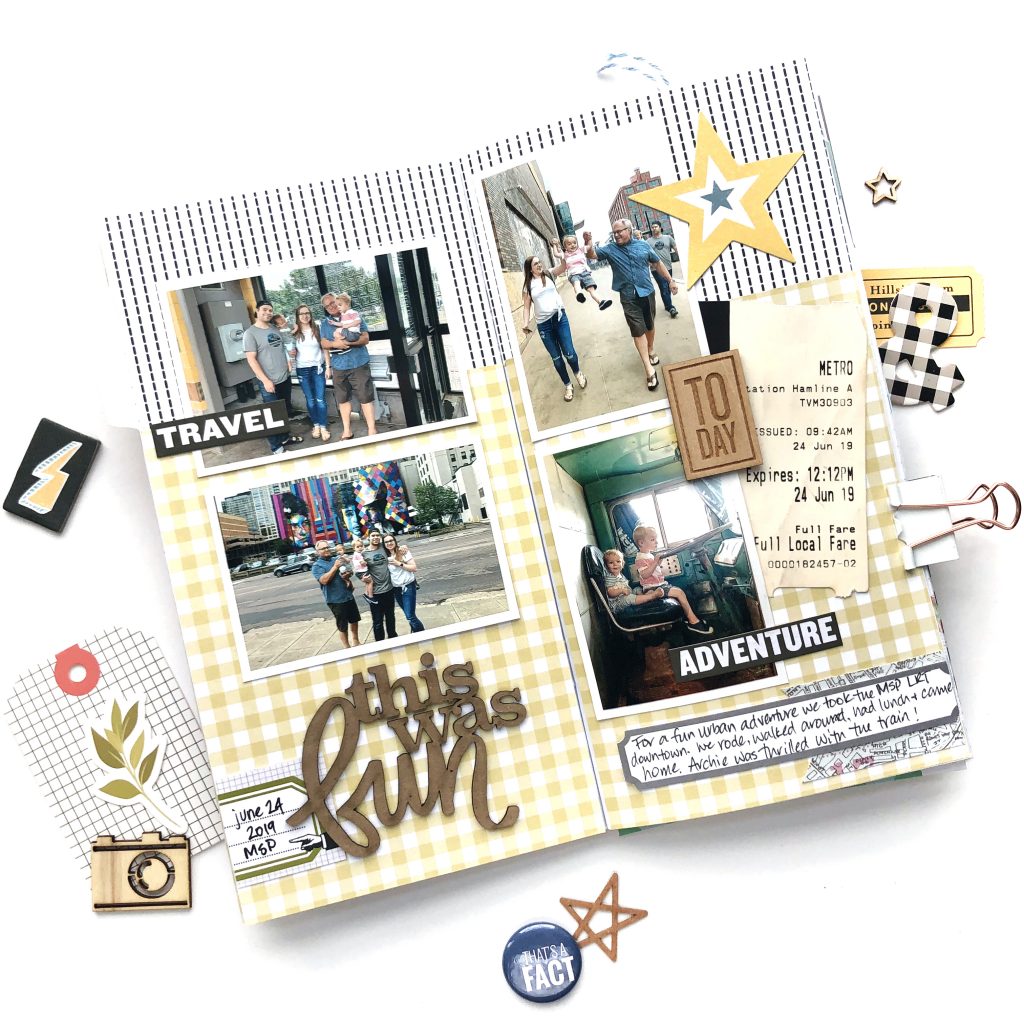 Supplies on this page (remember, I'm scrapping my stash, so it's all very old!) are: Cocoa Vanilla star stickers, Evalicious date tag, Elle's Studio journaling label, Maggie Holmes map paper cut in a tag shape, PinkFresh Studios word stickers, my own laser chipboard design sold at Love is in the Details and Felicity Jane background papers.
Next up is a layout featuring three small, series photos, taken last summer at the cottage, of Papa and Archie, just chilling on the swing. It's a spot that induces a Zen-like feeling in most people so it should come as no surprise that it had that effect on Archie too!
I love the look of a lot of layers as a way to mix patterned papers so I did that here, along with some random leaf shapes and word strips.
On this layout I used a lot of Felicity Jane – patterned paper journal blocks, background paper, ampersand chipboard, plus a JoAnn's tag (blue), Silhouette cut leaf, Kellie Winner label stamps, and Memory Box Urban Upper alphabet dies. I'm sorry, but I've lost track of who made the "sweet life" sticker and the wood leaf.
While I'm not participating in any NSD events myself today, I thought I would leave you with a list of some companies I know of who are and others who have great sales going on!
Kellie Winnell International Scrapbook Day Freebie – a fun little activity bingo card!
Elle's Studio has both fun challenges with prizes and a $5 coupon for any cut file or printable purchase.
Cocoa Vanilla Studio has a site-wide 30% off sale plus a free gift with purchases of $100 and $150.
Scrapbook.com has a challenge with 20 winners who will get $125 prize package!
Hip Kit Club is hosting an online Facebook crop with many challenges and random prize winners.
Paper Issues Facebook Group is hosting an online crop as well, and a 20% coupon code FRIENDS.
Check out the stories on Instagram at Studio Calico for a list of challenges and prizes!
There are probably more that I don't know about too. Just search the #nationalscrapbookday hashtag on Instagram and see what else you can find!
Thanks for stopping by today and have a wonderful weekend!