Hey, hi! Thanks for joining us today for the Altenew Summer Nights blog hop, where we are showcasing the August release of stamps, dies, stencils and wax seals! You should be arriving here from Tania's blog, but if you've happened here by chance, you can click back to the beginning of the hop at the Altenew Card Blog.
I used a couple of the stamp and die sets being released for my cards today, and I'll begin by sharing these Adventure cards made with the Camp Life stamps and dies. I love anything camping related so building these scenes with the various stamp images in the stamp set was so fun! I didn't use the coordinating dies this time, but they would certainly reduce the time and fuss of stamping and cutting masks!
For the first card I created a landscape image, stamping and cutting out masks for the campfire and the rocks and grass image so that I could stamp the tent "in behind" the foreground.
I did all my stamping onto Strathmore Bristol Smooth cardstock because I planned to do all my coloring with the Altenew Watercolor Brush markers and this paper works really well for blending with those markers, as well as creating washes with a paintbrush and some water.
My next card is a portrait oriented card that uses another rock/grass image, the camp chair and the thermos images.
This time I stamped the camp chair first, then covered it with a (finely detail cut) mask so that I could stamp the rocks and grass in behind. The Camp Life stamp set has so many good sentiments to choose from that it made it tough to decide which ones to use.
Lastly, I stamped another portrait oriented card with the fishing rod, the backpack, the sleeping roll and the rocks and grass images.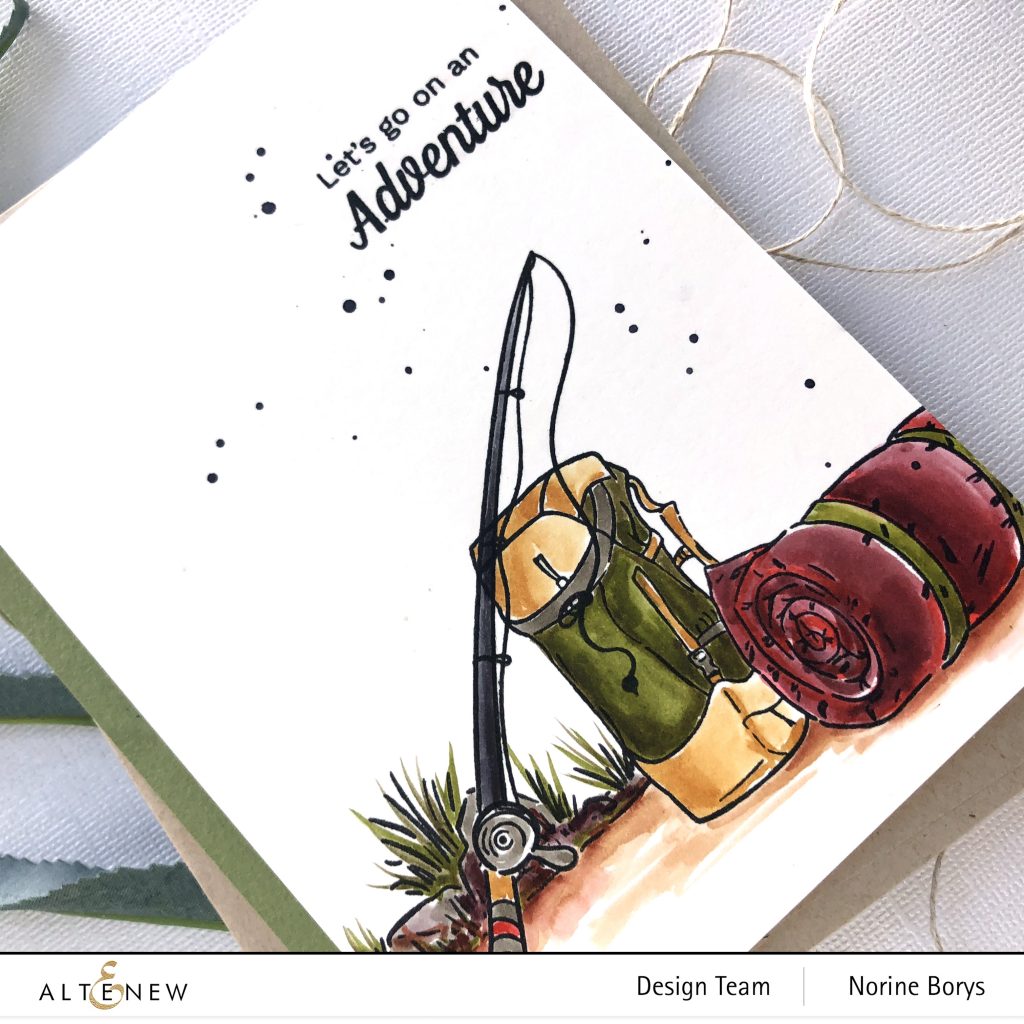 You'll probably laugh…I certainly did….when you examine that backpack. I stamped it upside down and didn't even realize till I was finished coloring, assembling the card and taking some photos! Oh well. I decided it wasn't obvious enough to require a do over, and anyway, who hasn't actually put a pack down upside down in their life??!
All of the stamped and colored card panels got some speckling from making a puddle of black ink with the water brush marker and using a paint brush to pick it up and splatter with it.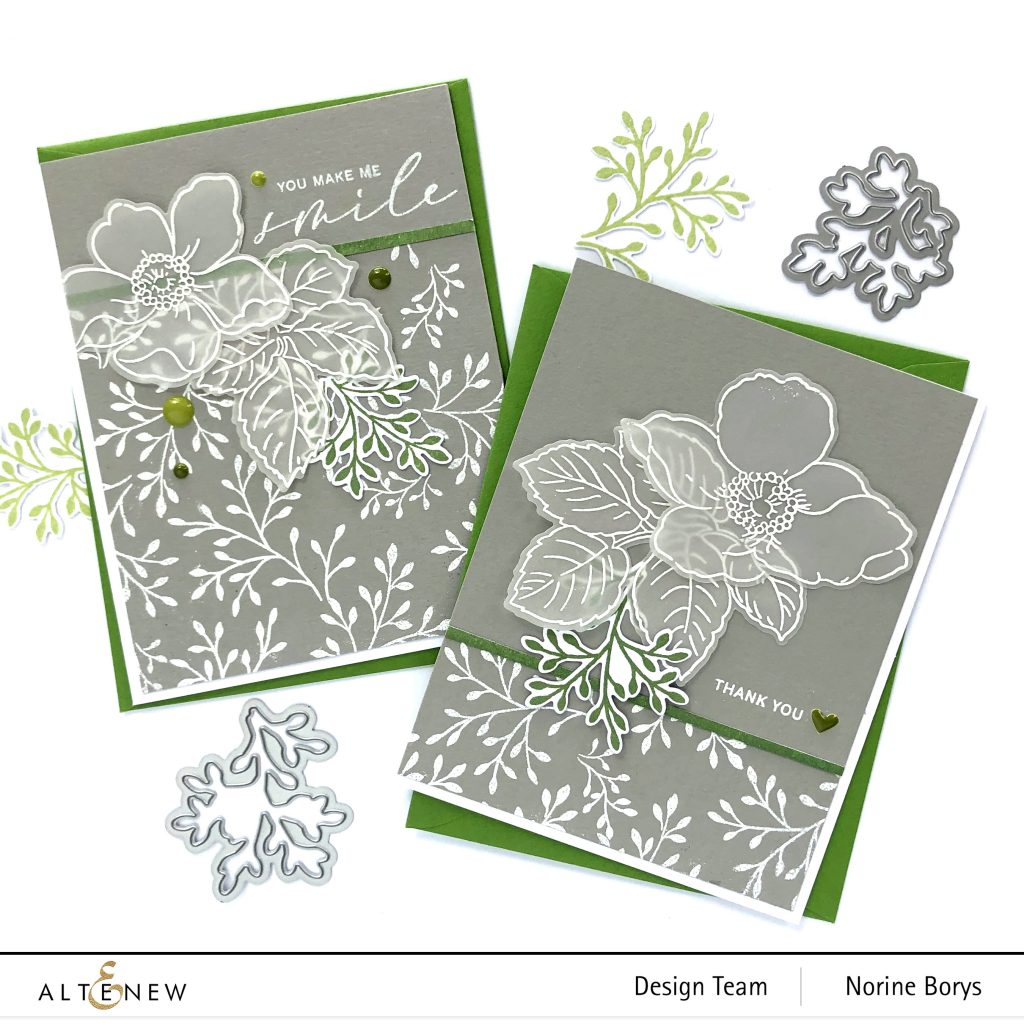 My next two cards are made using the Beauty Within stamps and dies and they are virtually the same except for the layout.
I began by stamping all over a Real Gray cardstock card panel with the three small leafy clusters, and heat setting them with white embossing powder. Then I stamped an assortment of large blooms and leaves on vellum paper, also heat setting with white embossing powder.
I used the coordinating dies to die cut the vellum pieces set them aside. Then I cut the stamped, embossed card panel into two pieces at approximately the 1/3-2/3 lines. At the same time, I cut a plain grey cardstock panel as well, and switched the pieces to match stamped with plain and plain with stamped. (An easy way to turn the efforts to make one card into an easy 2nd card).
In addition, I stamped more of the leafy clusters with green pigment ink and heat set with clear embossing powder. I also applied that green ink to the edge of some white cardstock and heat set that as well. Then I cut them into narrow strips to cover the line where the two cardstock pieces meet. The green strip matches the leafy die cuts perfectly, giving the card an extra unified polish. To adhere the vellum layers I applied tiny dots of white liquid adhesive to the backside, on top of the stamped lines where they would be less likely to show.
That's it for me today! I'm sorry that I didn't get a chance to play with the wax seals in my package, but I promise to include them in a project soon so you can see how cool they are! Your next stop on the hop is Lydia's blog. If you encounter a broken link along the way you can refer back here to the complete blog hop list at the bottom of this post.
As will every Altenew blog hop, there are prizes!
To celebrate this release, Altenew is giving away a $50 gift certificate to 6 lucky winners! Please leave a comment on the Altenew Card Blog by 8/17/2020 for a chance to win. 
They will also draw a winner to receive a $20 gift certificate from the comments left on each designer's blog on the blog hop list below. 
All winners will be announced on the Altenew Winners Page on 08/20/2020.
Complete Blog Hop list:
Norine Borys – You are here.