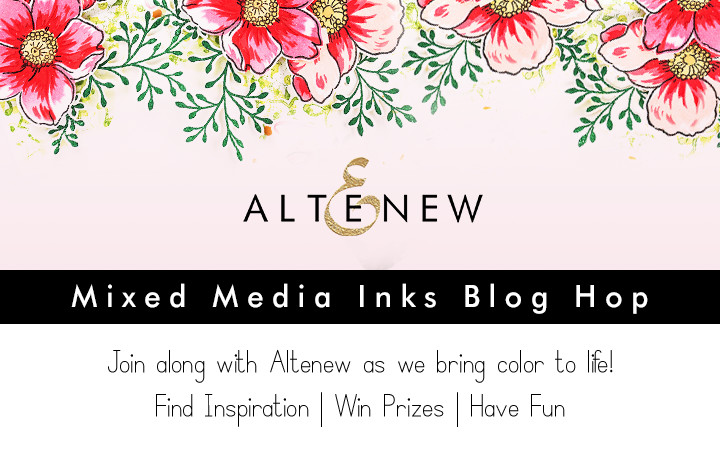 Hello, hi! Thanks for joining us today for another blog hop with Altenew – this time showcasing the fun new Mixed Media Inks! You should be arriving here from The Hedgehog Hollow, but if you've happened along by chance you can click back to the start of the hop at the Altenew Card Blog.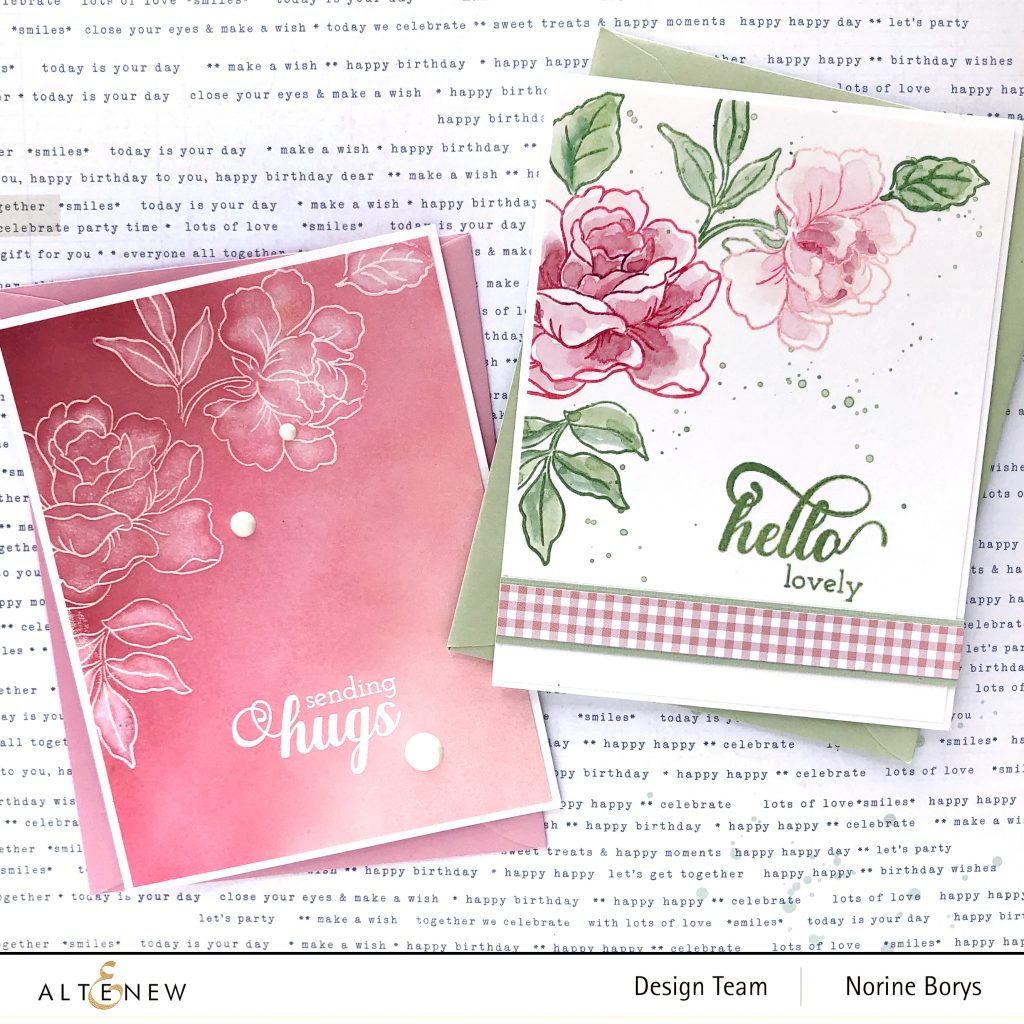 I created two cards for the hop today to demonstrate two different techniques you can use with this newly formulated pigment ink.
These inks can be used on a variety of porous surfaces such as paper, fabric, wood and more! It becomes permanent once heat set with a heat gun or iron (although with fabric you should add an additional layer of fabric between the iron and your project).
For comparison purposes, I also found when playing with this ink that they are a little more reactive to water than are the Crisp Dye inks.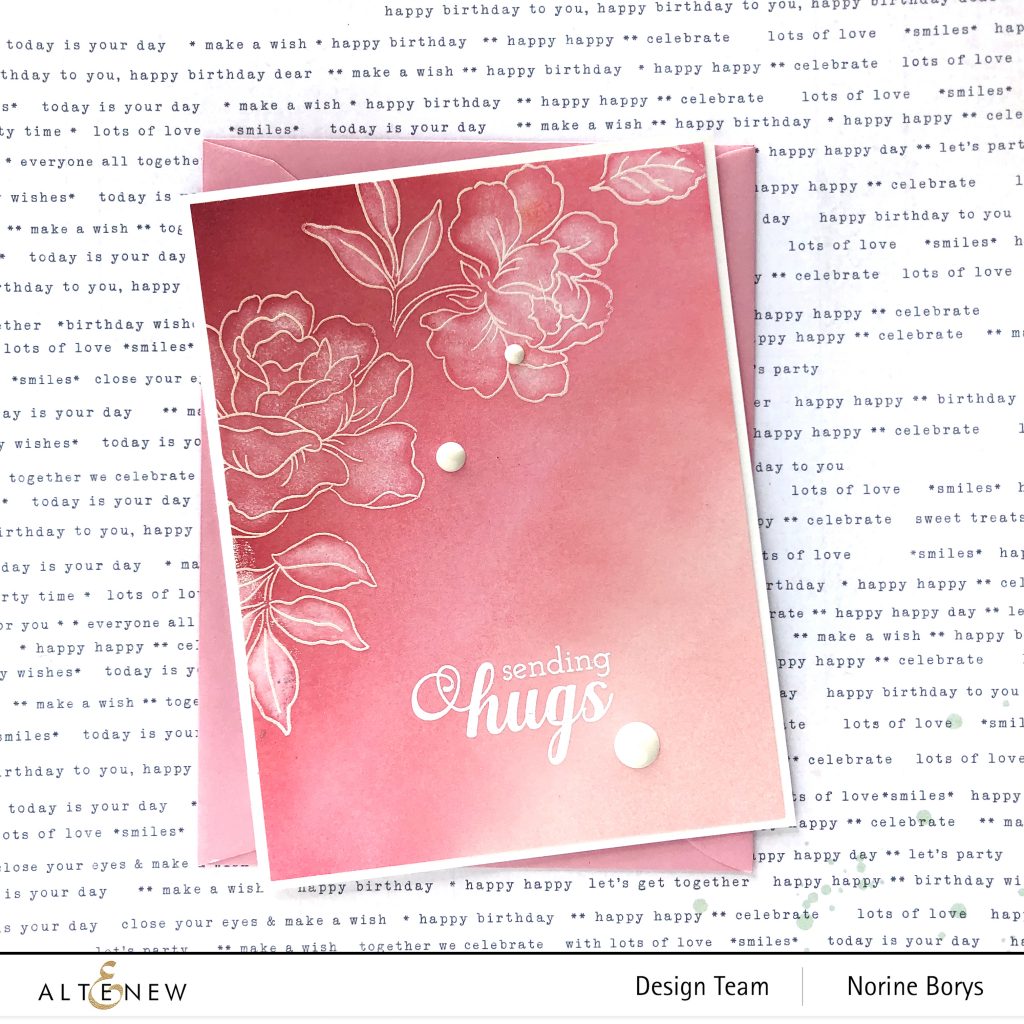 For my first card, I began by stamping several of the various stamps from the Flower Garden Stamp Set, onto Strathmore Bristol Smooth cardstock, choosing that paper because it is more water tolerant than plain cardstock and also because it allows inks to blend more smoothly with less effort. (So why is my card not very smooth? I was ink blending late at night with inadequate lighting. That's my excuse and I'm sticking to it).
I stamped with embossing ink and heat set with white embossing powder. Then I started in the bottom right with Frosty Pink ink, blending up to the top left corner with Coral Berry, Ruby Red and Grapevine inks, (all of which you'll recognize as the Red Cosmos ink family).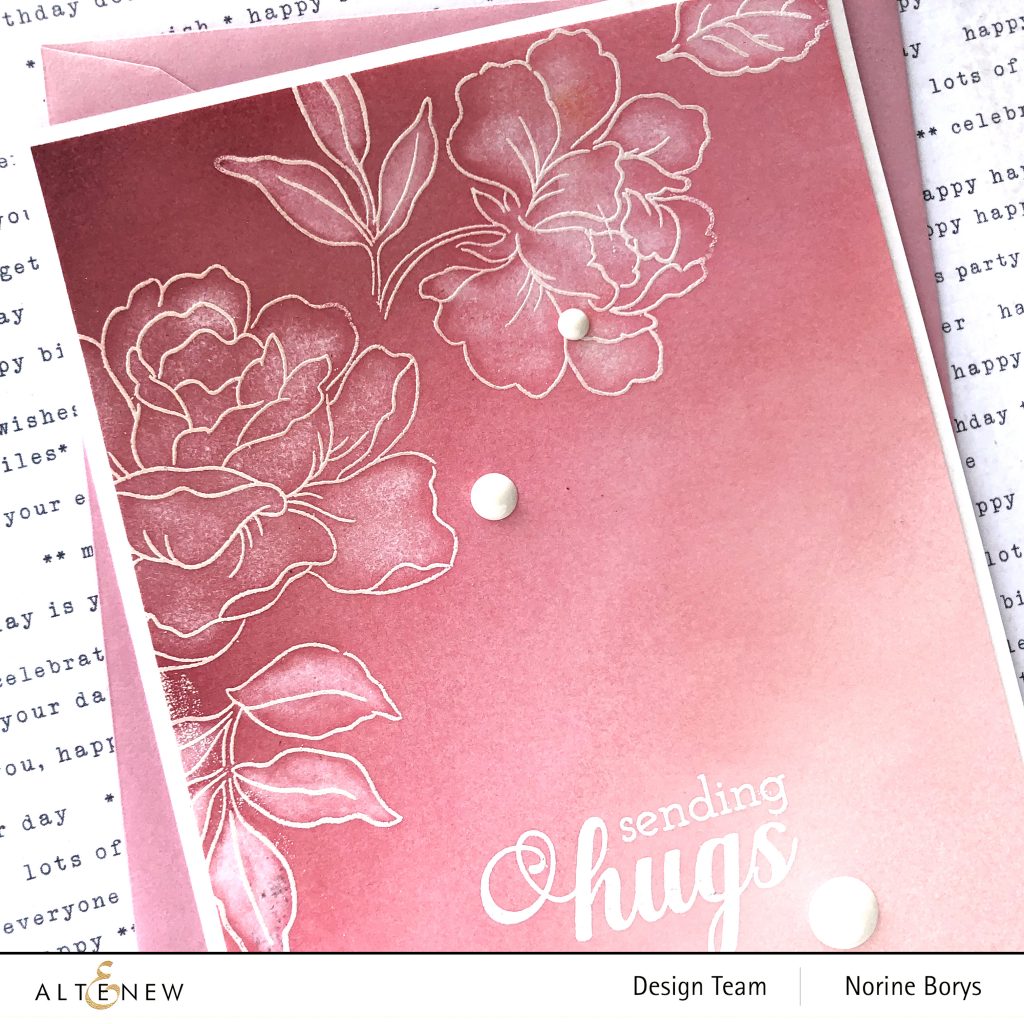 The next step then, was to use a wet paint brush to "color in" the stamped areas, blotting with paper towel after each petal or leaf to remove the pigment.
I let the card panel then sit overnight to see if the ink would dry on it's own, or if it needed a blast from a heat gun, and I was happy to find, even in my current humid climate, that it dried quite nicely! I could stamp the sentiment from the Fancy Greetings stamp set without worrying that the white embossing powder would stick where I didn't want it. I did use a de-staticking powder bag to be doubly sure though.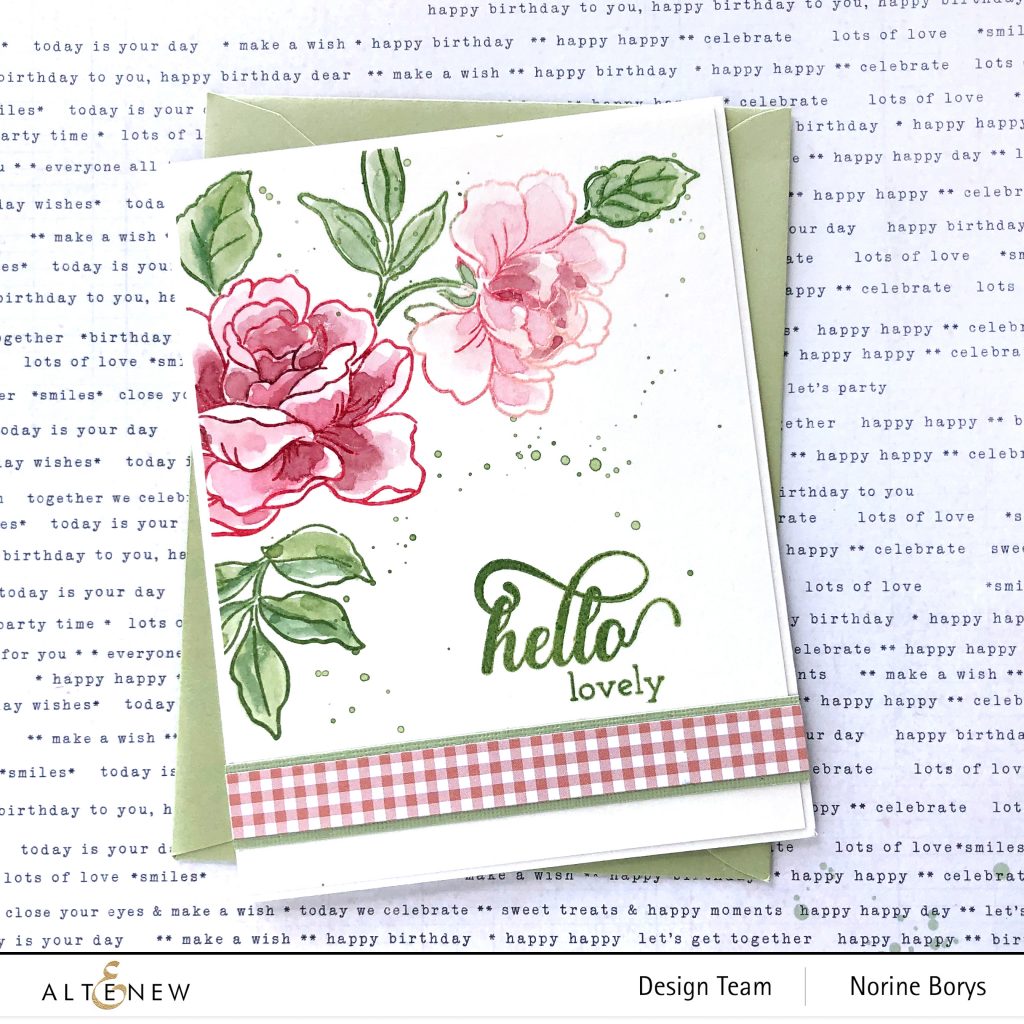 My second card is also stamped on Strathmore Bristol Smooth cardstock because I wanted to combine the technique of "painting" on the cardstock along with stamping with these inks, which textured watercolor paper might negatively affect.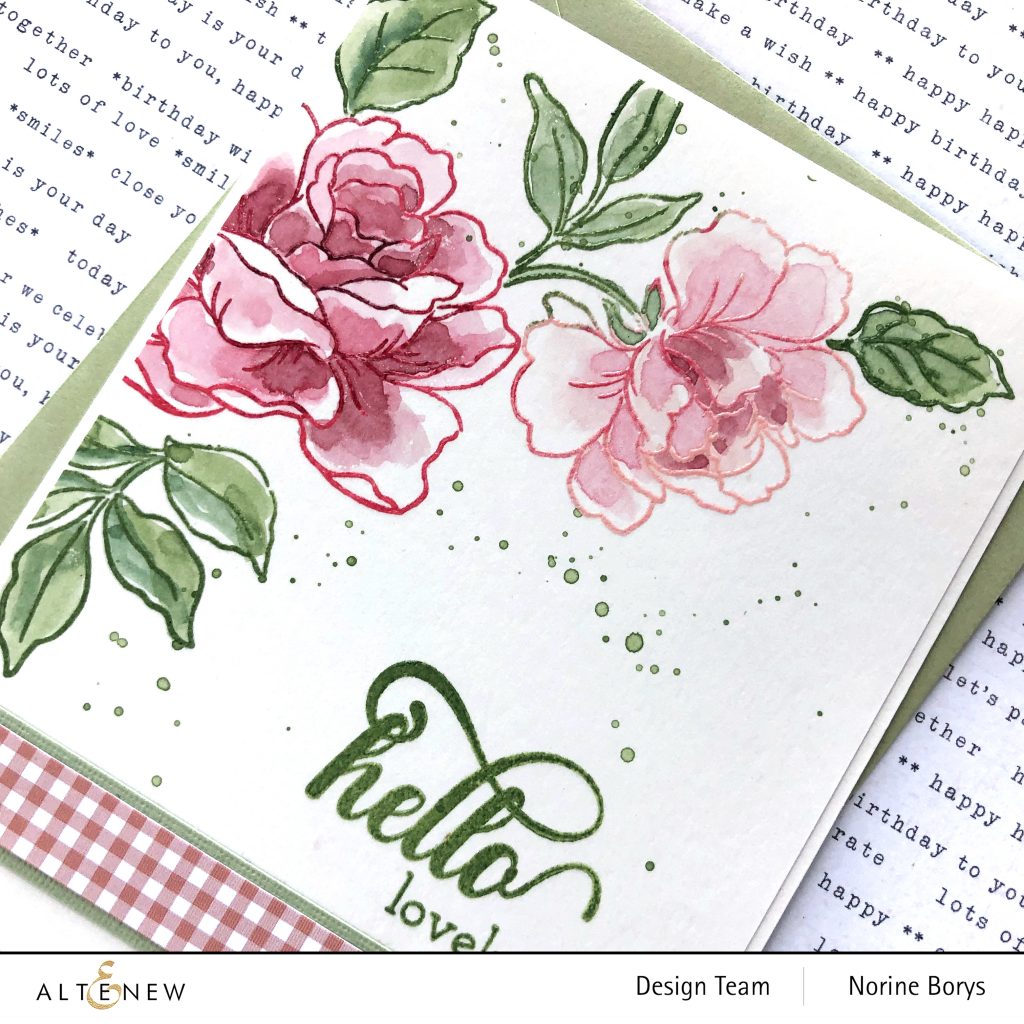 I had the stamps already set up in my stamping tool from the first card, and only adjusted them slightly so that I could stamp the flowers together by themselves and then the leaves on their own. That way I didn't have to worry so much about getting the wrong color of ink on the wrong stamp.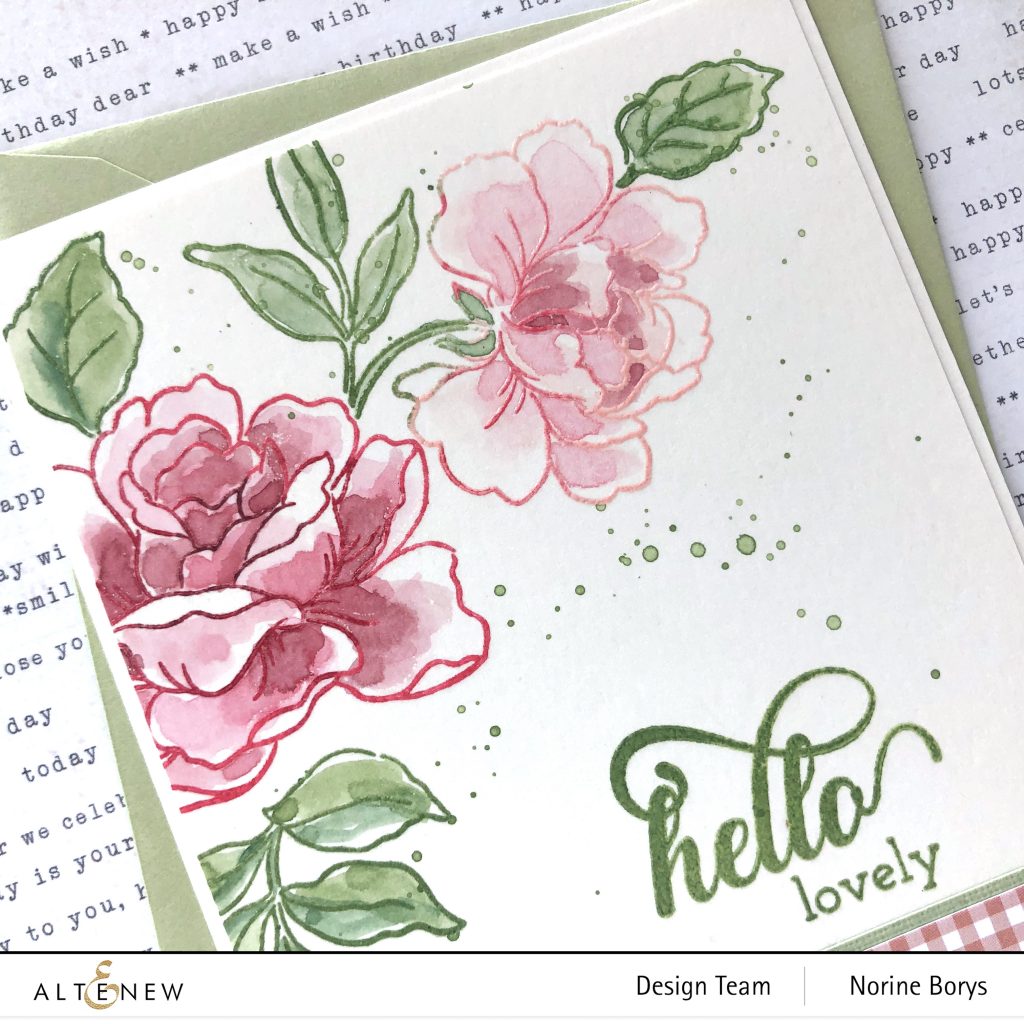 I used all four Red Cosmos color shades to stamp the outer and inner portions of each flower by using the corner of the stamp pad to apply ink in small areas. Then I stamped on the paper, and heat set with clear embossing ink. Because this is pigment ink, it's like embossing ink and embossing powder will stick to it until it's heat set.
I then repeated my inking and stamping with Frayed Leaf and Forest Glades for the leaves and the sentiment, once again, heat setting with clear embossing powder.
Next, I smooshed ink from the ink pads onto a watercolor palette and used a wet paint brush to mix up a color puddle that I could paint with. I did a quick, messy painting technique, not worrying about blending or smooth color transitions.
I finished the card by adding some green ink splatter and then trimming strips of patterned paper and colored cardstock which I adhered to the bottom of the card.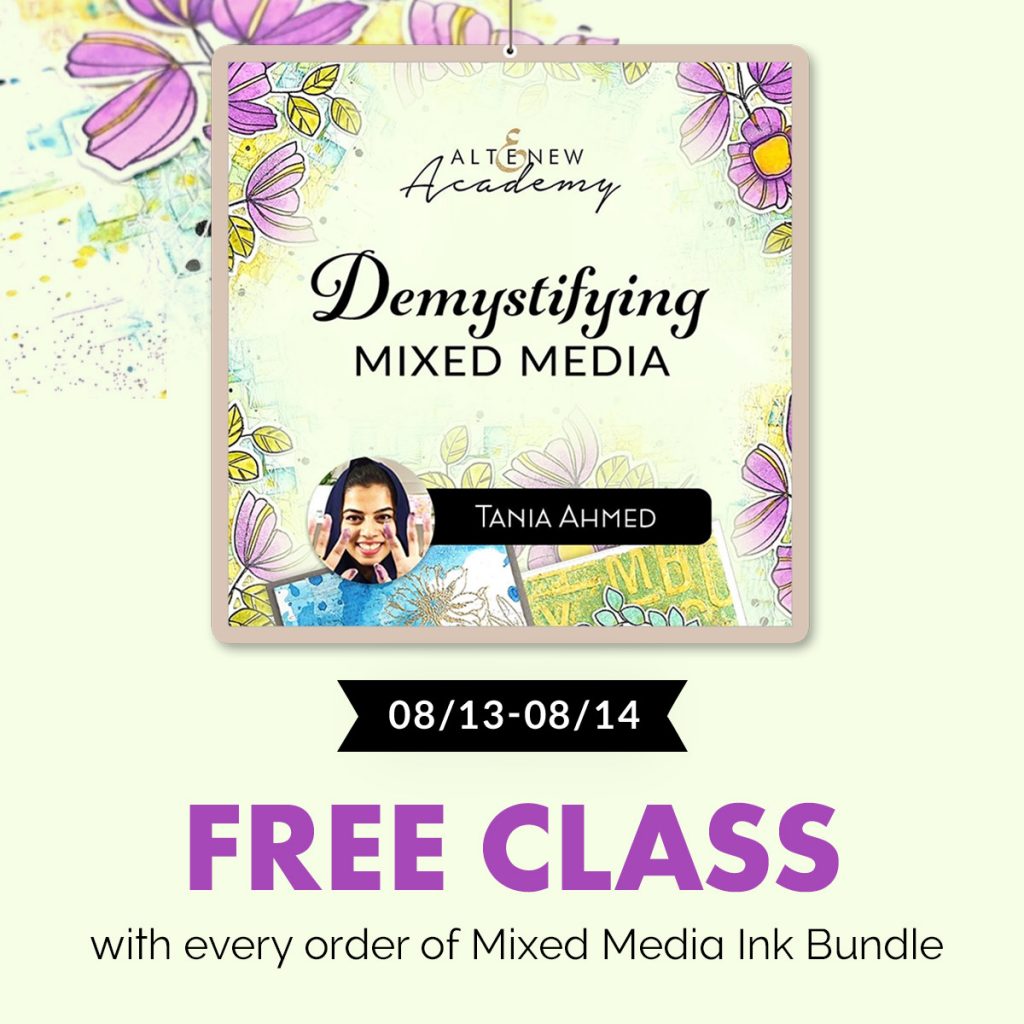 Special Offer 
And as always, there are prizes! Altenew is giving away a $30 gift certificate to 5 lucky winners! Please leave a comment on the Altenew Card Blog by 8/18/2020 for a chance to win. 
They will also draw a winner to receive a $15 gift certificate from the comments left on each designer's blog on the blog hop list below. All winners will be announced on the Altenew Winners Page on 08/21/2020.
Thanks for stopping by today! Your next stop on the hop is Lydia's blog. If you encounter a broken link anywhere in the hop you can refer back here to the complete blog hop list below.
Norine Borys – You are here.