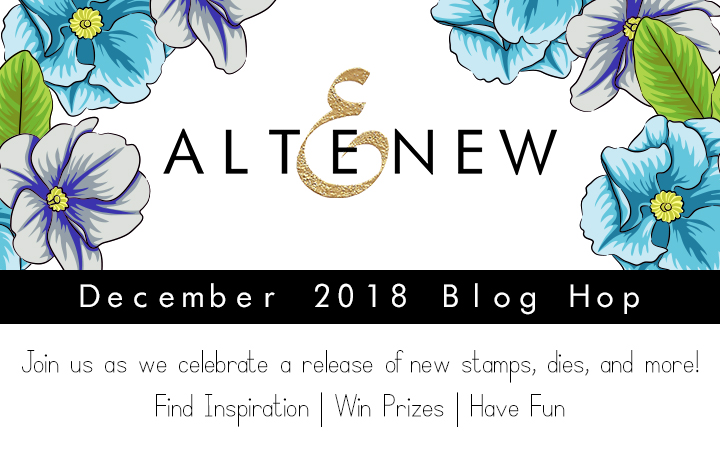 Hello friends!  Its another blog hopping day!  Aren't those the best days?  You just know that a truckload of inspiration is coming your way!  Perhaps you've arrived here from Agnieszka Malyszek's blog, or if you've landed here by accident, you can start the hop from the beginning by going to the Altenew Card Blog.  Listed below is the complete blog hop list as well.
As usual, I couldn't settle down to create just one project, but kept chasing other idea tangents until I had created these three cards.
I started by ink-blending all over an A2 sized card panel with 4 shades of Altenew Inks.  I used Ocean Waves, Persian Blue, Grass Field and Ultraviolet.  The thing about blending these shades is, you don't want to try and mix the Ultraviolet and the Green Field, because they are not near each other on the the color wheel and so, will only produce an unappetizing shade of blerg.  However the blue shades are excellent bridges between those colors, as blue and green play nicely together and blue and purple do too.
I used my heat tool to dry the blended background and then stamped the images from the Flower Vine stamp set with embossing ink and heat embossed with white embossing powder.  I die cut the word from the Mega Friends Die 4 times and stacked them up for extra dimension.  Then stamped the Miss You sentiment from the Mega Greetings 3 stamp set and popped it up with foam tape.
On to the next card.  So, that friend die cut?  It was cut from the ink blended panel of the first card above.  And then all the white friend die cuts were cut and stacked and nestled into the opening left from this die cut.  Totally unnecessary, lol!  No reason at all that I couldn't just ink blend another card panel to provide this die cut, and leave the above card panel intact.  But remember, I was chasing tangents without any clear idea where they would end up!
So then, like the card panel above, I stamped and heat embossed more of the floral images from the Flower Vine stamp set.  Once more I die cut and adhered several word die cuts to pop up on the front of the card.  I paired the word with matching patterned papers from my stash along with just a sliver of that fierce black and white strip (to match the sentiment strip).  THAT, my friends is my current love!  It comes from The Essential Black and White paper pack in the release and the "essential" in the name couldn't be more accurate!  100% guaranteed, you'll be seeing more of it in future projects.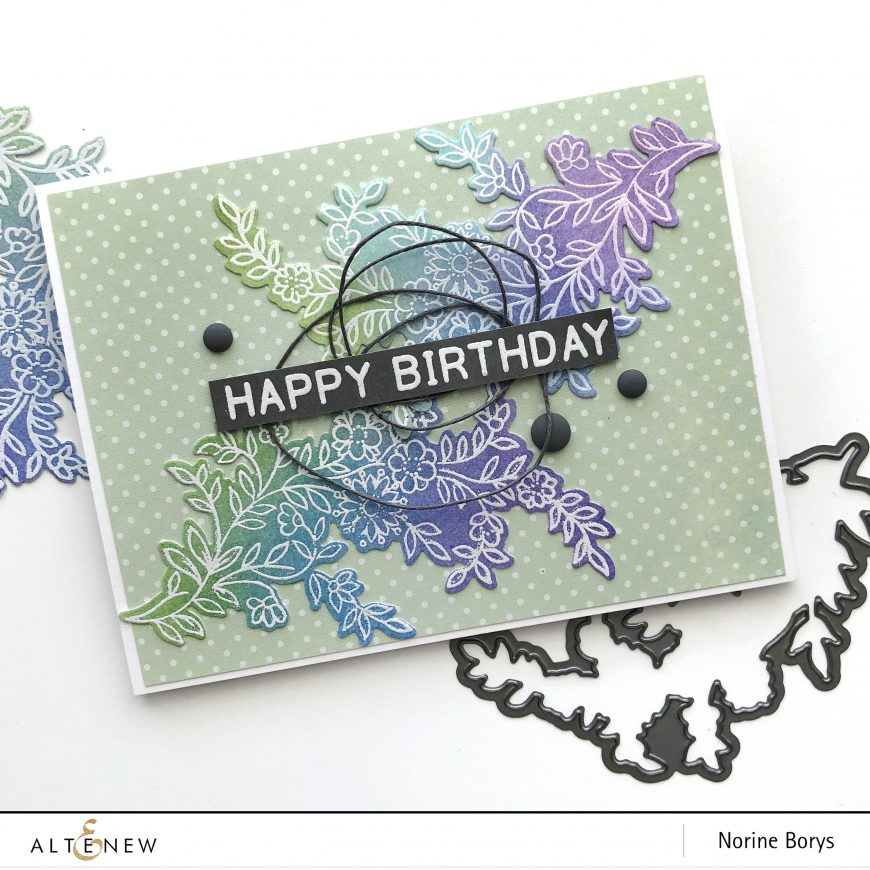 The last card was created very similarly to the first two.  Ink blending with the colors listed above, drying the ink very well so the embossing powder doesn't stick everywhere, before stamping twice with embossing ink, using the Flower Vine florals again, then die cutting those images.  The two images link together in the middle underneath the Happy Birthday sentiment, also from the Mega Greetings 3 stamp set.  I finished this card very simply with some black thread and black enamel dots.
Your next stop on the hop is Amanda Korotkova. To celebrate this release, Altenew is giving away a $50 gift certificate to 6 lucky winners! Please leave a comment on the Altenew Card Blog and/or Altenew Scrapbook Blog by Dec 18, 2018 for a chance to win. 6 winners will be announced on the Altenew blogs on Dec 22, 2018.  As well, leaving a comment here on this post will put your name in a random drawing for a $30 Altenew gift certificate that I will announce by Dec 18, 2018.
Below is the complete  blog hop list:
Altenew Card Blog
Jennifer McGuire
May Sukyong Park
Kristina Pokazanieva
Therese Calvird
Zsoka Marko
Zinia Redo
Laura Jane
Virginia Lu
Kathleen Graumüller
Erum Tasneem
Laurie Willison
Svitlana Shayevich
Emily Midgett
Lilith Eeckels
Alex Syberia
Sveta Fotinia
Kelly Janes
Nicole Picadura
Reiko Tsuchida
Altenew Scrapbook Blog
Vicky Papaioannou
Rubeena Ianigro
Olga Moss
Sandra Dietrich
Dana Gong
Agnieszka Malyszek
Norine Borys – You are here.
Amanda Korotkova
Kymona Tracey
Cynde Whitlow
Lydia Evans
Isha Gupta
Enza Gudor
Aya Elsheshtawy
Thanks for stopping by today and enjoy the rest of the hop!