Hello, hi! I'm back for Day 2 of the Winter's Song reveal with The Greetery! Did you just love what you saw yesterday?? Well wait, there's MORE!
Today's reveal includes two different stamp sets (pine boughs, holly and mistletoe branches) with coordinating dies as well as two more stand alone die sets (pine boughs and bows). You can click through to The Greetery's Blog to see all the individual pieces and how they work together. I am in LOVE with this release and can't wait to use them to make more winter-themed cards.
I have two cards to share today and I hope you're as excited by the possibilities they present as I was!
The first card uses the BotaniCuts Pine Bough die set. I die cut all of the pieces from watercolor paper, but didn't remove the die cuts from the surrounding paper. I place light tack adhesive tape over the back to keep the pieces in place while I painted them with watercolor paints and let them dry. So much easier than trying to hold bitty pieces in place while you paint.
The pine boughs are lovely on their own and will get plenty of use as fillers in other bouquet projects, but the little pinecones!! Ohmygoodness I DIE! There are four layer pieces that you add to a background pine cone shape, in two different sizes.
I really took very little care in painting them. The pine boughs were a loose mix of warm green and cool green, varying the intensity a little, and the pine cone pieces were one shade of brown paint with only a variation in the amount of water added to the paint.
Once all the pieces were dry, I layered them together, adhering the pine cones with a strong double sided tape on the back, and adhering everything to a piece of patterned paper. I stamped and gold heat embossed a sentiment from the Sentiments Suite: Christmas stamp set and added a few matching enamel dots to finish. Imagine how cute this set would be with some white embossing paste or glitter paste added to look like snow!!
My second card uses a couple of stamped bouquets layered together and tied up with a "twine bow" die cut.
I stamped the Mistletoe branch from the Budding Beauties: Winter stamp set, and die cut it with the matching die. Then I stamped the layered pine bough from the Winter Sketches stamp set and die cut it with the matching die as well. I also die cut a stitched coaster from white cardstock and stamped a holiday greeting sentiment on it, from the the Sentiment Suite: Christmas stamp set.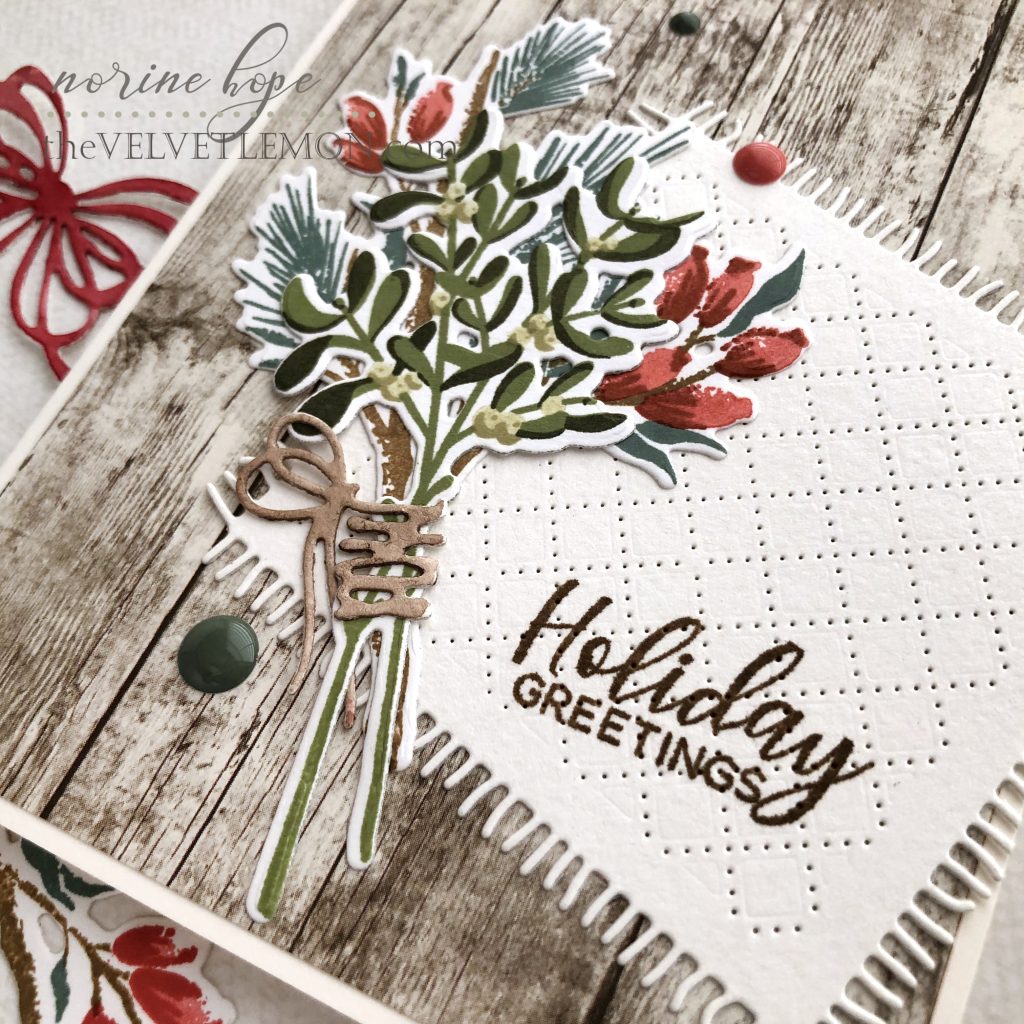 The "twine tied bow" die cut is from the Fit To Be Tied die set and is one of three different types of bows, as seen in the photos above. I layered and adhered everything to a wood-grain patterned paper for a rustic winter feel and added that to a cream colored cardstock card base. A few matching enamel dots complete this card.
Thanks for stopping by again today! Don't forget to leave a comment here, and at The Greetery's blog and on each of the participating blogs listed below, for a chance to win a $50 giveaway! Commenting closes midnight, Thurs, Nov 21 and the products go live in the shop Friday, Nov 22 at 10am EST.
Participating blogs:
Norine Borys – You are here.
Edited to add: I got some questions about the background papers I used for these cards and I'm always happy to share product info and sources when I can! All my patterned paper backgrounds come from 6″x6″ paper pads and I've collected a number over the years! The small gingham check is old. Bazzill Basics Kraft paper pad. But the woodgrain is still available at Simon Says Stamp. It's a Simple Stories Snap Basics pad that you can find here. Thanks for asking!