Hello, hi! Welcome to The Greetery's Tags & Toasts reveal blog hop! If you are looking for the Altenew Washi Tape blog hop, you'll find that here. You are most likely arriving here from Kelly Lunceford's blog but if not, you need only click back to the start of the hop at The Greetery's blog in order not to miss anything.
I have so much to share with you for this release and blog hop – it's a smaller release, so only a single day blog hop, and as usual I kind of went overboard – if a little is good, a lot has to be better right? I hope you'll stick with me to the end!
This post contains affiliate links that are listed below. By clicking through to purchase products linked, you are helping to support this blog at no additional cost to you and that allows me to continue to provide you with creative inspiration and instructive help.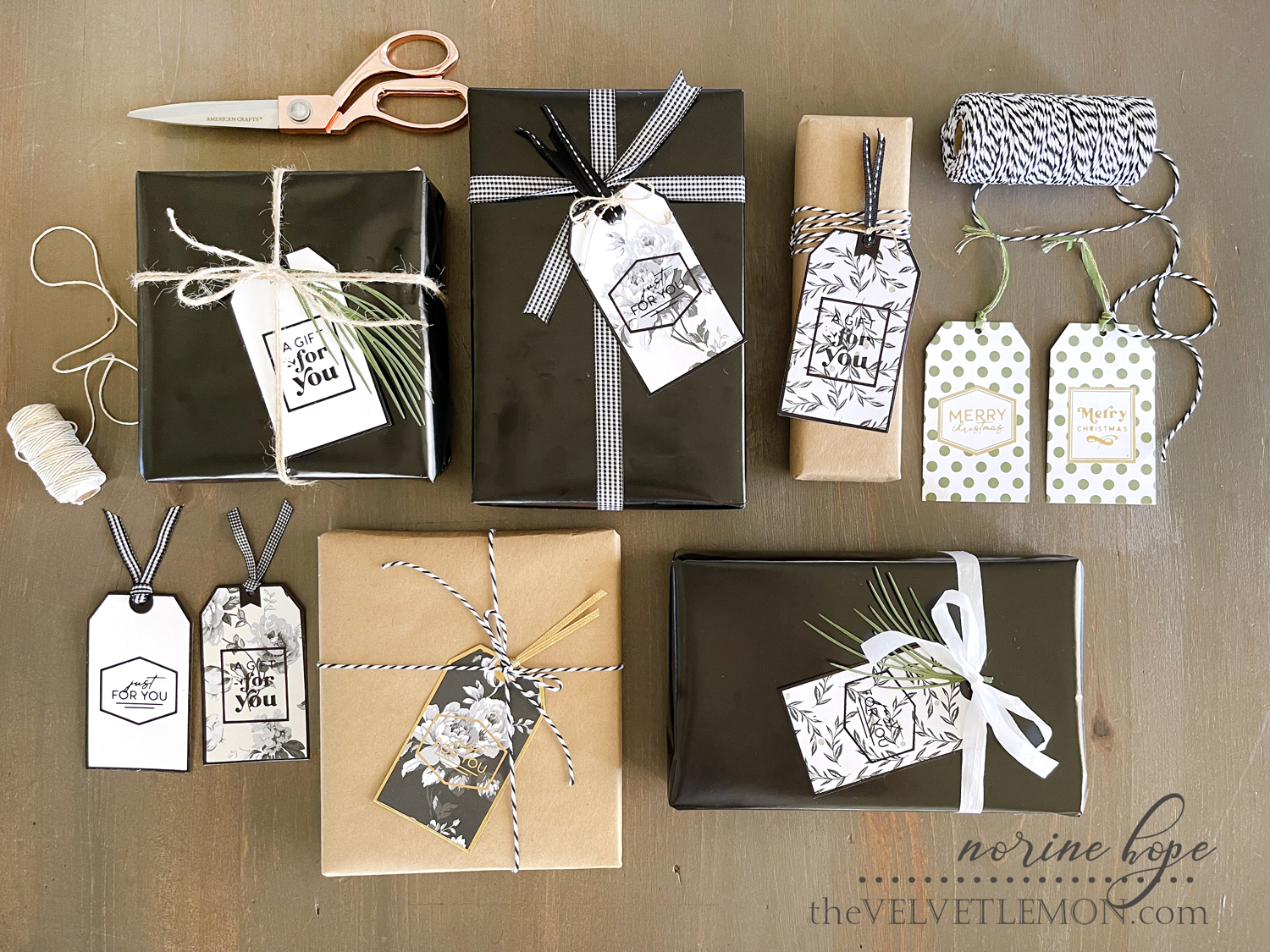 First off, we have tags. A lot of tags. They're such handy little ways to accomplish both beauty and function!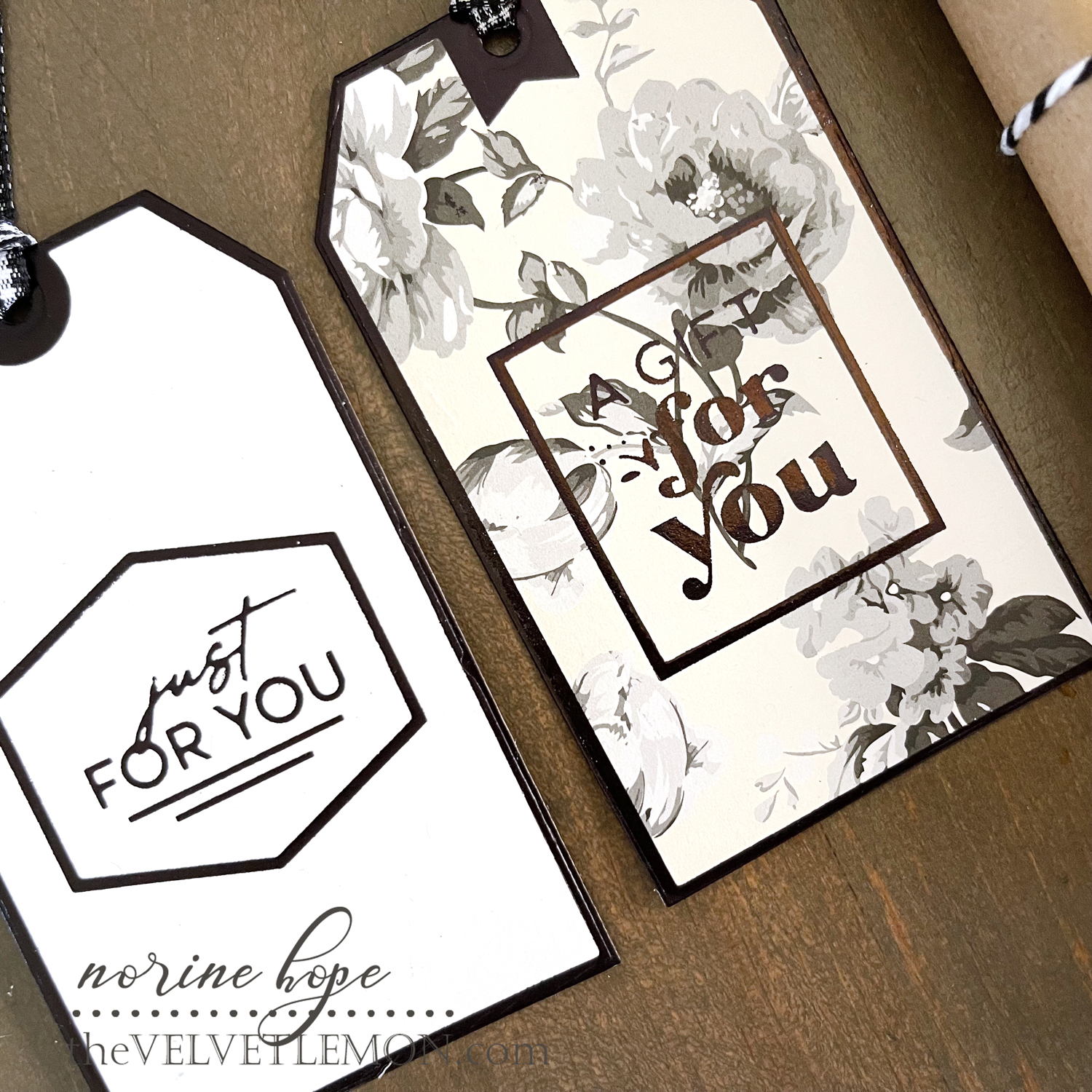 For this series, I did a simple one-step hot-foil technique on plain white cardstock and some beautiful floral patterned paper I had in my stash. I foiled some with gold foil and some with black foil.
There is the option to foil OR stamp/heat-emboss the outline only of the tags, and add in the sentiment separately, or do them all together, then die cut.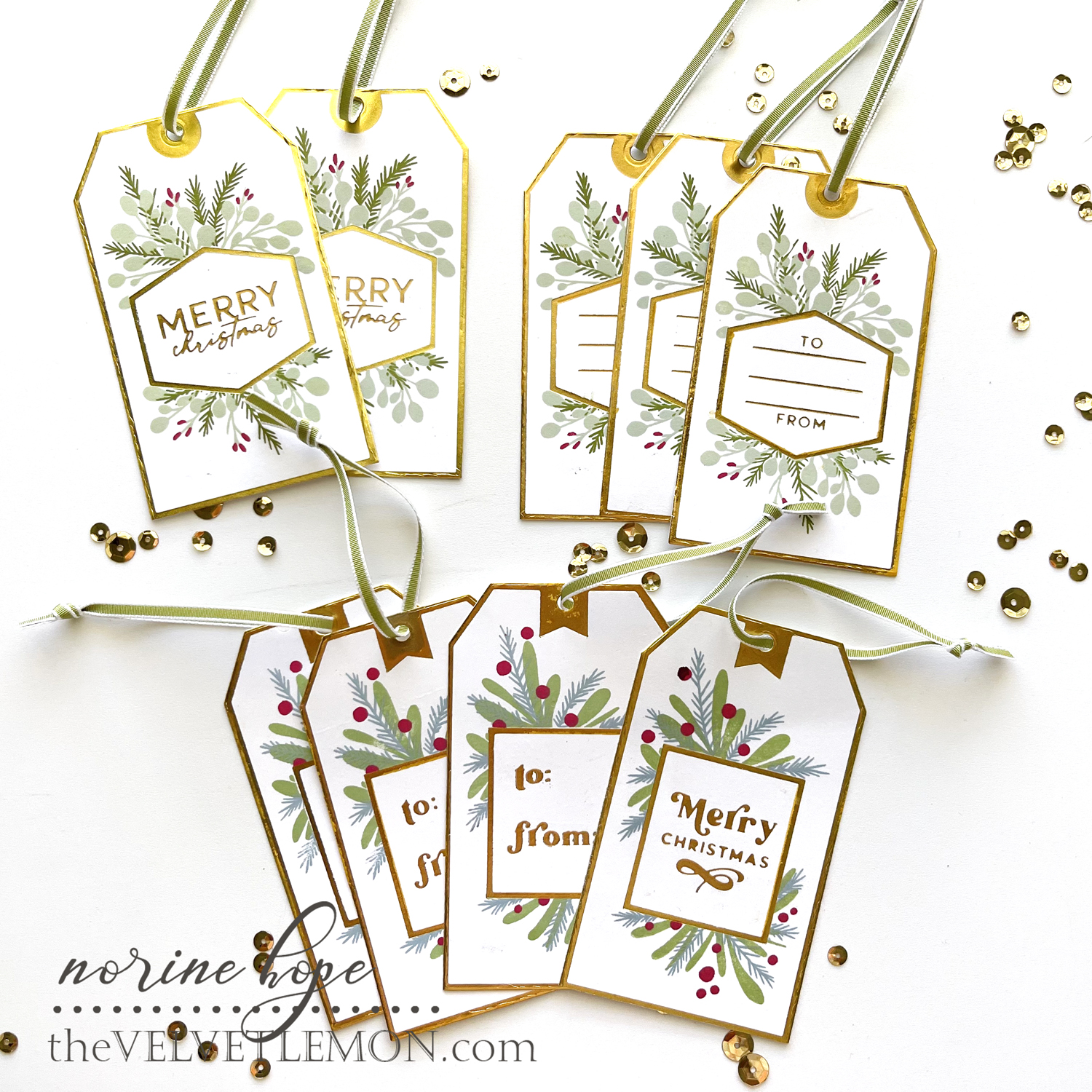 Then! There is the option to hot foil (or stamp) the outlines, sentiments and then layer-stamp two different designs of "greenery".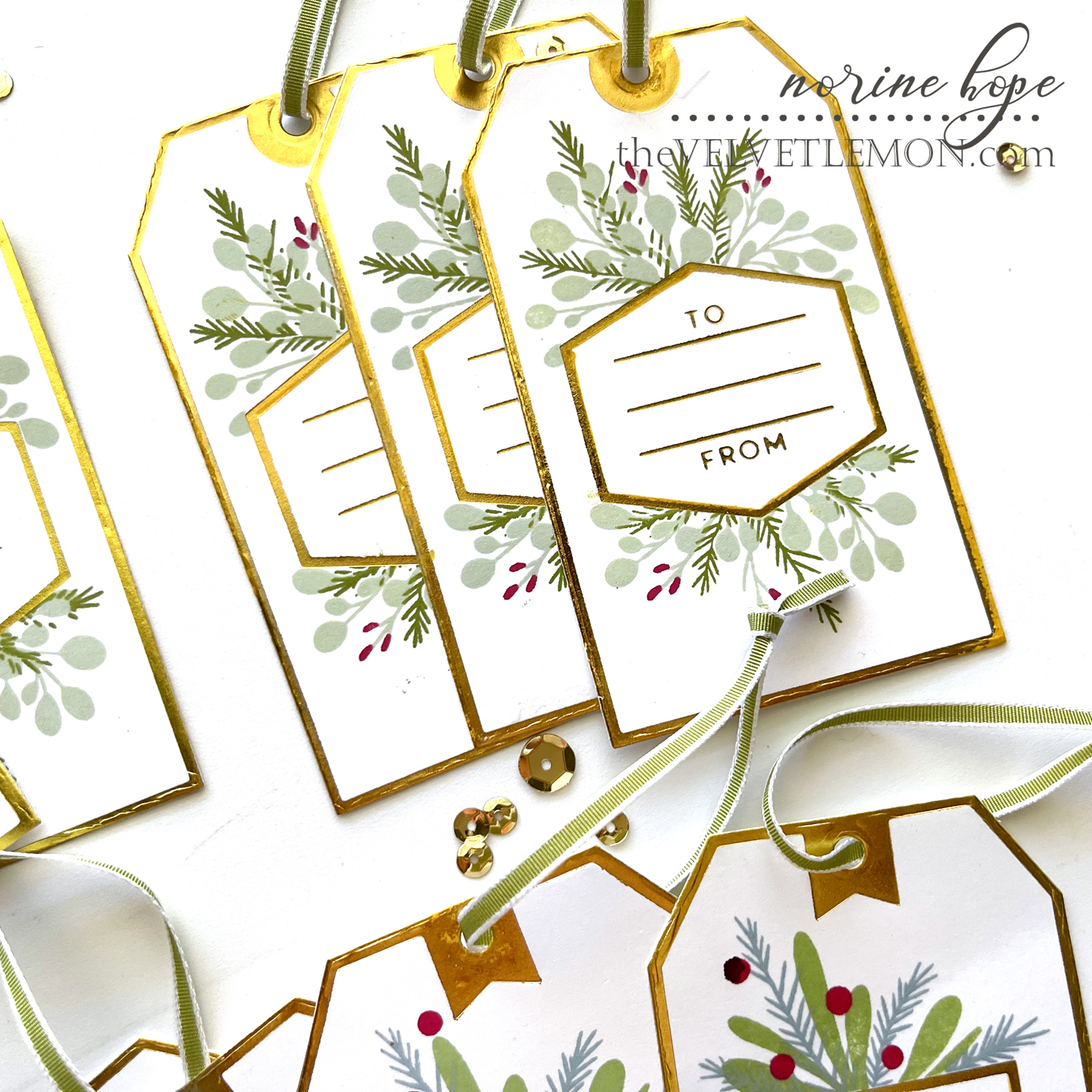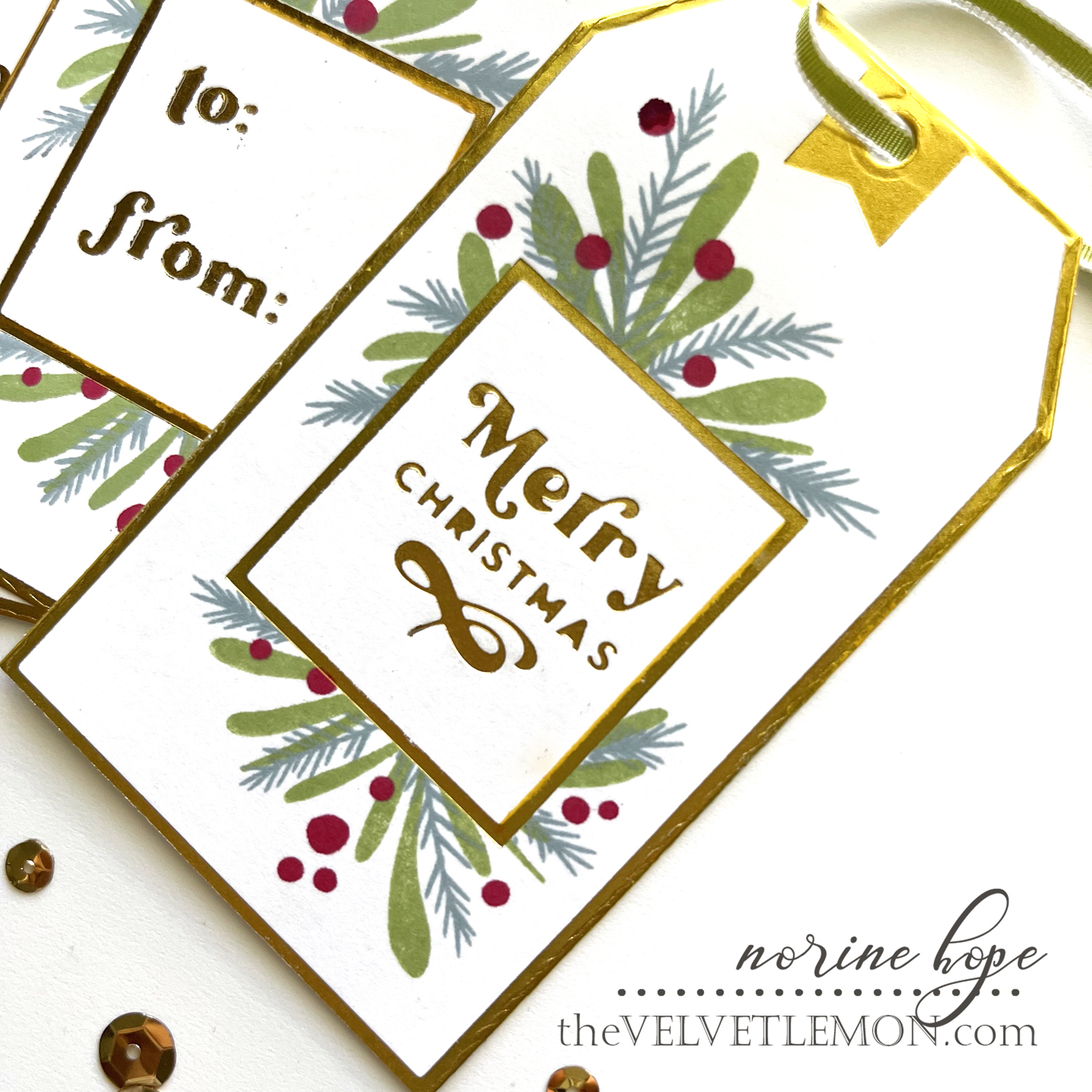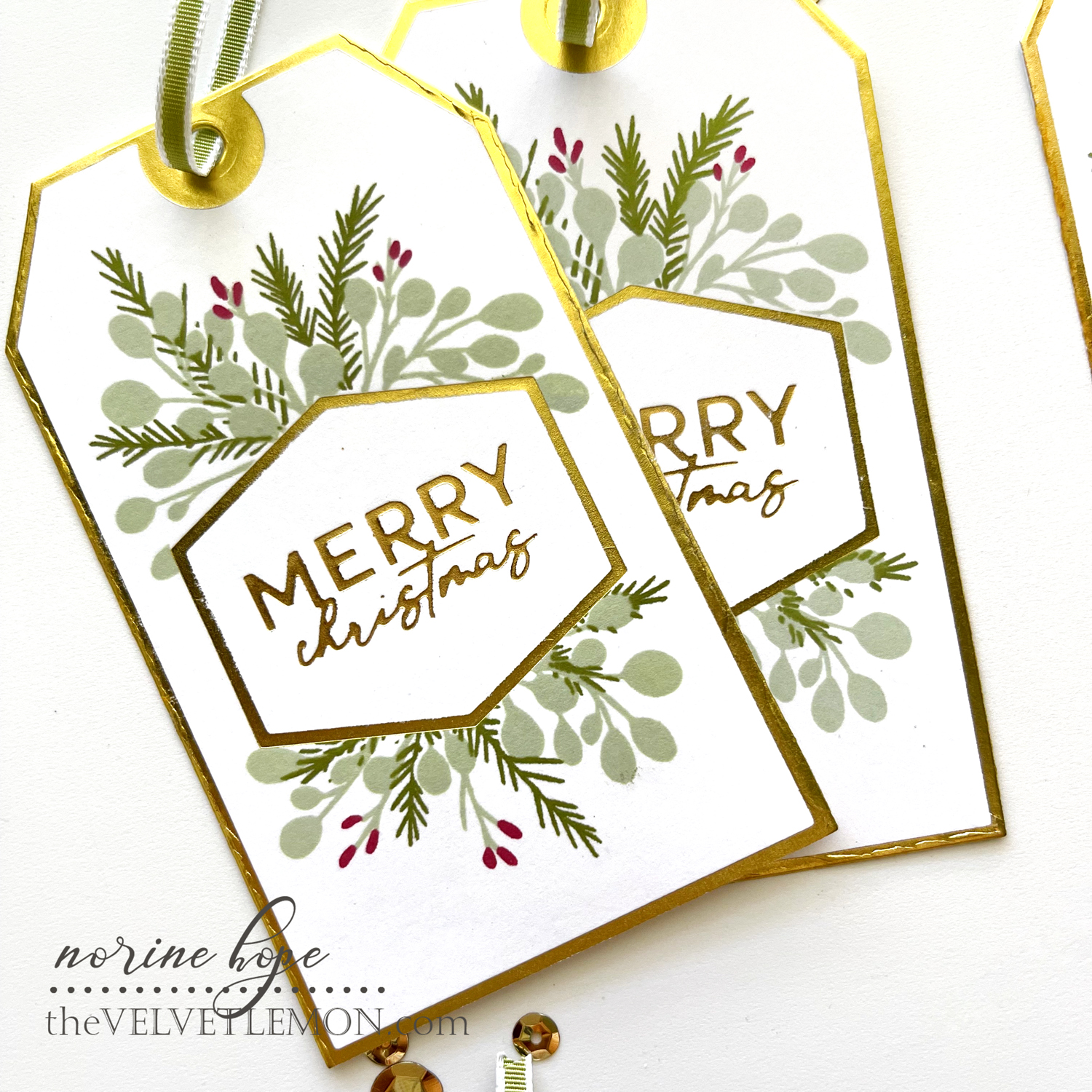 The tags above are stamped with Altenew Frayed Leaf and Moss, plus Velvet for the red berries, and the tags immediately above that are stamped with Forest Glades, Nimbus and Velvet inks.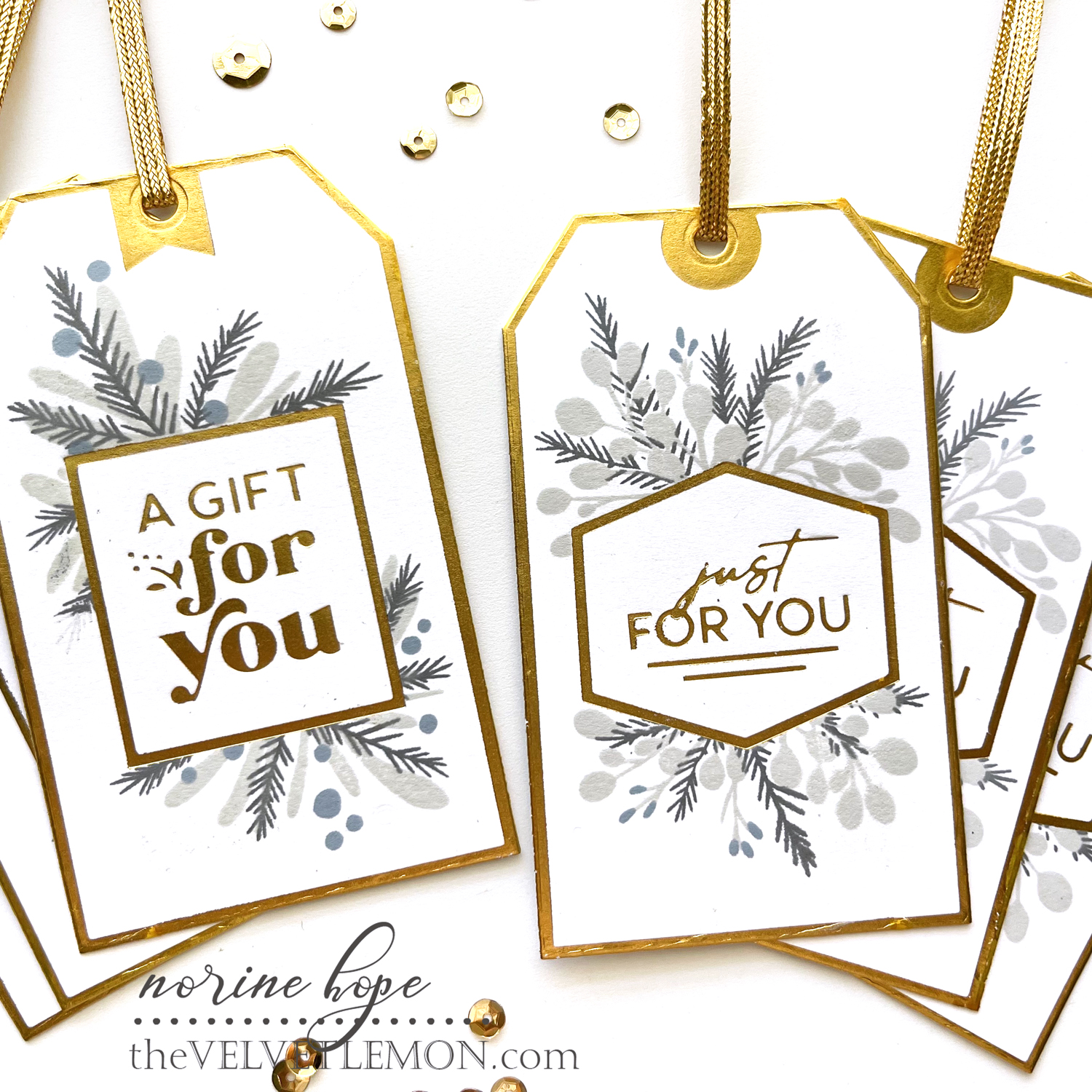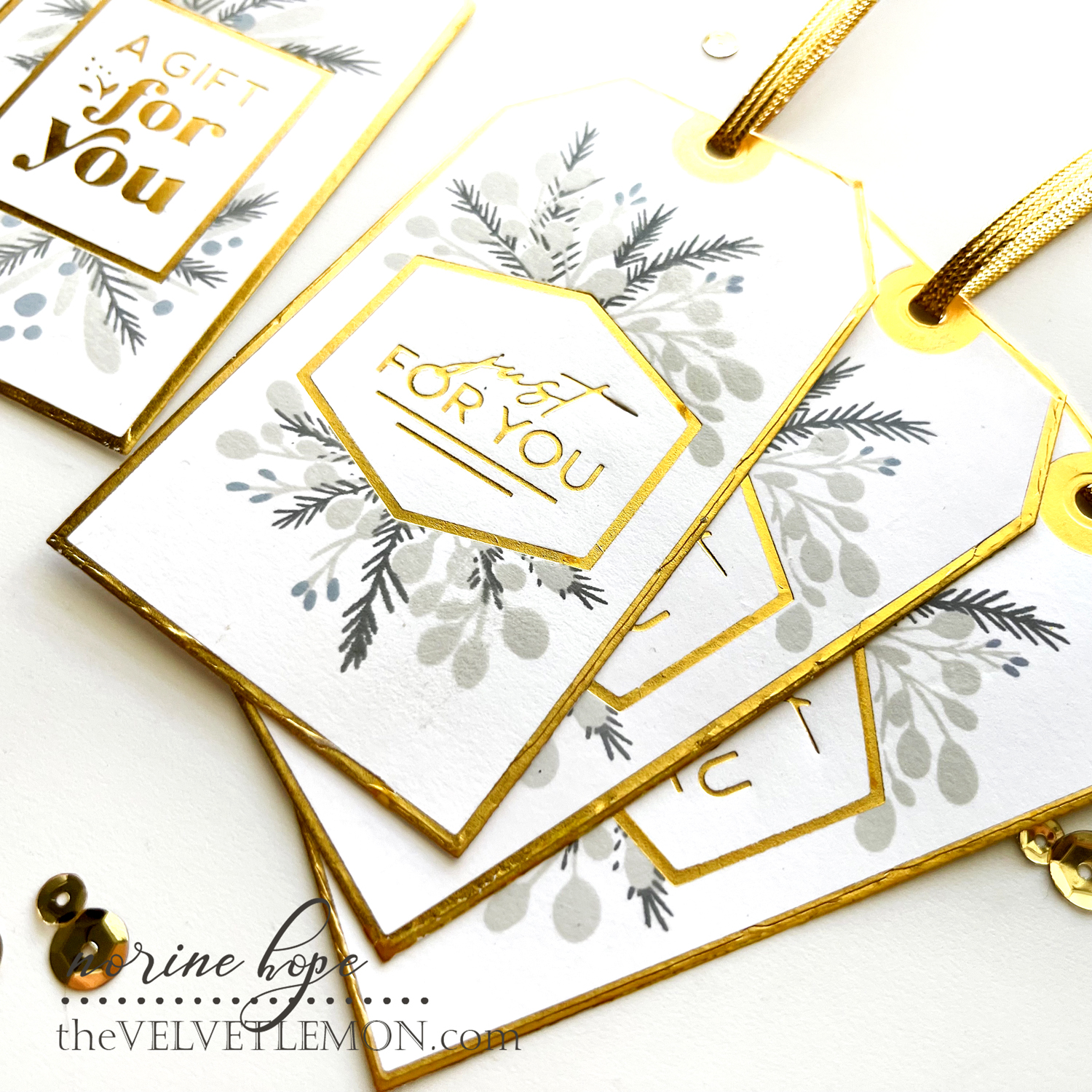 Isn't that shine just GLORIOUS!? I used Altenew Misty Morning and Nimbus inks to stamp the designs above.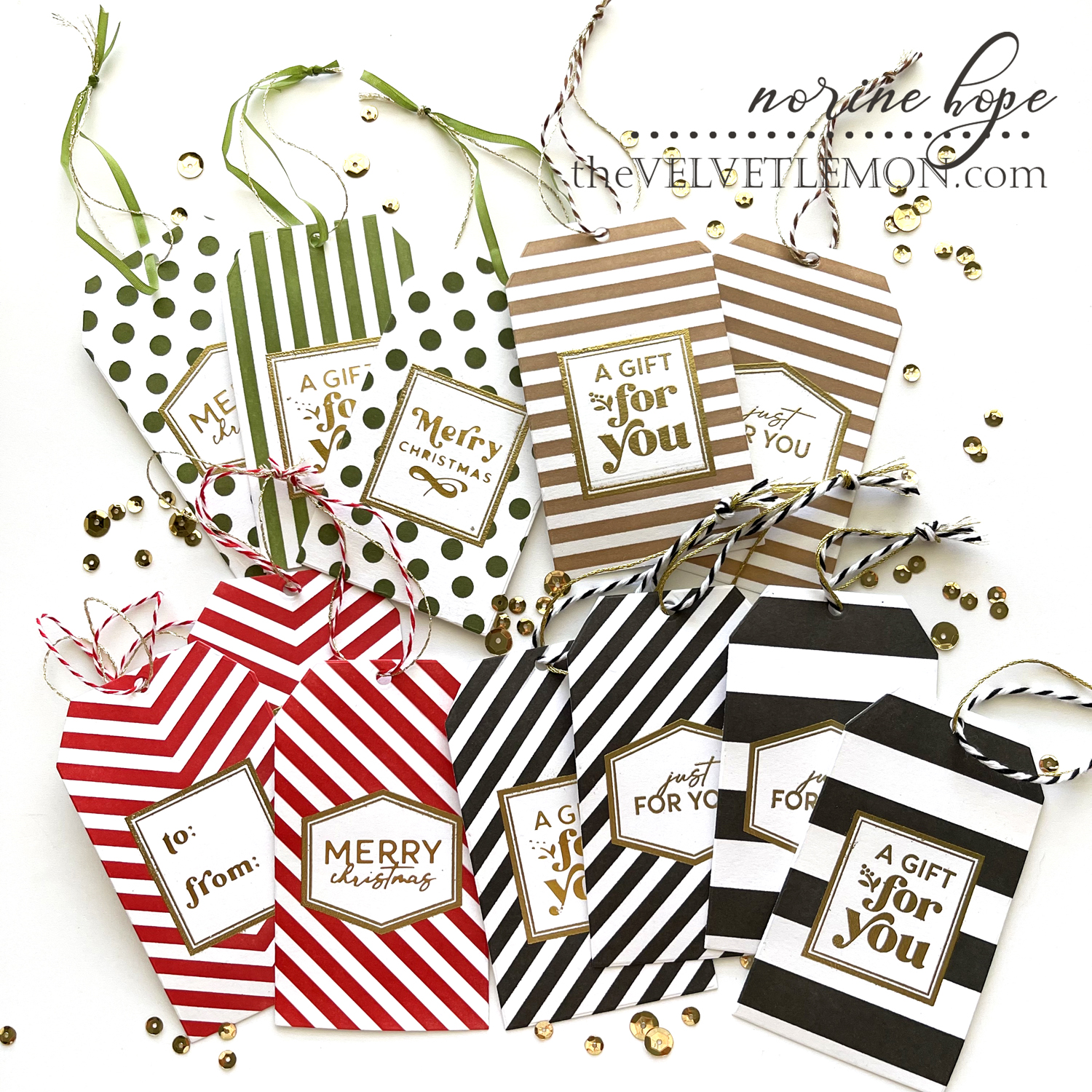 But, that's not all! There are a set of stencils that let you add pattern to the tags!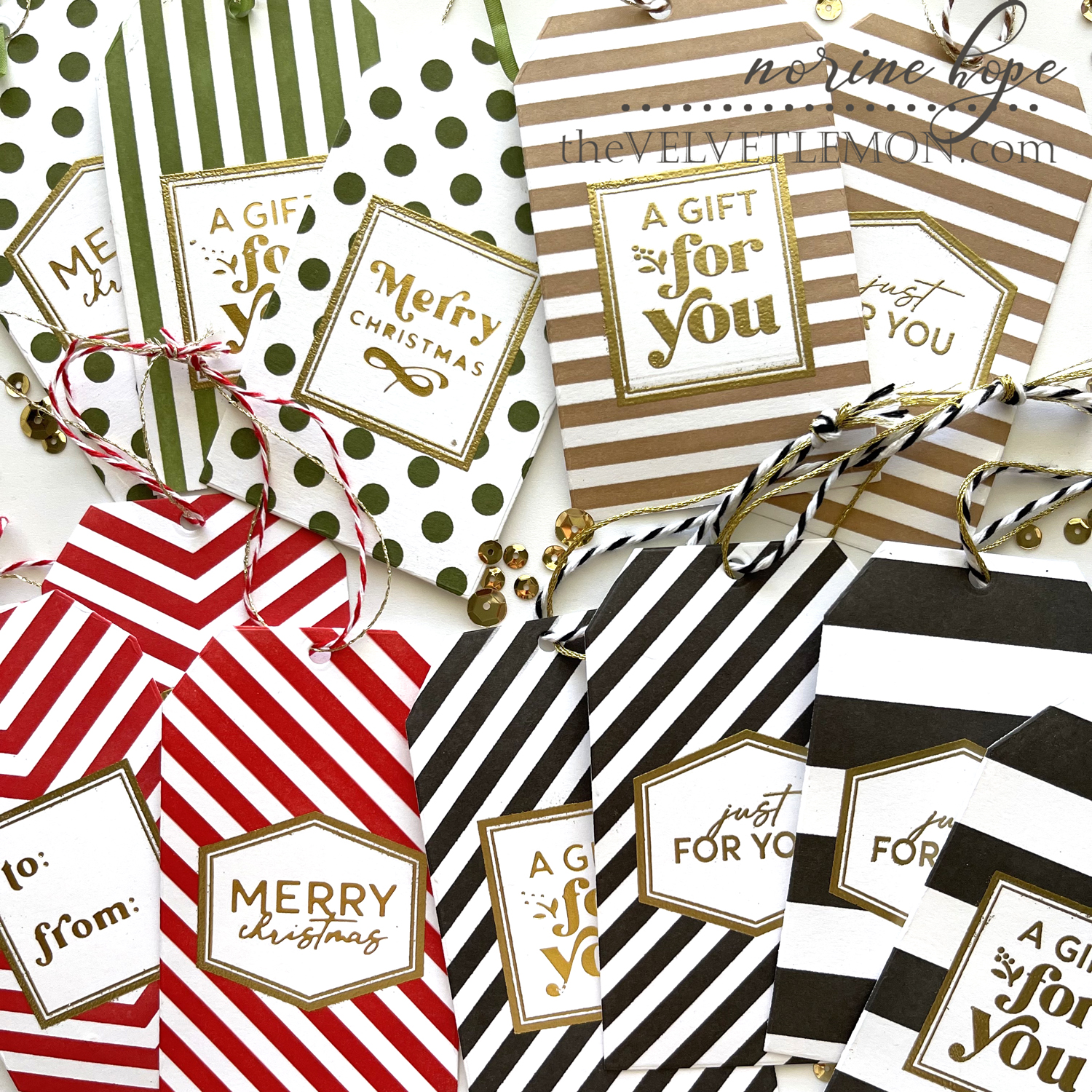 For these ones, I wanted a slightly more "homespun" feel, so I did foil the sentiments without the outline, and gold heat-embossed the sentiment frames. I stenciled diagonal strips, polka-dots, broad stripes and horizontal or vertical stripes. The ink colors I used are: Ranger Distress Barn Door, Black Soot, Peeled Paint and Altenew Milk Chocolate.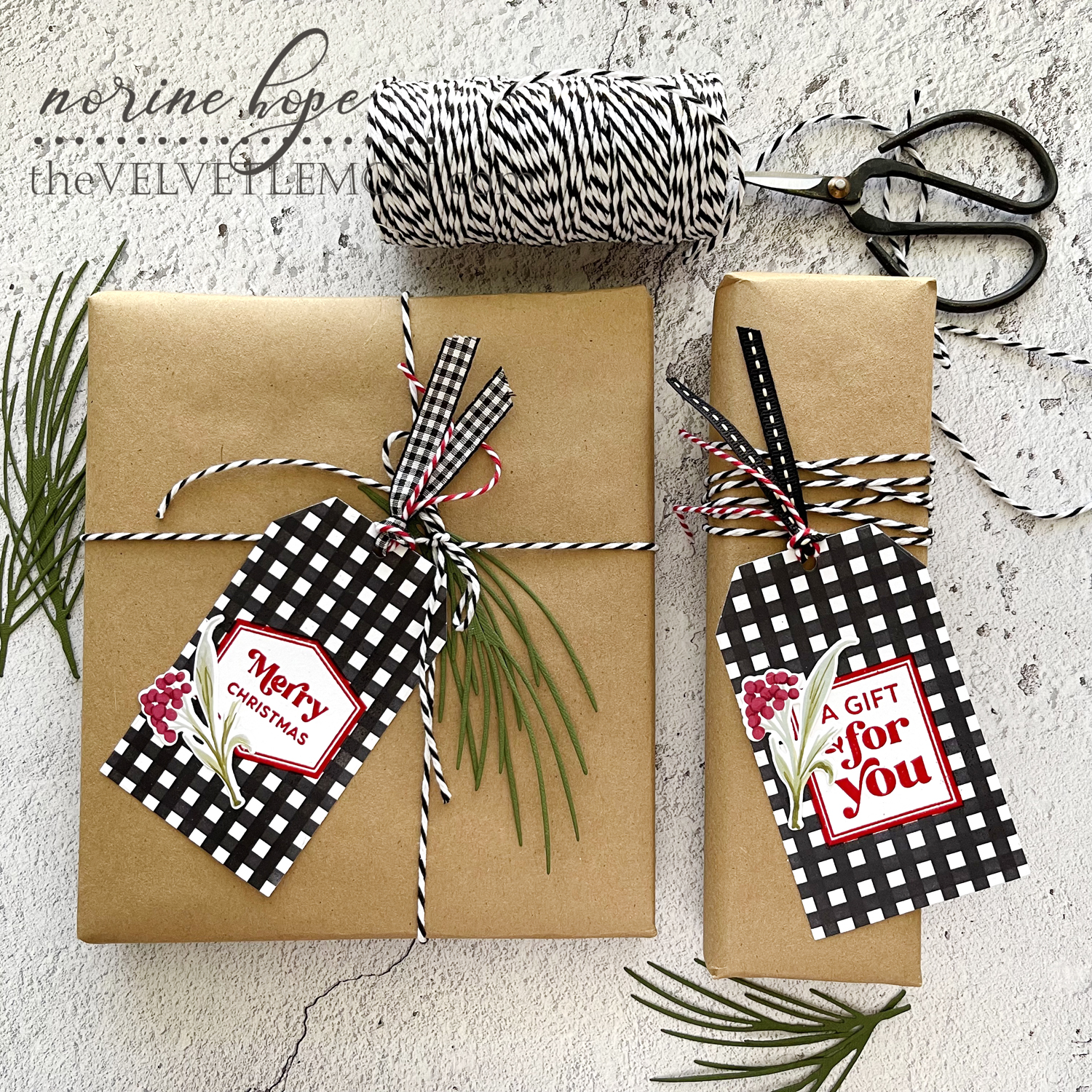 Finally, I combined two stencils to create the black check background, stamped the frame and sentiment with Versamark clear embossing ink and heat set with red embossing powder. I layer-stamped some sprigs from an older Greetery set to die cut and adorn the tags.
That's tags, now on to the Toasts!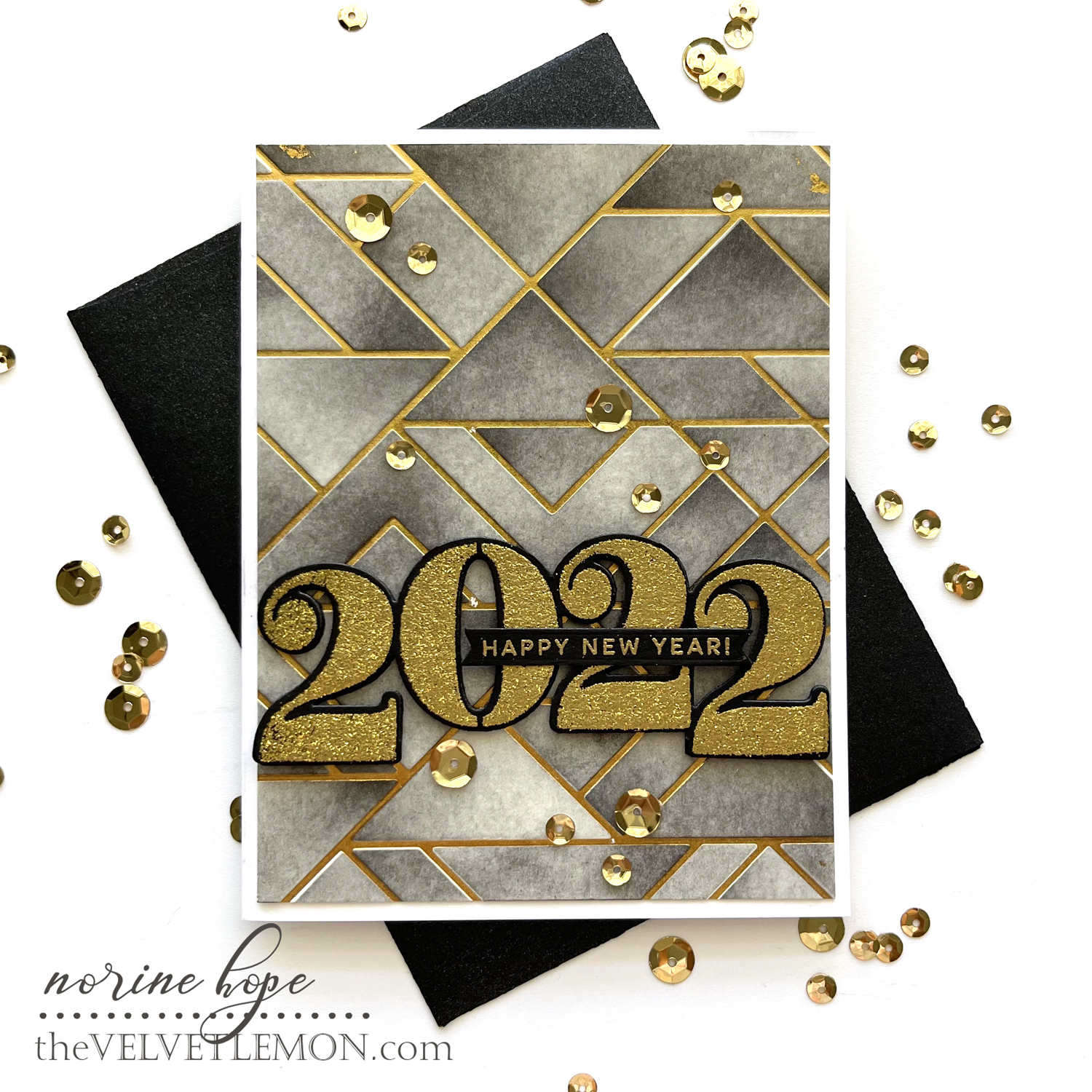 The Tags & Toasts release includes a fun hot foil plate, stamps, stencils and die for making New Years cards, graduation cards, and anything else you'd like to celebrate marking the year with!
I created the background for this card with the Deco Triangles Hot Foil Plate, foiling on watercolor paper for some reason. Oh yeah! I know why that happened! I was going to watercolor the sections with little ombre gradations of color, but then I remembered the stencils and thought, mmmm yeah, that'd be faster!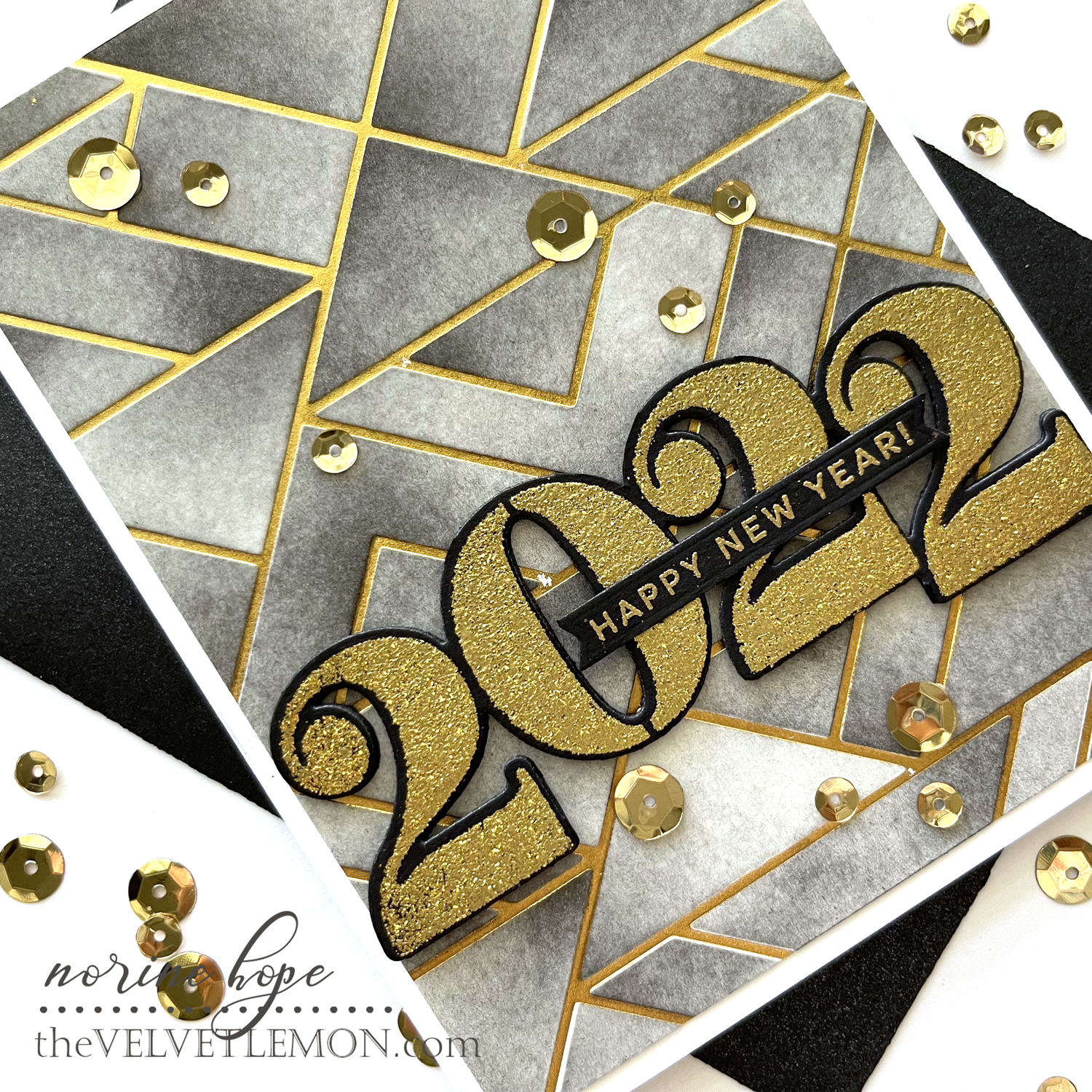 Then I die cut the 2022 portion of the larger flourish die and used the stencil to pounce Versamark ink onto the black cardstock and heat set with a glitter-gold embossing powder. I die cut a few more layers of black cardstock to stack behind for more depth. Then I stamped the rest of the sentiment and heat embossed with a smoother textured gold embossing powder. A few gold sequins, and this card is ready for the holidays!
Here is the full 2022 flourish die cut! To make this graduation card for next year (how's that for ahead of the game!) I cut it twice, once from navy cardstock and again from gold metallic cardstock and did some inlaying between the two.
OF NOTE:
The Year In, Year Out, 2022 die and stencil, and the It's the Year 2022 hot foil plate are limited edition items. The Greetery will try and make them available through the end of 2021. The Sentiments set that goes along will not be limited edition as it is not year specific and will go with the following year's releases.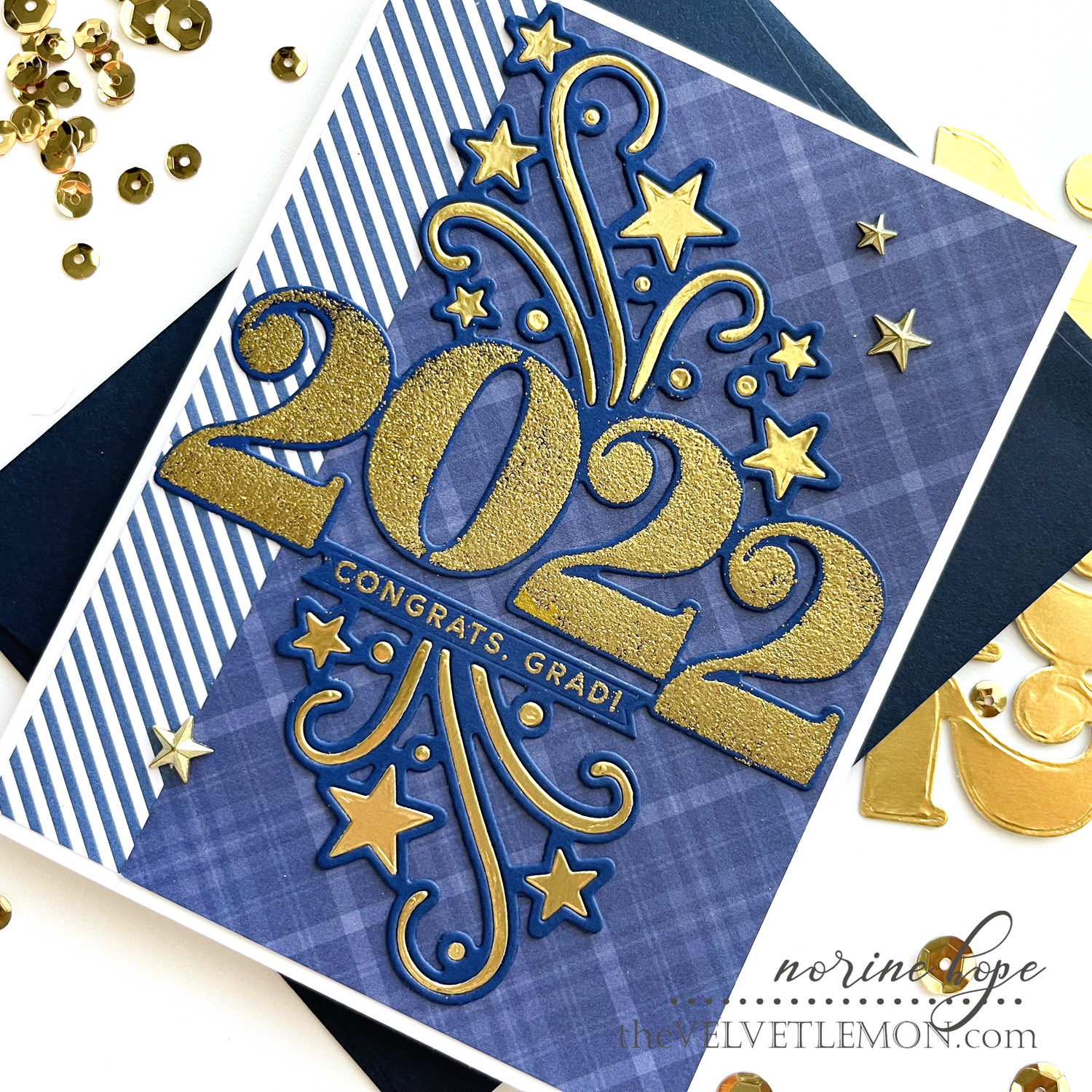 I did the "2022" part the same as on the black card – daubing through the stencil with a foam applicator tool and Versamark ink, then heat setting with a glitter gold embossing powder.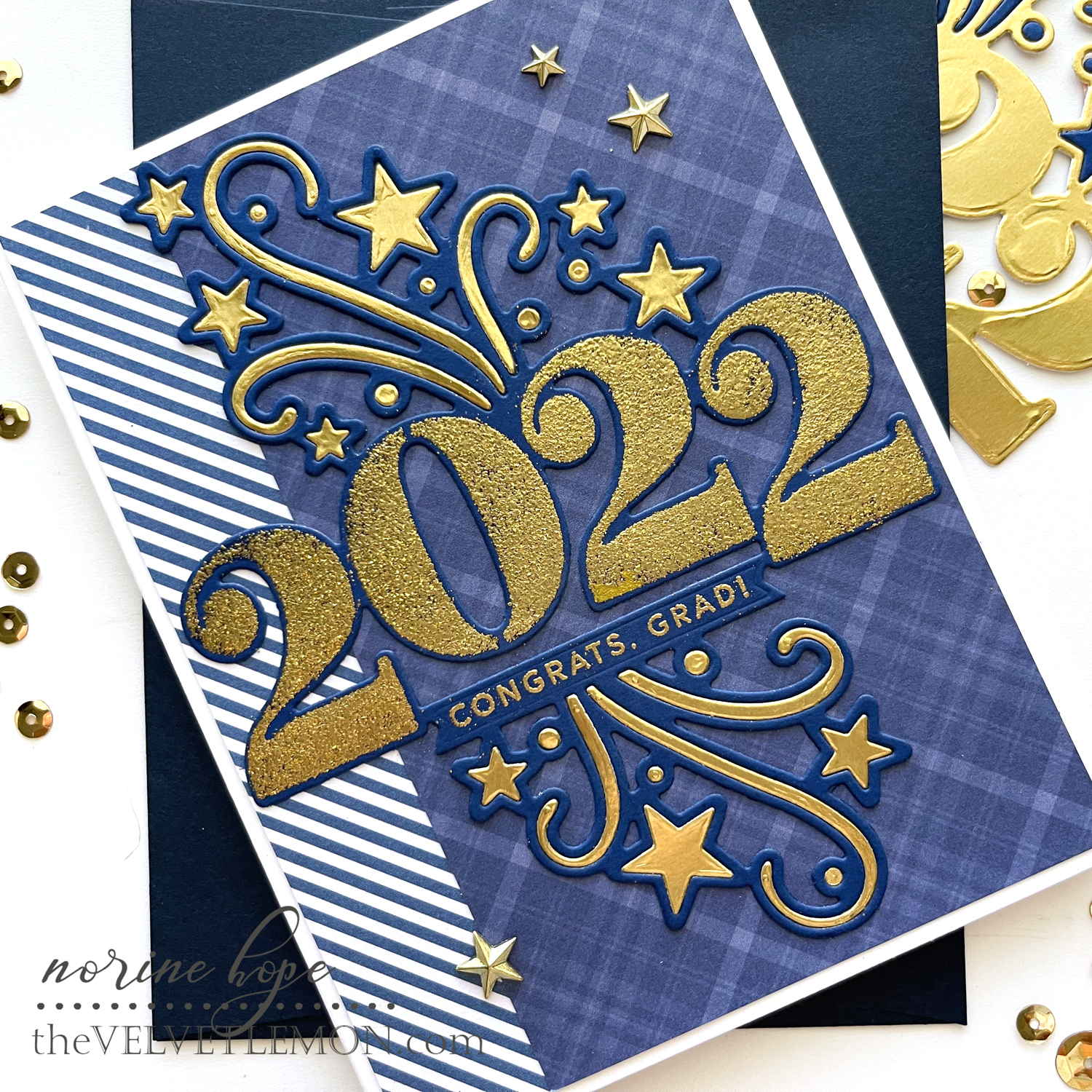 I covered the folded card base with coordinating patterned papers, and adhered the die cut to it, then inlaid and adhered the gold cardstock pieces. A few "metallic" gold stars complete the card. Big impact for very little effort – always a win in my books!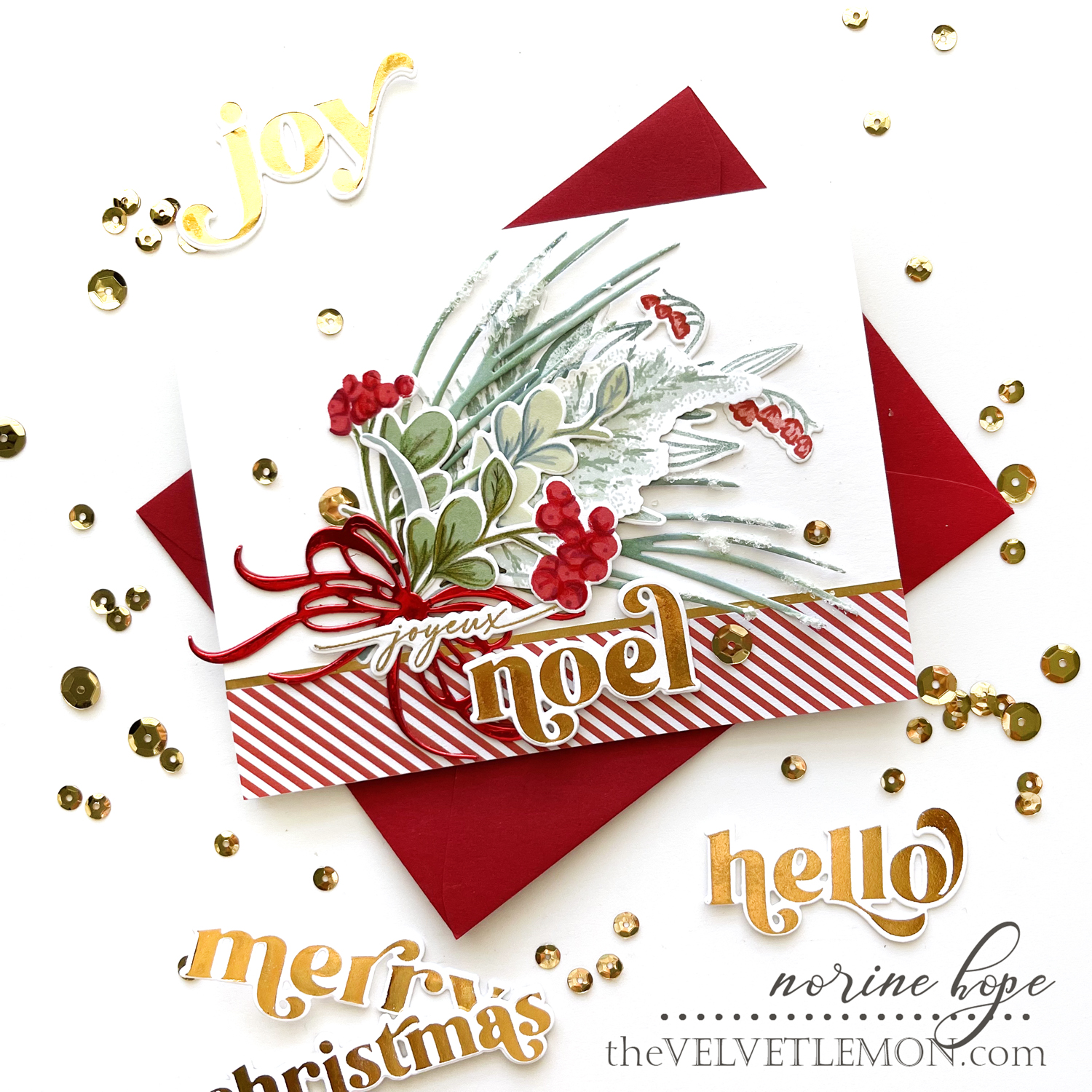 The last project I want to share, showcases the new hot foil Opposites Attract words. They are the same as the previously released stamps, (Opposites Attract and Opposites Attract Holiday) and fit the same dies, but of course, they're hot-foil plates. For us hot foiling fools! (I have recently acquired (looking ceiling-ward with a "who, me?" expression) allllll the colors of foils, so you can bet I'm going to be hot foiling everything!
How goooood is that foiled Noel, right?? So I made a Christmas bouquet of Pine Wisps from the last release, adorned it with a red foil bow from the Fit to Be Tied die set, and added a stamped and heat embossed "joyeux" to the greeting. The gold foil strip is a skinny piece of gold cardstock, and the simple gold sequins complete the card!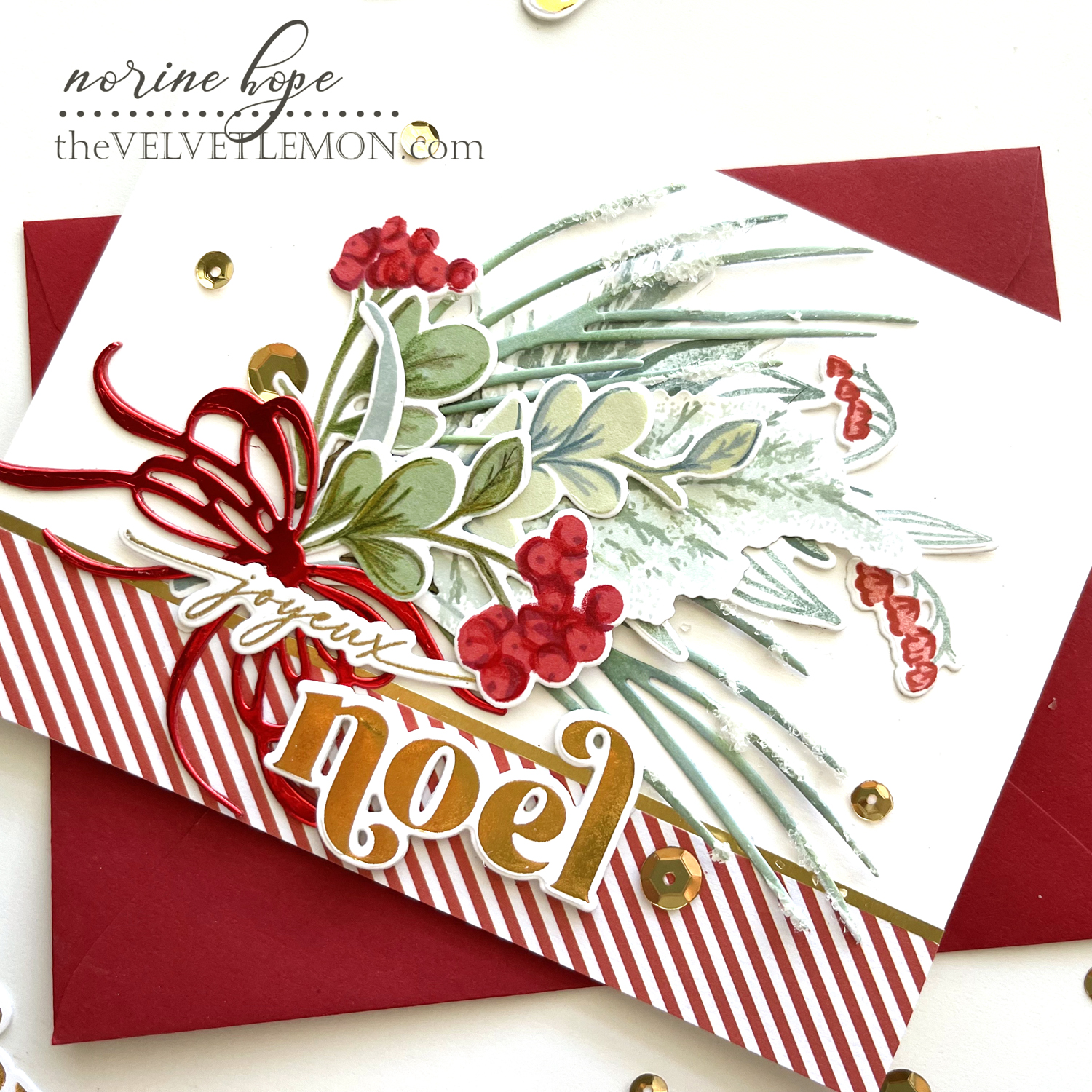 The red bloom/berry clusters are from the Winterberry Bouquet, there's a stem of Pampas Grass in there, as well as a sprig of bells and leaves from the Signed and Sealed with a Kiss stamp set. All of the greenery is stamped with Altenew inks from the Green Fields, Tropical Forest and Tranquility color families.

You'll be excited to know that there is also a storewide sale on that begins with the release going live tomorrow, Friday Nov 12, 10am EST and runs through the end of day, Saturday, Nov 13.
As always, there are prizes too! Leave a comment on each of the blogs included in the hop for a chance to win one of two $50 gift cards! Good luck!
Your next and last stop on the hop today is the blog of Wanda Guess! Thank you for stopping by today and have a wonderful day!
Blog Hop Order:
Norine Borys – You are here.
SUPPLIES USED: