Hi, I'm back again today with day 4 of The Greetery's August Get Cozy, Get Crafty reveal! Sooo so much goodness in this month's reveal, that I wish I had no need for sleep and could craft all day AND all night!
I made two cards for today's reveal, one using the Cozy Cup stamp set with it's aDORable coaster die (you're gonna see that again I can tell you!) and another with the Katie's Cuties; Gettin' Cozy stamp set.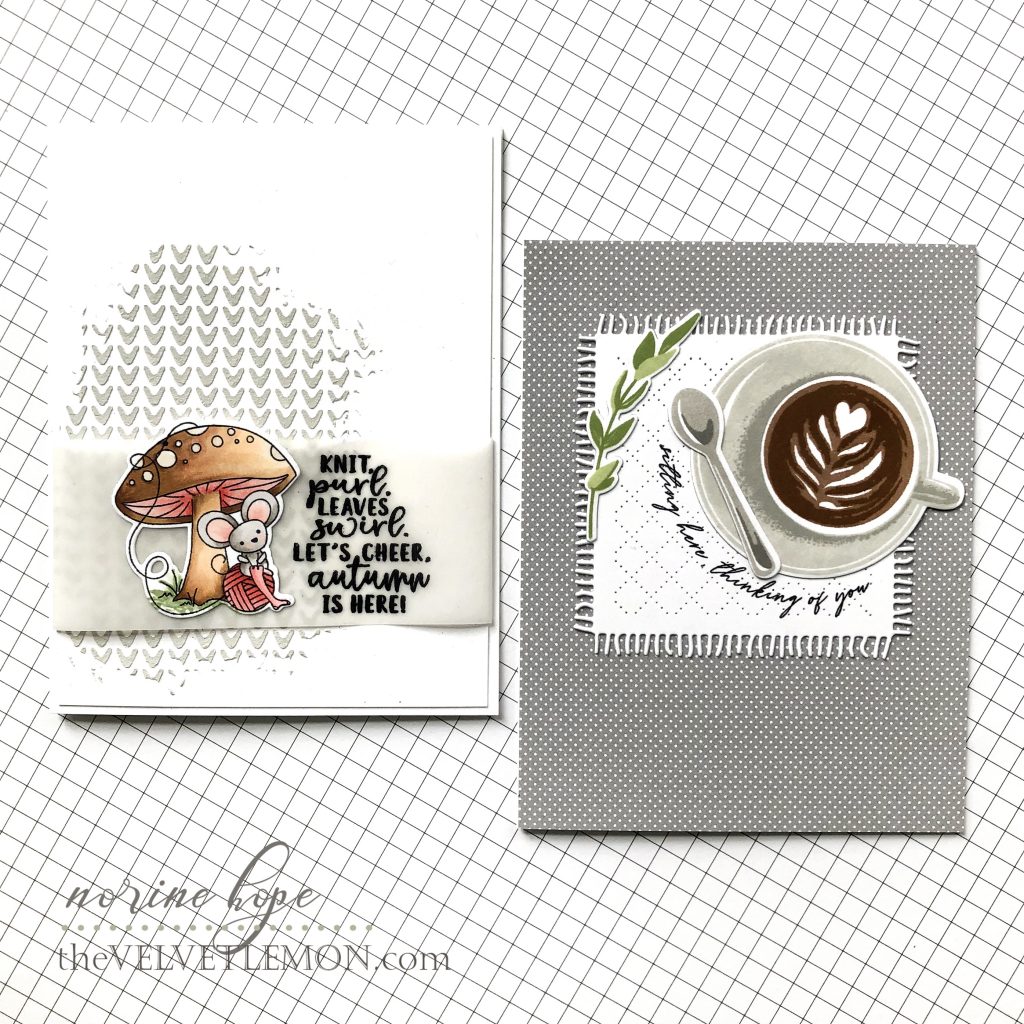 Lets begin with the Cozy Cup layered stamp card.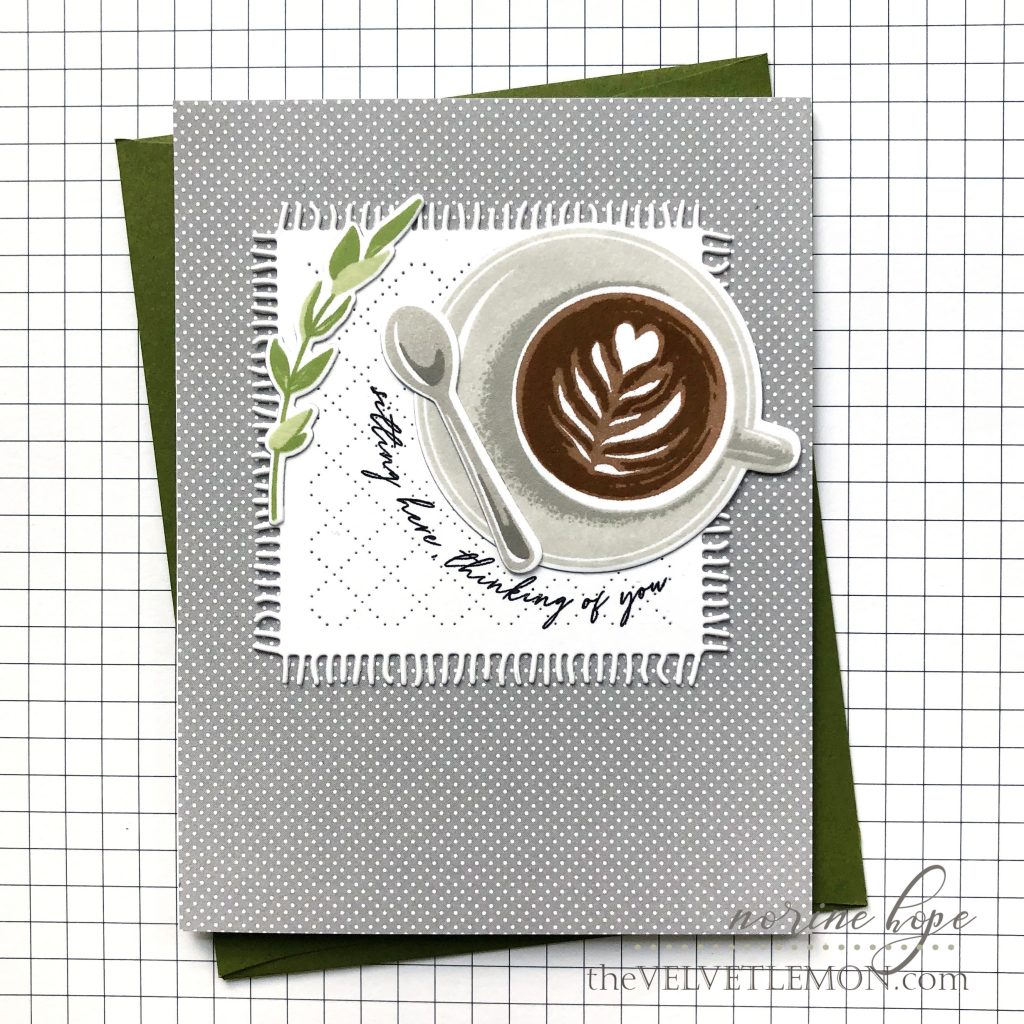 I found these layered stamps incredibly easy to work with to get great results every time! I used the Rock Collection family of grey inks from Altenew to stamp the coffee cup and saucer, and the Gentleman's Gray ink set for the spoon. The coffee is stamped with the Mocha and Espresso colors of ink from the Coffee Break ink set. Appropriate, right??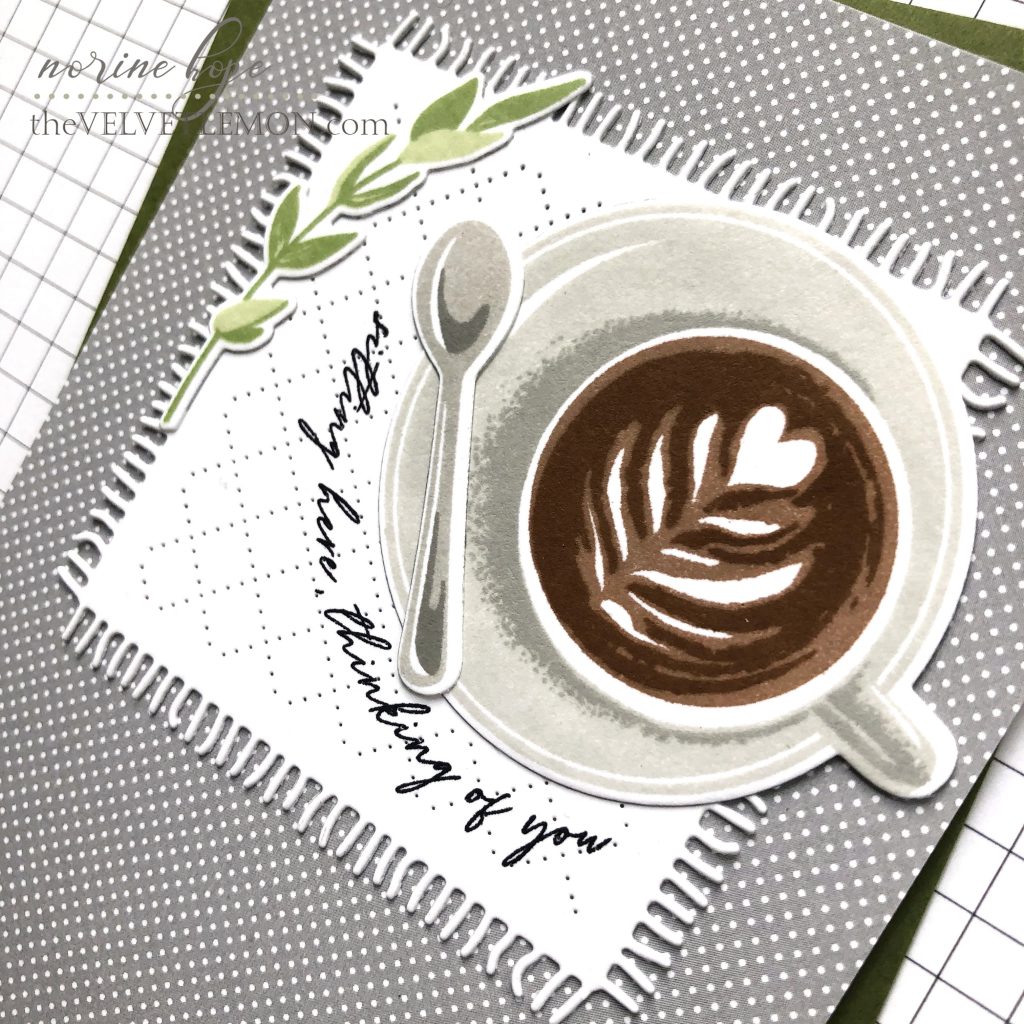 For the little sprig/branch I used Frayed Leaf and Forest Glades ink from the Green Fields ink set. After stamping all the layers, I die cut the components using the coordinating dies. I also die cut that CUTE coaster from Neenah Solar White cardstock and positioned the sentiment stamp to tuck in underneath where I wanted the cup to sit.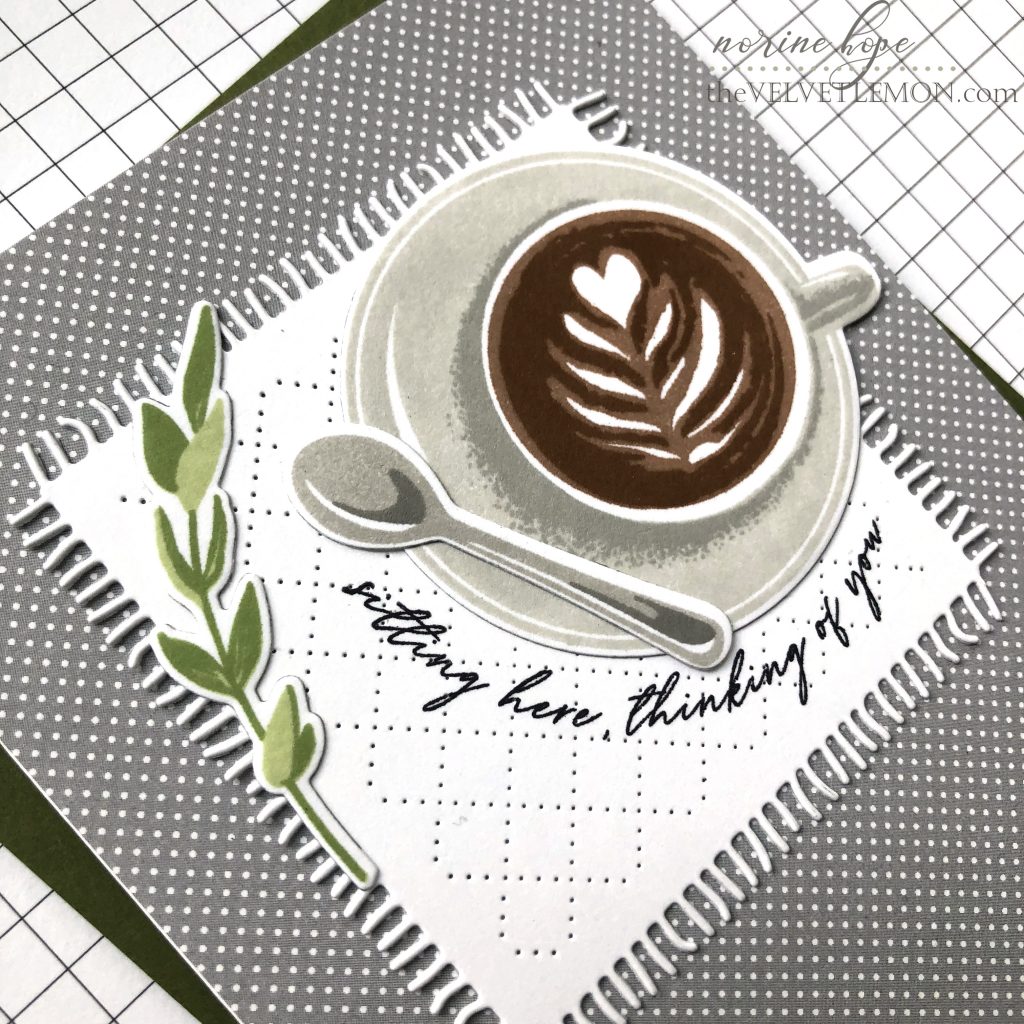 I wasn't sure how well the sentiment stamp with it's fine lines would actually stamp onto a slightly textured surface like the die cut and dot punched coaster but as you can see, it stamped beautifully!
I layered everything onto a piece of Doodlebug Design Swiss Dot patterned paper card front, and because it was all so sweet and simple just like that, I decided to refrain from any extra embellishment.
My second card is made with the Katie's Cuties; Gettin' Cozy stamp set and of the several cute images I stamped but didn't have time to color (I'll come back to them though, count on that!) I chose the little mouse and her ball of yarn, making a sock to get her through the cold winter! I colored the image with Copic markers (sorry, didn't keep track of the colors) then die cut the image. Here's a way to see the excellent quality and attention to detail of a stamp and die company, when you see the background areas around the yarn string die cut out!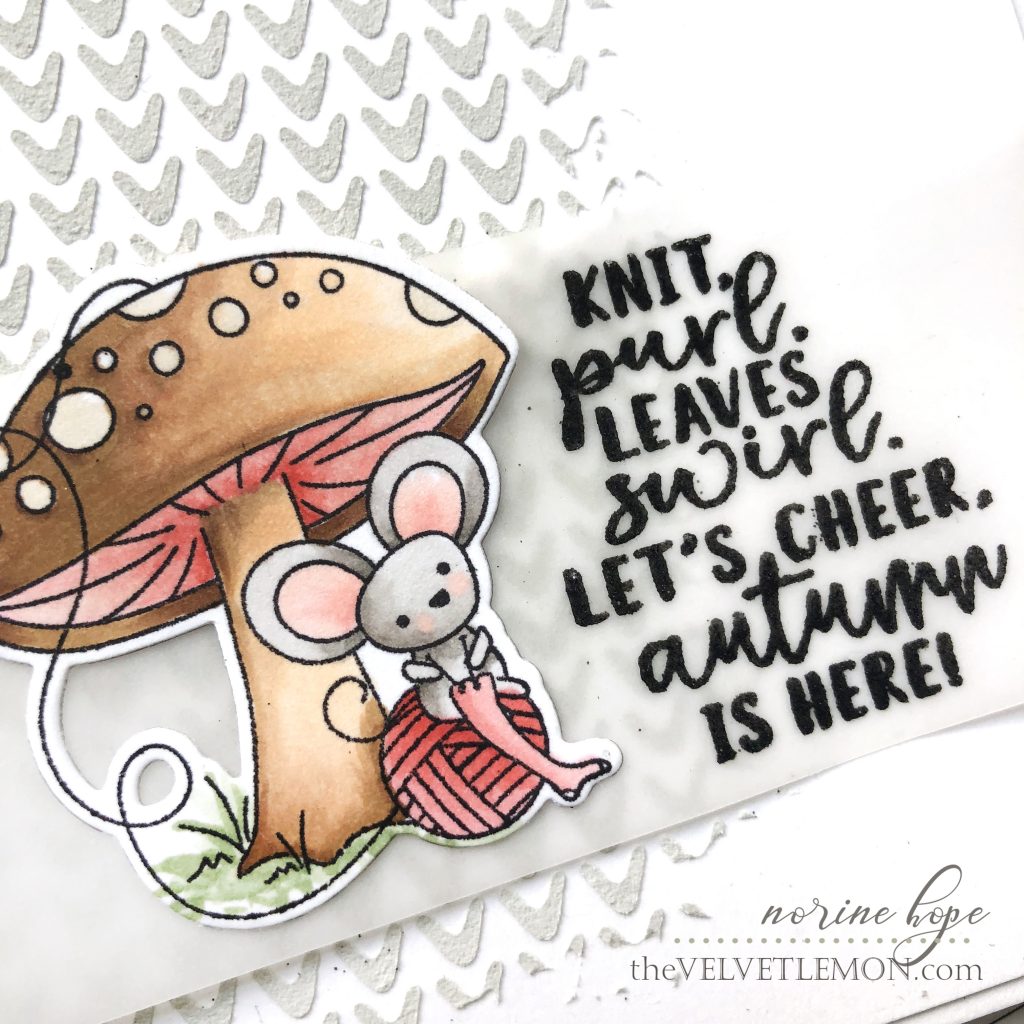 I stamped one of the sentiments from the stamp set onto vellum using Versafine clear ink and black embossing powder. For whatever odd reason, using black ink and clear embossing powder on vellum gives meh results. A static repelling powder bag is a good idea when using black embossing powder so you don't get stray black specks where they shouldn't be.
For the background, I used one of the Knit Wits stencils. I mixed some embossing paste with a little bit of black ink on a paint palette to get that pale grey shade that matches the mouse. I smooshed the paste in a random patch onto Neenah Solar White cardstock, then set it aside to dry while I worked on the rest of the card.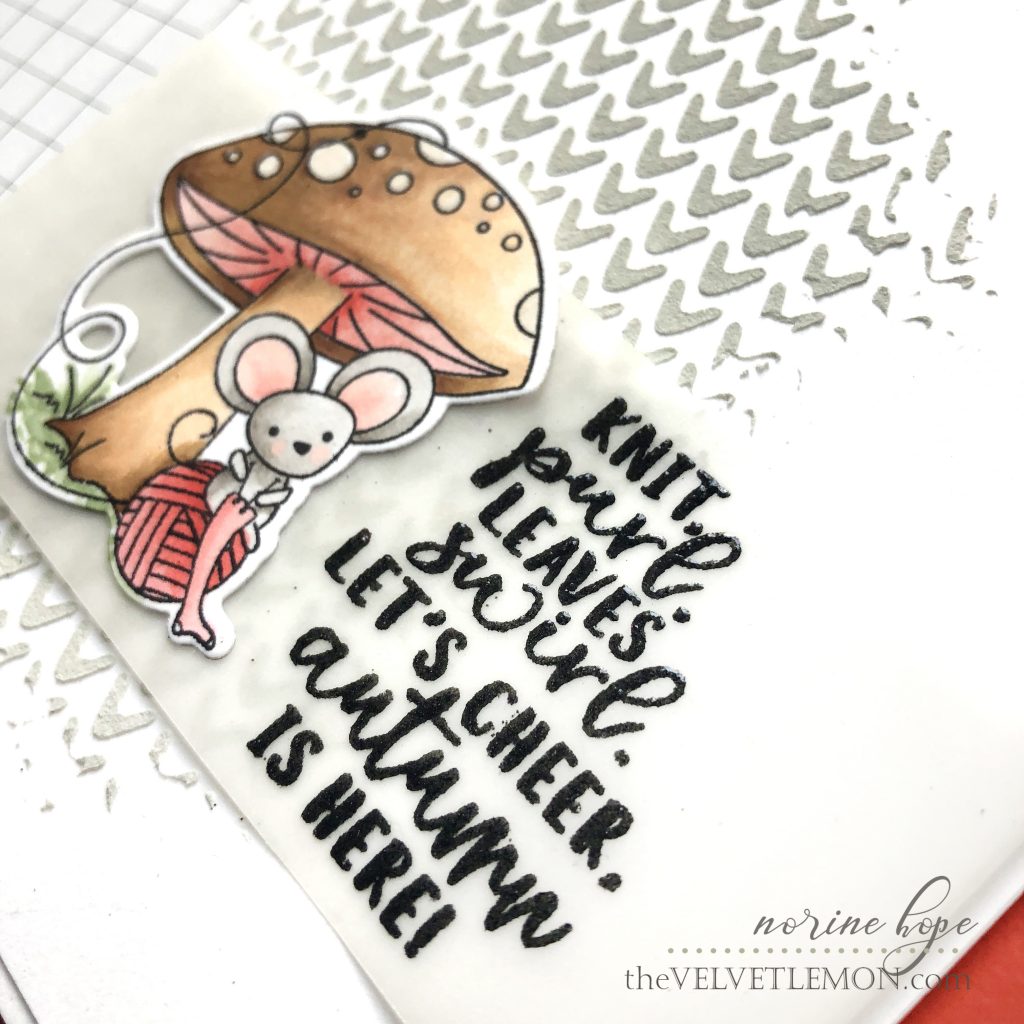 Once it was dry, I wrapped the stamped and heat embossed vellum strip around the sides of the card panel and adhered the die cut stamped image to the vellum. Once again, I loved it just as it was and didn't feel it needed anything more for embellishment.
Just a reminder, this reveal will go live in The Greetery shop on Friday, Aug 23 when you'll be able to purchase all of these pretties. As well, starting with the August release, all multi-step or layered sets will come with a printed, full-color stamping guide! You can store these with your sets to use as a handy reference. The QR codes for these sets will be printed right onto the guide, so you can scan it with your phone or tablet and go straight to the lookbook page for instant inspiration!
For more inspiration using these stamps and dies, please visit the blogs of the other talented members of The Greetery's design team listed below. And, for a chance to win a $50 gift certificate, leave a comment on each day's blog post of the designer, as well as at The Greetery blog. Comments close at midnight, Thursday, Aug 22 and winners will be posted on The Greetery blog on Friday, Aug 23!
Thanks so much for visiting and enjoy the rest of your day!