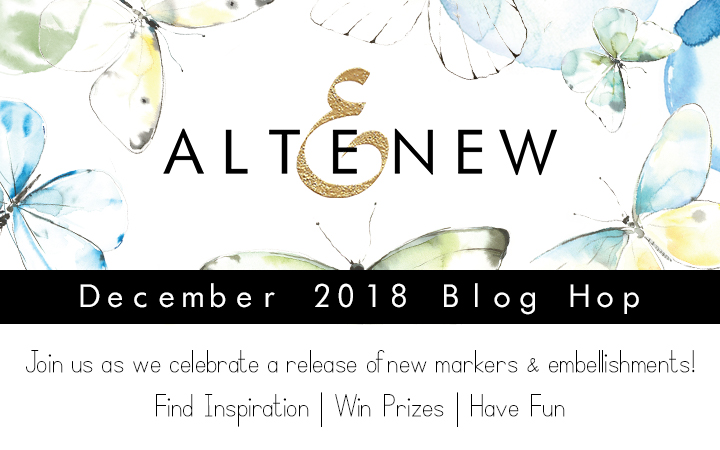 Hello friends, I'm joining the Altenew December blog hop today where we're showcasing the newest set of Artist Marker colors (Set E), and a delightful assortment of paper crafting embellishments, such as enamel dots, wood veneer, acetate die cuts and chipboard stickers.  There is also a set of 12 Artist markers – primary colors culled from the other existing marker sets.  The Artist Marker Set E has four more greens (always a good thing!), a range of 4 new orange shades and a series of 4 tones of warm grey markers.
You should have arrived here from Laura Jane's blog, but if not, and you don't want to miss a thing, you can start back at the very beginning of the blog hop at the Altenew Card Blog.
For today's project, I used the embellishment bundle as an excuse to return to my original paper crafting love – scrapbooking!  During this last year I discovered the charm of traveler's notebooks and that has been the only little bit of memory keeping I've done since then.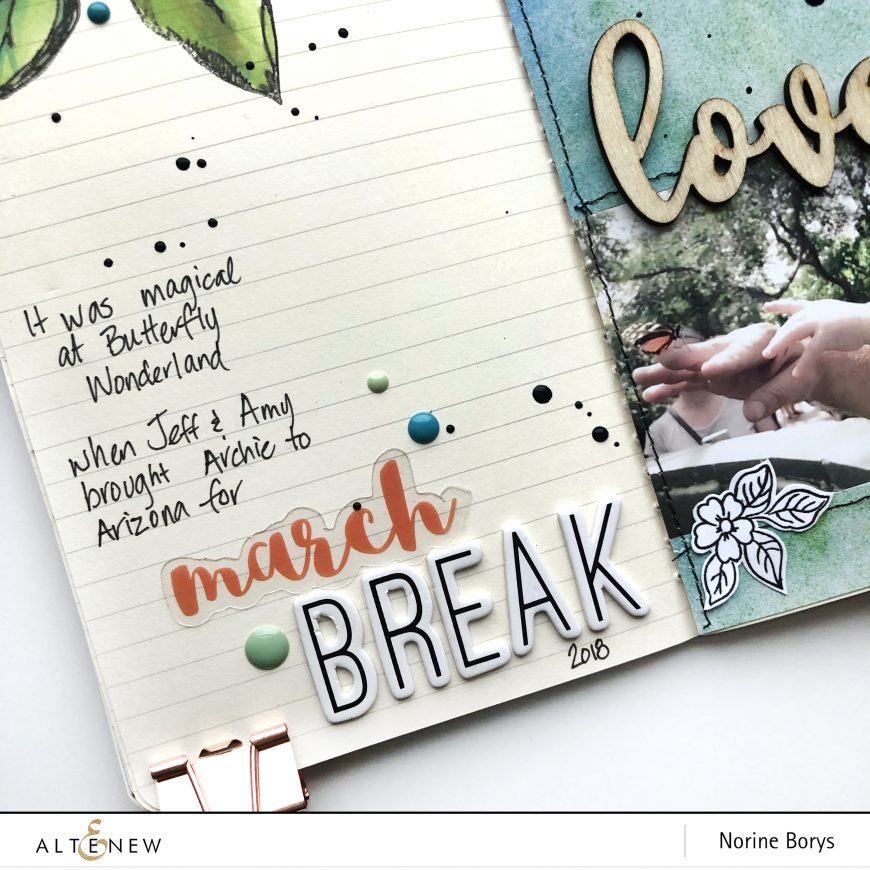 I used one of my favorite photos taken of our grandson and his Papa at the Butterfly Wonderland in our city.  They came to visit us in March and it was magical to watch him take in the 1000's of fluttering wings and brightly colored butterflies!
On the right hand side of the spread, I used a blue/green watercolor patterned paper from the Reflection 6×6″ paper pad.  This collection has so many beautiful watercolored designs, I can't even!  I machine stitched the photo to the patterned paper, and trimmed the side edge with my favorite washi tape design ever!  The "love" word is part of this month's release as is the enamel dots and heart.  I love that there are SO many enamel dots and shapes in each color way package – I will have to work hard to run out!
I stamped a couple of the leaves from the Inked Rose and Inked Flora stamp sets, then colored them with the new green Artist Markers as well as some Ocean Waves Artist Marker.  I used one of the beautiful watercolored acetate butterfly die cuts over top of the stamped and colored leaves, and the acetate March word plus some chipboard alphabet letters to create my title.  I also included a small stamped and die cut black & white embellishment of a flower cluster – from the BAF-Poppy stamp set.  Then a few ink splatters and this layout is finished.  Another sweet memory in the memory bank!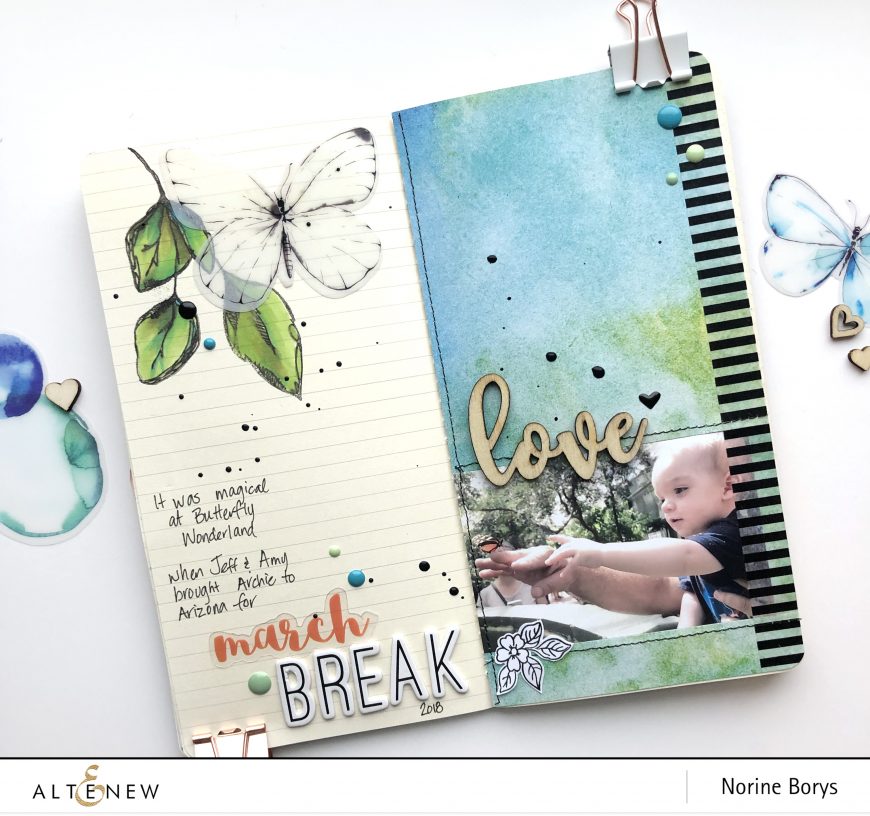 As always, Altenew is giving away a $50 gift certificate to 6 lucky winners! Please leave a comment on the Altenew Card Blog and/or Altenew Scrapbook Blog by December 12/2018 for a chance to win. Six winners will be announced on the Altenew blogs on Sunday, December 16th.  Additionally, I will be drawing a name from the comments left on this post, to win a $30 gift certificate from Altenew.  I'll be  announcing a winner on December 12, 2018.
Your next stop on the blog hop is Nathalie DeSousa and you'll find the complete blog hop list below.  Enjoy the rest of the hop and thank you for visiting my blog.
Altenew Card Blog
Kathy Racoosin
Erum Tasneem
Kristina Pokazanieva
Nicole Picadura
Kelly Latevola
Enza Gudor
Kathleen Graumüller
Sveta Fotinia
Lilith Eeckels
TaeEun Yoo
Therese Calvird
Anna Komenda
Zinia Redo
Vicky Papaioannou
Lydia Evans
Laura Jane
Norine Borys – you are here.
Nathalie DeSousa
Altenew Scrapbook Blog
Zsoka Marko
Virginia Lu
Raquel Bowman
Svitlana Shayevich
Gayatri Murali
Kymona Tracey
Erica A-B
Agnieszka Malyszek