Hi, hello! This is my inaugural post for The Greetery and I want to first say how thrilled and honored I am to be a part of the Inspiration Team for this new stamp and die company! Betsy is an amazing artist and I have long been inspired by the work she does!
I'm participating in Days 3 and 4 of the release week inspiration and today (day 3) I am showcasing a card I made using the Bottled Up, Budding Beauties Autumn and the Sentiment Suite Thank You stamp sets.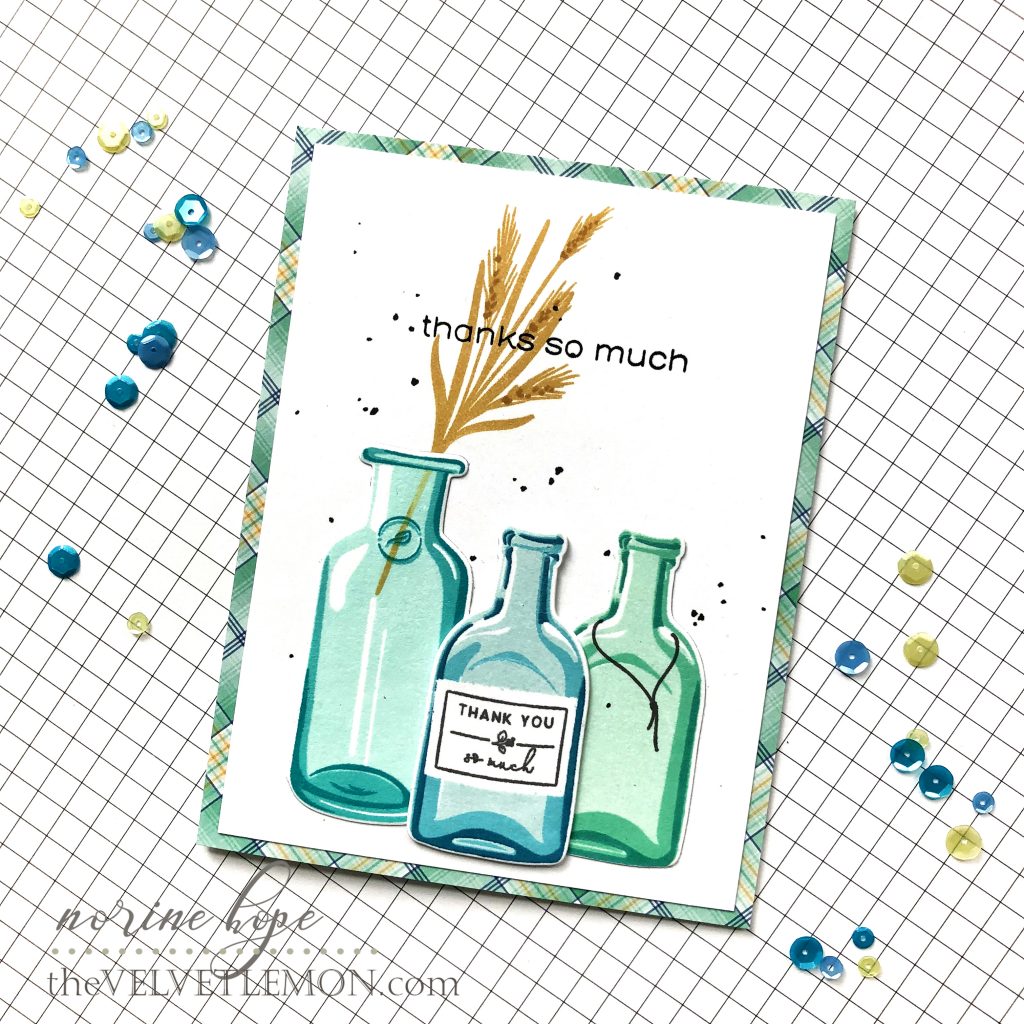 My friends and family know my love for sea glass bottles. I have a small collection of them and many are at our summer home at the lake where they just seem particularly well suited! So I was inspired by them to make this card using three different color families of blue and green inks from Altenew to create these beautifully layered bottles. (There is also a Mason jar stamp set from a previous release that I can't wait to pair up with these bottles. I'm thinking a framed art piece maybe…) Each of these layering stamps are among the most beautifully engineered stamps I've used, for their ease of layering and amazingly consistent results. I can't tell you how pleased I am with the way they turned out!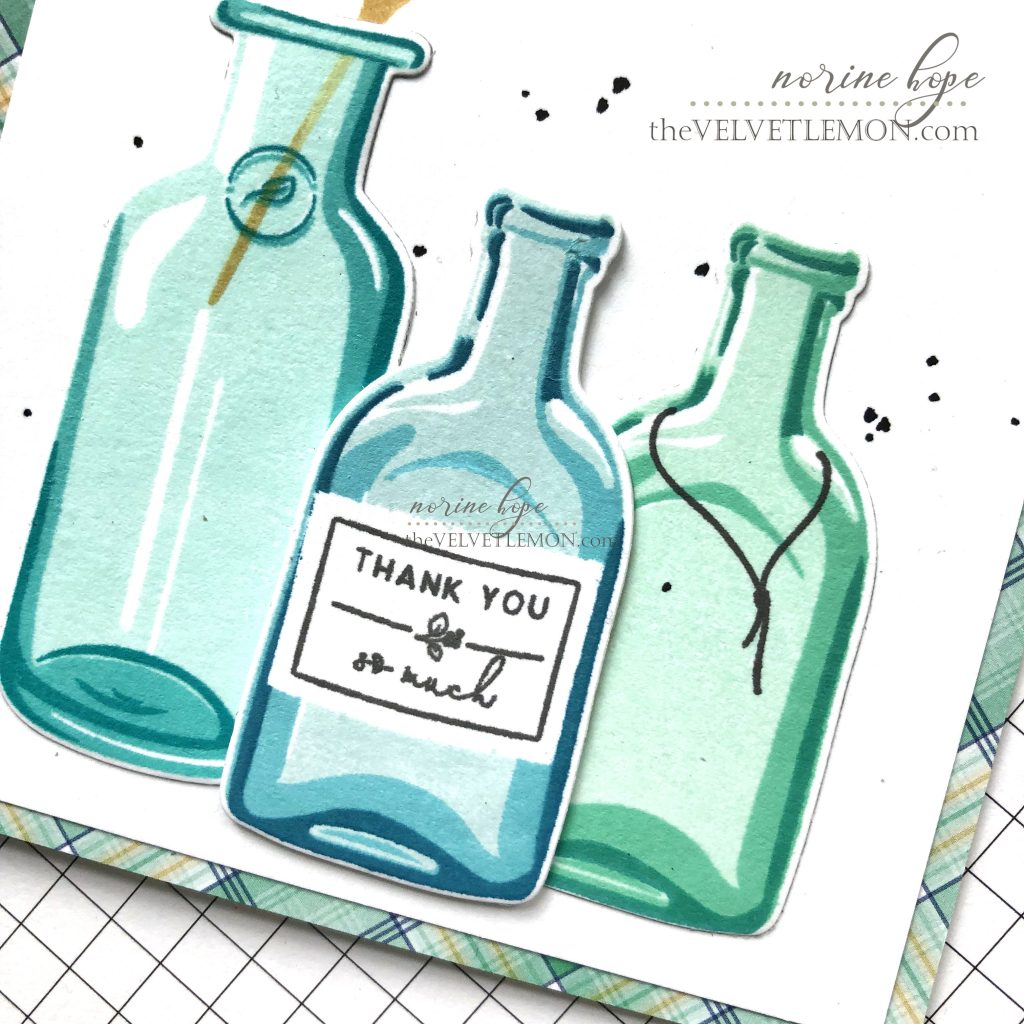 The stamp set includes a label image that you can use along with a variety of sentiments to personalize your project. I masked the label on the center bottle, then stamped each of the bottles in their ink color family then die cut them using the coordinating dies. The two bottles on the outside edges I die cut only once, but the one in the middle is die cut twice more and stacked up to give it some visual dimension.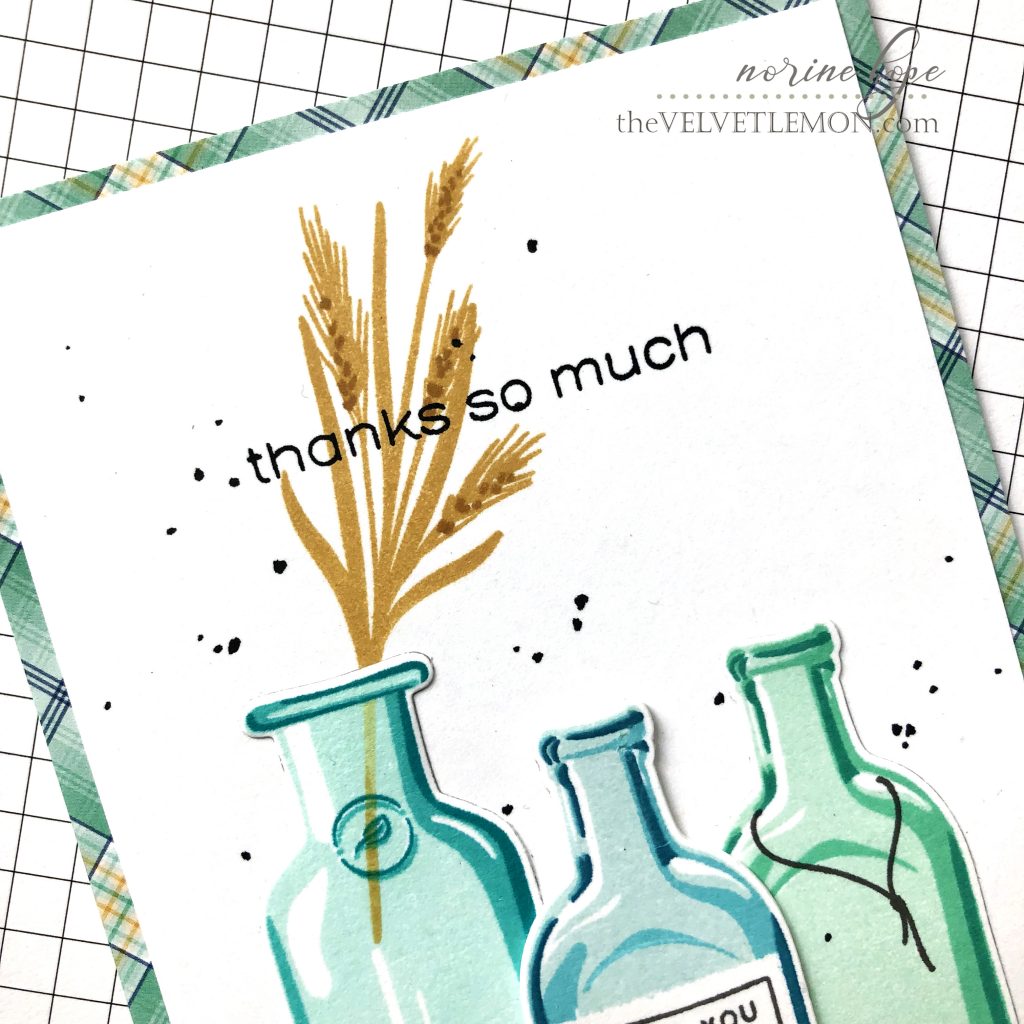 I positioned the bottle on the left hand side where I planned to adhere it and laid a stamp from the Budding Beauties Autumn stamp set onto my stamp positioner so that it would look like it was coming out of the top of the bottle. Then I aligned the bottle over the wheat stem and lightly stamped the bottom of the stem in a lighter shade of the yellow/brown ink so that it appears to be inserted in the bottle.
Finally, I added a sentiment from the Sentiment Suite Thank You stamp set. It has a wonderful assortment of thank you's in different fonts and great inside sentiments to compliment the card front stamps.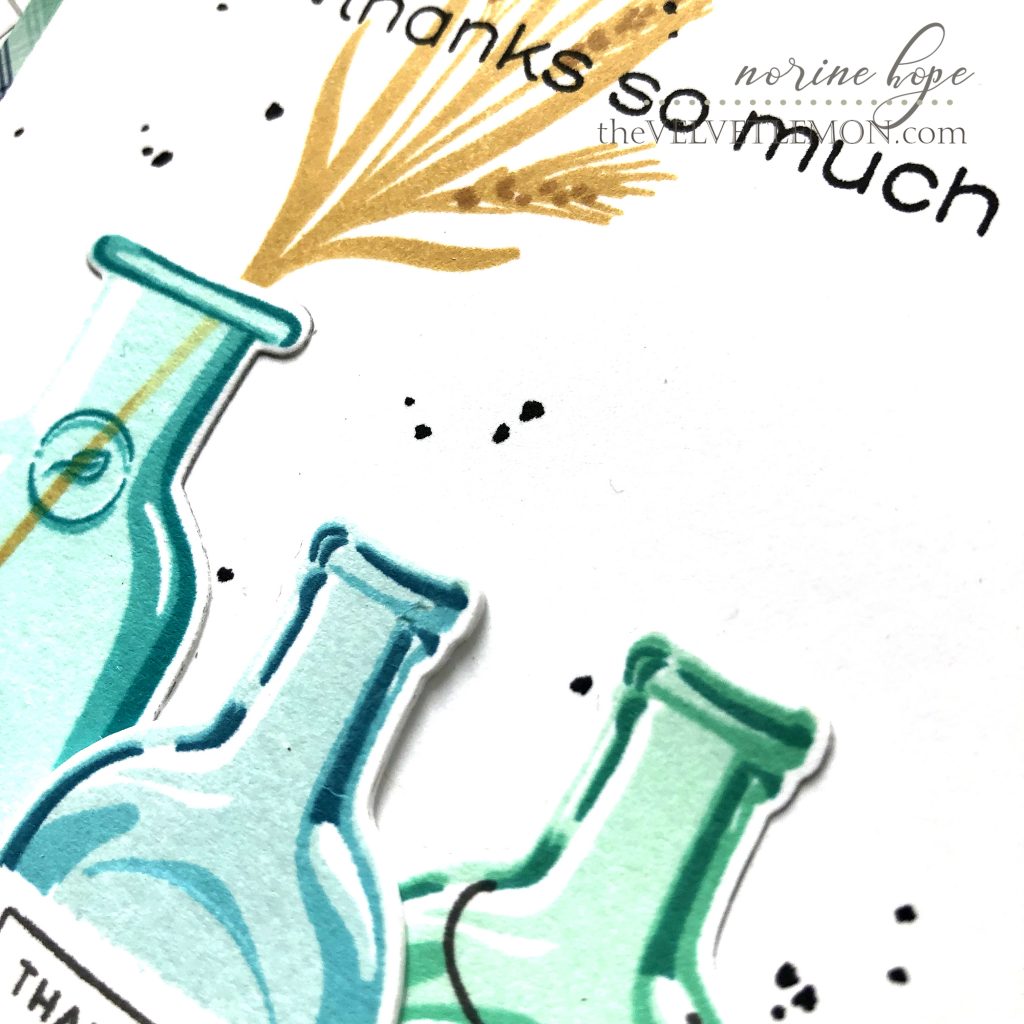 I added some black specks that are hand drawn with a black marker to simulate paint speckles and trimmed the card panel on each side and matted it with a plaid patterned paper from a Lawn Fawn 6″x6″ paper pad.
The August release that we are currently revealing will be available on Friday, Aug 23, and in the meantime, there are 4 days of exciting and beautiful projects to be inspired by! Also, starting with the August release, all multi-step or layered sets will come with a printed, full-color stamping guide! You can store these with your sets to use as a handy reference. The QR codes for these sets will be printed right onto the guide, so you can scan it with your phone or tablet and go straight to the lookbook page for instant inspiration!
Finally, there are several chances to win a $50 gift card! You can leave a comment on The Greetery blog, or on any of the days of the Inspiration Team's blog posts. Comments close at midnight, Thursday, Aug 22 and winners will be posted on The Greetery blog on Friday, Aug 23!
You can see more of the Day 3 reveal at each of these blogs:
Thank you so much for stopping by today and enjoy the remainder of the creative projects!