Hello again! I'm not sure why I'm surprised about y'alls response the last couple of days, I can't be the only one whose heart beats faster for Greetery designs! *grin! And here we are, back for day 3, with even more wonderful and amazing products to share! Today it's about the Christmas baking and treat giving, and I'm here for that!
If you are arriving here from Kelly's blog, you're right where you should be! If not, you can click back to the start at The Greetery, where you'll find a complete product list and more inspiring projects!
This post contains affiliate links that are listed below. By clicking through to purchase products linked, you are helping to support this blog at no additional cost to you and that allows me to continue to provide you with creative inspiration and instructive help.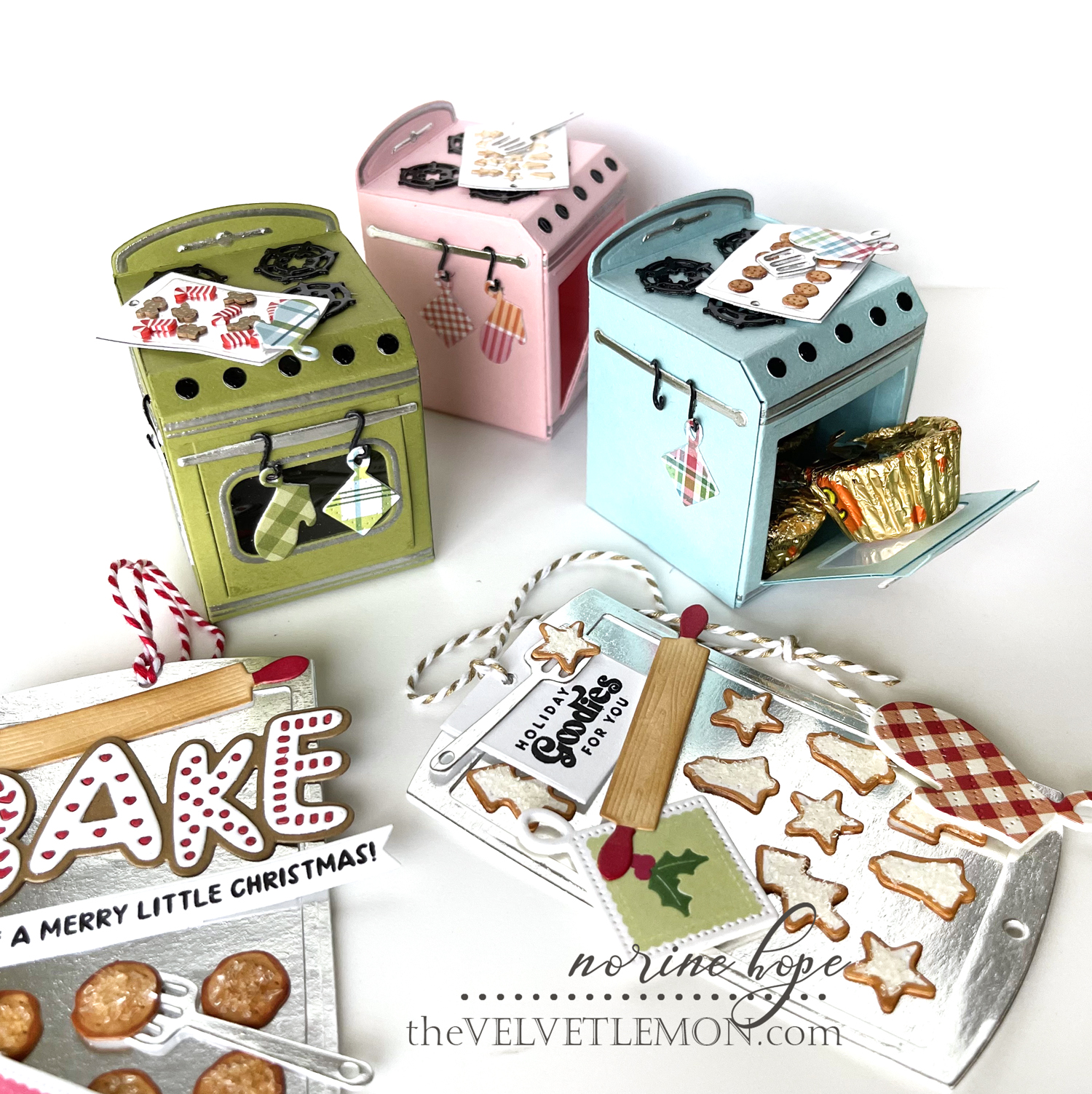 Products being revealed today are:
Bake Someone Happy die + stamp set (oven)
Bake it Merry stamp set + die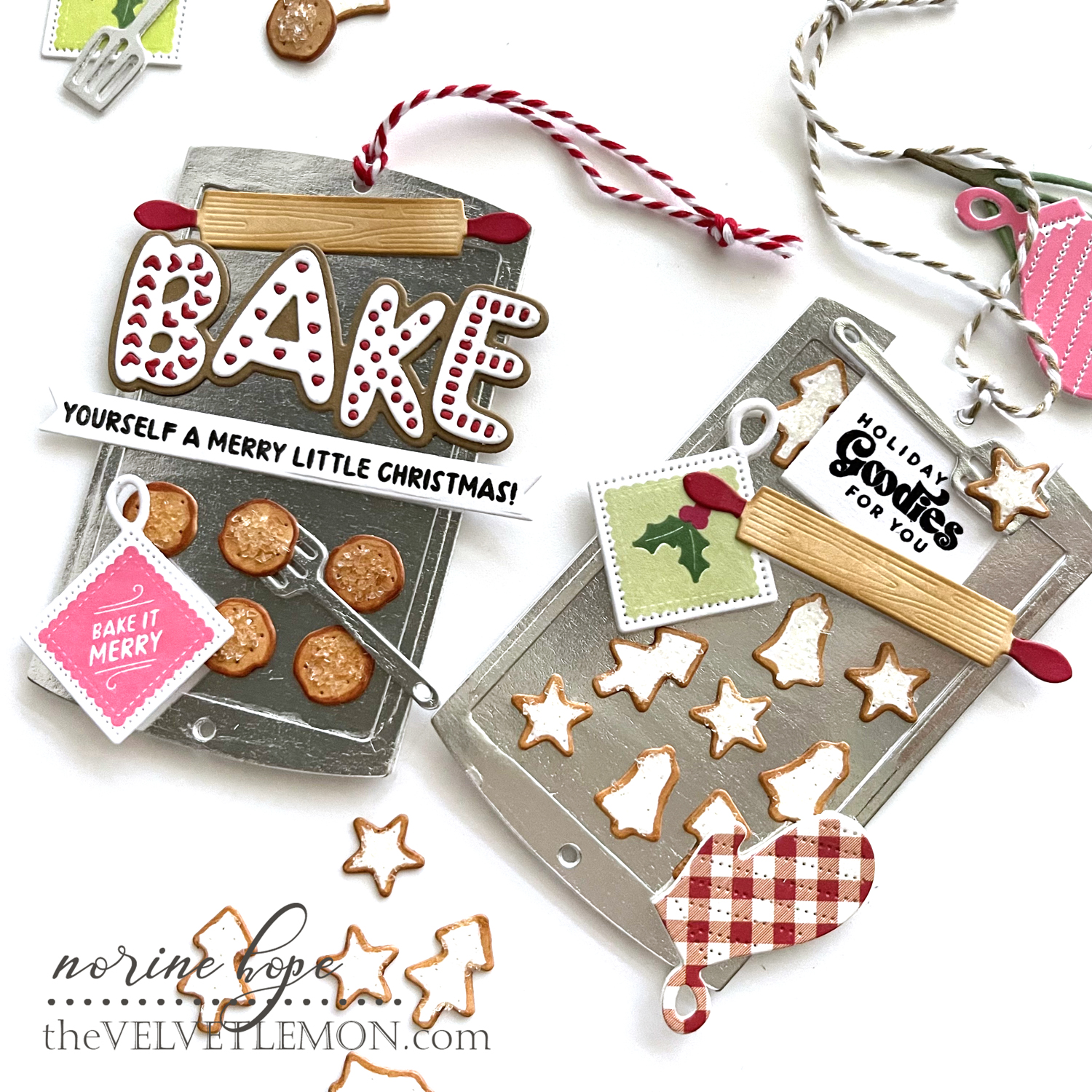 I used the Make it Merry dies and stamps to create these gift tags and had so much fun putting them together!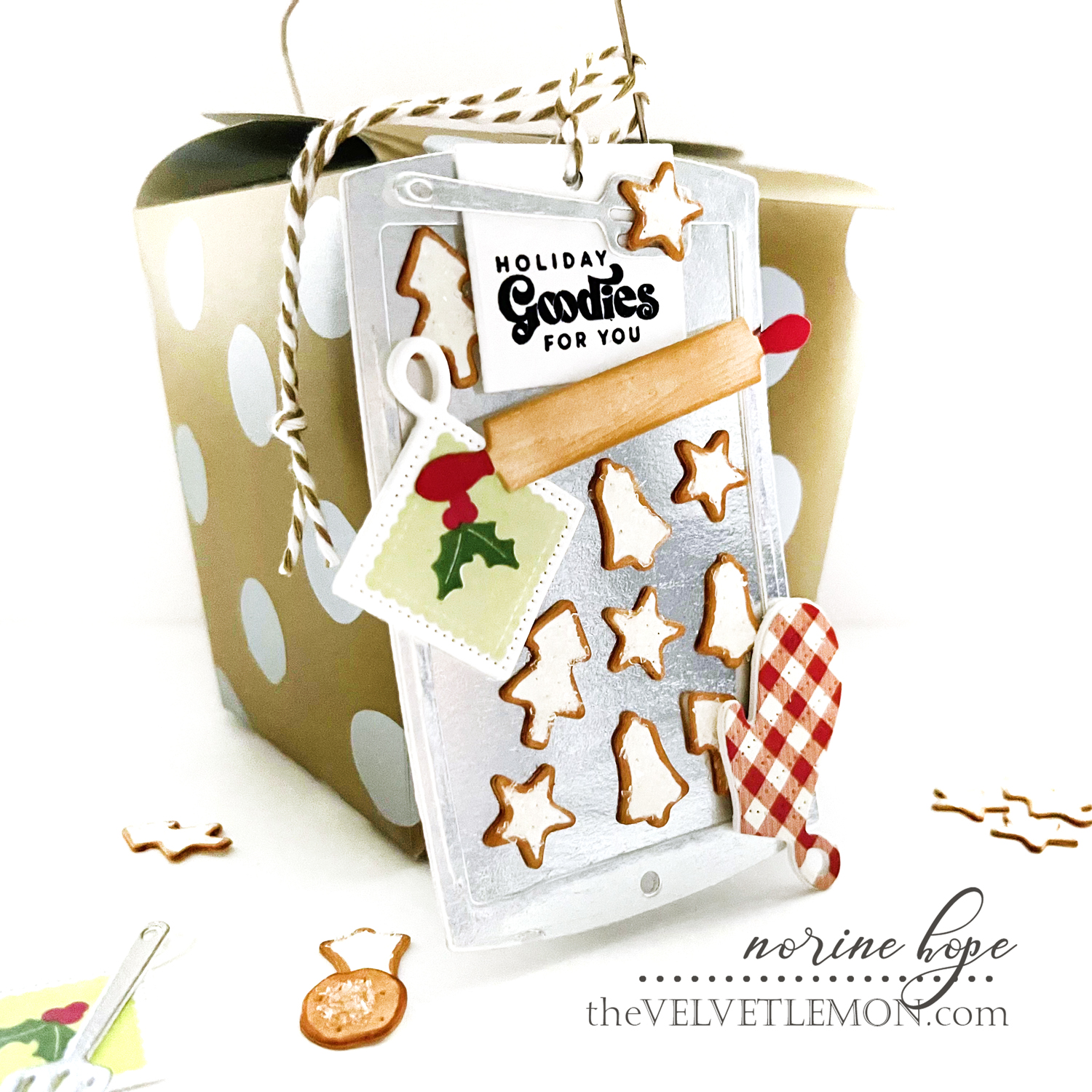 Both tags start with die cut cookie sheets cut from silver foil cardstock. Then I die cut all the cookie shapes from heavy weight white cardstock, cutting and stacking two of each together for a little extra dimension.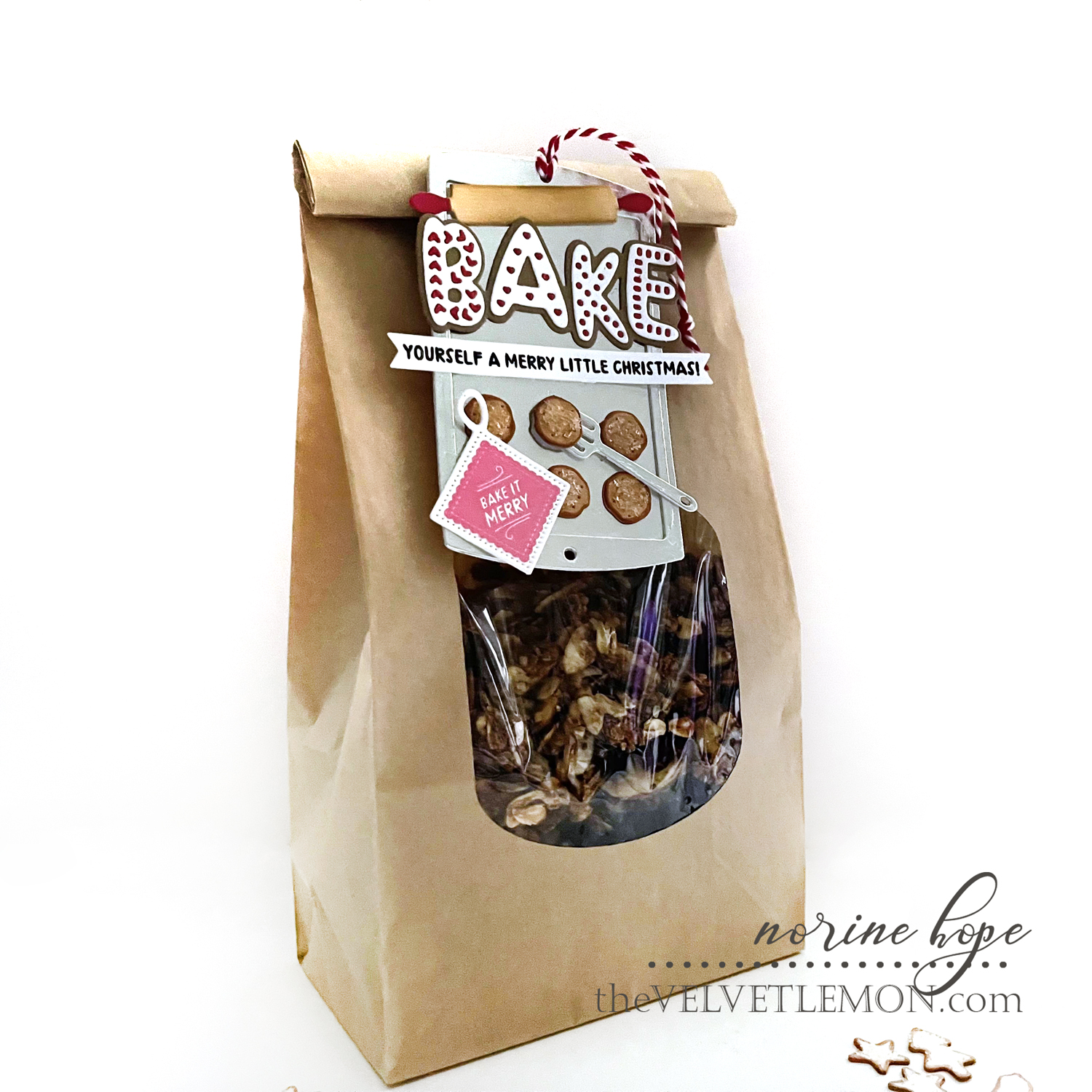 I colored the cookies with Copic markers, using a darker shade of "golden brown" around the edges to simulate that baked look, and for the Christmas shaped cookies, I just drew around the edges of the white cookies with a tan Copic marker to suggest the browned cookie that shows outside of the white frosted area.
Then I covered the tops of the cookies with some Glossy Accents and sprinkled them with clear Glass Glitter to look like sugar.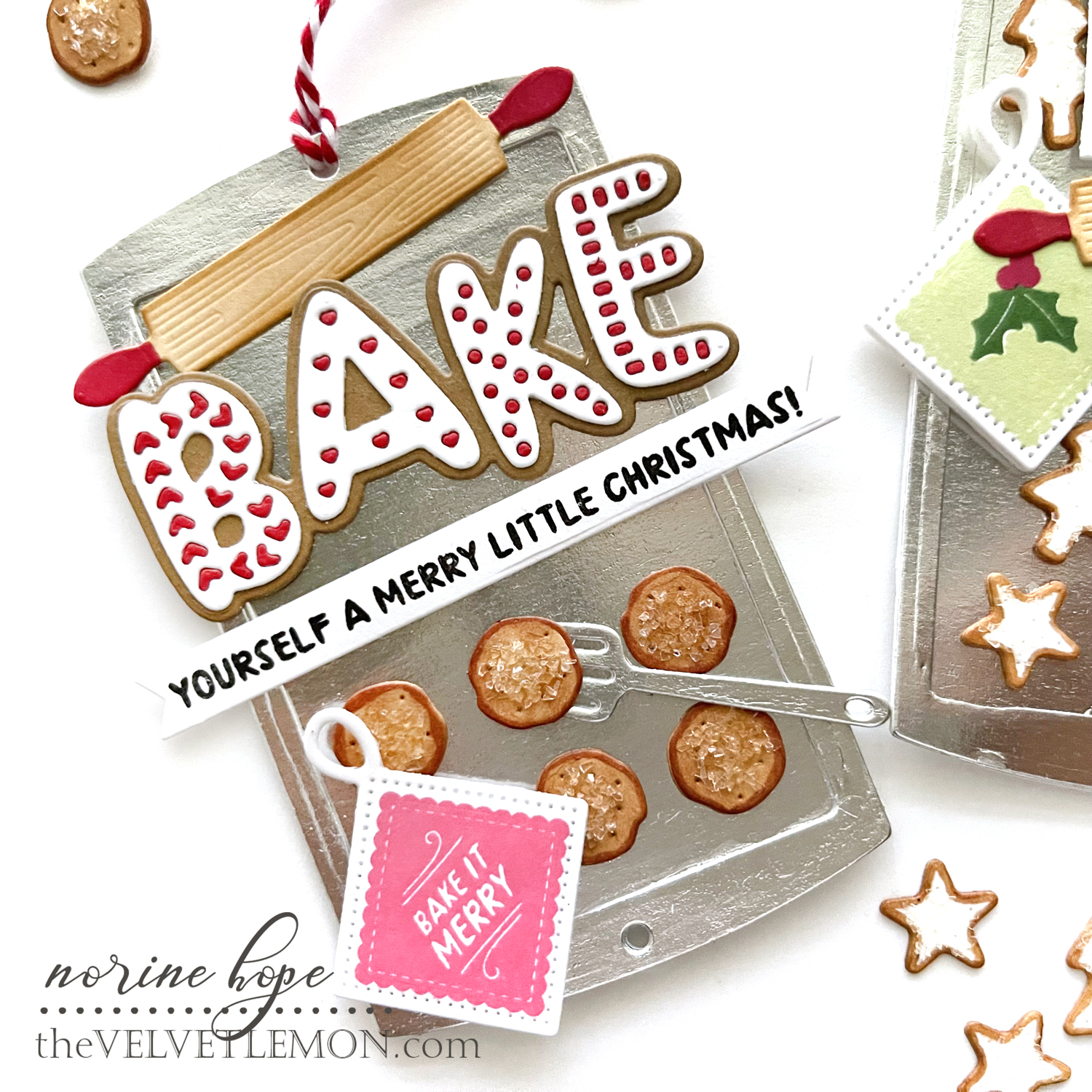 The BAKE cookie was simple to make too! I die cut the frosting layers twice, once from white cardstock and again from red cardstock. Then I punched out the "sprinkles" from the white letters, glued it to the brown shadow die cut, added the tiniest drop of glue to each of the openings, then aligned the red die cuts over top of the white ones and used a pokey tool to push the tiny red shapes into their corresponding opening in the white frosting layer.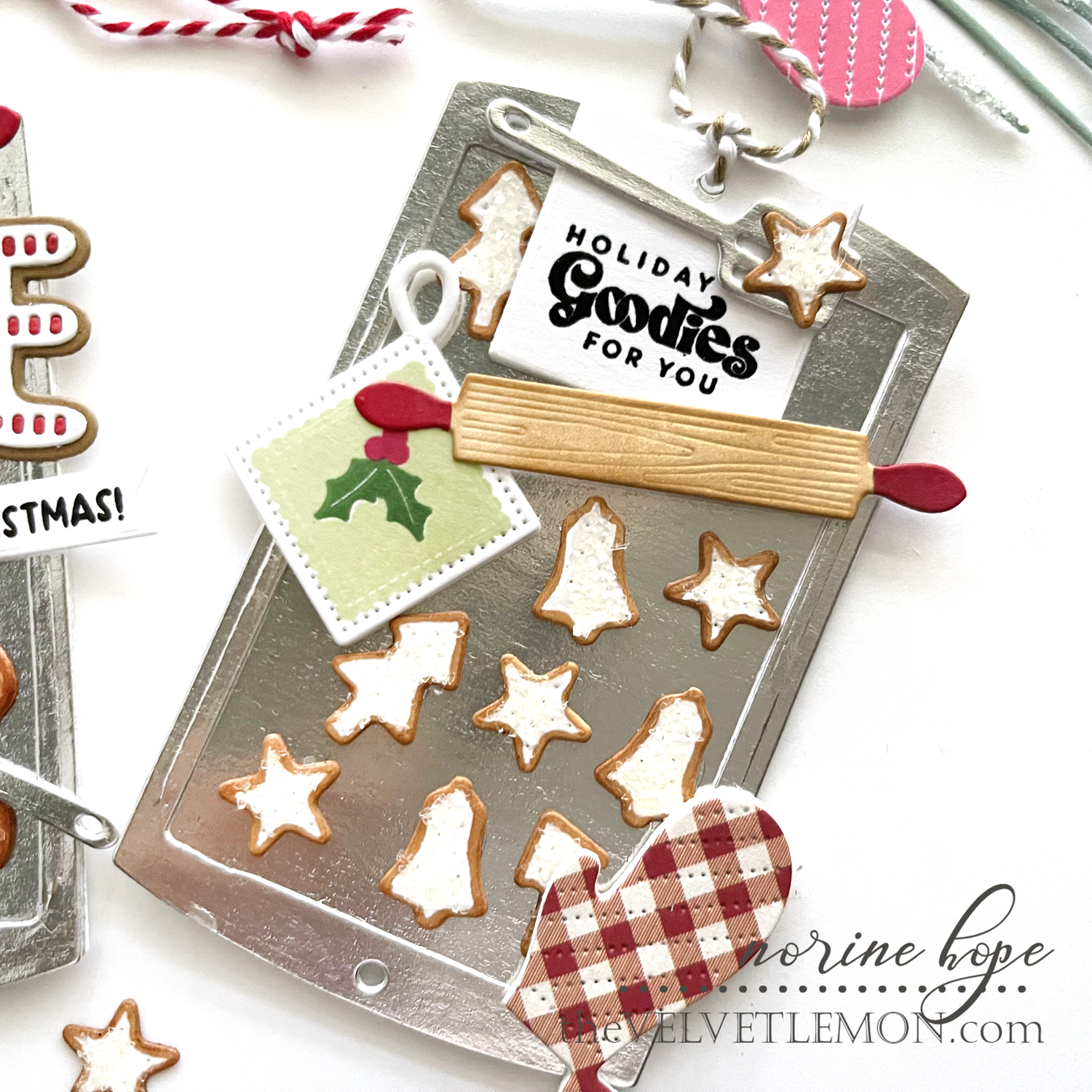 I ink blended and Copic colored the rolling pin, stamped and die cut the holly pot holder and die cut the oven mitt from patterned paper and fun foam. The Holiday Goodies sentiment is from the Bake Someone Happy stamp set and the "Bake yourself a merry little christmas" is from the Bake it Merry stamp set.
The next projects are little oven treat boxes made using the Bake Someone Happy Dies and Stamps! Just too dang CUTE!! I feel like I'm in a vintage appliance showroom, although interestingly, you can buy ovens in these colors even today!
This die set also includes a mini cookie sheet and all the kinds of cookies and spatulas and oven mitts and hot pads and HOOKS for the oven mitts and hot pads, and oven knobs and handles and burners and oh be still my beating HEART!
I die cut the avocado green oven of my youth, from Stamping Up Old Olive cardstock, the pink from MFT Tickled Pink cardstock and the blue oven from MFT Berrylicious cardstock. (Close color facsimiles are linked below.)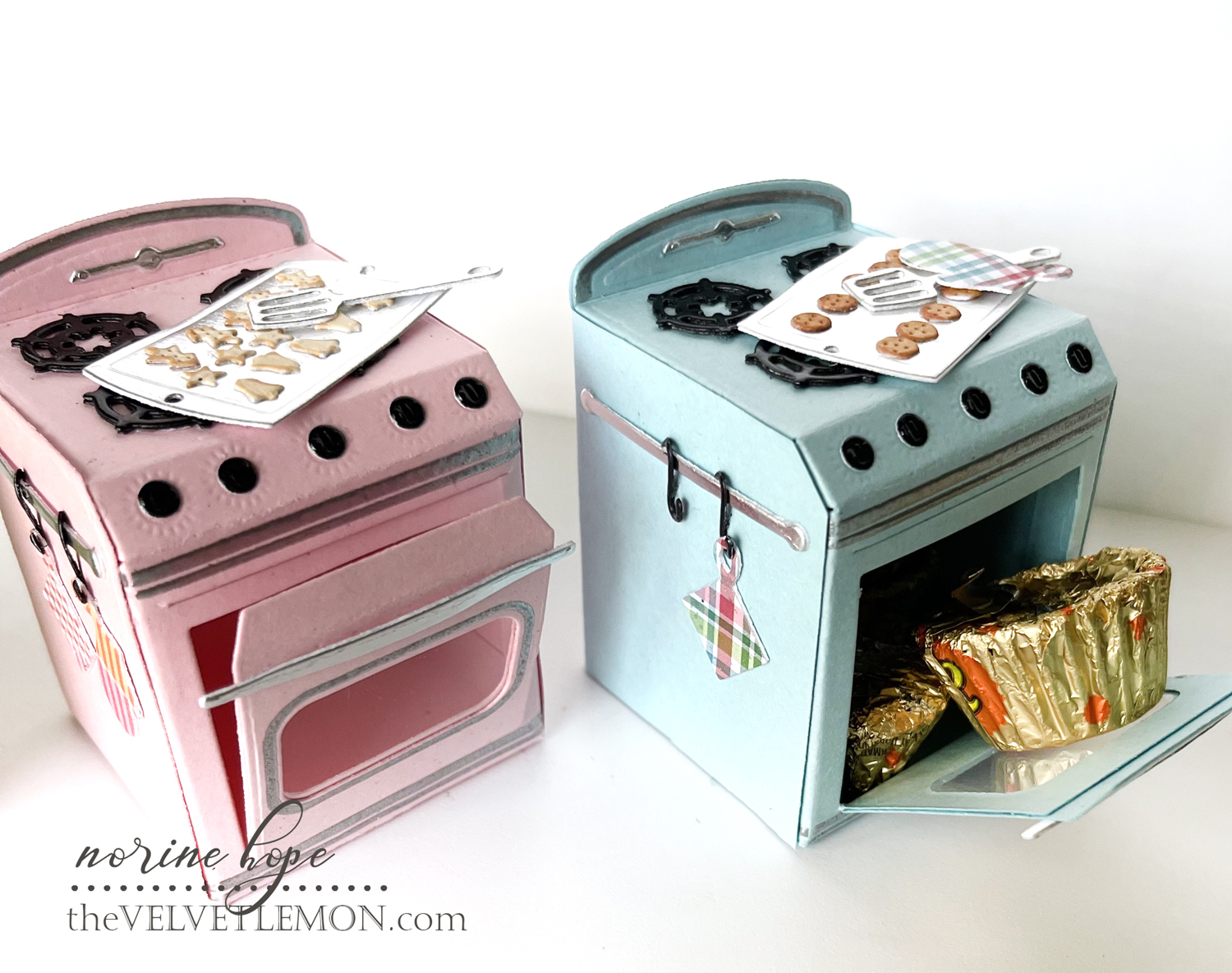 You can see how the oven door tucks into a slot just below the knobs (which are cut from black foil cardstock, as are the burners) and allows access to fill and empty the oven treat box.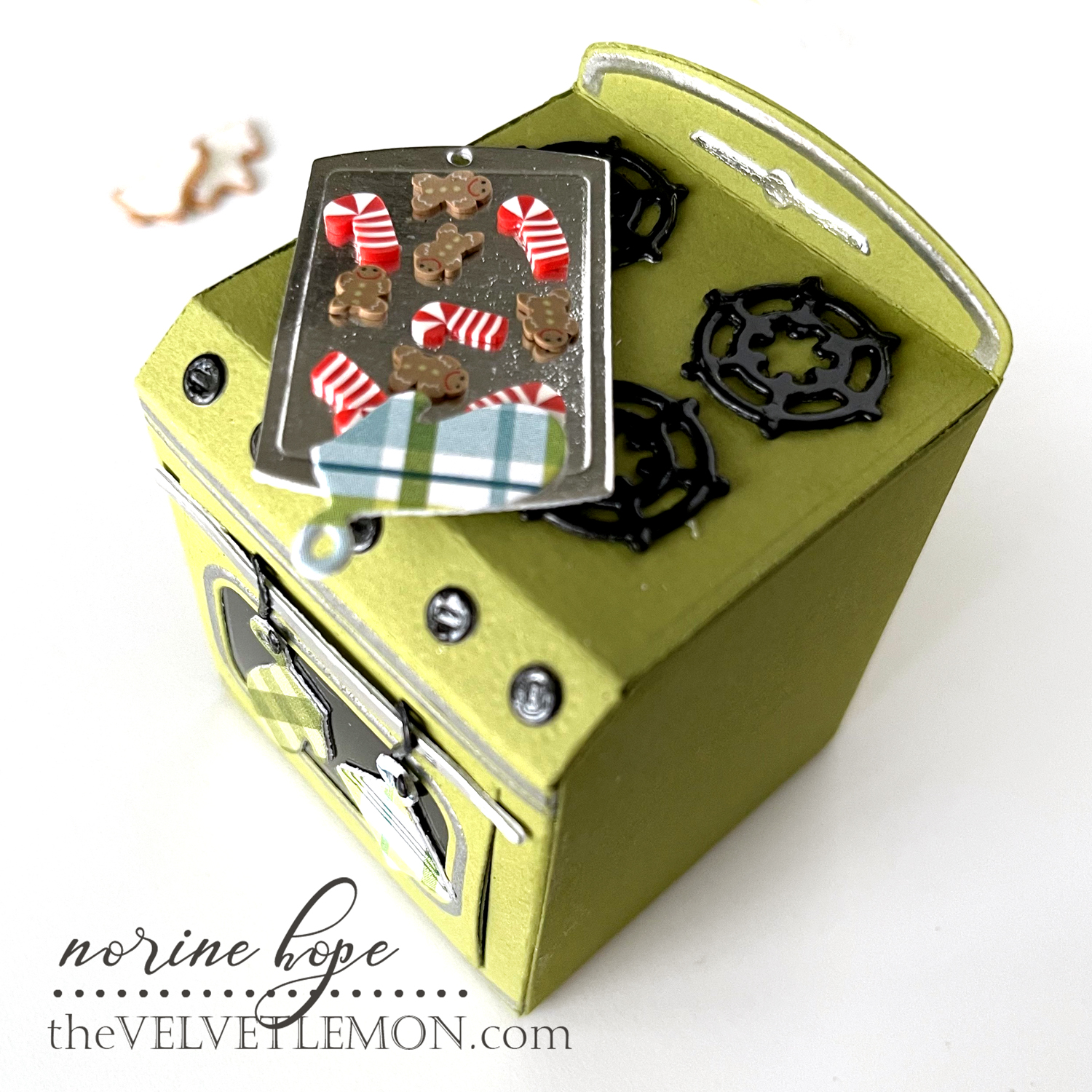 The little candy canes and gingerbread boys on this baking sheet, are part of a confetti mix of Christmas treat sprinkles included in this release.
And with that, we've come to the end of today's hop, but tomorrow. Tomorrow! The release goes live in the shop at 10am EDT, and you can check it out at this link. DT member, Laurie Willison will be doing an Instagram Live to share all the new products in the Christmas Time release on Thursday, October 7 at 8:00am CDT.
Thank you for stopping by and for all your lovely and enthusiastic comments – good luck, may you win a prize! Remember to leave a comment on each of the blogs in the hop for a chance to win one of 2 $50 Greetery store gift cards given away each day of the reveal. Winners will be announced Thursday morning, Oct 7.
Blog Hop Order:
Laurie Willison
Wanda Guess
Kelly Lunceford
Norine Borys
SUPPLIES USED: