Hey, hello! I'm back today with a card project that is waaayy overdue! The lovely folks at Stampendous sent me some products a while back with the invitation to use them and share what I'd made! Well, a fair bit of travel has happened in the between time and I am FIIInally now sharing some projects. Today I'm sharing a card that I made using the Jungle Life Perfectly Clear stamp set. (Watch for more to come over the next few days and weeks!)
My plan for this card project came from a place of just wanting to sit and color. I scan Instagram and Pinterest regularly, and see so many lovely scene builded cards that are made with separate and individual images and I love them and occasionally try to achieve that same level of cuteness, but just as often, fall flat on my face. So today, I just stamped all of the images in the stamp set, in very much the same arrangement as they are packed in the packaging! Sometimes it's just fun to do things that way.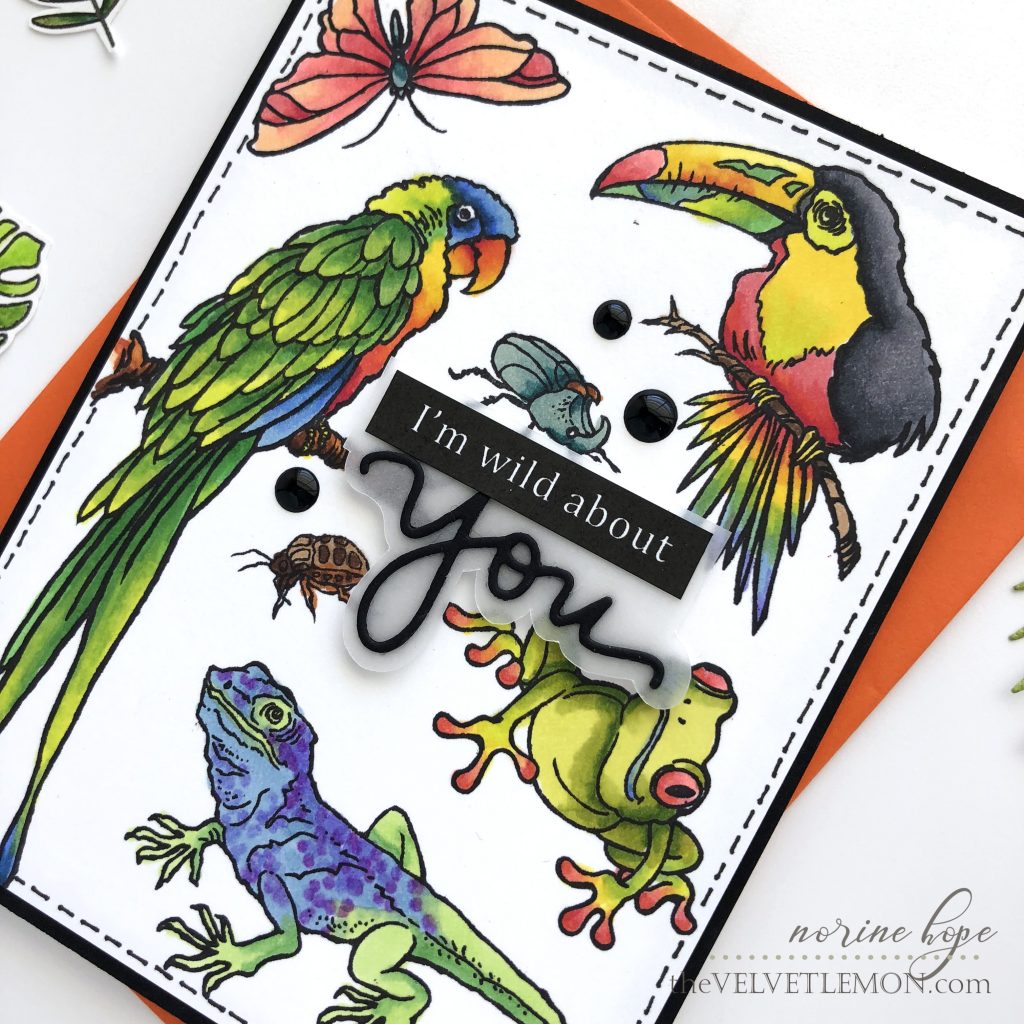 I stamped with Memento Tuxedo black ink onto Neenah Solar White cardstock and colored with my new Spectrum Noir alcohol based markers. Because of traveling frequently and dividing our time between two homes – one permanent and one temporary, I need supplies in two places, but was loathe to duplicate my Copic collection, although I have duplicated many other supplies and tools! With a much lower price point for the Spectrum Noir pens, I was excited to try them and then compare them to the Copics. That's not what this post is about though, so let me just briefly summarize my opinion by saying they are NOT Copics, but nor do they require the financial investment of Copics. For my purpose of having a duplicate stash of alcohol based markers, they work GREAT! If I'm missing shades or colors and my heart is broken over that fact, you won't see evidence of it on this card! *smile!
I love all the bright colors I was able to use for this card, although I may have gone a little wilder than is realistic. Maybe. But not much. And because there is already so much going on with the images and colors, I chose not to distract with anything else, patterned paper, embellishments, trims, colored background, etc. I didn't have a stamp in my collection that said "I'm wild about" (as shocking as that might seem!) so I generated one on my computer and printed it out. I simply reversed the font color and the background color, to achieve the white text on a black background. Then I die cut the word "you" (Simon Says Stamp) from black cardstock 3 times. Wait. 4 times. I wanted to cover as little of the stamped and colored design as possible, but I didn't want the sentiment to get lost in the design either, so I adhered the printed sentiment strip to a single layer of the "you" die cut, then adhered both to a piece of vellum and fussy cut around both pieces.
I popped up the printed sentiment strip with some foam tape to help it stand out more. But now, what about the "you" portion? No way was I going to try and cut narrow strips of foam tape to support that part of the design! That's where the extra 3 die cuts came into play. I stacked them together with Gina K Connect Glue and then glued it to the back of the vellum exactly aligned with the die cut on top. I know. I was impressed with that level of ingenuity too. But I think we're both easily impressed.
Next, I drew stitching lines around the outside of the card panel that was trimmed down by 1/8″ on all sides, and then rather than creating extra bulk by matting the card panel onto a piece of black card stock and then adhering that to a card base, I simply colored the edges of a card base front with black water-based marker (Tombow) and glued the card panel to that. You can't see the black through to the inside of the card like you would if I had used alcohol based marker, and I still end up with a white-inside card, for easy message writing. Finally, a few enamel dots complete this card!
Thanks for stopping by today and thank you to Stampendous for the fun and awesome product to play with! Check back again soon for more projects like this!