Hey, hi! While there's a gap in the posting schedule, I'm going to slot in another catch-up blog post, from the online crop I participated in last spring. Here we are, verging on fall already, and I'm only now getting around to sharing these here.
The online crop was like we used to do….or, I used to do, when I still scrapbooked and getting together with friends wasn't so easy. Kind of like 2020. We had Zoom sessions where we worked in our own craft spaces and chatted over the interwebs! And did challenges! Games, layouts and cards. FUN!
Polka Dots or Stripes:
Each of the layouts I'm sharing today are Traveler's Notebook sized. I've mentioned before how much I love that size for memory keeping, and the ease it gives to actually getting some scrapbooking done.
This layout was for the challenge to used Dots OR Stripes. I've also mentioned before that I'm a "anything worth doing is worth over-doing" kind of person, so I read that challenge as Dots AND Stripes!
I did this layout to document the two interesting menu items I've encountered in the last year or so, the PB&J Brisket sandwich and the donut breakfast sandwich, and how, in spite of their "out there-ness" I loved them both at first bite! I journaled the story on a tag that hides away in a little paper bag that is tucked behind one of the photos.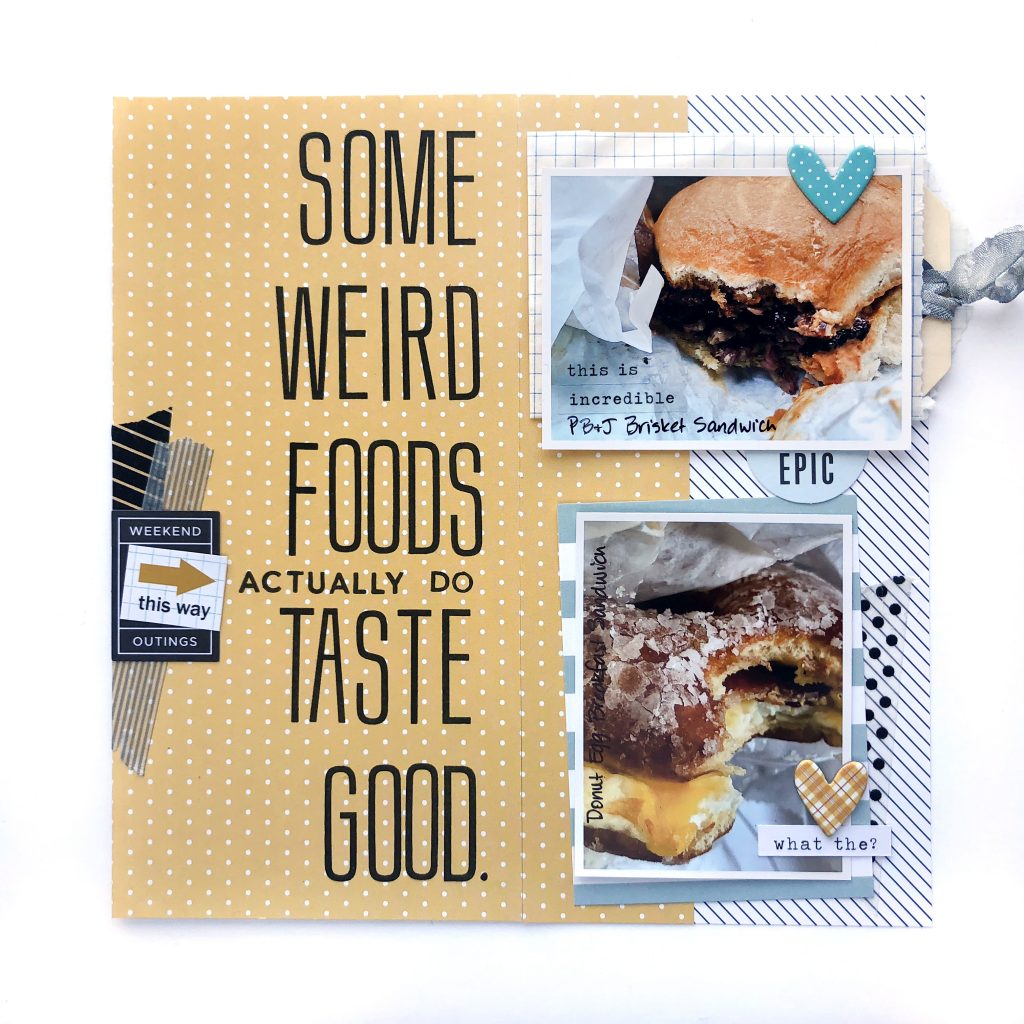 Supplies used on this layout include: Felicity Jane papers and journaling card matting the bottom photo, The Greetery tall alphabet stamps, Concord & 9th small alphabet stamps, Freckled Fawn chipboard hearts, Shop Evalicious die cut tags, The Paper Studio washi tape and the paper bag from Etsy.
Tic-Tac-Toe Challenge: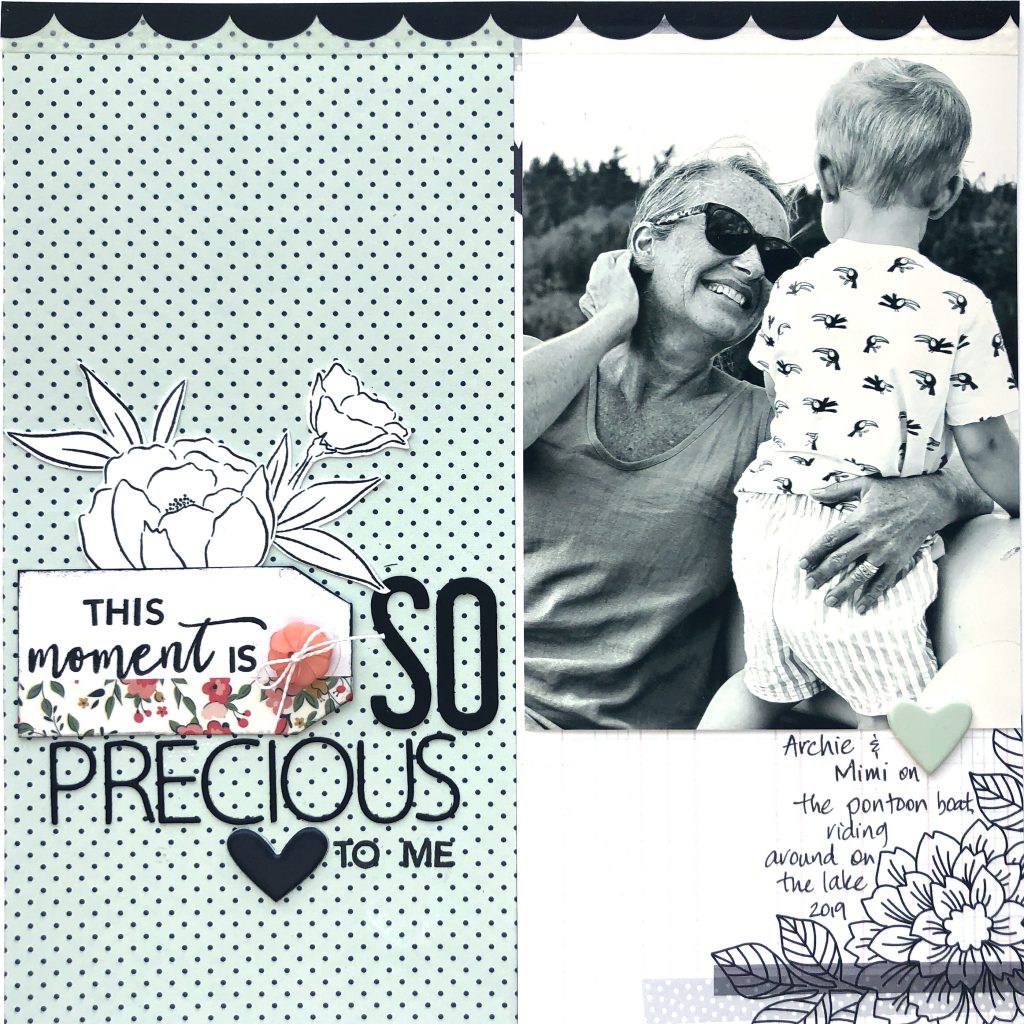 Next up is another traveler's notebook layout of my grandson and me, last summer, on the boat, cruising the lake. I printed it in black and white to allow me to take the layout in any color direction that appealed to me.
The creative direction for this layout was in a tic-tac-toe grid of embellishments we could choose 3 from, but they had to form a line, horizontally, vertically or….well, you know how tic-tac-toe works!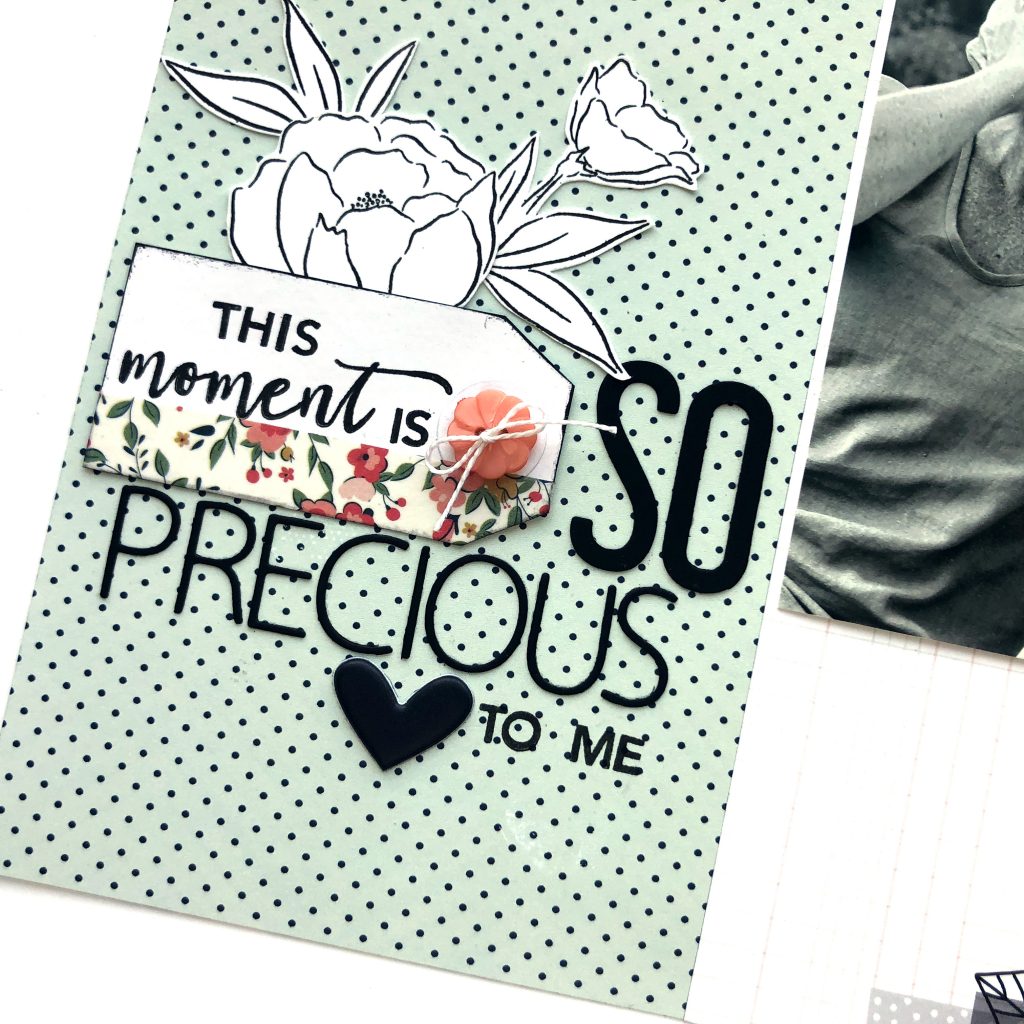 Of the 9 choices, I chose the row that included black cardstock, flowers and a button. The black cardstock is what I used to die cut the letters of the title "so precious", the flowers are in evidence on both pages, one a stamped die cut, and the other printed on the paper I used for the page, as well as the washi tape on the tag. The button is the embellishment I used on the tag hole.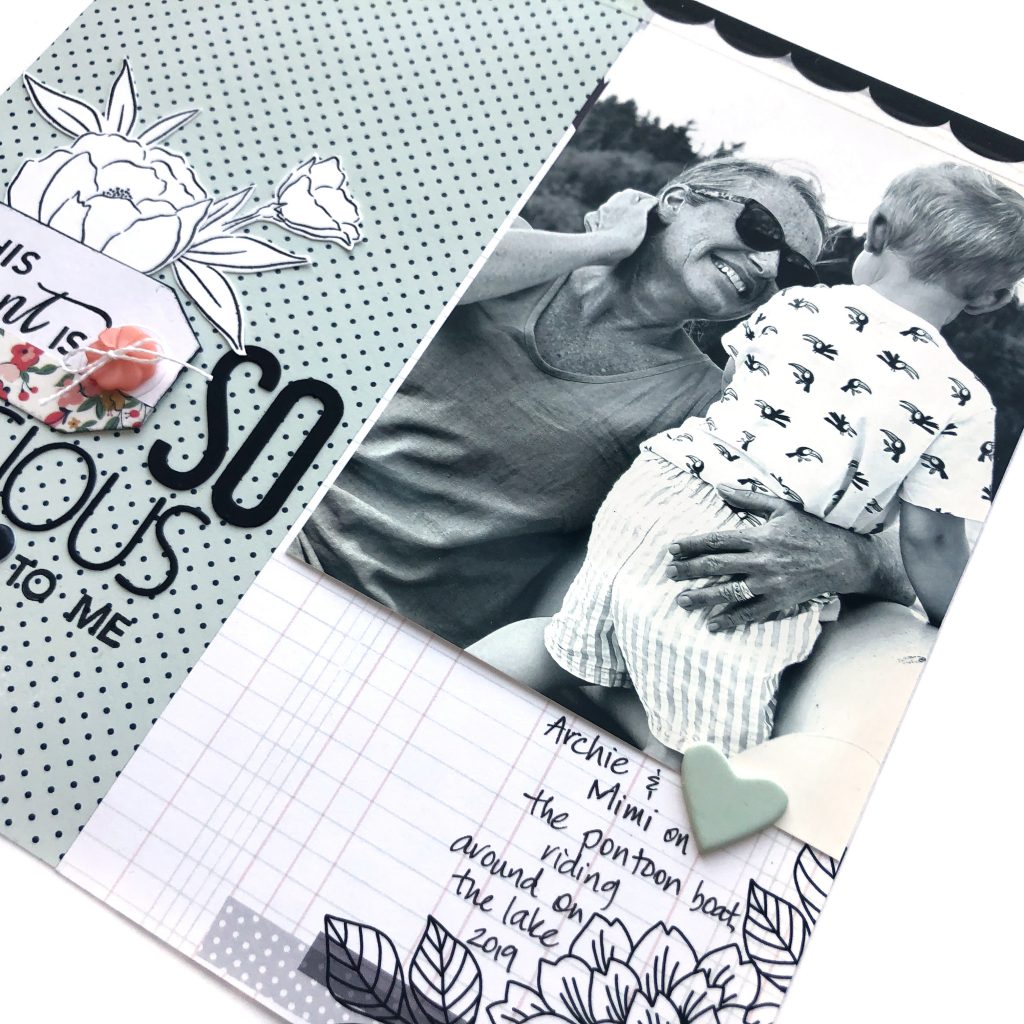 Other supplies used on the page include: Freckled Fawn flower paper, Felicity Jane polka dot paper, chipboard heart and scalloped washi tape. Also, Bella Blvd puffy heart, Memory Box alphabet dies (precious) and Altenew Alpha dies (SO), and Concord & 9th alphabet stamps.
Tie Your Buttons Challenge:
This layout of my sweet baby granddaughter on the dock at the lake, meets the challenge to "tie your buttons". Some people have a thing about using dead people's buttons. Those are the buttons you find in jars on the back shelf of the vintage flea market. Probably were cut off of Grandpa's shirts, and grandma's church dress. I don't find that a problem so much as buttons with their holes left empty. That bothers me. So this was a challenge I was ready to meet head on!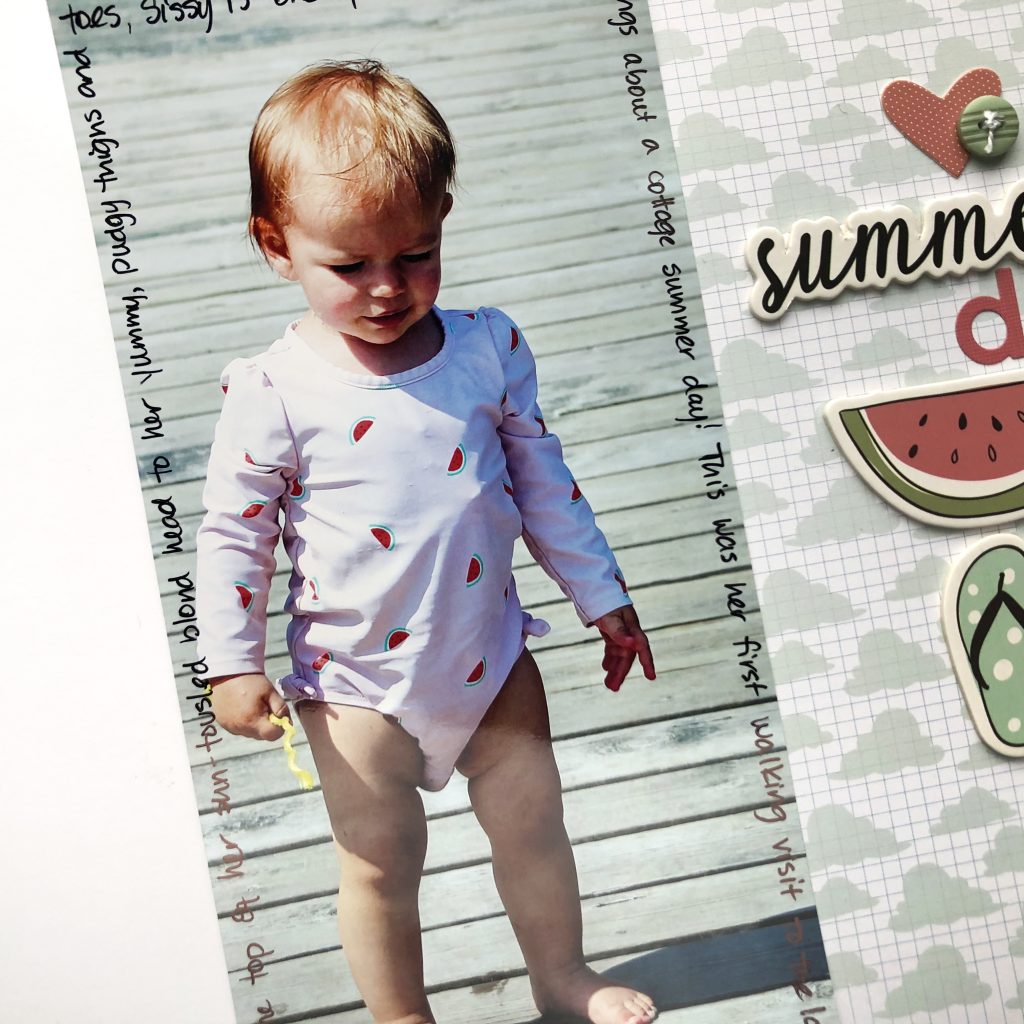 I sized this photo when I edited it to be printed on a 8×10″ photo paper, so I could cut it down and it would substitute for one complete side of the layout.
I used a lot of Felicity Jane scrapbooking kit supplies on this page – the background paper, the chipboard embellishments (summer, watermelon, flipflops and polka dot heart). I also used Memory Box die cut alphabet letters, but I don't remember who makes the washi tape or the button.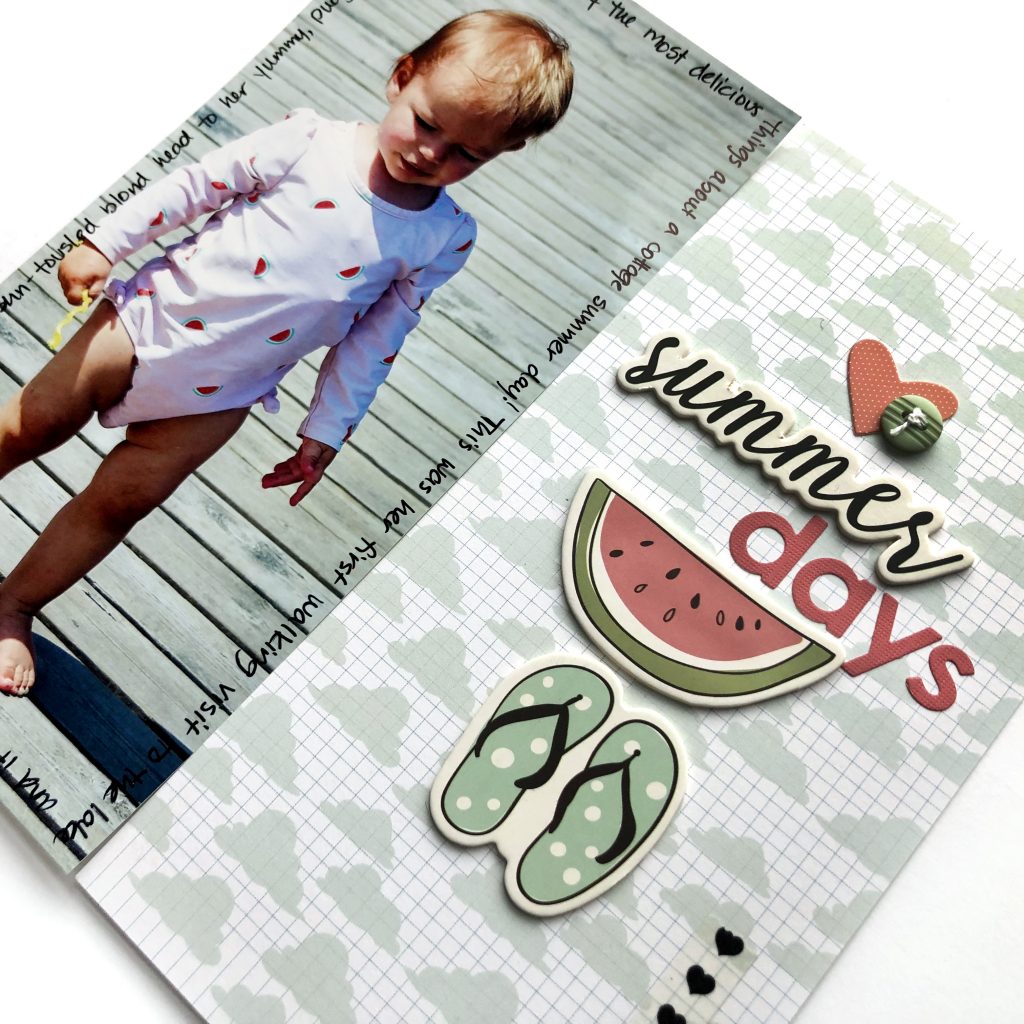 I didn't want to upset the symmetry of the right hand page with journaling so I wrote some words and thoughts around the perimeter of the photo – a design element I really love!
Matchy-Matchy Challenge: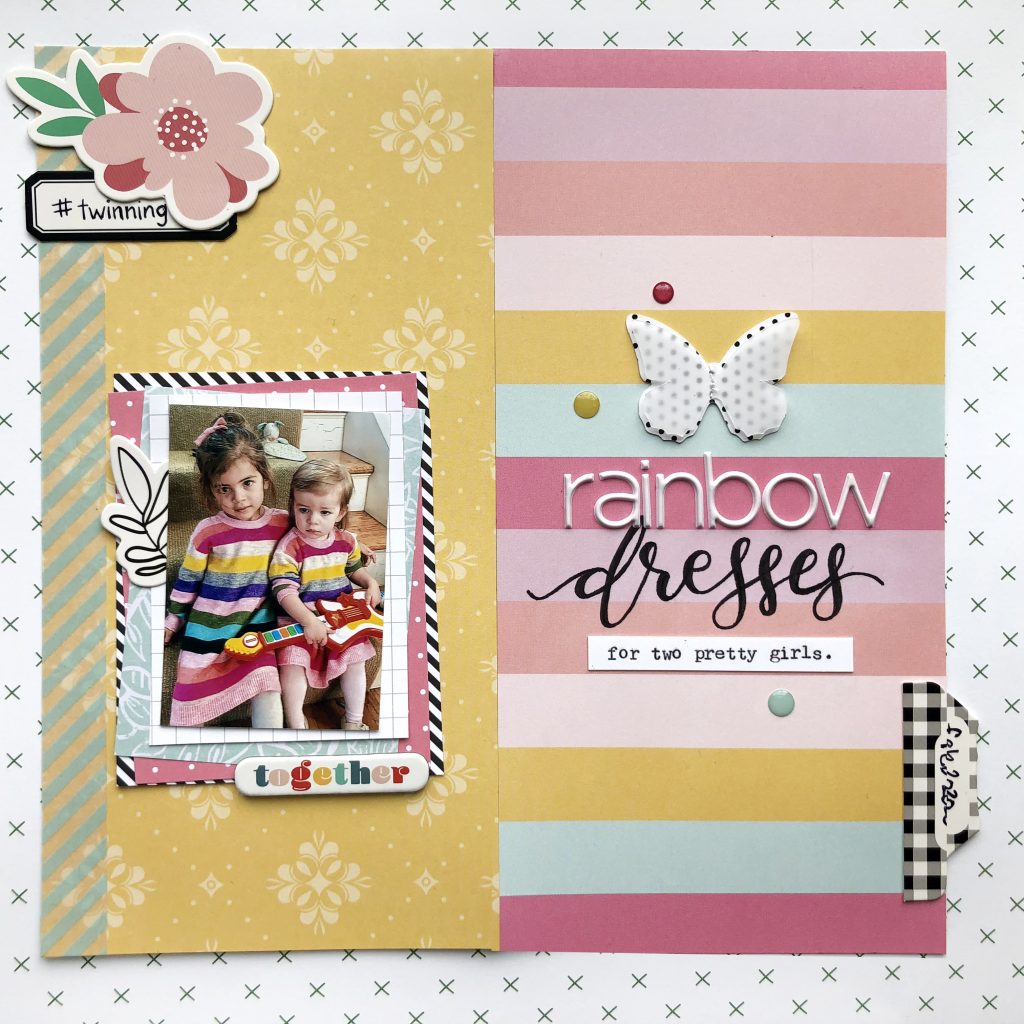 The last layout I have to show you today is for the challenge to use some patterned paper that matches closely with something in the photo – in this case, the dresses!
The little girls in the photo are my granddaughter on the right and her cousin. Not only are their dresses matching, they match the striped paper on the right like it was meant to be!
Supplies used on this layout include: Felicity Jane papers (including the layers behind the photo), alphabet stickers, enamel dots, page divider tab, label, die cuts and butterfly. Also Kamoi washi tape and Freckled Fawn "together" chipboard! I hand-wrote the "dresses" portion of the title – using a pencil first and then going over it with a thin black marker. The typewritten sentiment strip below was typed on my WeR Memory Keepers typewriter.
That's it for today. That's it, but it was also a lot, so if you're still here at the end, Kudos! Thank you so much for stopping by and have a wonderful day!