Hello, hi!
It's blog hop time again and we're celebrating the release of a brand new item at Altenew – Watercolor Brush Markers!  I love real brush markers and I am delighted to add 10 Altenew colors (Spring Garden Set) to my coloring tools collection!  Altenew describes them this way:  The barrel is filled with water-based color, and coordinates with our line of inks. The flexible, yet sturdy bristles on the brush tip allow you to form both broad and fine strokes. Color can be applied straight from the marker, or diluted with water for a softer look.
You've likely come from the blog of the lovely Keeway Tsao, and if not, you can click back to the Altenew Card Blog to start at the beginning.
For today's hop, I stamped the Sketchy Floral stamp set onto Strathmore Bristol Smooth card stock.  This card stock has become my preferred choice for real brush markers, because it has a finish that allows for blending and washing out color before the paper absorbs the color and doesn't move anymore.  If you are watercolor painting with these markers, then watercolor paper is another perfect choice, but with the Bristol paper, you don't have to use water to mix colors – you can actually blend from one color to another using only the markers themselves.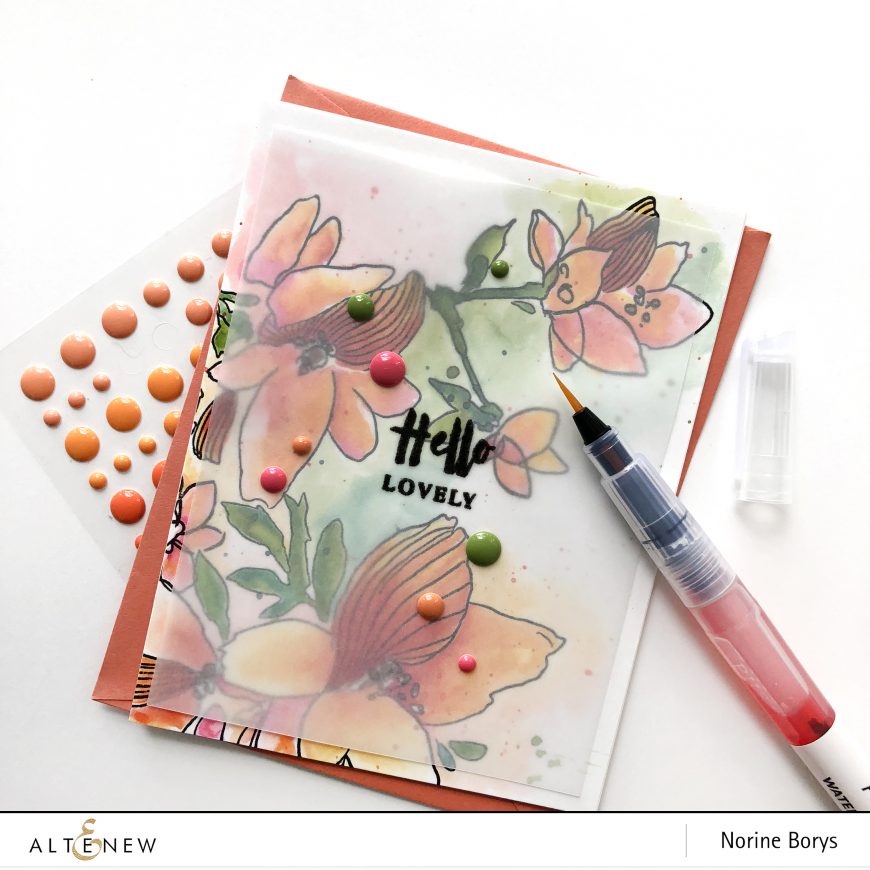 The card above shows the strength of the pure pigment of these watercolor brushes.  Very little water has been added to the coloring.  It produced a colored image that was stronger than I typically like, so I muted the color tones by adding a layer of vellum over top.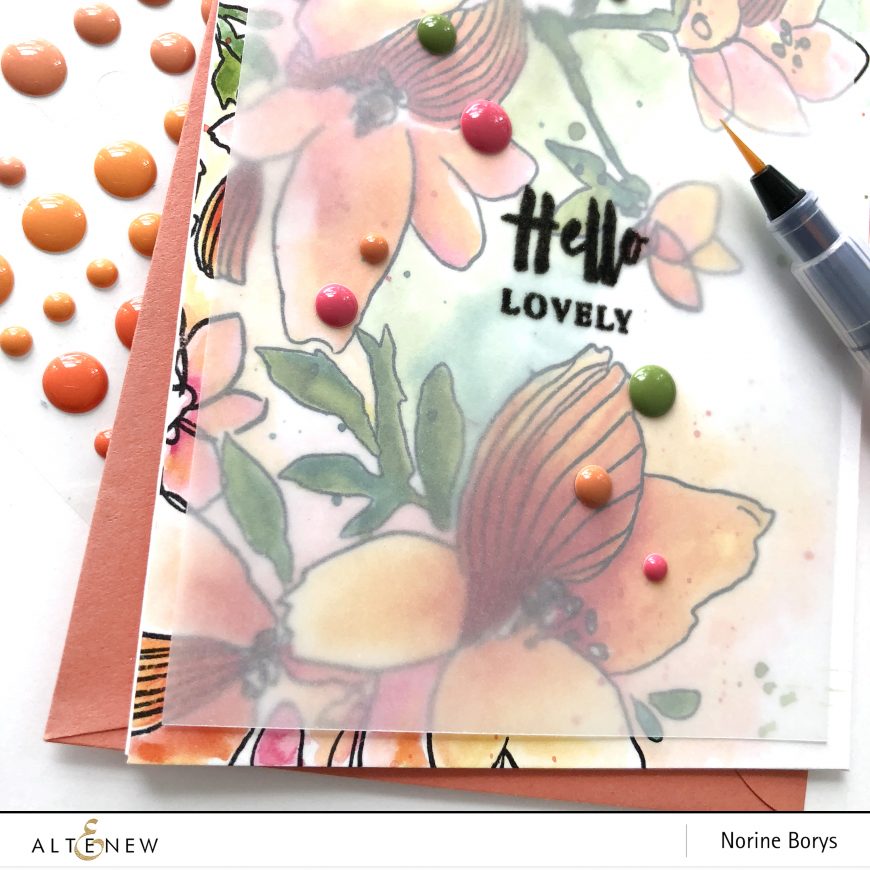 I stamped and heat embossed the vellum layer to allow the sentiment to stand out from the colored design.  I added a number of enamel dots as well, so I could hide the adhesive holding the vellum to the card base underneath them.
The next card is an example of the same colors of watercolor brush markers, but with a bit more water added.  I still used the Bristol paper because I wasn't adding TONS of water.
You can see that the addition of a little water on this paper is fine, and it helps to dilute the colors a little more.  They are still a beautiful vibrant shade, but also a little more transparent.
I used the sentiments in the Sketchy Floral stamp set for both cards, and used a narrow strip of black card stock to really help focus on the sentiment on this 2nd card.
For both cards, I've added splatters of color to finish up, and I accomplished that by scribbling the Watercolor Brush Markers onto one of the Altenew watercolor palettes, and using a wet paint brush to dilute the colors, and to tap lightly to produce the colored spots.
I'm really loving these new markers and can't wait for Altenew to release more colors!  To celebrate today's release, Altenew is offering 6 lucky winners the chance to win a $40 gift certificate by leaving a comment on the Altenew Card Blog or the Altenew Scrapbooking Blog.  Winners will be announced October 12.
As well, I'm offering my lovely readers the chance to win a $20 gift certificate to the Altenew store.  Simply leave a comment here on my blog and I will announce the winner on Oct 9.
Your next stop along the blog hop is Kymona Tracey.  Here is the complete blog hop list should you encounter a broken link.
Altenew Card Blog
Vicky Papaioannou
Erum Tasneem
Lydia Evans
Keeway Tsao
Norine Borys – You are here!
Kymona Tracey
Yoonsun Hur
Rubeena Ianigro
Laura Bassen
May Sukyong Park
Kelly Latevola
Therese Calvird
Amy Tan
Altenew Scrapbook Blog
Svitlana Shayevich
Reiko Tsuchida
Nicole Picadura
Lisa Spangler
Agnieszka Malyszek
Zinia Redo
Kristina Pokazanieva
Virginia Lu
TaeEun Yoo
Sveta Fotinia
Lilith Eeckels
Thanks for stopping by and have a wonderful day!