Hey, hello! Altenew is releasing a few new products today…not their big monthly release…just a little sideline one, and one of the products is a fresh new industry wide collaborative stamp set called Thinking of You, for The Stamping Village! This one is very timely, being particularly suited to the gratitude and encouragement cards we're all kind of focused on making and giving right now. 12 different stamping companies have contributed designs to this stamp set and I have a couple of cards to share today that highlight two of the contributors – Altenew of course, and Picket Fence Studios!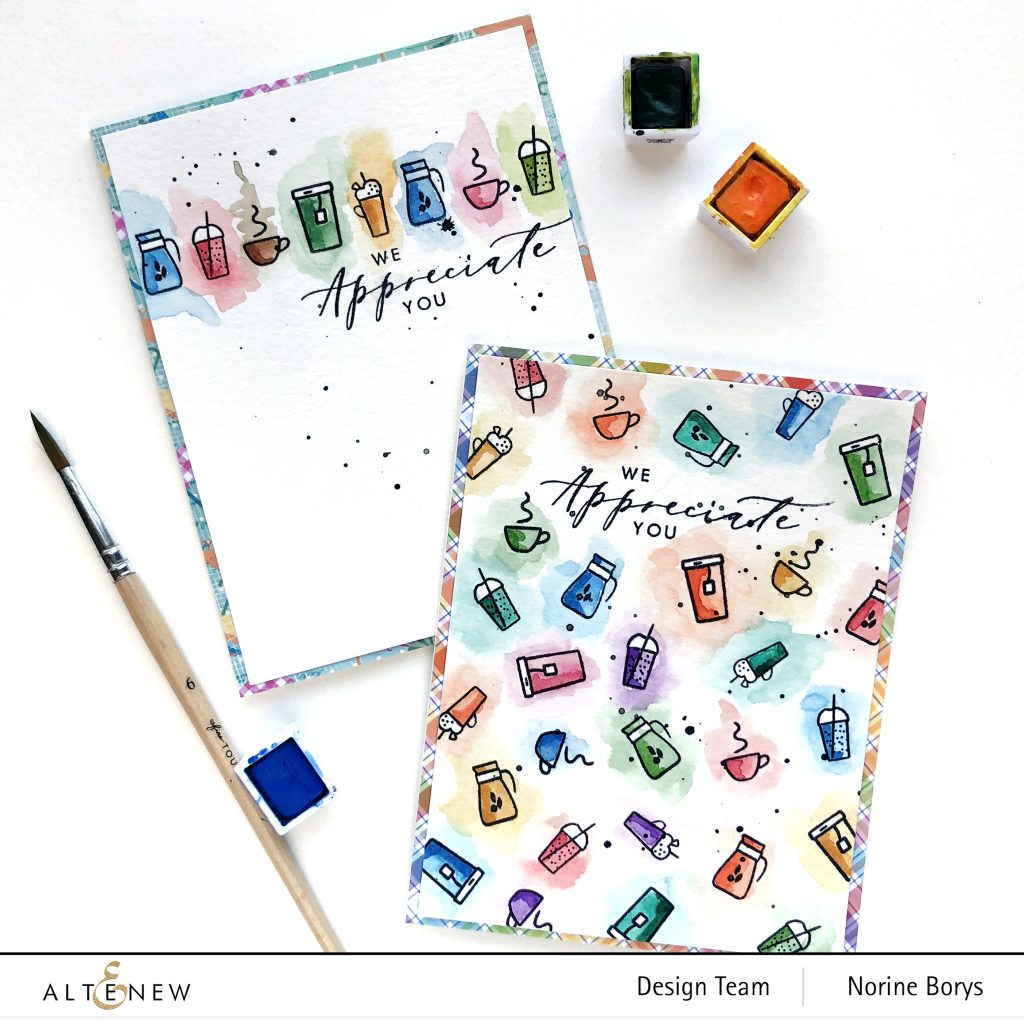 Altenew's stamp on this set is the beautiful "we appreciate you" stamp and Picket Fence Studios designed a row of 5 different beverage containers. During this time of social distancing, I haven't had any contact to speak of with personnel in the service industry….except for the baristas at my favorite coffee shop. I personally, really appreciate their front line service! So I'll be giving these cards away to them.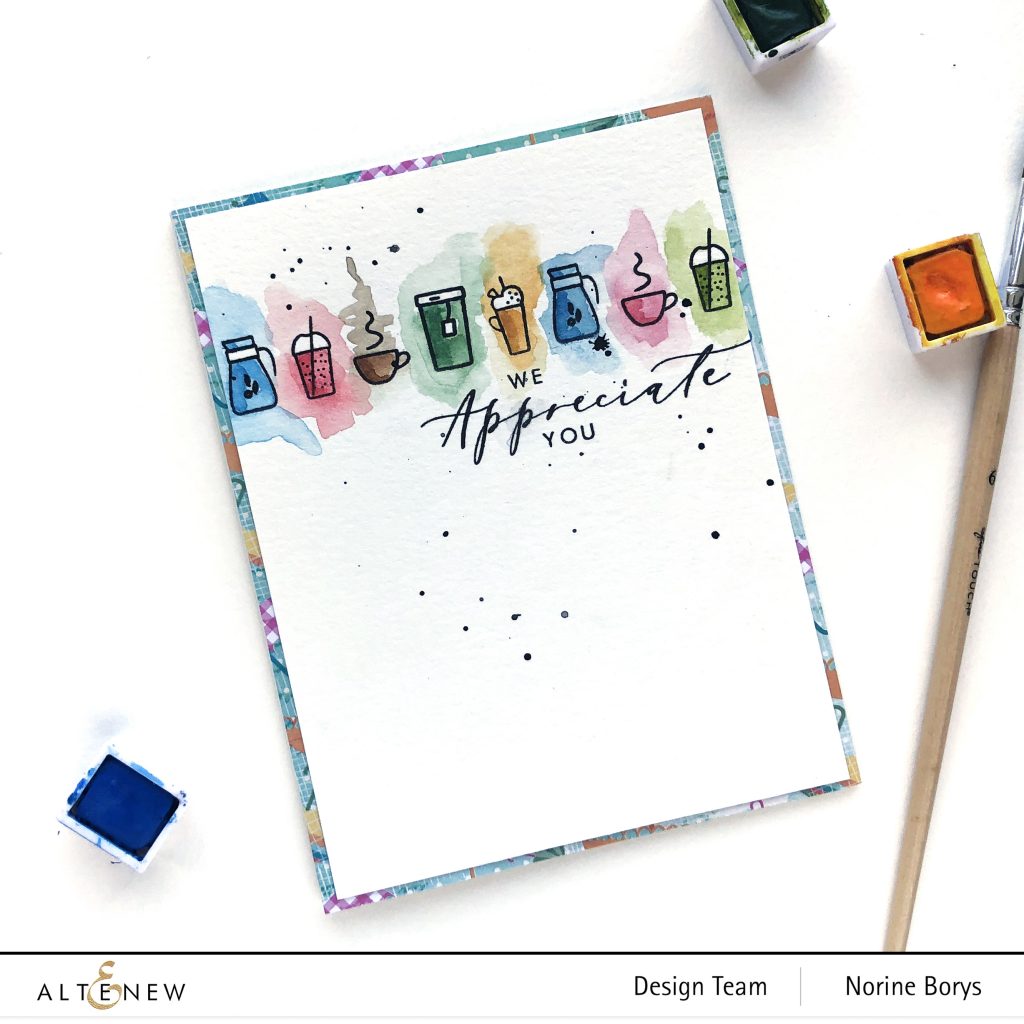 I began my two cards with the first one – stamping a row of assorted, mixed beverage containers, in Versafine – waterproof ink, and watercolor painting each one a different color, using the Altenew Watercolor 24 pan paint set.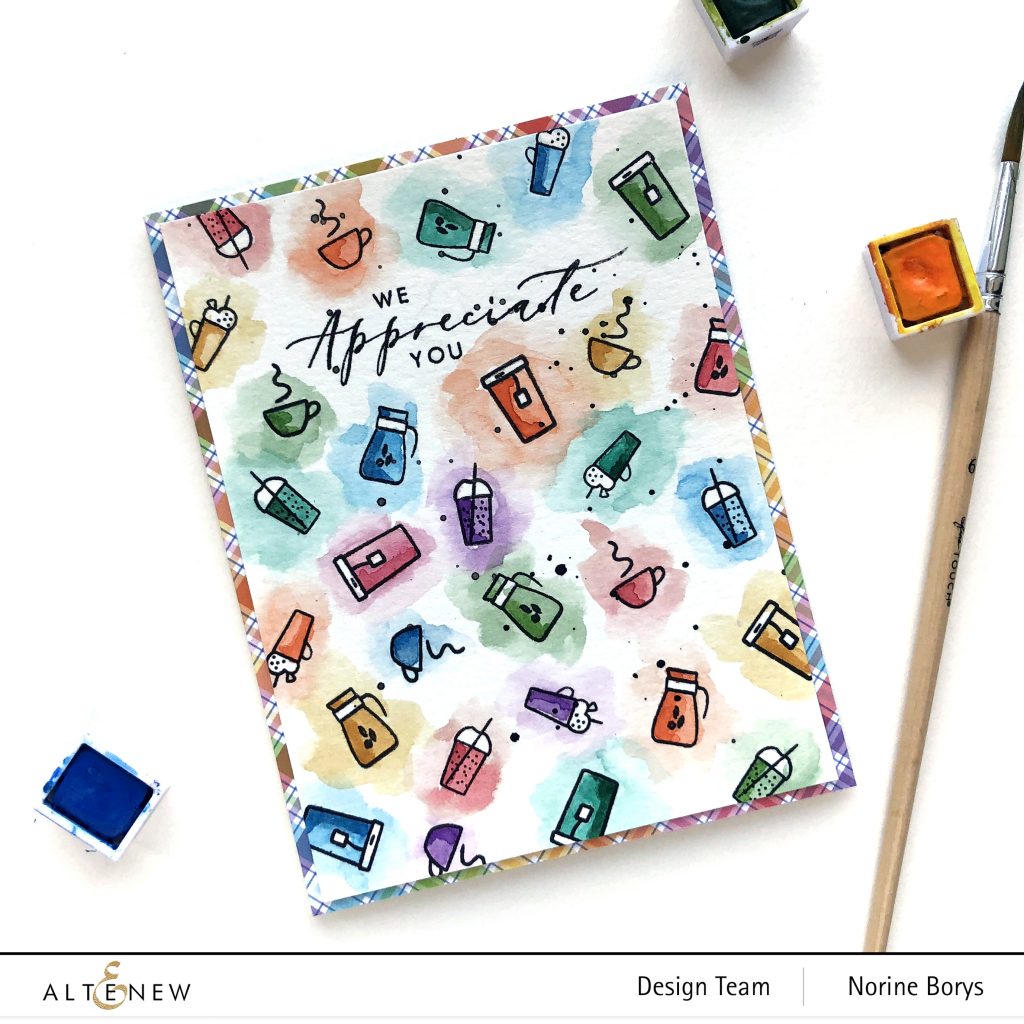 That was over too quickly and was too much fun to stop there, so I stamped a second card panel of watercolor paper with an all-over design. I used mostly all the same colors as the first card, plus a couple more.
For the first card I drew a light pencil line for stamping the cups perfectly, and erased it before beginning to paint. Then I added the sentiment, finished the painting and added the splatters. I trimmed the card panel slightly on each side so that I could use a wild, but similarly colored piece of patterned paper from my stash to mat the watercolored panel.
In the case of the all-over design, I stamped the sentiment first and then added all the cups and mugs around it. Once again, I trimmed all four edges for the sake of a fun plaid patterned paper mat that coordinates so well!
Thanks so much for stopping by today! I hope you're all staying healthy and sane!