Hey, hello! I'm up on the Altenew Card Blog today with another Mother's Day card idea! It's got a combination of different stamp sets, and a couple of cool techniques.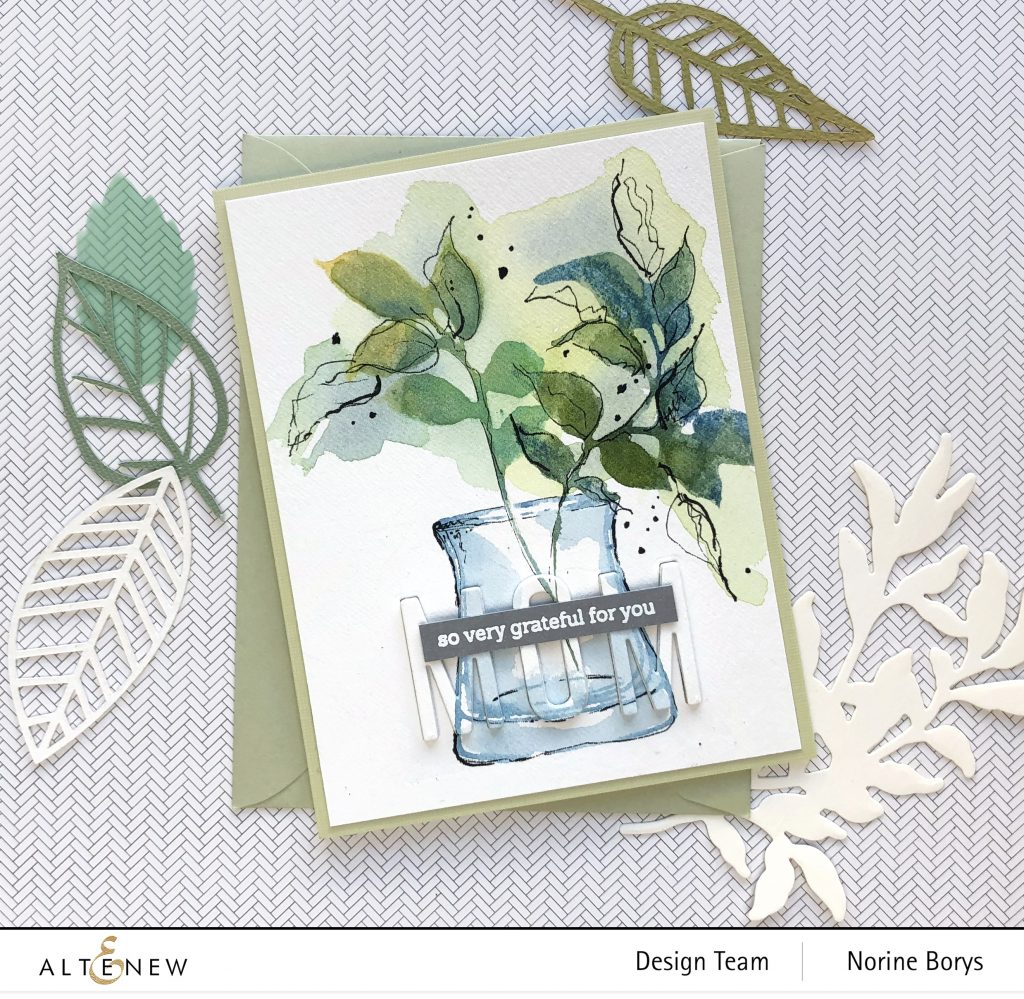 I'm not going into much detail here today as to how I made this card, but if you are interested, you can find all of those details on the Altenew Blog.
Basically, I laid out two leaf stamps from the Leaf Clusters stamp set, and a vase stamp from the Versatile Vases stamp set, then one at a time, I painted the stamps with the Altenew 24 pan watercolor paint set (click over to the Altenew Card Blog for a tip about painting on acrylic stamps) and stamped onto the (gorgeous!!) new watercolor paper pad from Altenew.
I stamped the left side branch first, then the right side branch, then added the vase. I painted the stamps with lots of pigment and lots of water, and using my MISTI, I quickly stamped down, then lifted the stamp so as not to allow excess water to spread onto the paper and smudge the image outlines. For the vase, I "inked up" the stamp with blue paint, and stamped, then added more water to the remaining blue paint and used it to coax color from the outline into the center of the vase.
I painted an additional wash of the same paint colors behind the leaves and when all was dry, I used two differently sized Copic Multiliner Pens to sketchily outline a few leaves, add more leaves where there weren't any, and partially outline the vase. Then I added black paint splatters.
Then I used the Fine Alphabet dies to die cut the word MOM from the stamped and painted card panel, as well as from a layer of fun foam. I cropped the watercolor paper panel by a generous 1/8″ on each side to reveal a coordinating green textured cardstock mat, then adhered the painted card panel to it. Next, I glued the layers of paper die cuts to the foam die cuts and inserted them back into their openings. Finally, I stamped a sentiment from the Hello and Hugs stamp set onto grey cardstock and heat embossed with white embossing powder before cutting it into a narrow strip and adhering it onto the raised word. I love that it both "blends in" and "stands out" at the same time!
Thank you so much for stopping by and have a really good day!