Hello, hi! Welcome back today for the Simon Says STAMPtember Blog Party where we are sharing a ton of inspiration with the newest Simon release! What's more, it's the 12th annual STAMPtember, can you believe it?? And check out the Free Gift above with a purchase of $30 or more! This is not the only promo being offered by Simon Says Stamp, but you'll have to visit the complete list of blogs in the party to see them all – kind of like a scavenger hunt!
Throughout STAMPtember, Simon Says Stamp will be celebrating every day posting exclusive collaborations, contests, prizes, special promotions, announcements, and more surprises! Simon's blog will announce what they have planned every day.
This post contains affiliate links that are listed below. By clicking through to purchase products linked, you are helping to support this blog at no additional cost to you and that allows me to continue to provide you with creative inspiration and instructive help.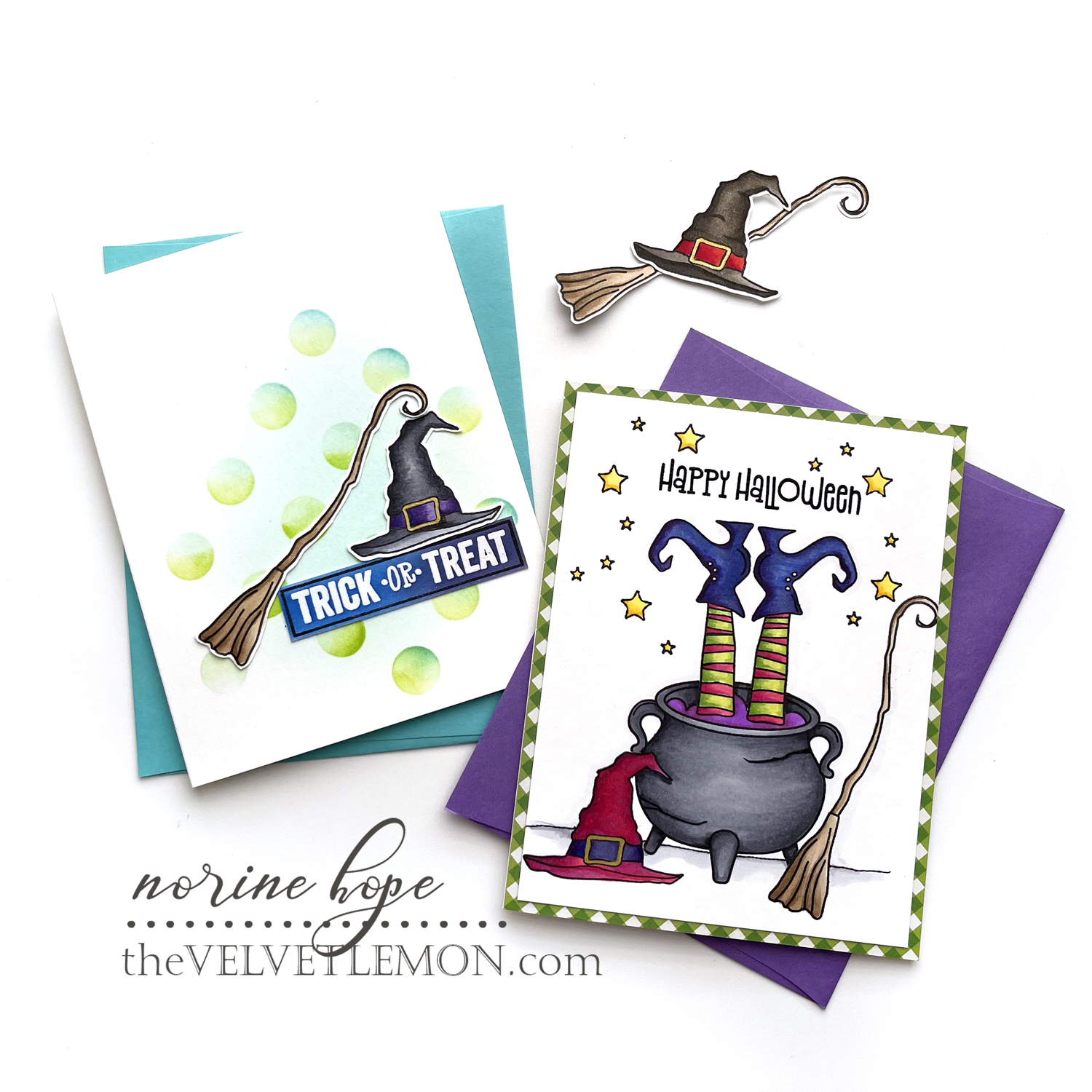 I used the Toil and Trouble stamp set to create these two cards, with a non-traditional color scheme because the witch who belongs to these feet and hat has (had?) an distinctive sartorial flair. No boring black hats and boots for her!
For the first card, I stamped the images onto masking paper and cut them out so I could build the scene with the hat and broom in the foreground, the cauldron behind, and the legs coming from the stew!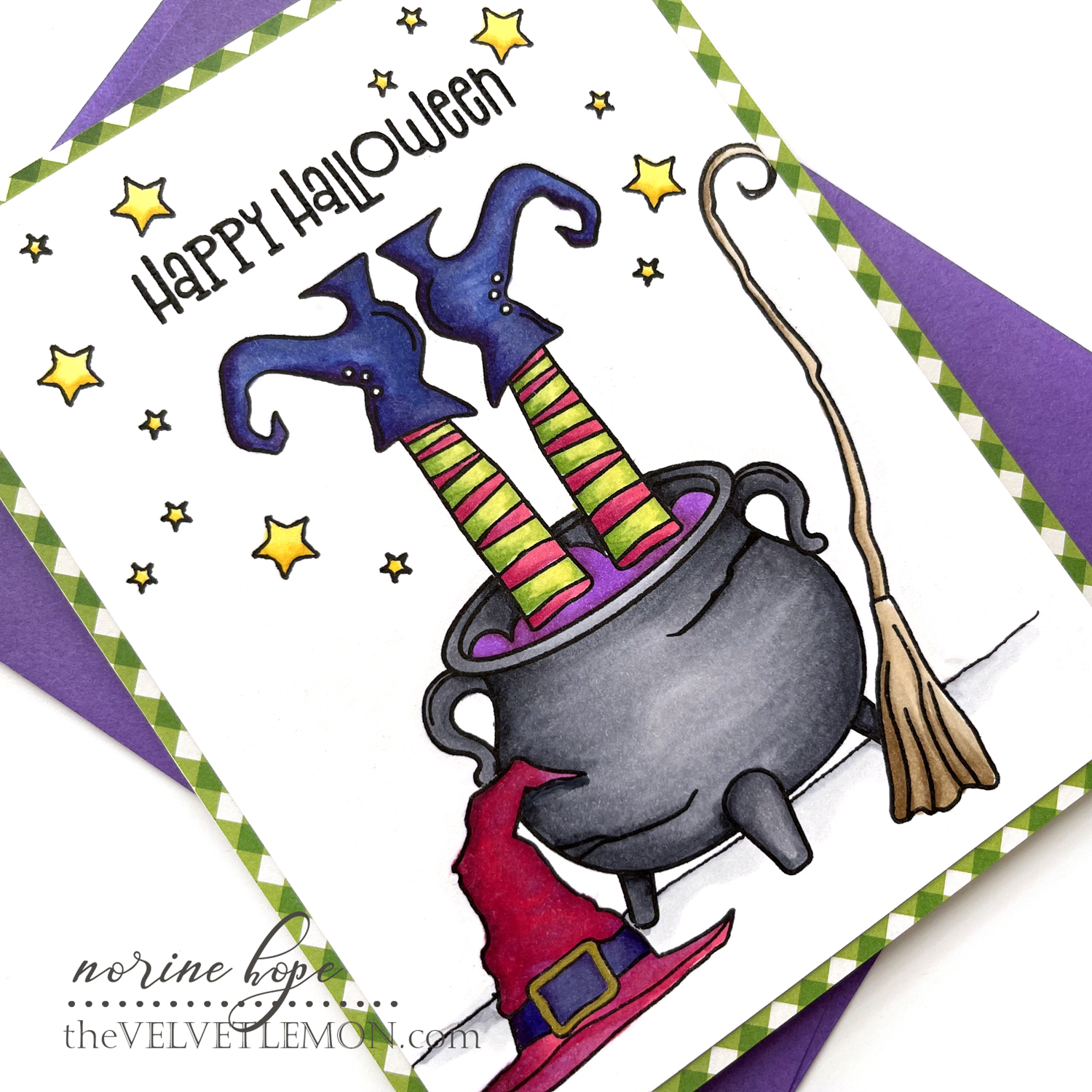 I stamped onto Neenah Solar White cardstock and colored the scene with Copic markers. I won't get into the details of that except to point out one thing I tried that seemed to work – after coloring the hat the bright shades of magenta pink, I decided it was too bright and cheerful. I wanted it a little deeper and darker, so I colored over the whole hat with one of the lightest shades of gray used on the cauldron and that did the trick of subduing the color quite nicely!
After stamping the sentiment with Copic friendly ink and clear heat embossing it, I added the stars by drawing them into place with a black Copic multiliner pen and two different star stencils, including this one here.
I finished coloring the scene, trimmed the card panel slightly smaller than A2, and mounted it with some green diagonal check patterned paper, then adhering it to a folded card base.
For my second card, I stamped some of the images in the Toil and Trouble set onto Neenah Solar white cardstock with Copic friendly ink, colored them up, then fussy cut them out, although the set is available with coordinating dies!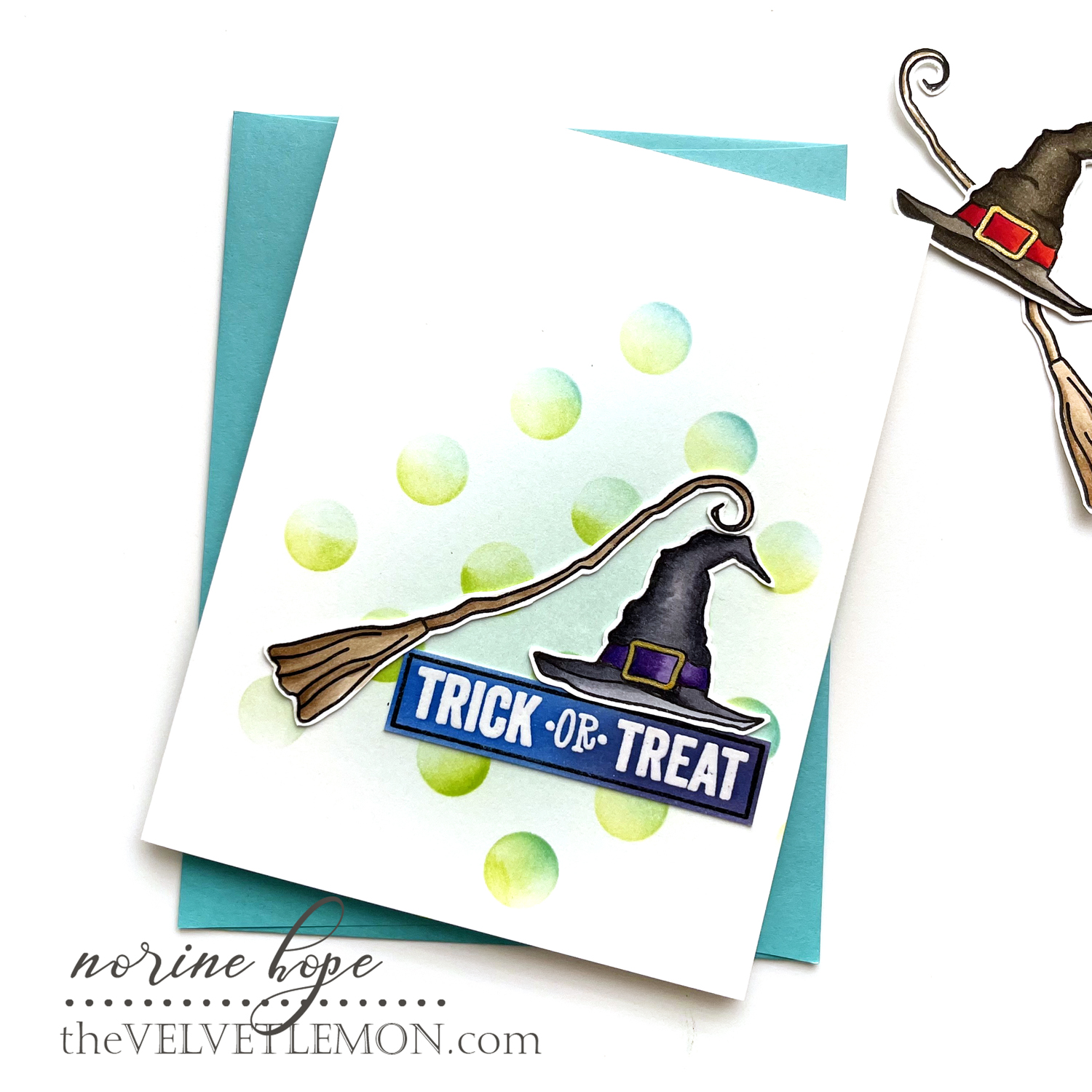 More often these days I find myself looking to create my own patterned background instead of reaching again, for the patterned paper pads, and today was one of those times!
I used a very old (12"x12", from scrapbooking days) stencil to ink the multicolored holes with Parrot green ink and Ocean Waves blue ink. Then I used more of the Ocean Waves to blend a subtle blue background over all.
For the sentiment block, I stamped the box outline in black, then the words inside with Versamark ink and heat set with clear embossing powder. I used blue and purple inks to ink blend the sentiment strip, trimming it down, then adhering it to the card front along with the broom and hat.
That's all for me today. But there are so many more blogs/Instagram pages to visit and for future inspiration, there is the STAMPtember Gallery here, with all of the projects posted together in one place! Thanks for stopping by and enjoy the rest of the release party!
SUPPLIES USED: