Hello, hi! Welcome to the Altenew Whimsical Wonder Blog Hop, where we are showcasing the April release of stamps, dies and more! You should be arriving here from Jaycee's blog, but if not, you can click back to the start of the hop at the Altenew Card Blog and not miss any of the awesomeness we have in store for you!
This post contains affiliate links that are listed below. By clicking through to purchase products linked, you are helping to support this blog at no additional cost to you and that allows me to continue to provide you with creative inspiration and instructive help.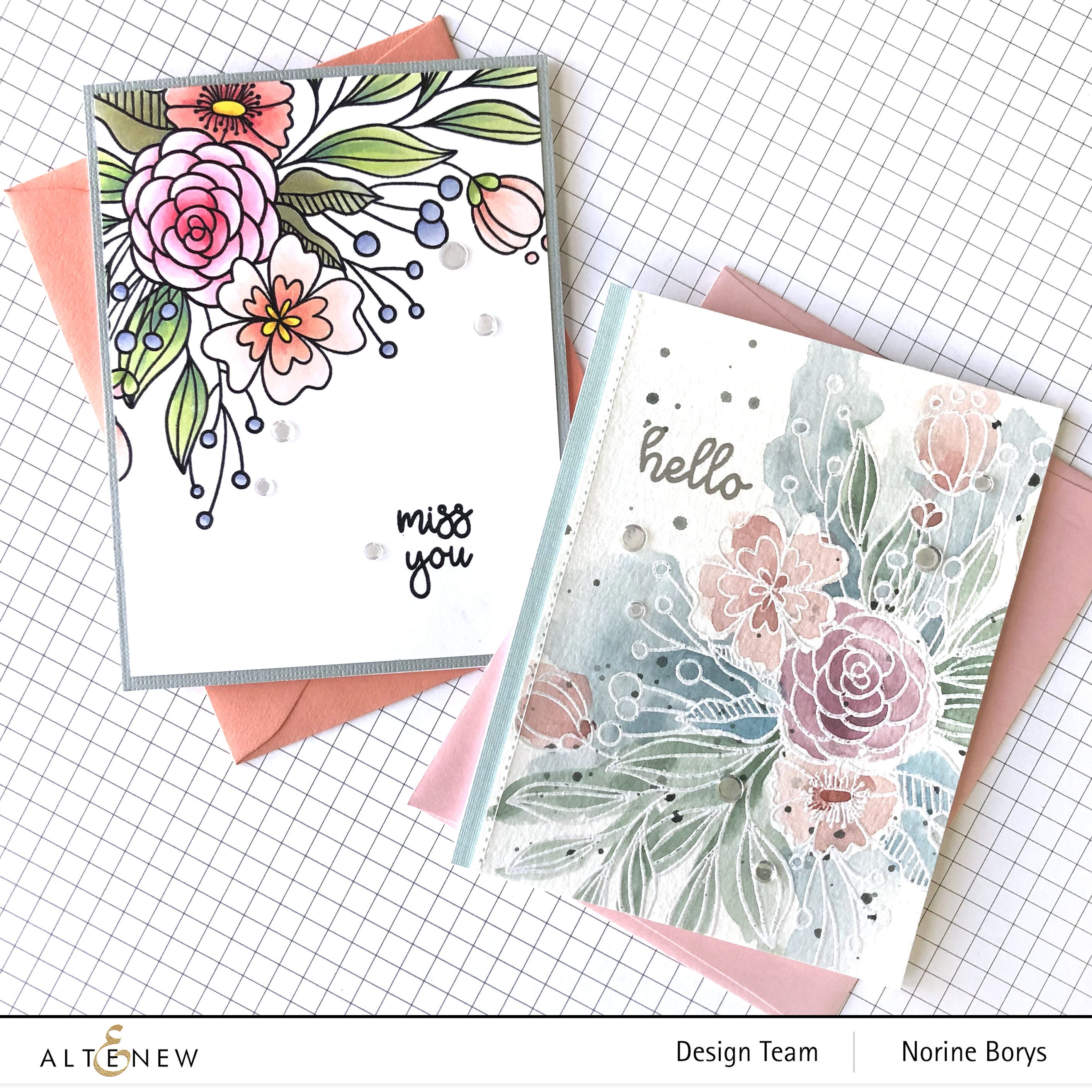 I have three cards to share today, and these first two cards, as different as they look, are both made with the lovely Bouquet of Love Stamp Set.
To begin, I stamped part of the image onto one corner of a piece of Neenah Classic Crest cardstock with Obsidian Pigment ink and heat set with clear embossing powder.
I colored the image with Altenew Artist markers and Copic markers for the palest colors. They say that alcohol makers shouldn't mix with heat embossed outlines, so I am always careful not to color over the lines, and just barely bump up to the black lines.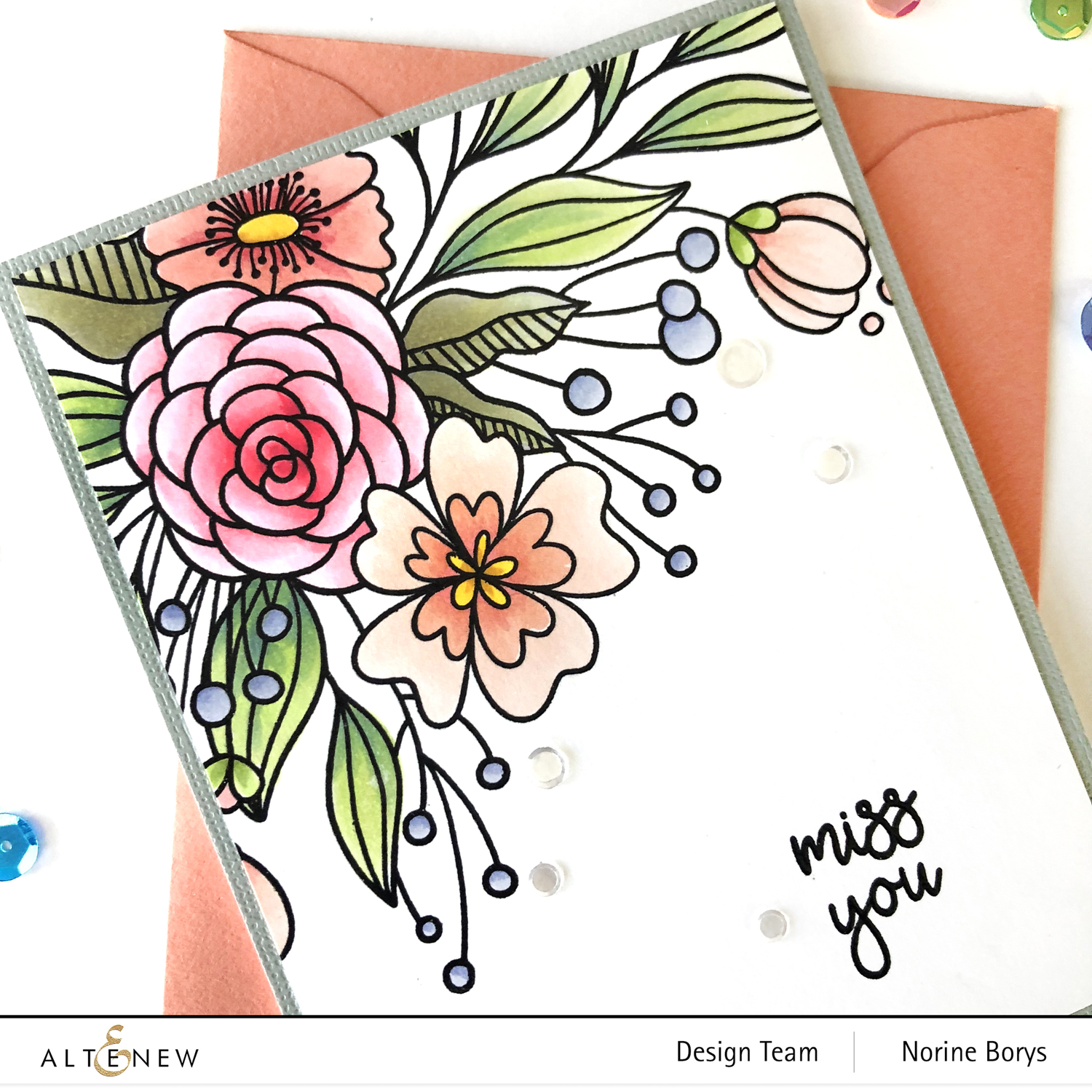 The design of the floral arrangement and pastel colors used are pretty enough to stand alone, so I stamped just a simple greeting from the Bouquet of Love stamp set and just added a few clear, flat sequins to finish it off.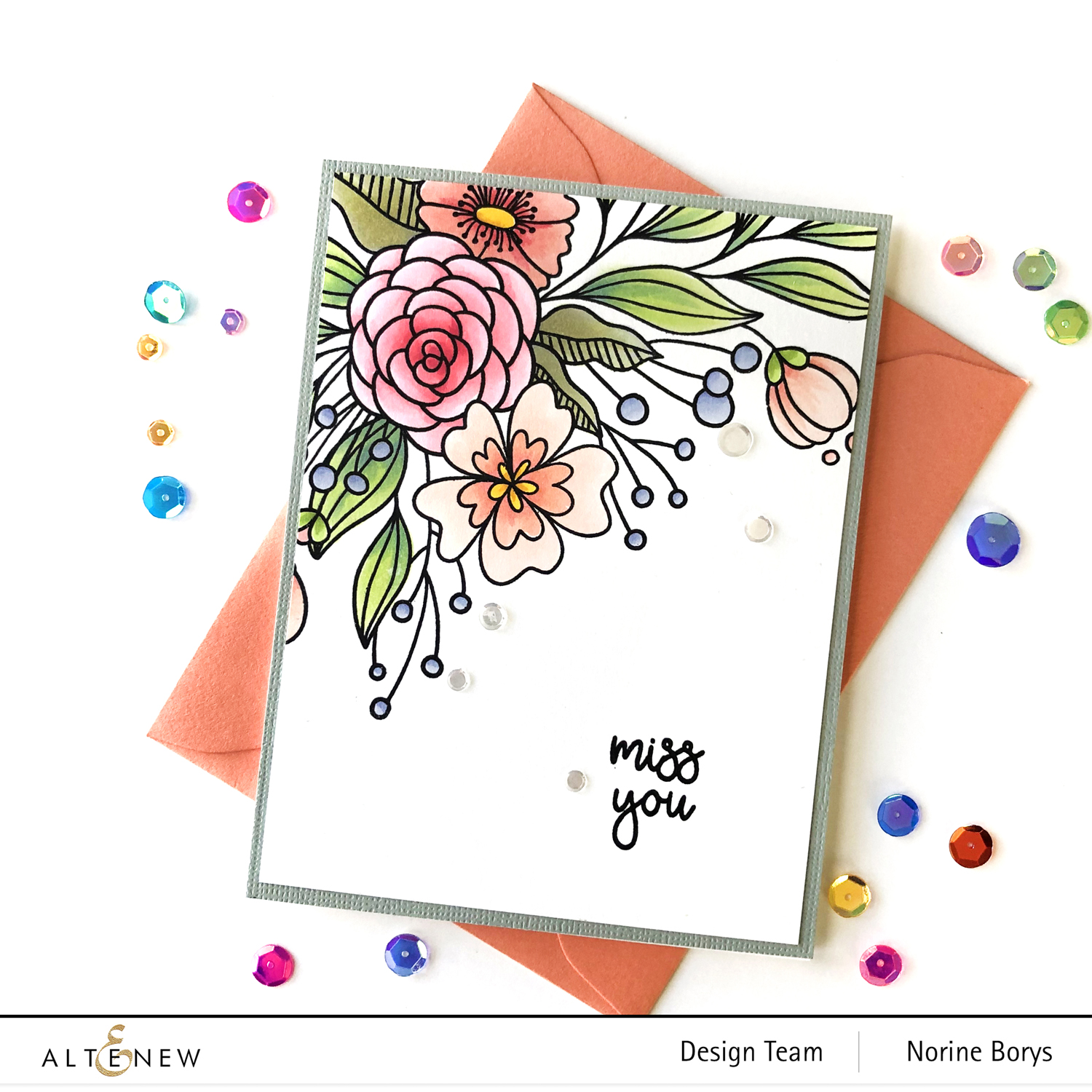 I chose a muted blue-grey solid cardstock to mat the stamped and colored panel and adhered everything to a folded card base.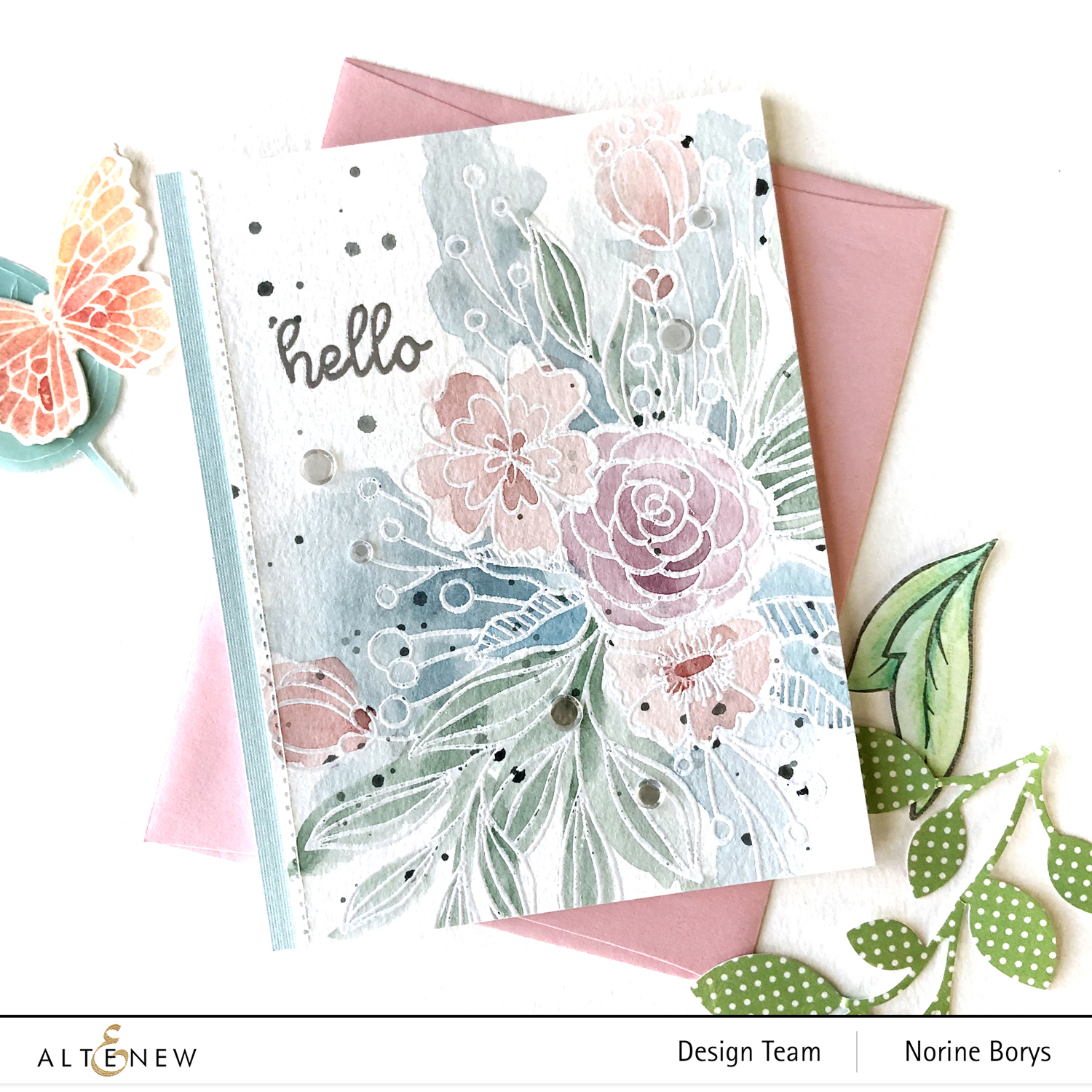 The second card made with the same Bouquet of Love stamp set looks much different as it is stamped on Watercolor paper, with clear emboss ink and heat set with white embossing powder before being watercolor painted.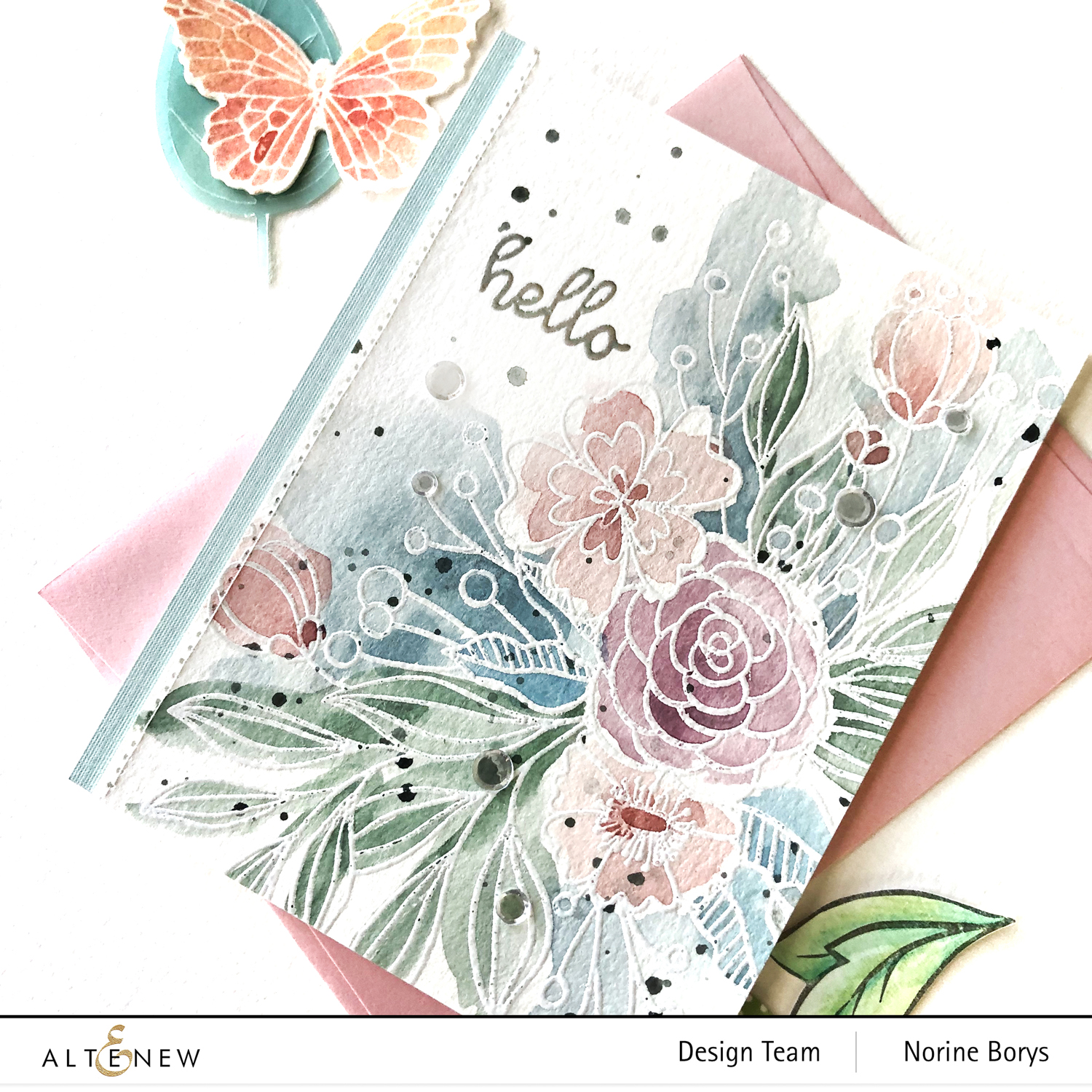 As well, I stamped more of the entire flower bouquet image onto my card panel and that is one of my favorite aspects of a stamp set like this one. Any time you have a single image larger than a standard A2 sized card, your options grow, from how much of it to stamp, which portion of the whole and which direction to position it.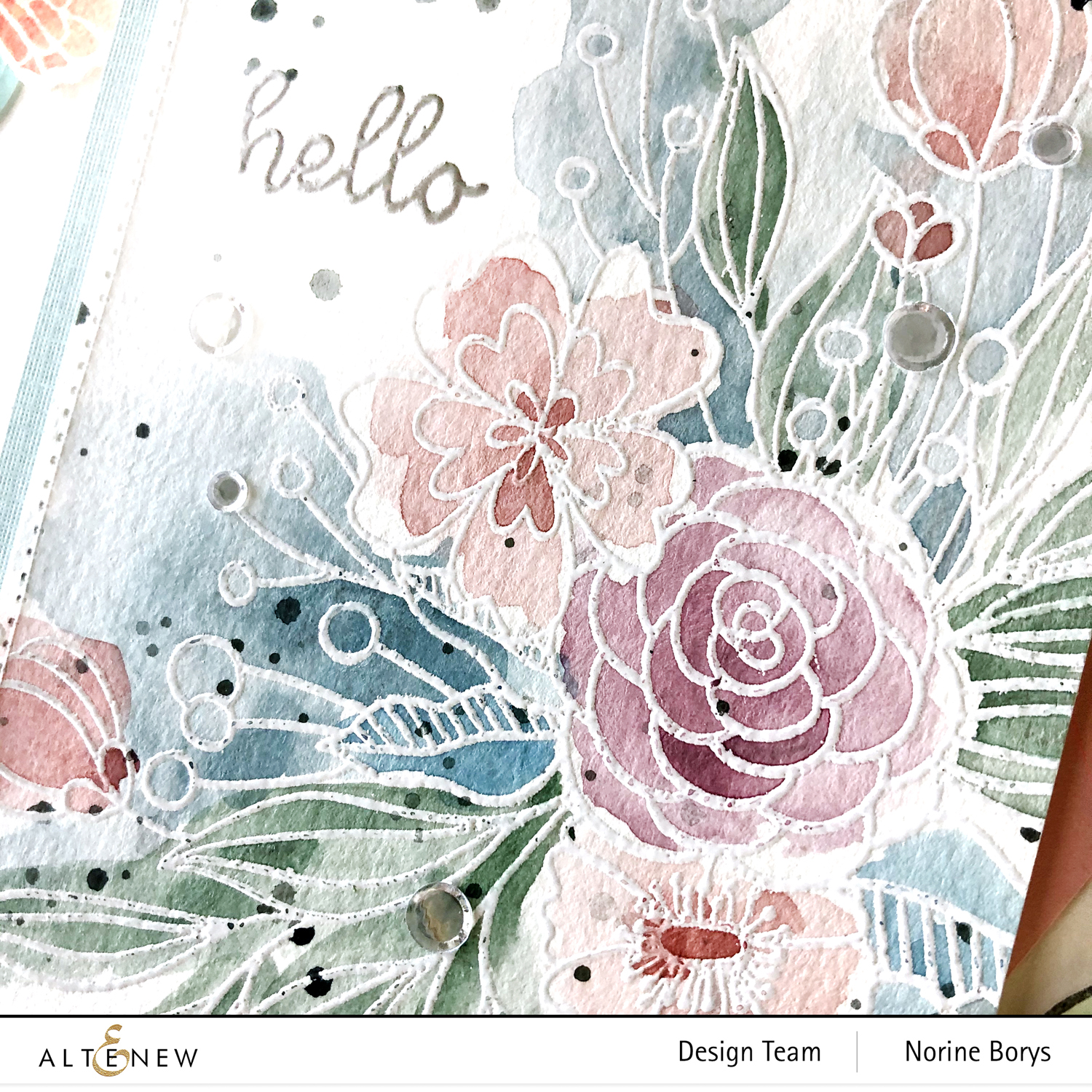 I used my Altenew Watercolor Paint 24 pans to paint the image, letting the embossed outlines corral liquid to make darker and lighter areas. I didn't worry about painting the petals or leaves accurately, or keeping within outlines as it's the paint outside the lines that give the whole image it's shape and definition.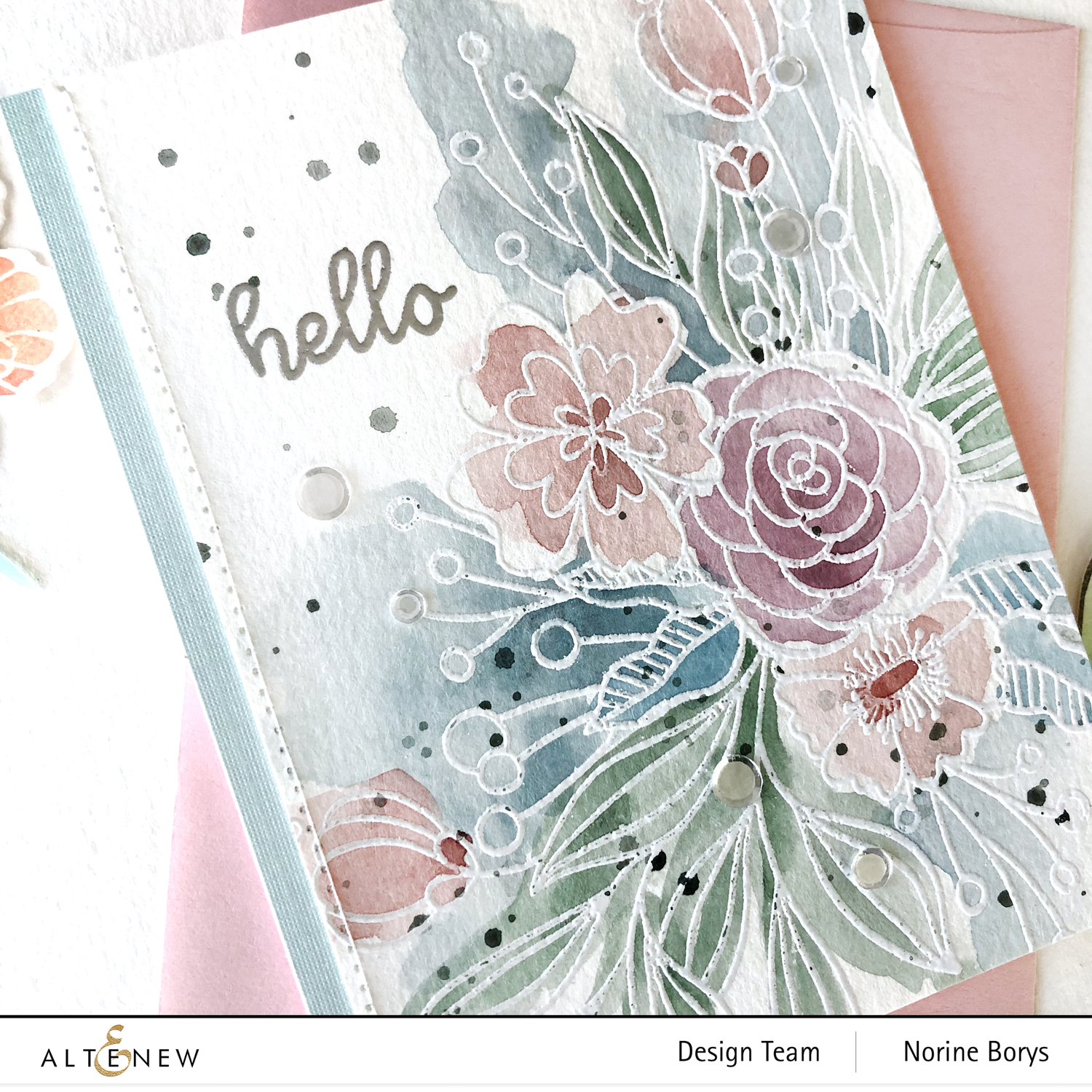 So! Sidenote here! Did you know there is a global shortage of sewing machines?? And that as soon as they hit the shelves they're gone!? We can probably chalk this up to the need for re-usable masks??
I've been looking to get a second machine to tote along when I'm away from my good machine at home, and I didn't need new, or to pay new prices, so I've been stalking FB Marketplace, Kijiji (in Canada) and Craigslist and just not finding much to choose from. (Vintage with the old table base is a little hard to tote, plus not having some of the features we all need, like auto-threading).
Any way, long story short, I found one used, with fewer than 10 hours on it, probably more machine than is strictly necessary for a spare machine, but I'm putting this squarely in the Covid Silver Linings column! And the first thing I sewed with it was a stitched line on this card! Totally worth it I think!
I stamped another simple greeting from the stamp set and embellished with more clear sequins, and let the painted, stamped image remain in the spotlight!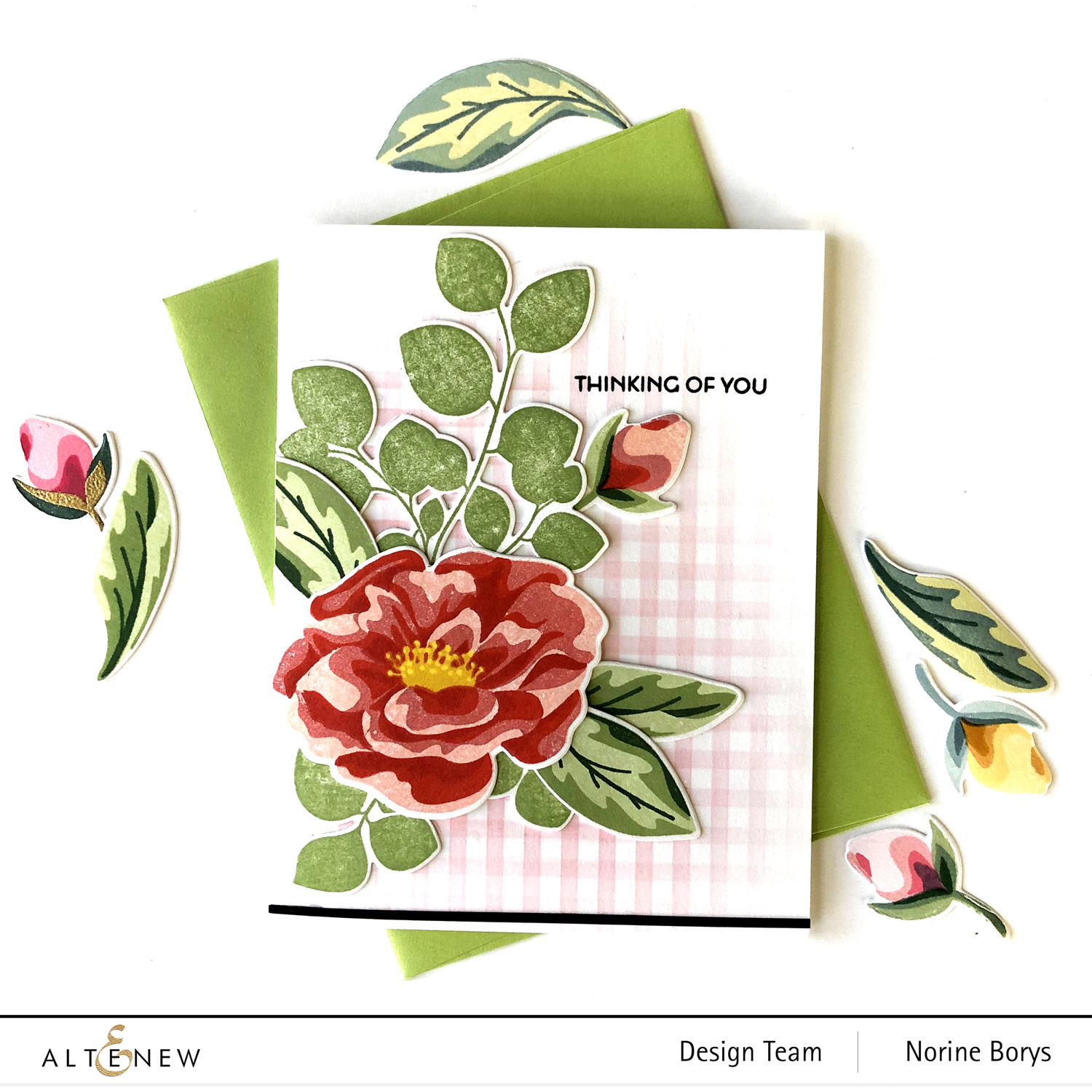 For my third card today, I used the Marbled Bloom Layering Stamp set combined with the Altenew Leaf Canopy stamp and die set and the Altenew Classy Stripes Stencil.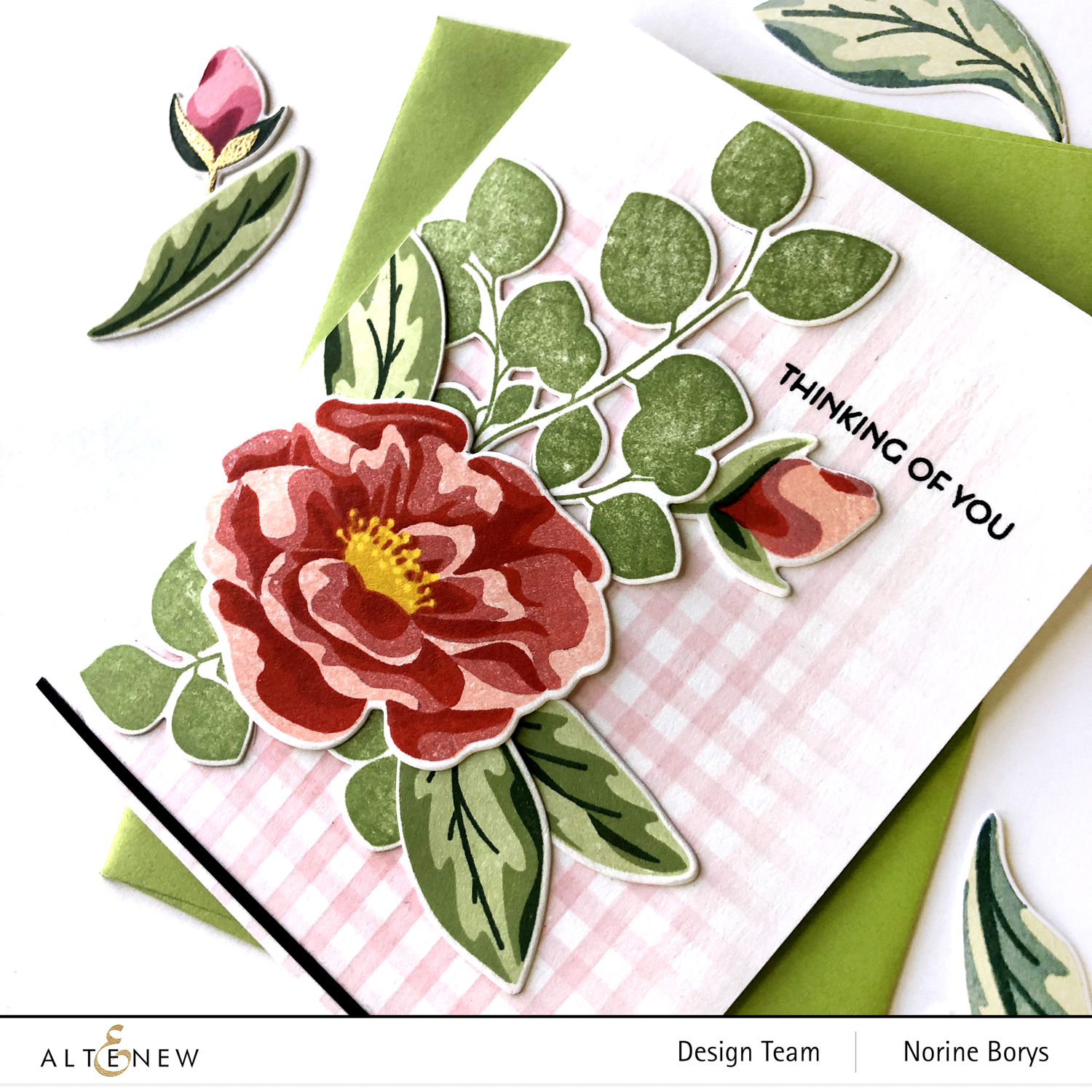 I began by stamping the four layers of the bloom and bud and three layers for the leaves. I used the Green Fields color family for the leaves, (Forest Glade alone for the Leaf Canopy branches) and the Tea Party ink family for the bloom and bud. Fresh Lemon and Honey Drizzle for the centers.
Once all the pieces were stamped and die cut, I set them aside to create a background. On the front of a folded card base, I blended ink through the Classic Stripes stencil, going first in one direction, then turning the stencil and going in the opposite direction. I used a light hand, with more color intensity under the spot where the full flower would go and fading out towards the edges.
This time I stamped a greeting from the Leaf Clusters stamp set, stamping with Obsidian Pigment ink and heat setting with clear embossing powder. to balance the black sentiment, I added a thin strip of black cardstock along the bottom.
That's it for me today, but there's lots more inspiration on the rest of the blog in the hop! Your next stop is LauraJane's blog and if you need to refer to the complete list you'll find that at the end of the post.
Giveaway Prizes
$300 in total prizes! To celebrate this release, Altenew is giving away a $100 gift certificate to 1 lucky winner and a $25 gift certificate to 8 winners! Please leave a comment on the Altenew Card Blog and/or each designer's blog post on the blog hop list below by 04/11/2021 for a chance to win. 
Altenew will draw 9 random winners from the comments left on each stop of this blog hop and announce the winners on the Altenew Winners Page on 04/13/2021.
Thanks for stopping by today and enjoy the rest of the hop!
Blog Hop Order
Norine Borys – You are here.
SUPPLIES USED: