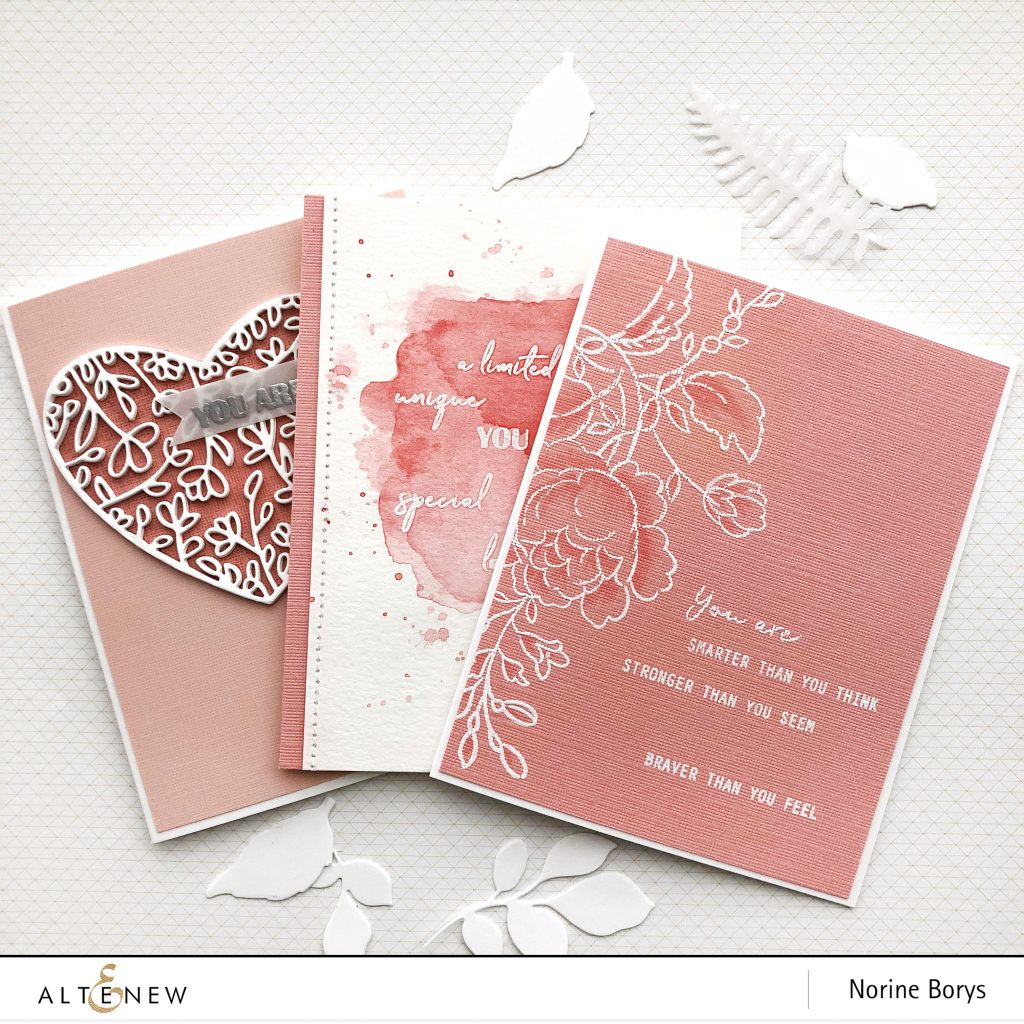 Hi, hello! I'm up on the Altenew blog today with a Stamp Focus post and this month I'm showcasing the Reason To Smile stamp set. It is a set made up completely of sentiments and they are beautiful and very usable! I made three cards with this stamp set as well as a few other supporting stamps, dies and mediums.
The first card is created using only the various sentiments in the set, and grouping them together around the main sentiment of "You Are". I stamped them on watercolor paper with embossing ink, and once heat embossed with white embossing powder, I painted over the stamped area with Coral Berry watercolor paint. I let it dry and added a couple of more layers of paint to achieve the different intensity of shades. I machine stitched along the left edge, letting some coordinating card stock peek out from behind.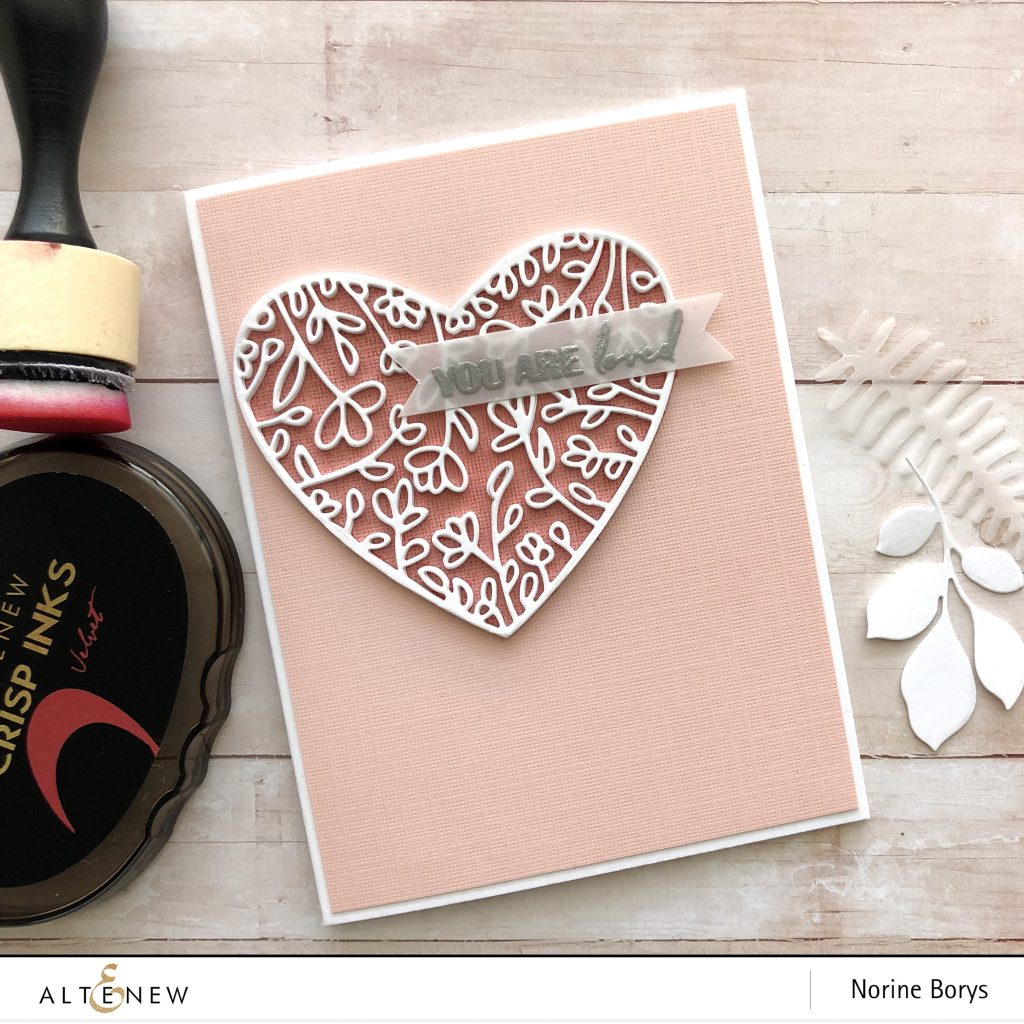 The next card uses a pair of the sentiments from the stamp set in a very simple, stamped, silver heat embossed vellum banner. I glued two layers of vellum together so that the die cut didn't distract too much. The die cut I used is the Floral Heart Frame Die, and I die cut it four times and adhered it all together in a stack. Using the negative cut out of the heart outline as a mask, I blended some Coral Berry ink in the heart opening and then adhered the die cut heart stack over top. The inked portion really helps the die cut to stand out. I adhered the vellum flag-cut banner to the heart die cut and because of the double layer of vellum, the adhesive is not visible.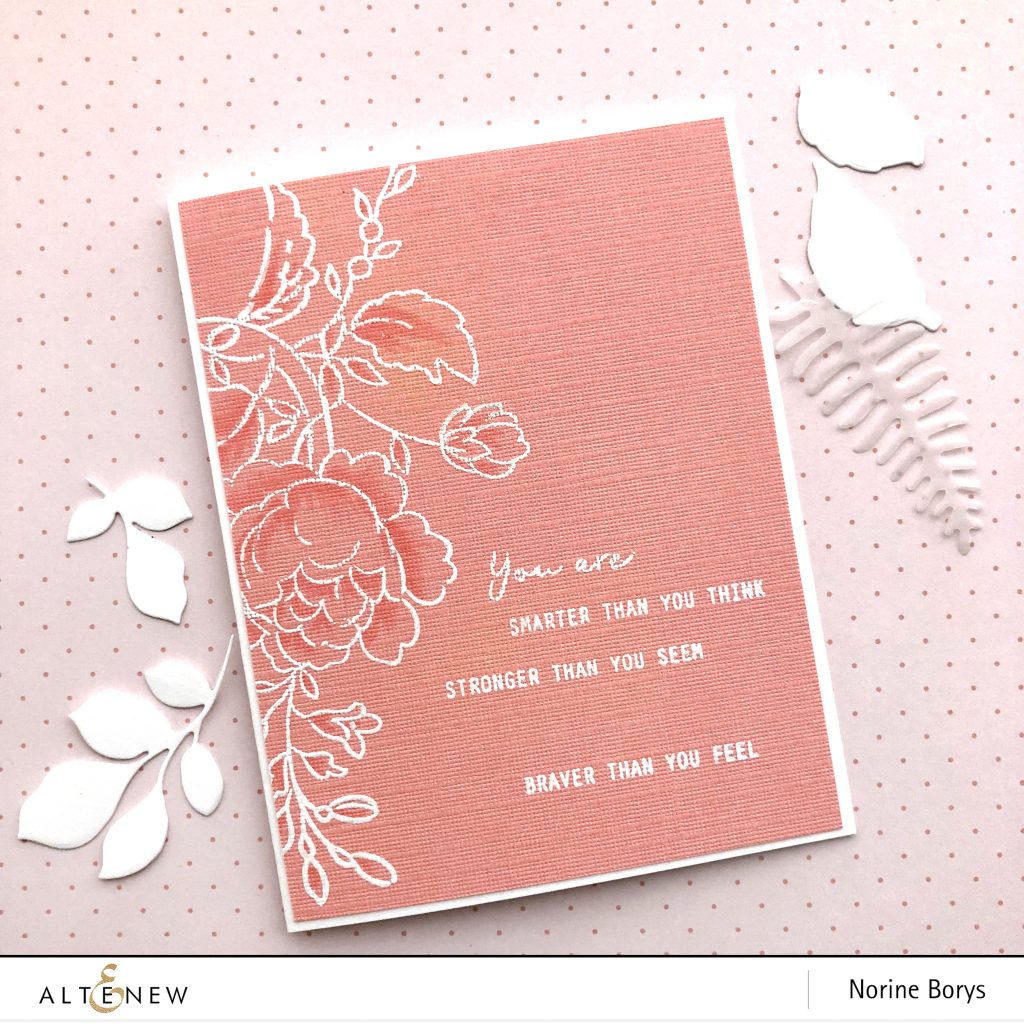 The last card also uses as variety of the sentiments from the Reason to Smile stamp set, arranged and stamped in a way to make them the focal point of the card front. To support the sentiments, I also stamped part of the outline image from the Handpicked Bouquet stamp set, and heat embossed with white on all the stamping. I used the Coral Berry Artist Marker to color in the shaded parts of the leaves and blooms.
Each of the cards today is left very clean and simple, with no extra embellishments or details. I chose to do this to keep the focus on the thoughts and feelings expressed by each of the sentiments.
If you are interested, you can find many more photos, how-to details and product links at this post on the Altenew Card Blog. Thanks for stopping by and enjoy the rest of your day!