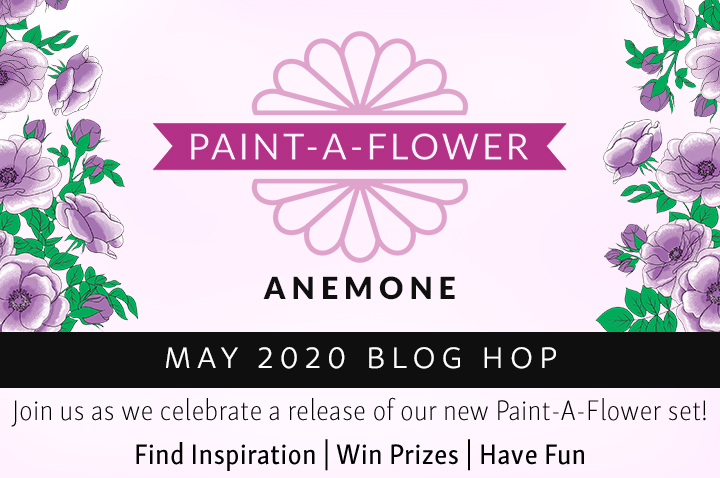 Hi friends, welcome back! We're gathered here today for the monthly Altenew Paint-A-Flower subscription release blog hop; this one for the Anemone. You should be arriving here from Natalie's blog, but if not, you can start the hop at the beginning, the Altenew Card Blog, so as not to miss a thing! As well, Altenew is releasing additional Artist Marker refills today, and besides just refilling some of my markers, I made several projects with those as well.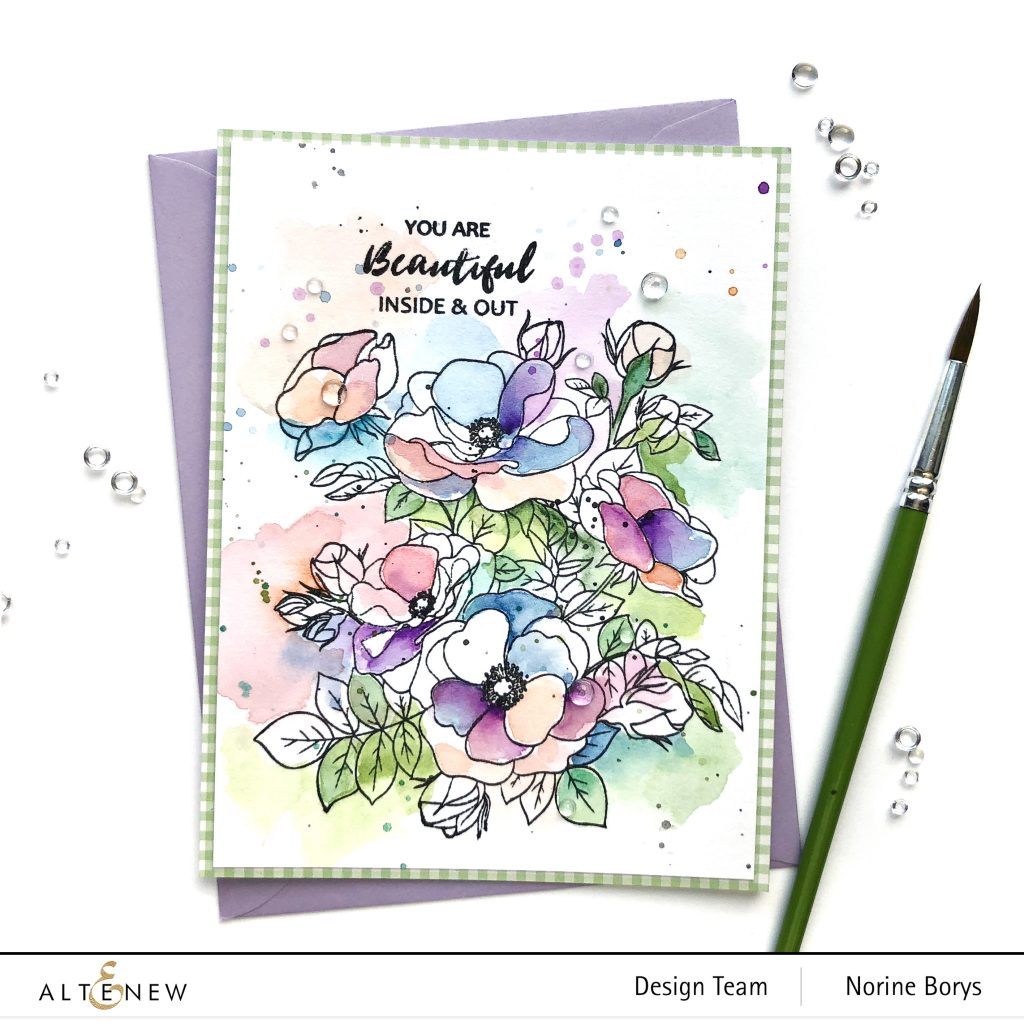 First up though, is this beautiful Paint-A-Flower Stamp Set. As you can see, I couldn't decide what color to paint it. I looked up anemones on the internet and mostly they're white, but since when are we creatives bound by reality?? Wouldn't it be amazing if there was actually a flower that was all the colors like this??
So basically, I stamped the single stamp image onto Altenew watercolor paper – the super white kind with the smoother texture, using Obsidian Black ink, and started painting.
I used both the 24 pan watercolor paint palette and the 36 pan paint palette to paint these, using flat color on some leaves and petals, and letting colors mix and blend on other petals. I even used warm tones with cool tones. I know, what a rebel, right?? Once the painting was dry, I added splatters with the same colors I'd painted with.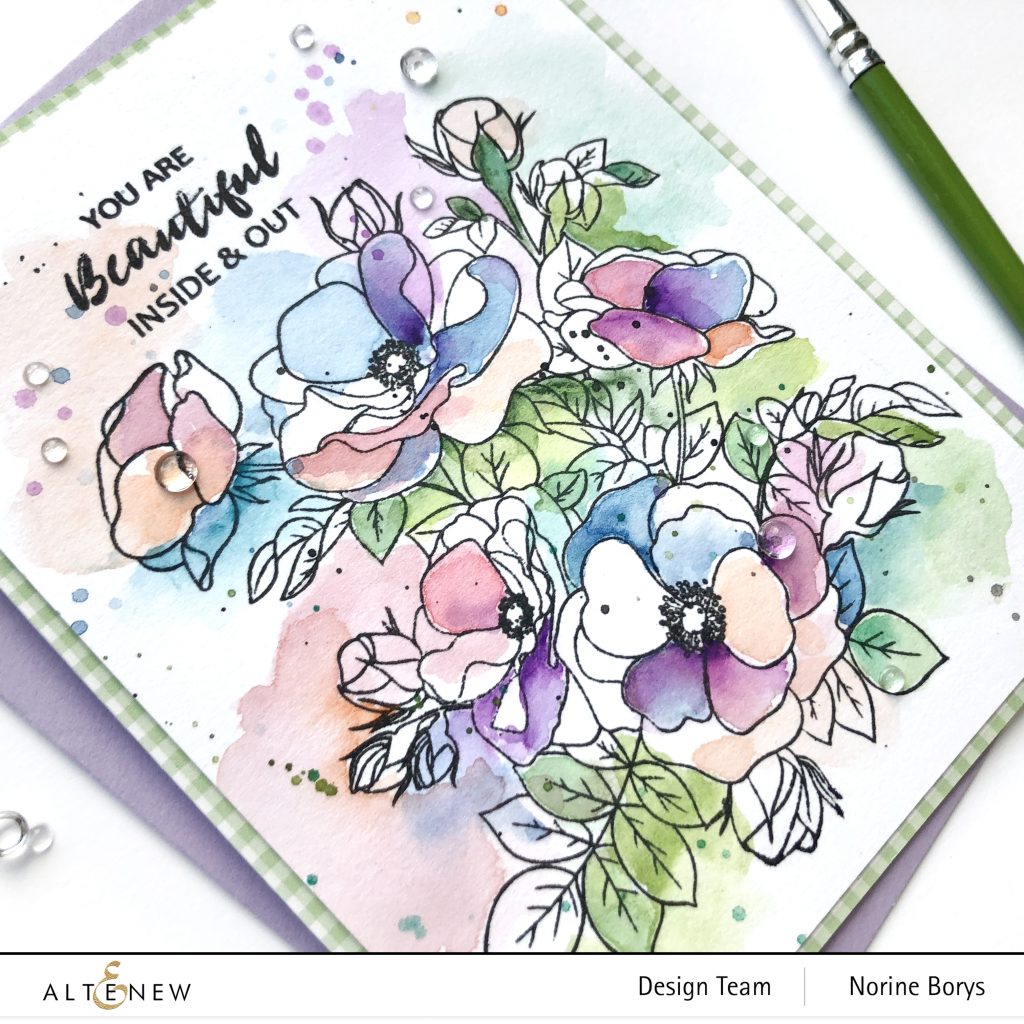 I chose one of the 6 greetings included in this set to stamp the sentiment. Then I trimmed the card panel by 1/8th inch on all sides, matted it with a coordinating color of subtle gingham patterned paper, and added some clear enamel drops to finish the card.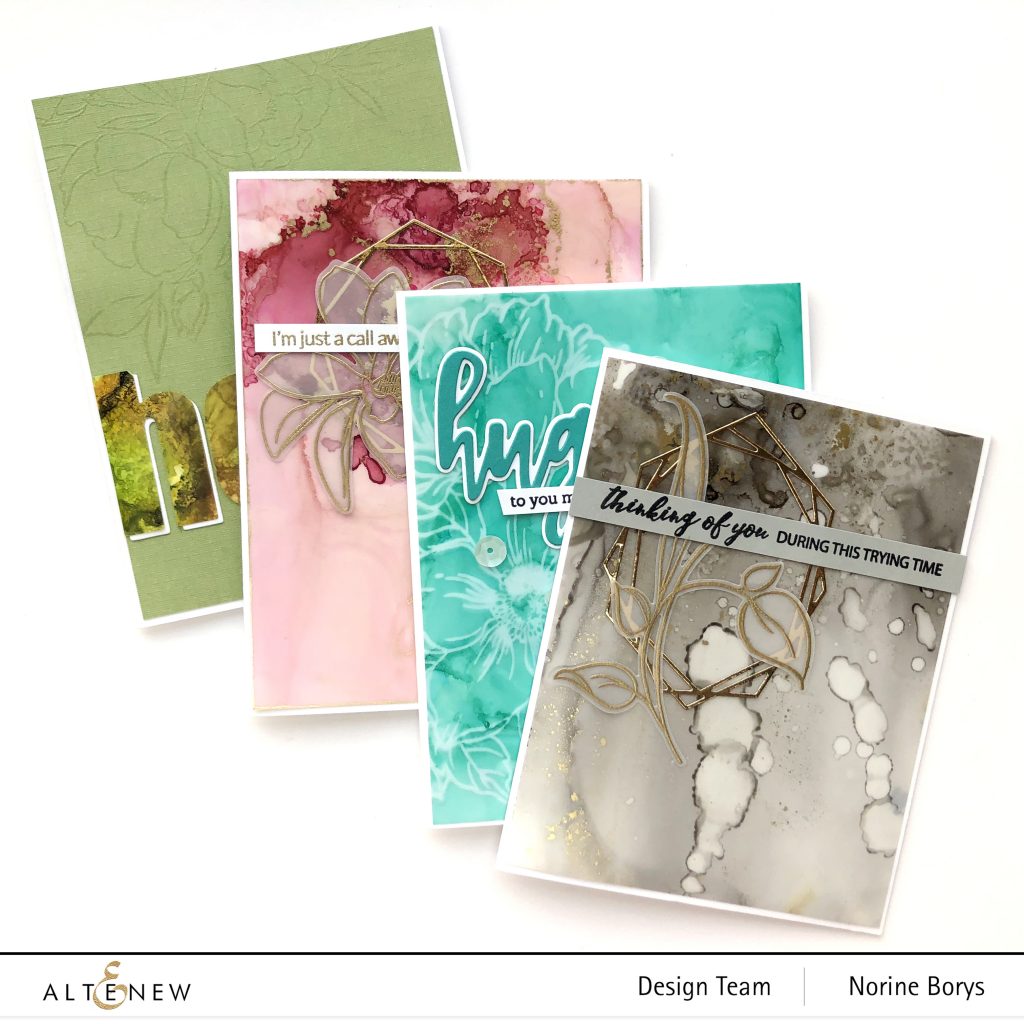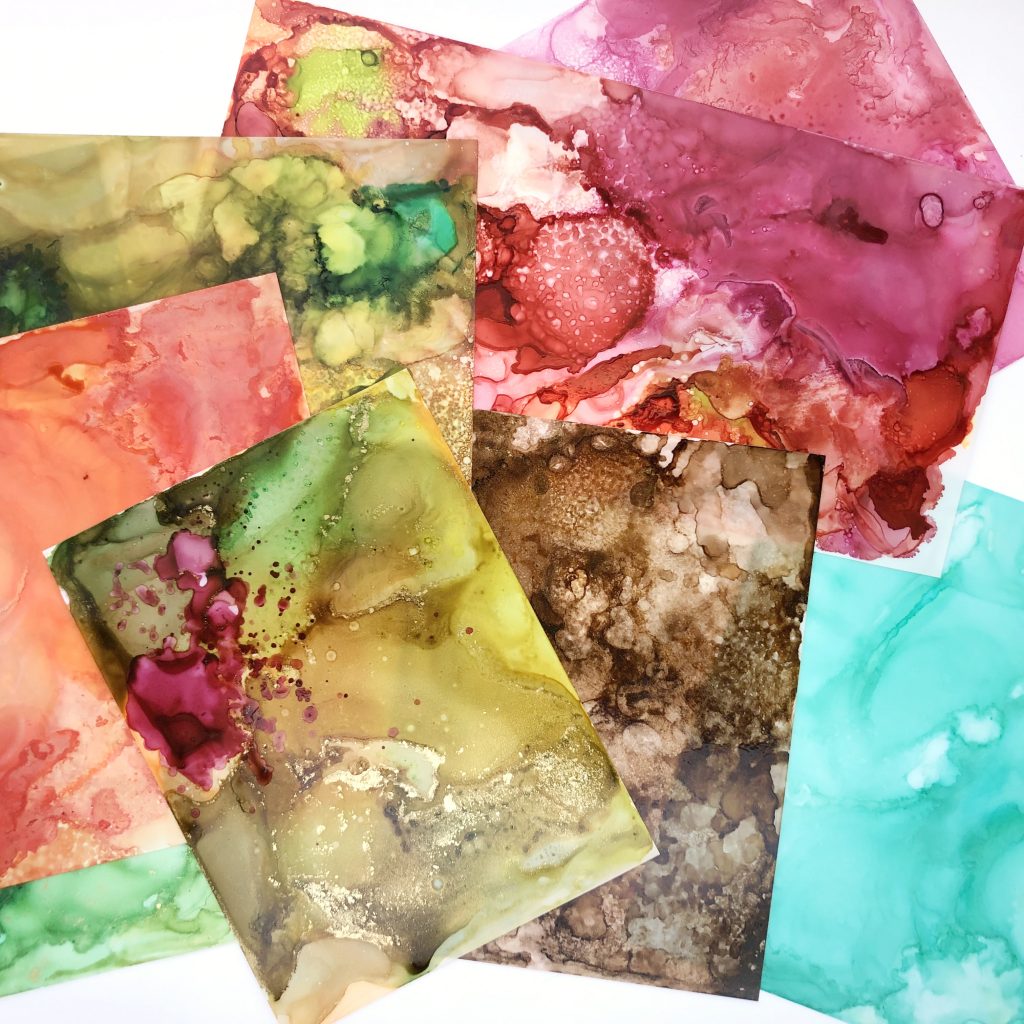 Up next, we have four cards I made after messing around with the new alcohol based Artist Marker Refills.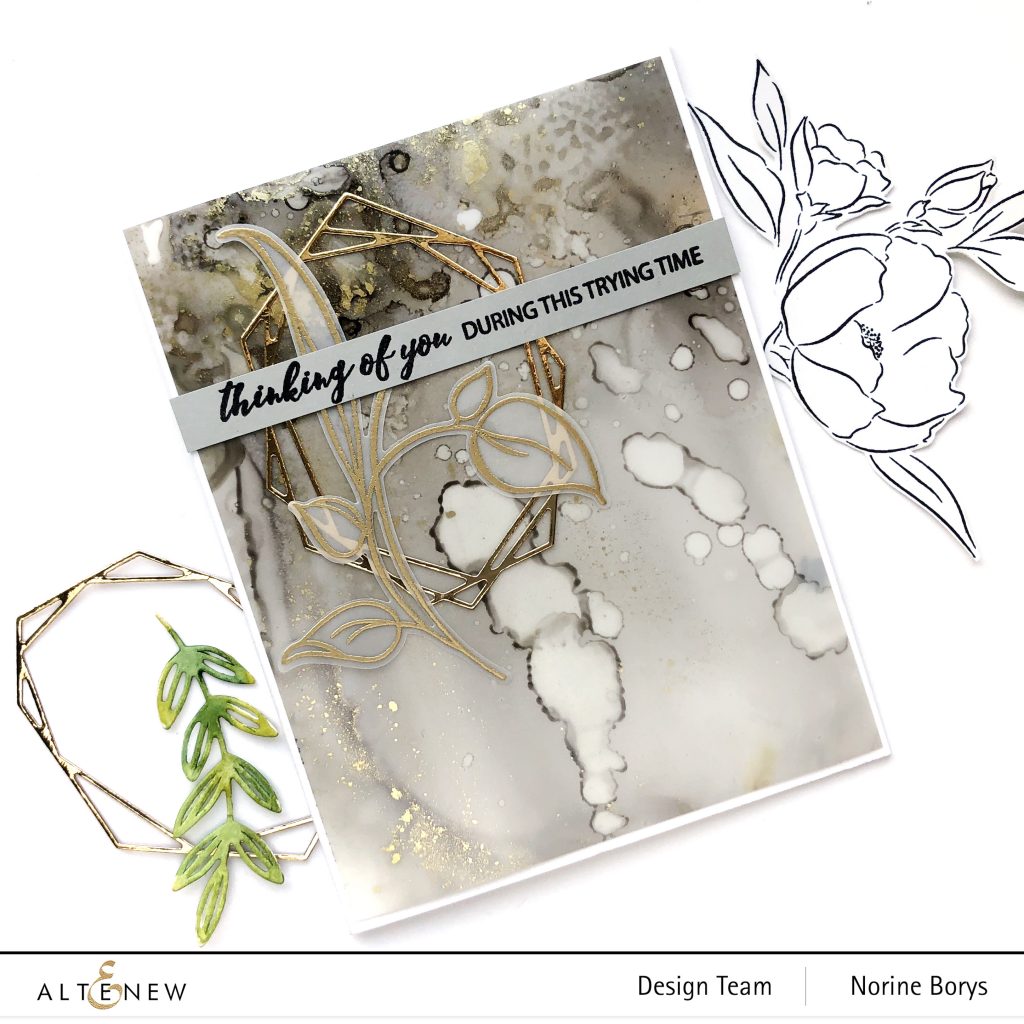 The first card is made with the unlikely choice of refill ink – Industrial Diamond! I used translucent Yupo paper and mixed the refill ink with some gold alcohol ink I had in my stash, using rubbing alcohol as the blending agent. If you've never played with alcohol inks, just search YouTube and prepare for a very deep, (but exciting and inspiring) rabbit hole!
When the ink was dry (it doesn't take long) I assembled the card using other elements I made to highlight the gold tones in the grey background. I stamped one of the images from the Amazing You Stamp Set onto vellum paper and heat set with gold embossing powder, then die cut it with the coordinating die.
I also die cut the crystal shape from gold mirror cardstock using one of the dies from the Crystal Frames Die set. Finally, I stamped the sentiment from the Delicate Bouquet stamp set, stamping with Obsidian Black Ink and heat setting with clear embossing powder. I trimmed the sentiment strip and adhered it over top all of the other elements before adhering the panel to a white cardstock card base.
My second card is not much different from the first other than the color used and the stamped elements.
I love the beautiful samples of multi-colored alcohol ink projects that I see online, but I also love the simplicity of single colors, especially when mixed with gold ink. Besides that, I love how this card shows the range of color you can achieve with just a single bottle of ink refill! For this card I used Cosmic Berry, which as you know, is a very strong, deep shade of red, but when diluted with a lot of rubbing alcohol, you get the loveliest shade of pale coral!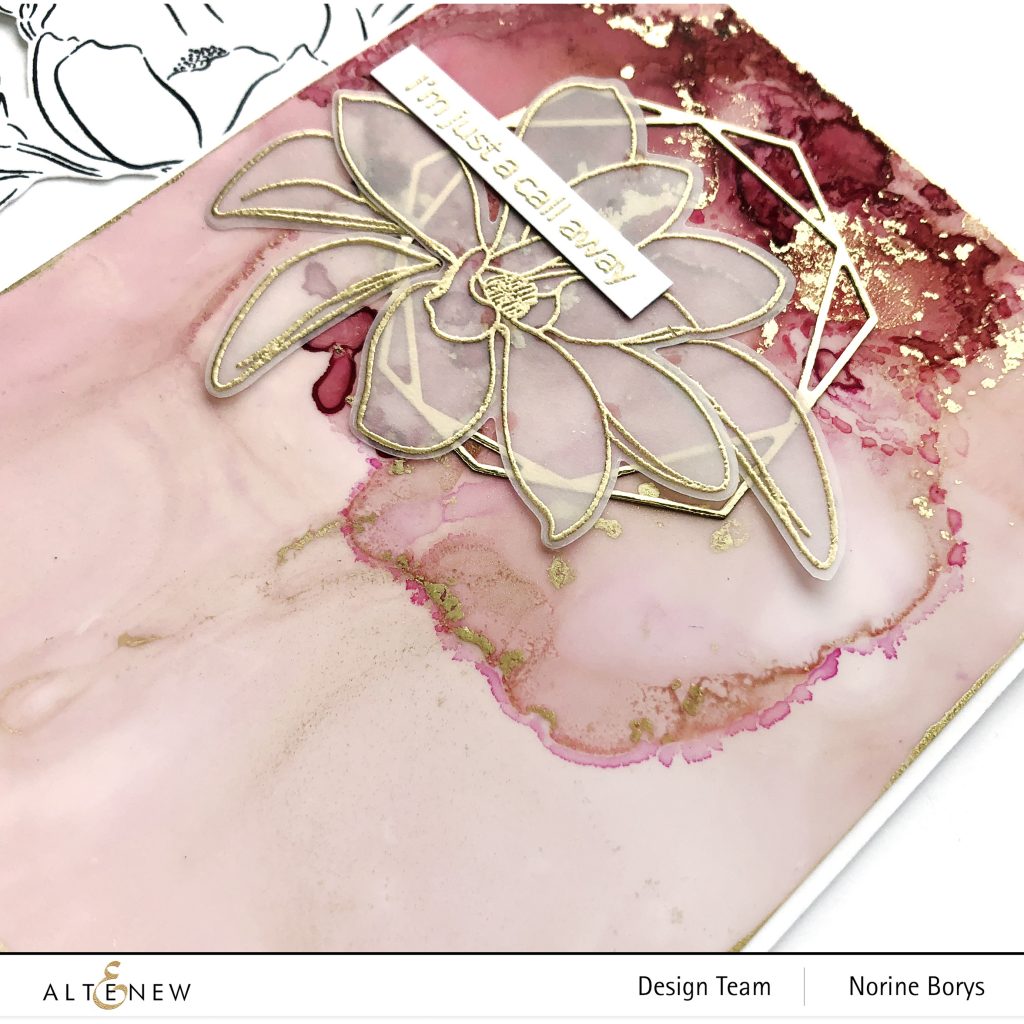 For this card I used a flower stamp and three leaf stamps from the Magnolias For Her Stamp set, once again stamping on vellum paper and heat setting with gold embossing powder. I die cut another crystal from gold mirror cardstock and topped everything with a sentiment from the Wavy Roses Stamp set. And with the glints of gold in the alcohol inked background panel, there is no need for extra embellishments.
I have another sample of a single color of refill ink – this time Lagoon ink, but without the addition of any gold ink.
I tried a new product for this technique – one I had in my stash for a long while, but hadn't used yet till now. That product is Ranger Alcohol Lift-Ink, an ink pad saturated with some compound of alcohol that lets the stamp remove the dried ink. It's quite an amazing and subtle effect. You stamp with it, and immediately wipe the stamped area with a clean cloth. If I wanted a stronger image, I could have stamped with embossing ink and heat set with white embossing powder, but I was using the translucent Yupo paper and it can be tricky to heat set that weight of paper without it curling up and melting. Apparently there is also a heavy weight of Yupo paper that I now need to get my hands on!
I stamped the image using the stamp from the Statement Flowers Stamp set, then created the greeting using some coordinating colored cardstock with the Hello and Hugs dies and a sentiment stamped from the Hello and Hugs Stamp set. To finish, I added a few of the Altenew Satin White Sequins.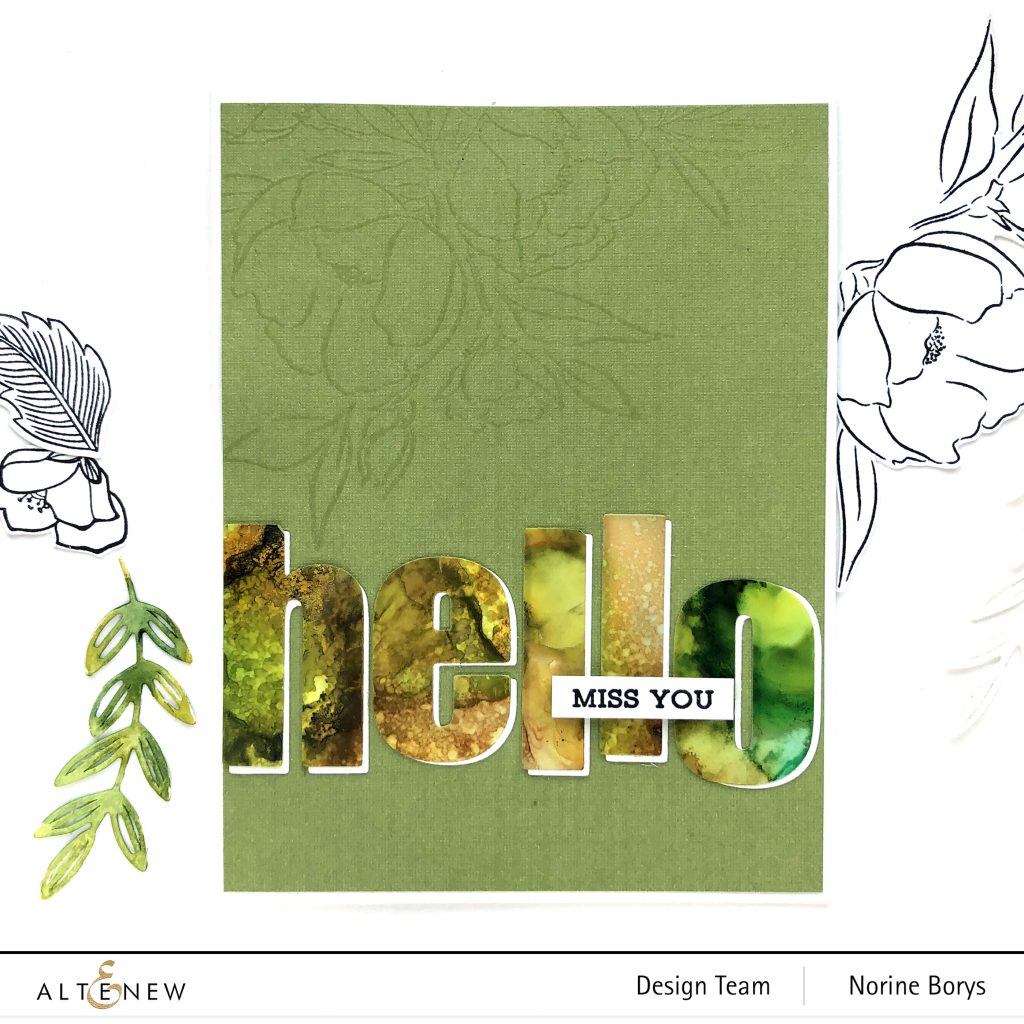 Whew, almost finished! The last card is made from a sheet of Yupo paper that is covered with several shades of the ink refills; Parrot, Moss, Emerald, Espresso, Rocky Shore and Sunkissed. No gold. I just splashed on the colors, spritzed with rubbing alcohol and let the colors do what they liked.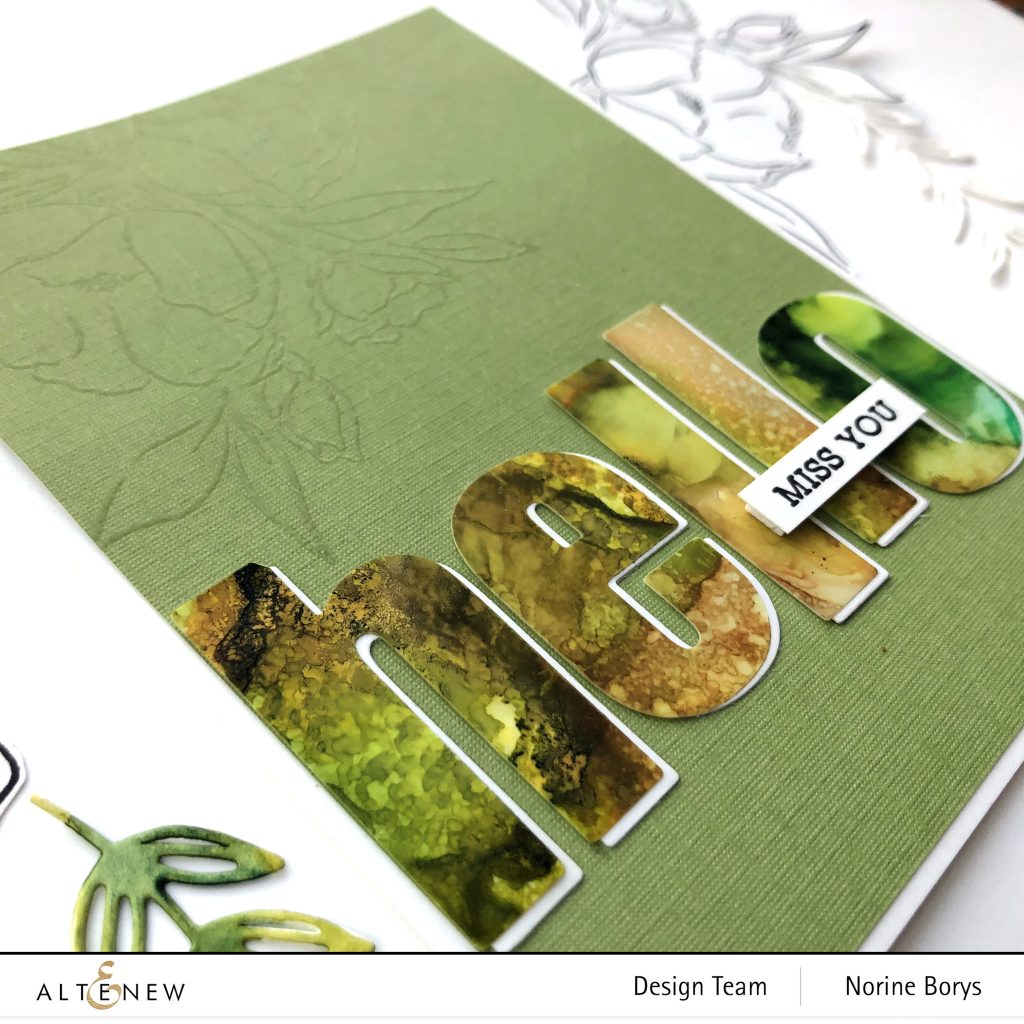 Once dry, I die cut the word "hello" with the Bold Alphabet Die set, cutting once from the Yupo paper and again from white cardstock. I layered and adhered the letters letting the white cardstock create a shadow behind the Yupo letters.
Next, I stamped the the floral image from the Delicate Bouquet Stamp set onto some textured green cardstock, stamping with embossing ink and heat setting with clear embossing powder for a very subtle effect. I trimmed the colored cardstock 1/8th inch on each side and adhered it to a white cardstock card base, then positioned the letters on the card front and adhered them once I was happy with the placement. I stamped the "miss you" sentiment from the Sentiment Strips 2 stamp set onto white cardstock and cut it into a narrow strip that I popped up with some foam tape and adhered on top of the alphabet letters.
Now for some admin work! To celebrate this release, Altenew is giving away a $30 gift certificate to 5 lucky winners! Please leave a comment on the Altenew Card Blog for a chance to win. They will also draw a winner to receive a $15 gift certificate from the comments left on each designer's blog on the blog hop list below. All winners will be announced on the Altenew blogs on 05/30/2020.
Your next stop on the hop is Nicole's blog. Should you encounter any broken links along the way, you'll find the complete hop list below.
Norine Borys – you are here.
Thanks so much for stopping by today and enjoy the rest of the hop!