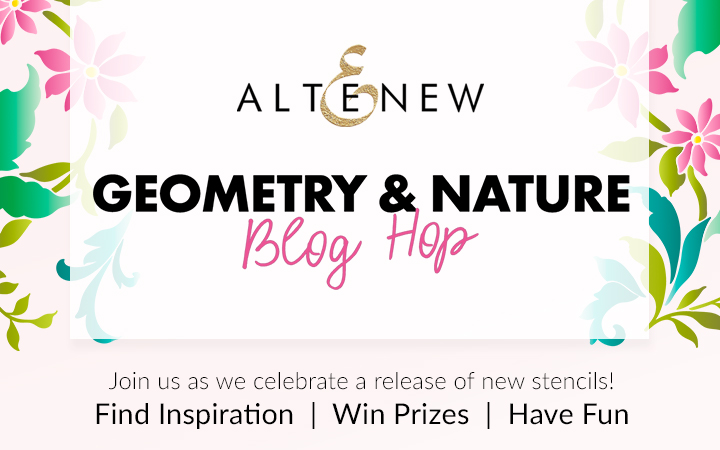 Hello and welcome to the Geo & Nature Stencils Release blog hop with Altenew! We have some exciting new designs to showcase and projects to share, so lets jump right in! You should be arriving here from Lydia's blog, but if not, you can click back to the Altenew Card Blog where the hop starts and you won't miss a thing.
I have a couple of cards to share with you today, but I have something extra as well! I've been working on a little project and I'm going to share a little of it today at the end of this post.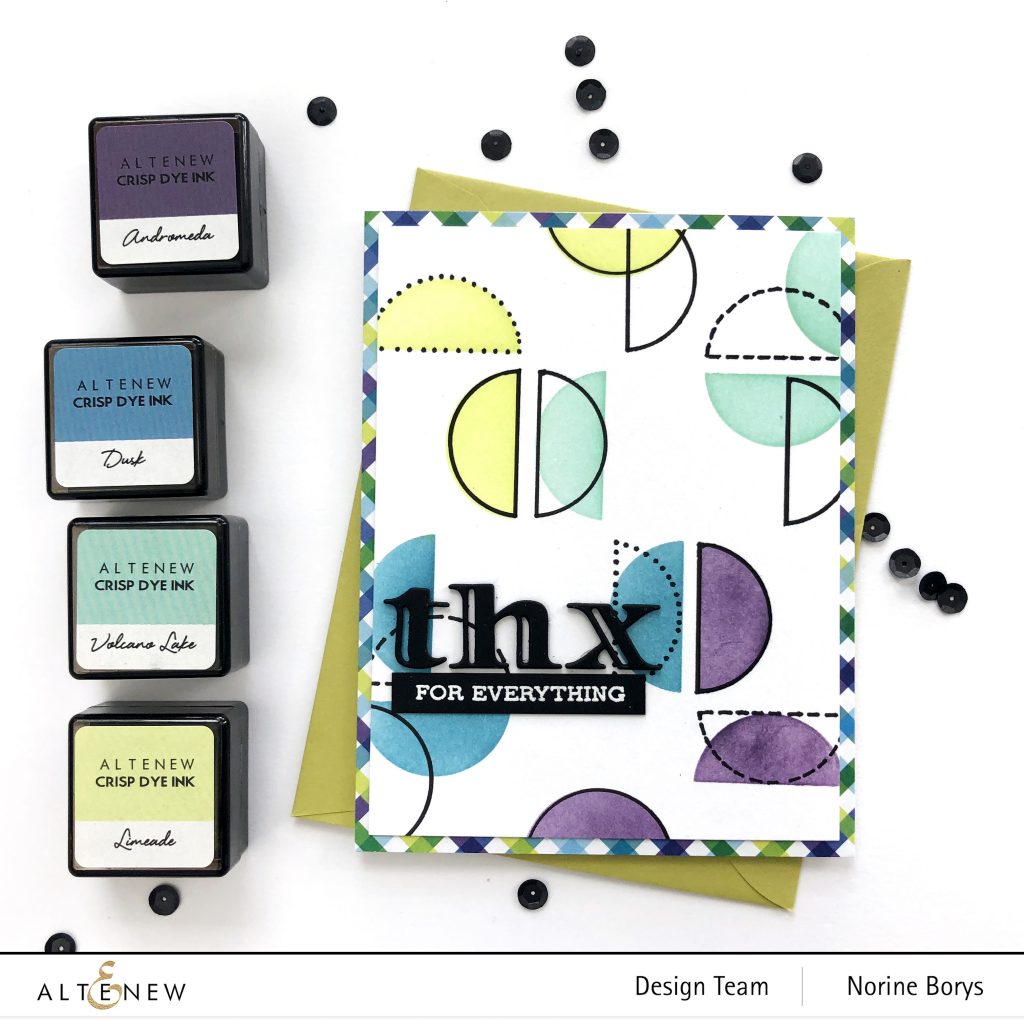 My first card uses the Modern Circles Stencil, Altenew Crisp Dye inks and the Altenew Blending Tool! I laid the stencil one direction on a piece of white cardstock and taped off 4 areas to blend with ink.
I used Limeade, Volcano Lake, Dusk and Andromeda inks on (generally) the four quadrants of the card panel. Then I turned the stencil and used a permanent multi-liner pen to add more details, by drawing some of the shapes with solid lines, others with dash lines and still others with dotted lines.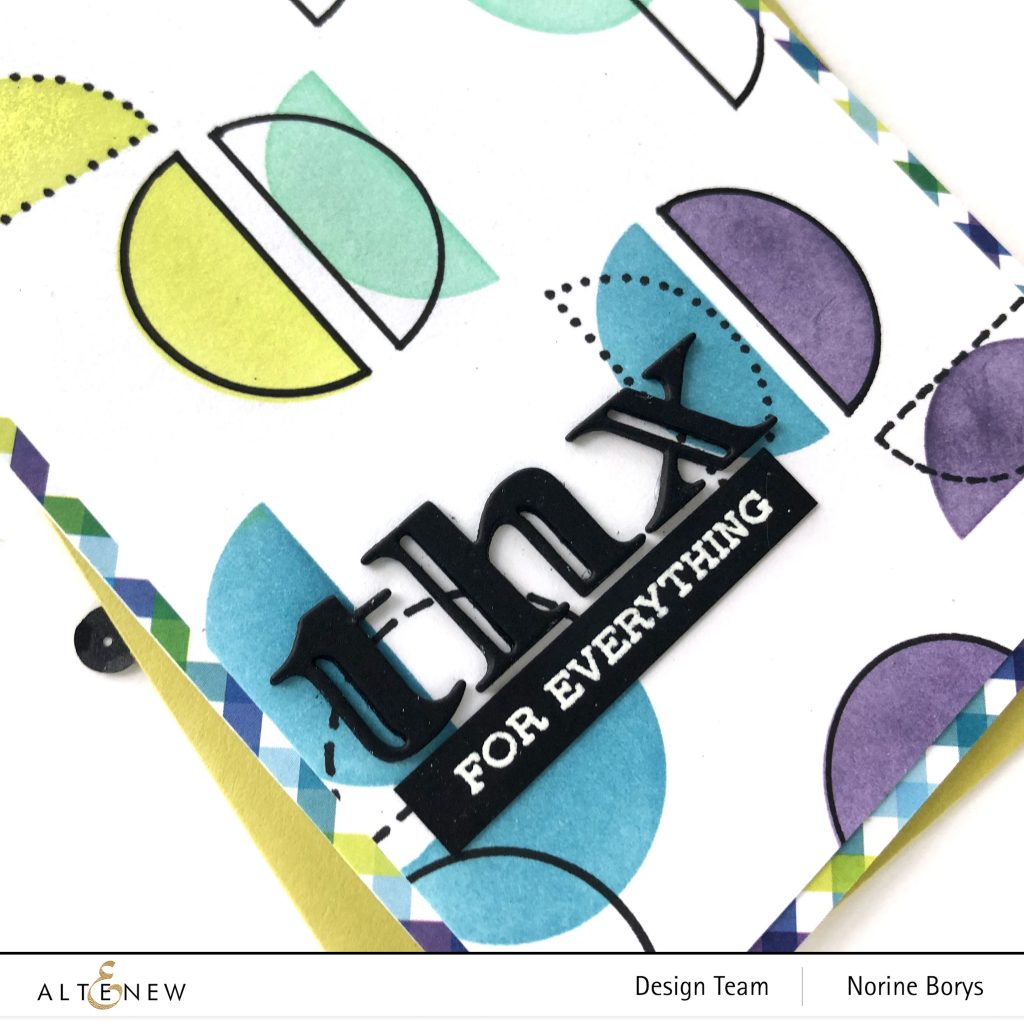 Then I die cut three layers of black cardstock using the Inline Alpha Die and glued the letters together. I also stamped another part of the greeting onto black cardstock with the Sentiment Strips stamp set, heat setting with white embossing powder.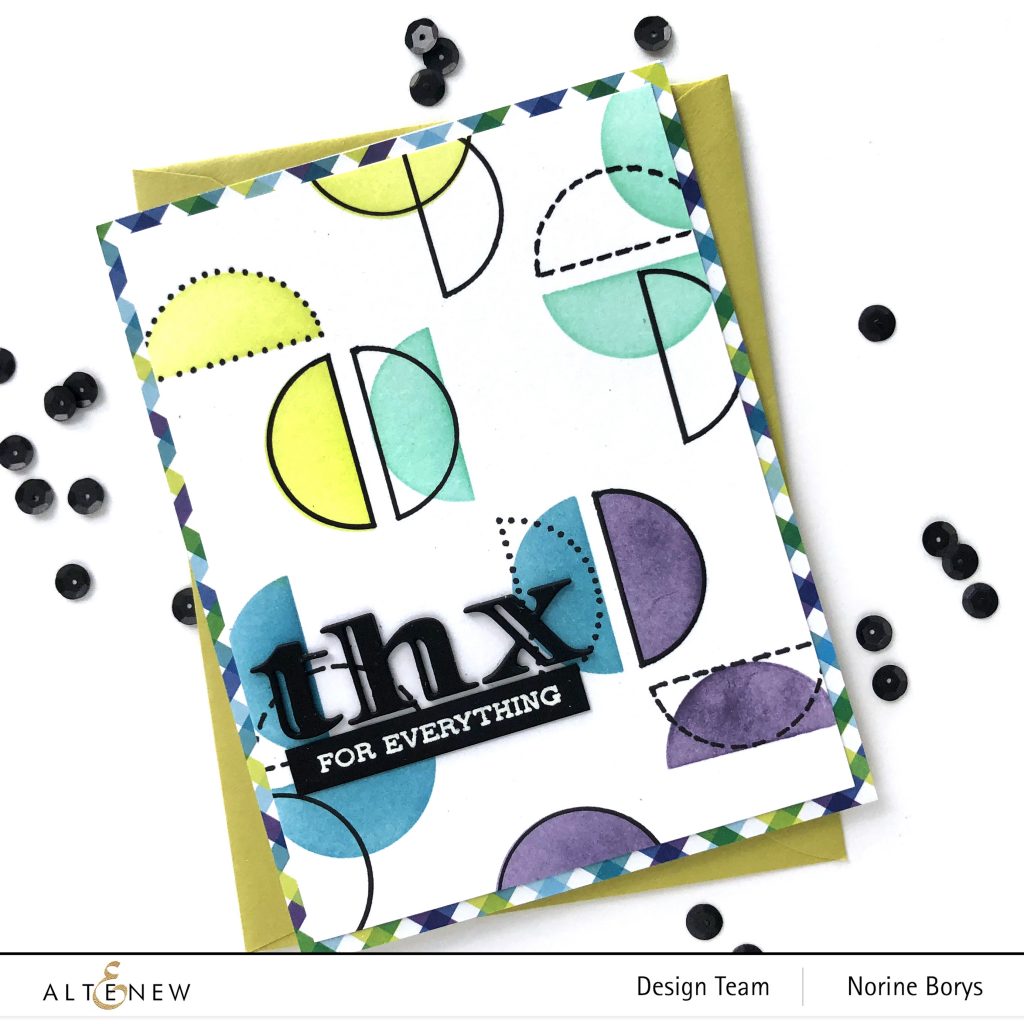 Crazily, there was a piece of patterned paper in my stash that matched my color scheme beautifully! I adhered all the layers together and liked it so well, I decided that further embellishments were unnecessary!
My second card is made using the Mighty Corners Stencil. You might be able to see part of the stencil in the photo, but it has a series of chevron lines on the top portion, so I used some masking tape and 4 colors of ink to cover an A2 sized card panel with directional lines.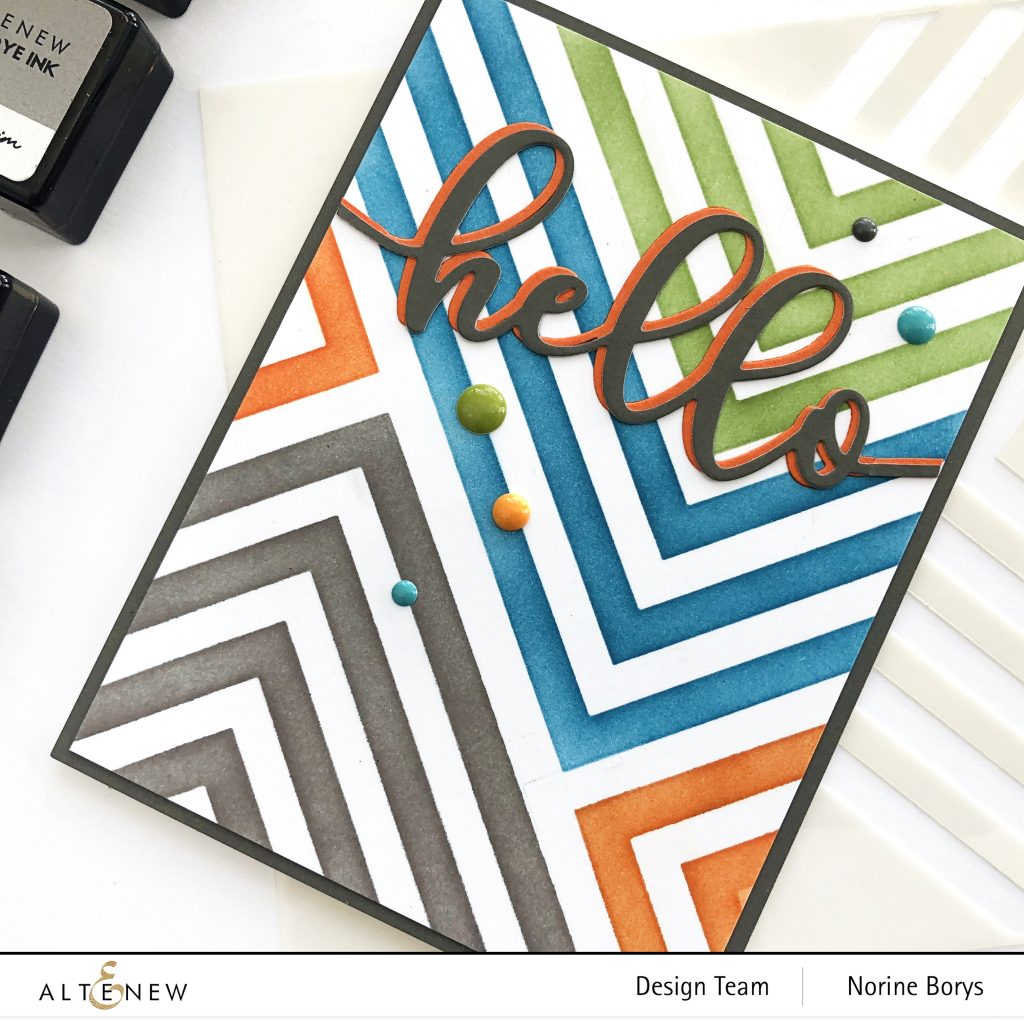 I used Marigold, Forest Glades, Dusk and Gray Denim inks to blend the design through the stencil. I used the Altenew Blending Tool to accomplish this and I really love how well it works and how it feels in my hand!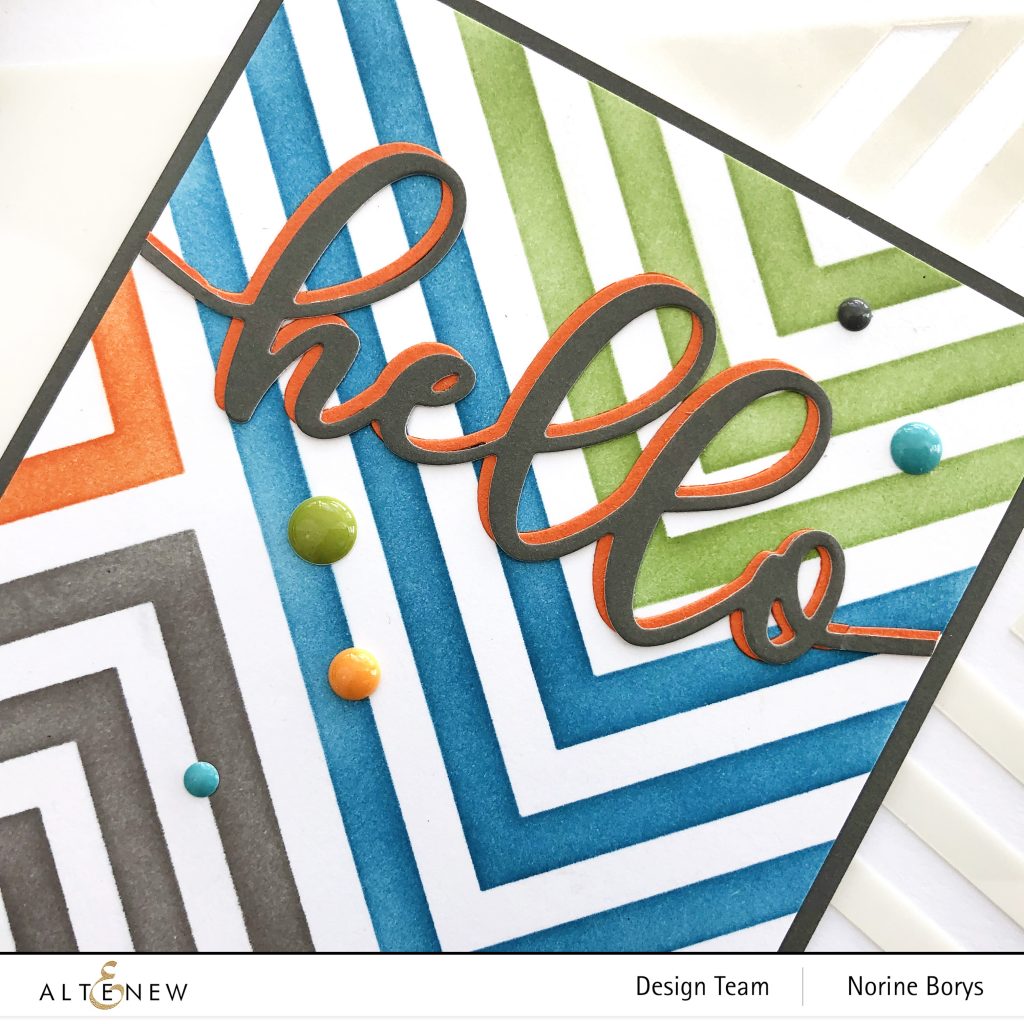 For a very simple greeting I die cut "hello" from two matching colors of cardstock using the Circled Greetings Hello die, but cutting off the rest of the circle and extending the word on both ends. I layered the words together to allow the orange to peek out from behind the gray, adhered them to the card front, then added some matching enamel dots to finish the card.
Now, as promised….a little glimpse of my current project!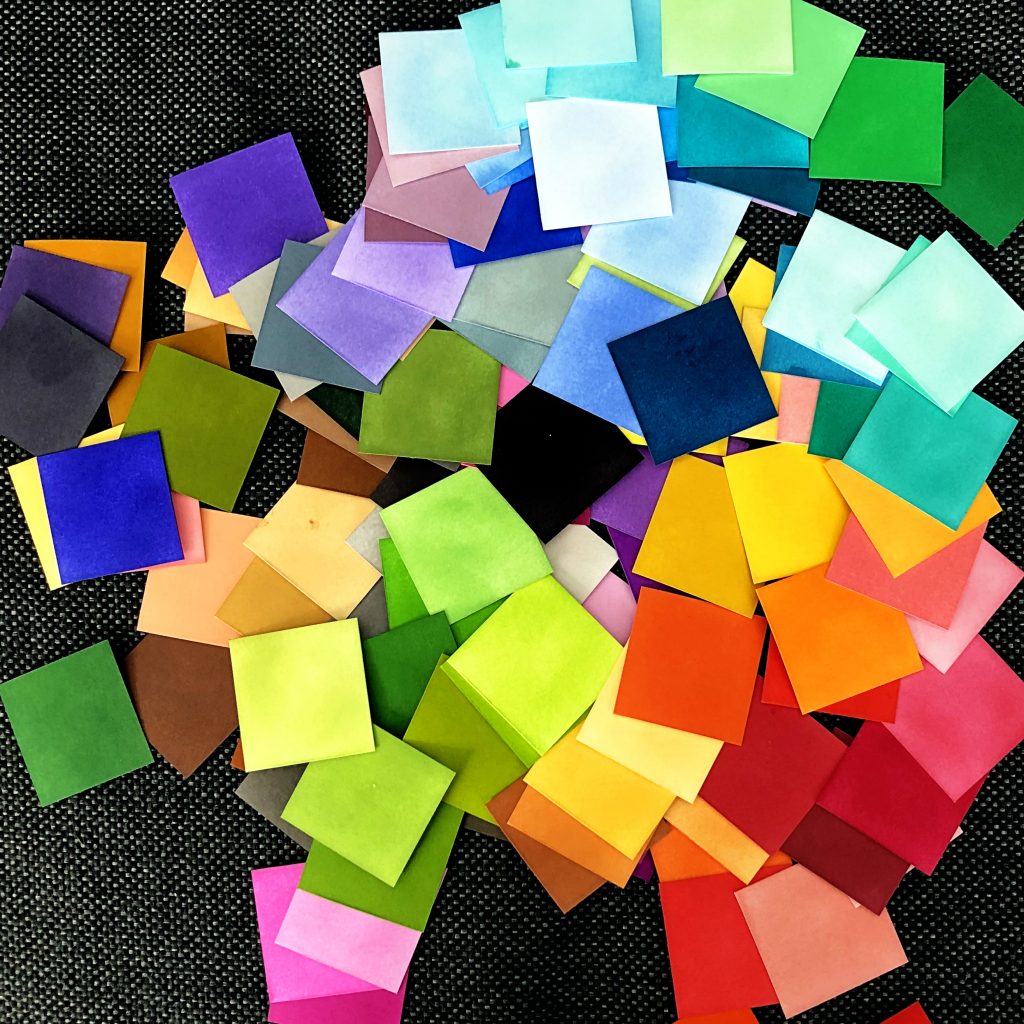 Is that not a glorious melange of riotous color??!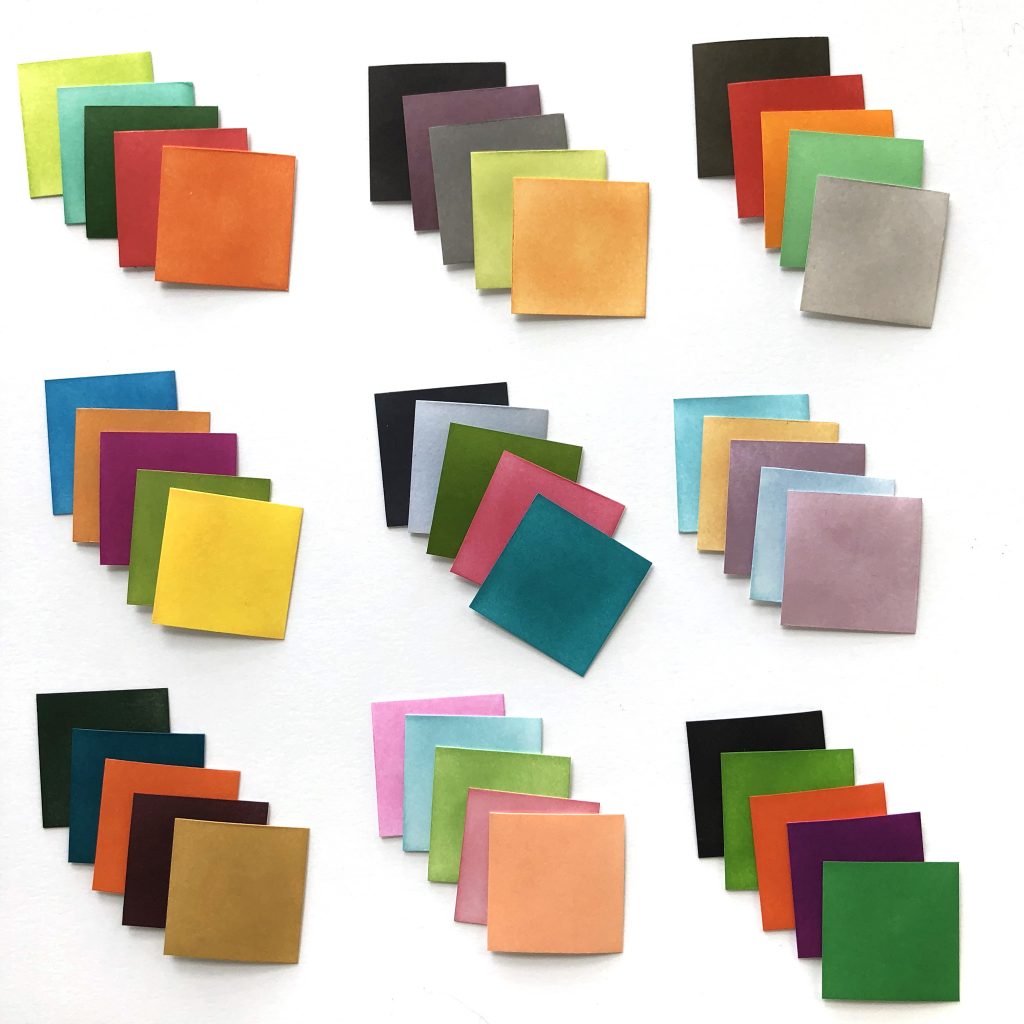 And this barely tamed assortment of chromaticity?? Altenew Color Swatching. In a word. Well, three words.
I'm in the process of working up a Color Chart for Altenew inks that will take the hard work out of choosing colors for a project. To date, I have made 4-color and 5-color schemes that use ALL of the Altenew colors once, and only one color twice. I'm not sure where all this chart will be available, but when it is, I'll let you know. In the meantime, here are the rest of the stencils available in this release with some of my preliminary color combos for demonstration purposes.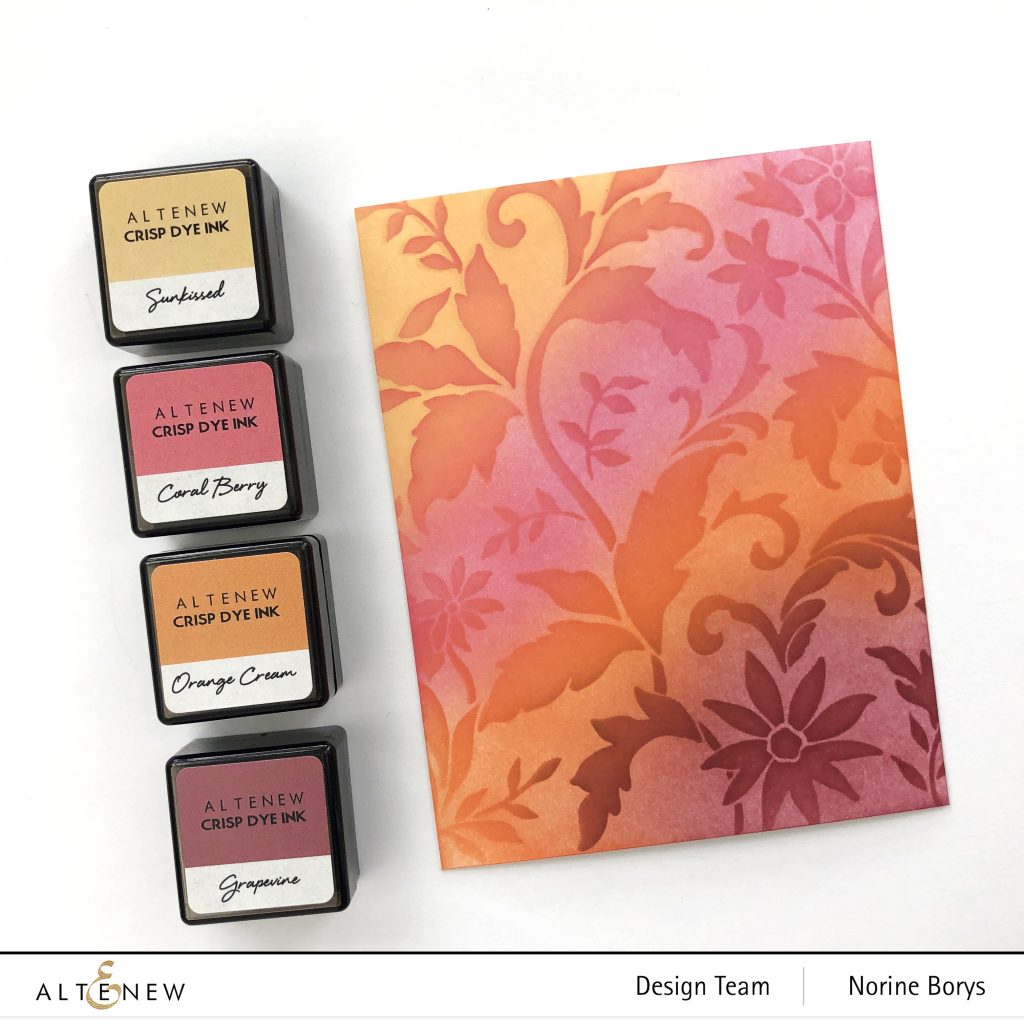 Castle Motifs Stencil with Sunkissed, Coral Berry, Orange Cream and Grapevine inks.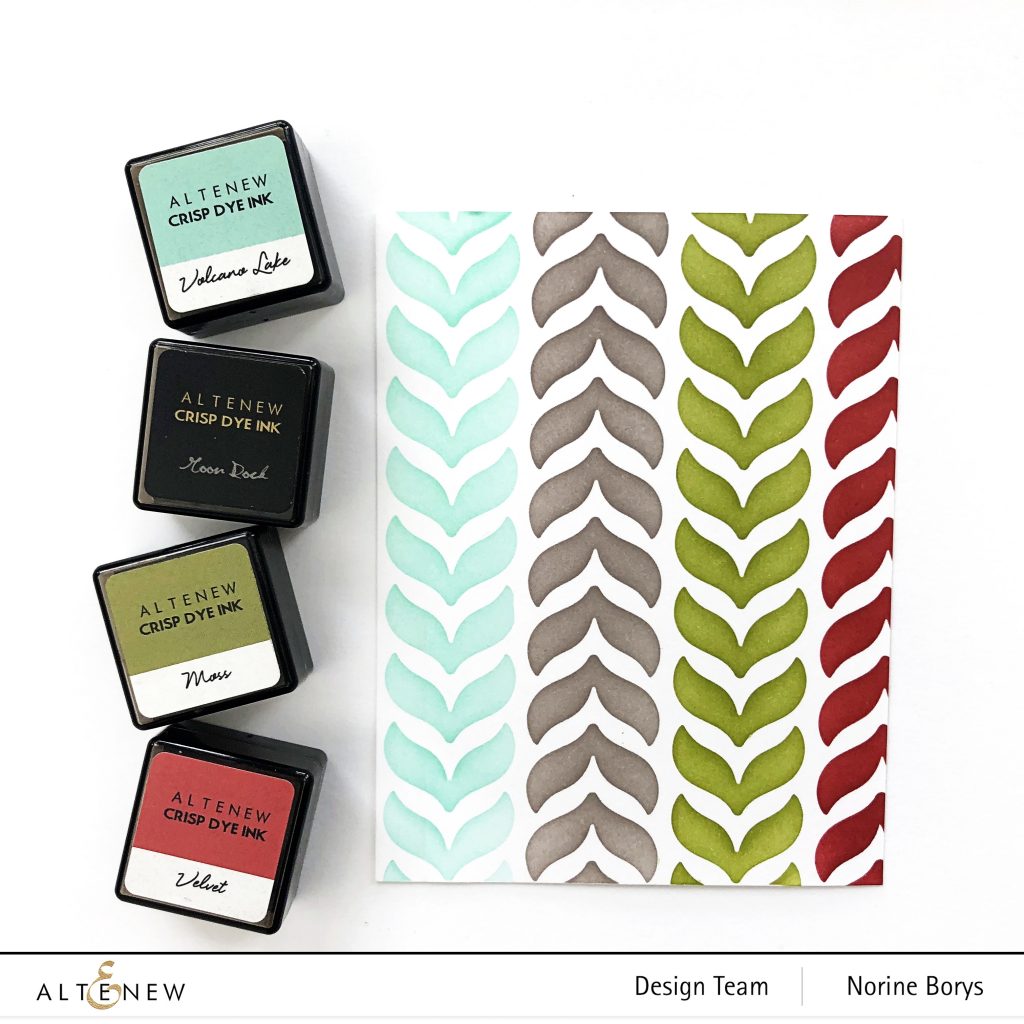 Leaf Drops Stencil with Volcano Lake, Moon Rock, Moss and Violet inks.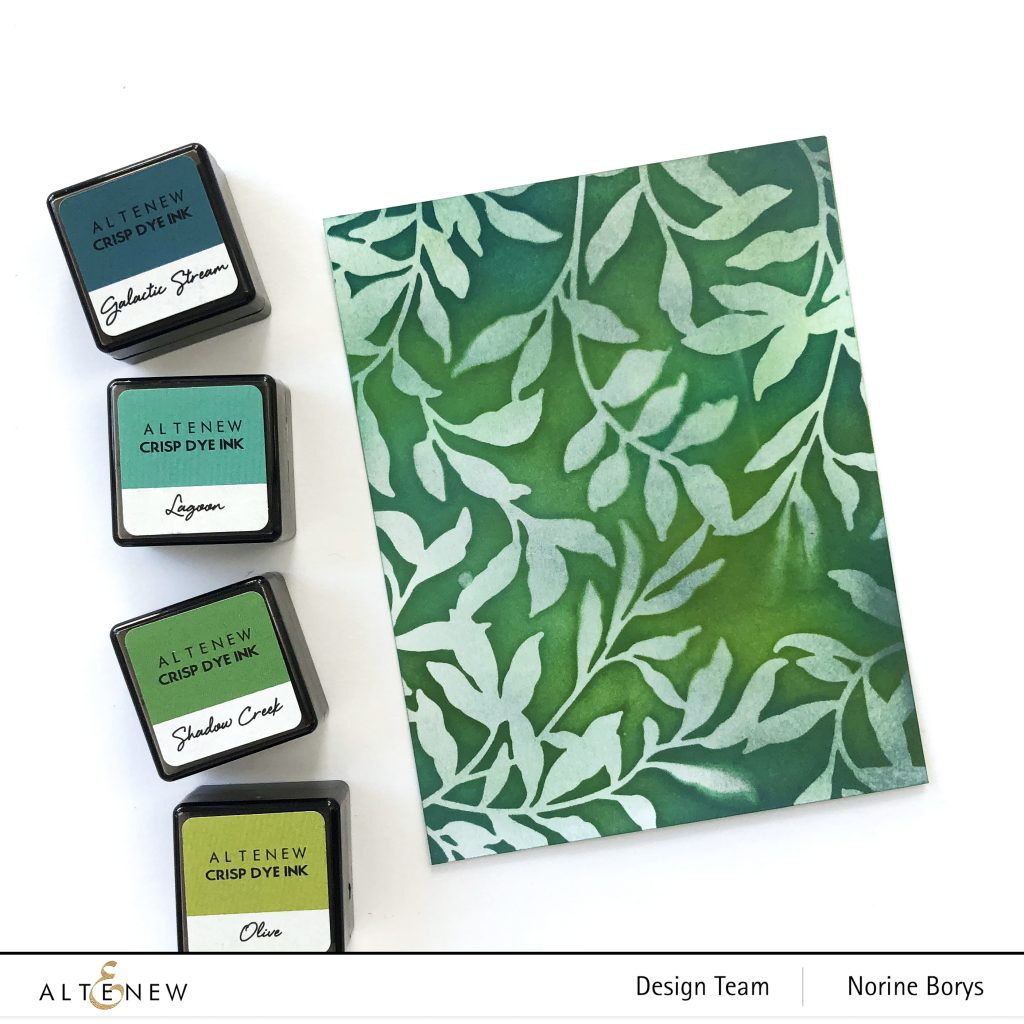 Leaf Bed Stencil with Olive, Shadow Creek, Lagoon and Galactic Stream inks.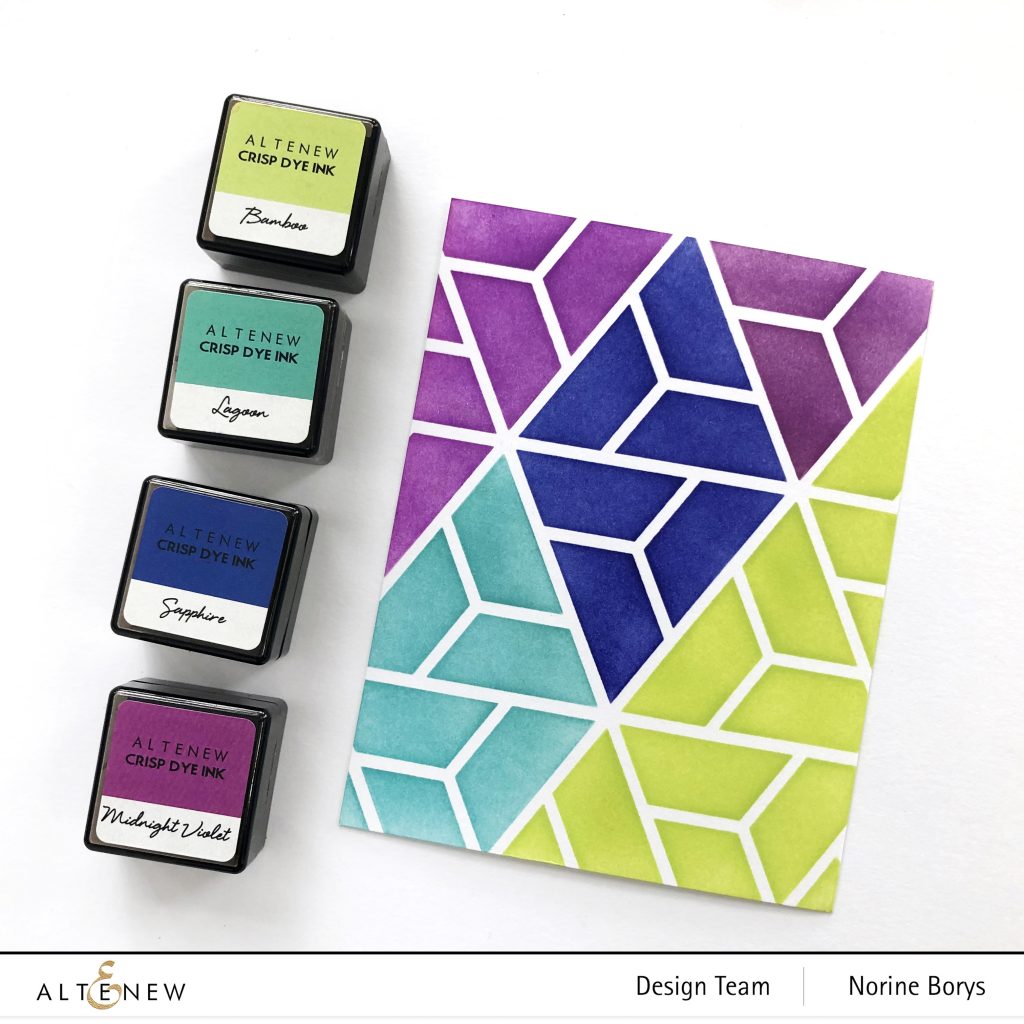 Color Block Triangle Stencil with Bamboo, Lagoon, Sapphire and Midnight Violet inks.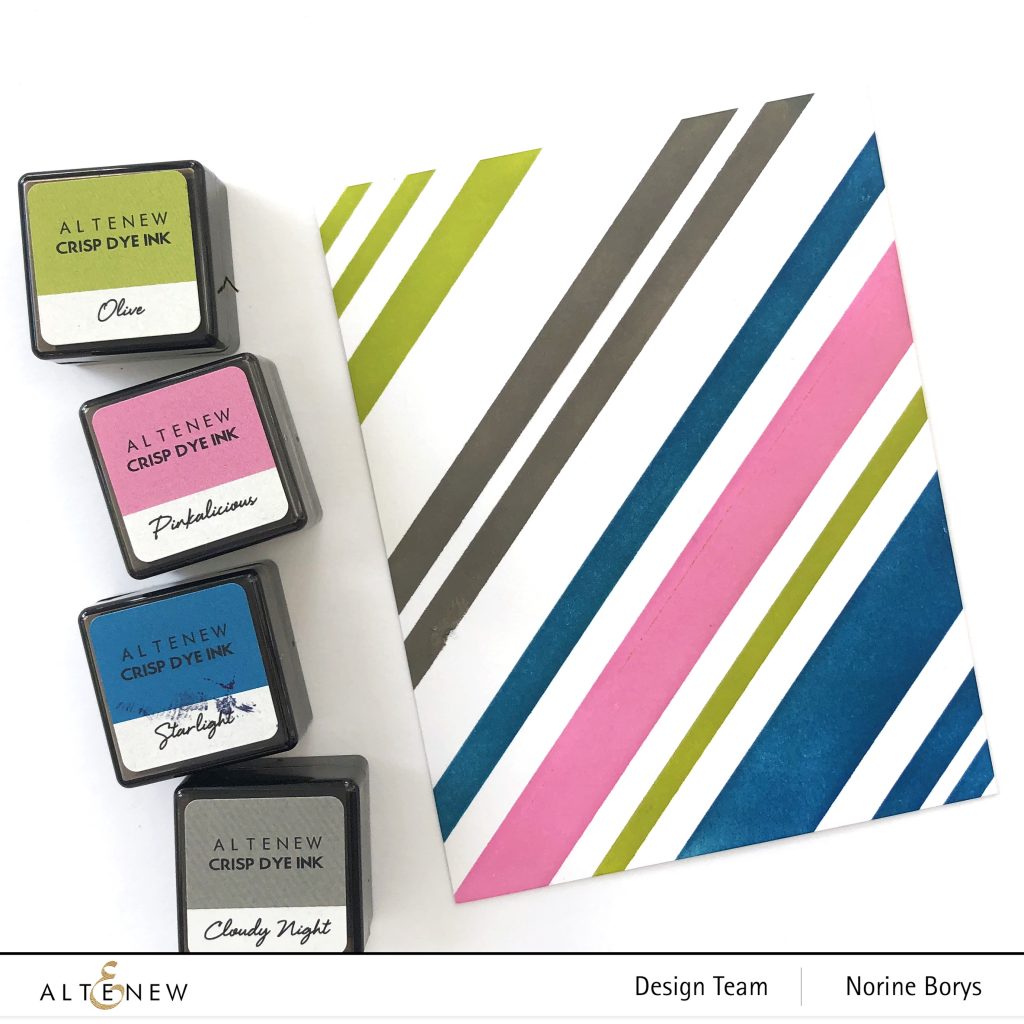 Stripe Builder Stencil with Olive, Pinkalicious, Starlight and Cloudy Night inks.
Woven Stencil with Peach Perfect, Frosty Pink, Baby Pink, Sea Breeze and Firefly inks.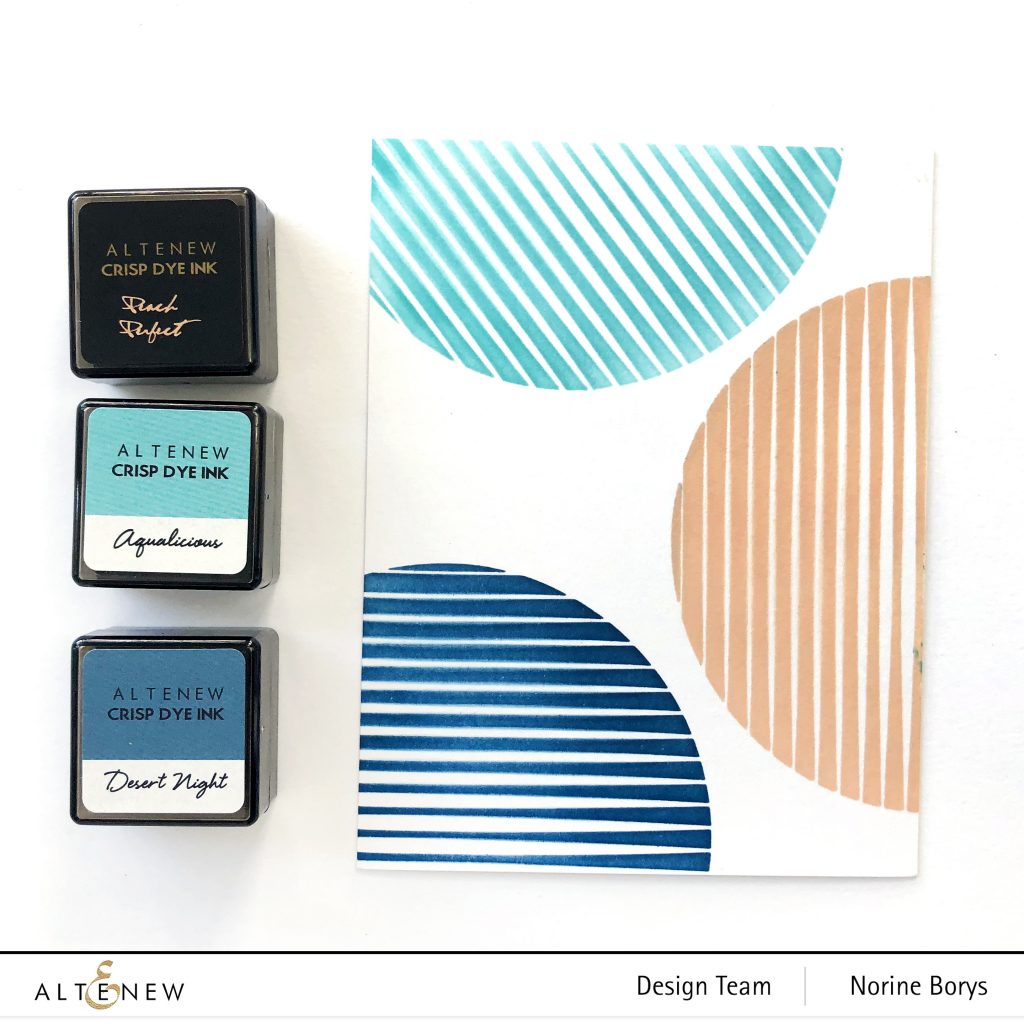 And lastly, Sphere Stencil with Peach Perfect, Aqualicious and Desert Night inks.
These stenciled color samples are the start of my swatching and scheming endeavor – inspired by the folder on Pinterest where I have been collecting color schemes for a long while now and the color options are endless! It's really very exciting! But what a great collection of stencils too, right?? And having these samples inked up, I have a nice little stack of panels ready to go for when I need a card-in-a-minute! I'd love to hear your thoughts on color combo-ing as a resource – needed and necessary or meh, I'm comfortable picking my own colors?
And now, back to the business at hand!
Special Promotion: Receive a FREE Gift (worth $5,99, brand new Geometry & Nature Stencil Release Inspiration Guide) with every order of the Geometry & Nature Stencil Release Bundle from 9/18/2020 at 12:01 am EDT until 9/20/2020 at 11:59 pm EDT. Shop here → https://altenew.com/products/geometry-nature-stencil-release-bundle The free gift will be added to cart automatically while supplies last. 
Also prizes! To celebrate this release, Altenew is giving away a $30 gift certificate to 3 lucky winners! Please leave a comment on the Altenew Card Blog by 09/23/2020 for a chance to win.  They will also be drawing a winner to receive a $15 gift certificate from the comments left on each designer's blog on the blog hop list below. All winners will be announced on the Altenew Winners Page on 09/26/2020.
Your next stop on the hop is the blog of Cheiron Brandon! Should you encounter a broken link along the way, you can reference the complete blog hop list below:
Norine Borys – You are here.
Thank you for visiting today and enjoy the rest of the blog hop!