Hello friends! I'm excited to be participating in the annual Altenew Year in Review blog hop today! It was a good year creatively, so it was difficult to choose favorites to re-share, but a few rose to the top, that are so lovely and totally make me go "did I make that!!??" *grin!
You have likely arrived here via Kristina's blog, but if not, you can click back to the beginning of the hop at the Altenew Card Blog and that way you won't miss a thing!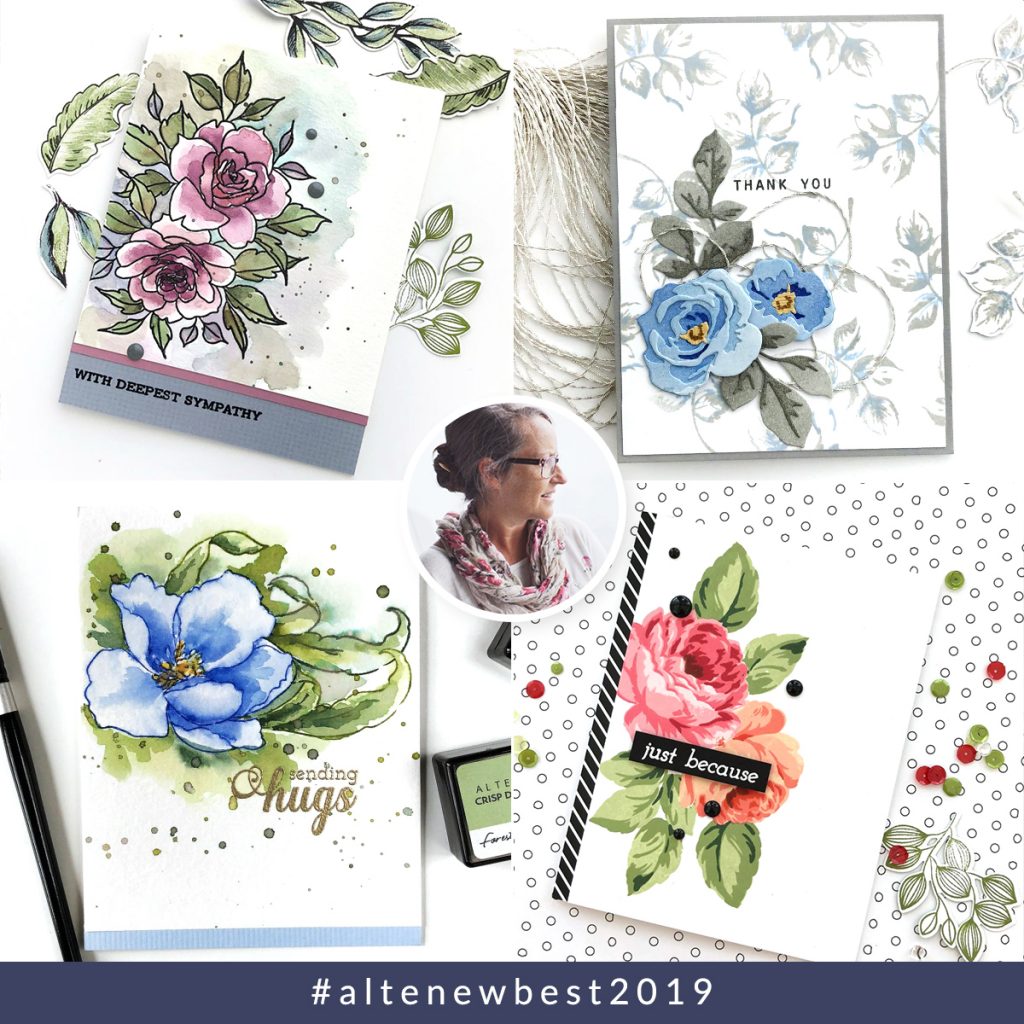 2019 saw more colors of watercolor brush markers, new ink colors and more washi tapes released as well as the introduction of refills for the brush markers, and WALL DECALS! This is on top of a fresh release of stamps, dies, stencils and more each month! I am still loving to use the Altenew watercolor paints and they figure large in several of my favorite projects.
The Leaf Clusters stamp (and die) set will continue to be a favorite of mine into the foreseeable future! It's gracious shapes and size make it very versatile and suitable for so many card-giving occasions, especially masculine themes. For the card above, I stamped the various leaf images with a very light neutral color of ink (Evening Gray) and used that as a guide to watercolor paint the leaves and stems. (Splatters will always and forever be my finish-up detail!) Click on the link to go to the original post. This was also the one where I stamped with a light neutral ink color onto fabric and used it as a pattern to embroider the design. It's still hanging in my Home Away From Home apartment in MN.
In a similar vein as the first card shared, (do I have a type?), the Wonderful Wreath leaf stencil was used to create the card above, flipping the stencil two ways, and ink blending with a variety of green ink colors. I love the transparency of the ink blending and the subtle color tints as you shift from one color of ink to the next. You can see more of that post from last July here.
The other favorite of mine from this last year was a really useful stamp set called Sentiment Strips, (used on the card above) full of nothing but lovely and commonly used sentiments in a basic typewriter font. I found myself reaching for that set quite often!
Back in April, Altenew celebrated it's 5th Anniversary with a blog hop and I made this blue and grey card to mark the occasion. I ink blended with some of the new ink colors this year, to create the colored paper layers for the flowers and leaves and then used some of the same ink colors to stamp the background of leaf images. The 3D flowers and leaves, are die cut with the Garden Picks 3D die set and the layered leaf pattern is stamped with the Vintage Roses Mini Add-On Stamp Set.
August saw another gorgeous vintage looking layered stamp set added to the category of Lovely Altenew Florals, with the Antique Roses Stamp Set. As well, another Word Builder stamp set was released with Just Because. I love this one along with the Thank You set and the Birthday Builder set. You can find this post with all the ink colors and other details posted here.
As difficult as it really is, if my back were to the wall to pick a favorite stamp set, I'm pretty sure it would be the Forever In Love Stamp Set. The only reason you don't see me use it more often is because I don't want the others to know I'm playing favorites. But it's loveliness just makes any project you make already beautiful before you even start! You can see more of these two stamped and watercolored cards here.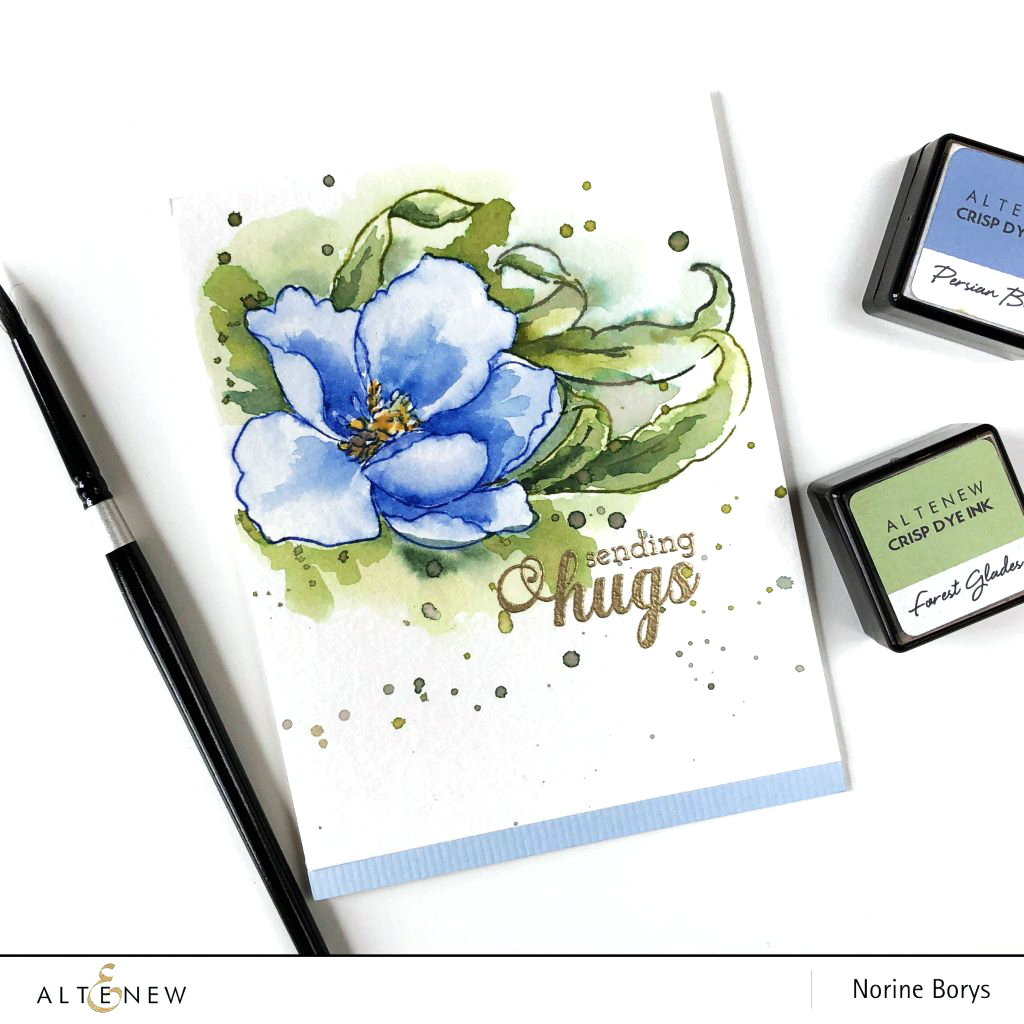 The last card I want to share today is a recent creation. It's another beautiful floral – my favorite kind of card to make – and in this case I made three quite different cards with one stamp set but this watercolored one is the best loved of the three. I used the Grateful Hearts Stamp, Die and Mask Bundle to create the three cards, and for the card above, I stamped with colored ink, then added water to the inked outlines with a paint brush to activate and move the color around. You can see the rest here, and I'd be curious to know which of the three you'd pick to be your favorite?
Your next stop on the hop is Gayatri's blog and in case of any broken links, you'll find the complete blog hop list below. As always there are prizes! Altenew is giving away a $30 gift certificate to 6 lucky winners! Please leave a comment on the Altenew Card Blog and/or Altenew Scrapbook Blog by Jan 03, 2020 for a chance to win. Random winners will also be chosen to win a $15 gift certificate from the comments left on each stop on the hop. All winners will be announced on the Altenew blogs on January 6, 2020.
Complete Blog Hop List:
Norine Borys – You are here.