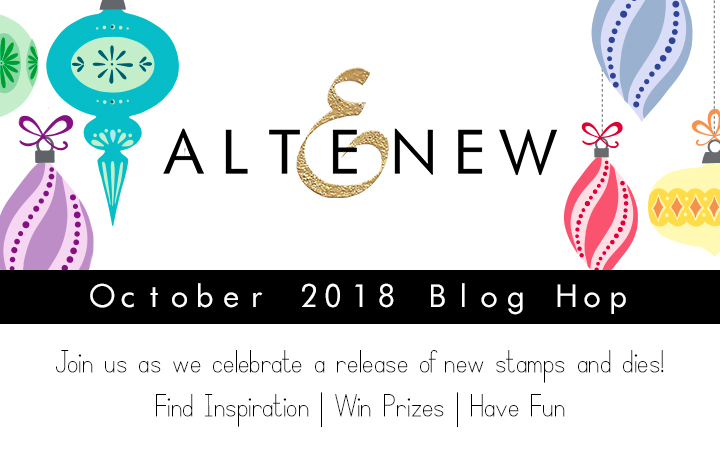 Hello friends, I'm back today with a few projects to share, created with the October Altenew release of stamps and dies.
As with each new release, there's a blog hop and you've probably arrived here from the blog of Natalie DeSousa.  The blog hop starts at the Altenew card blog and you don't want to miss out on the chances to win prizes there!
To begin with, I created a couple of cards using the Layered Snowflakes Dies.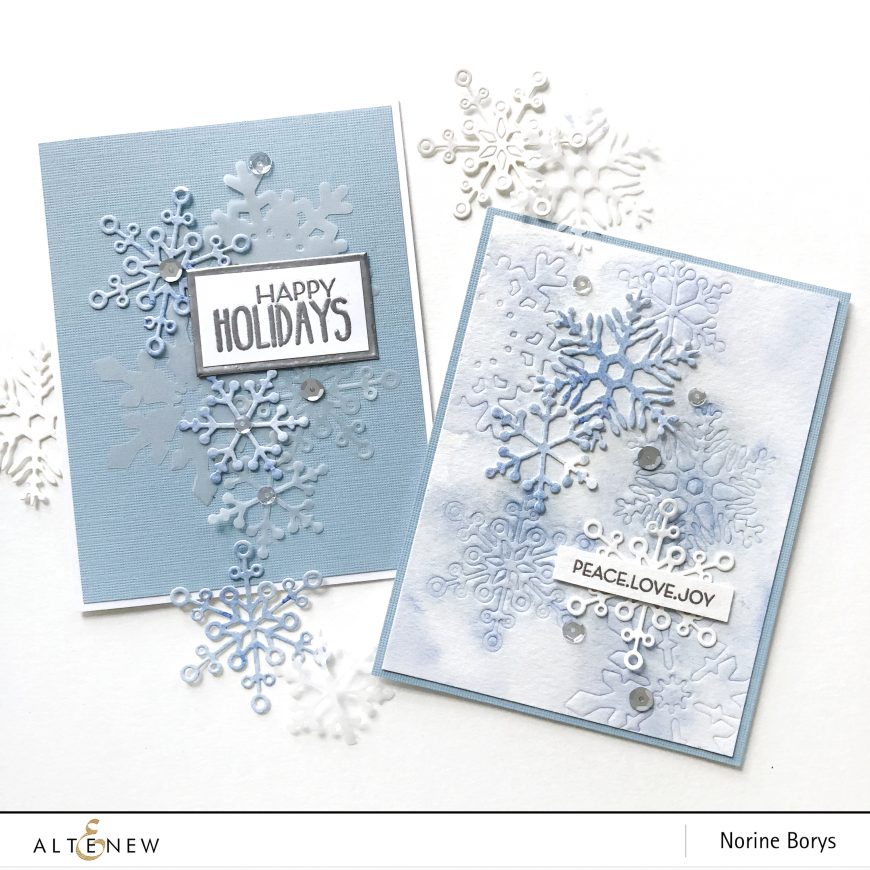 I love a soft, wintery feel to a snowflake card (not surprisingly) so I decided to go in a watercolor paint and paper direction.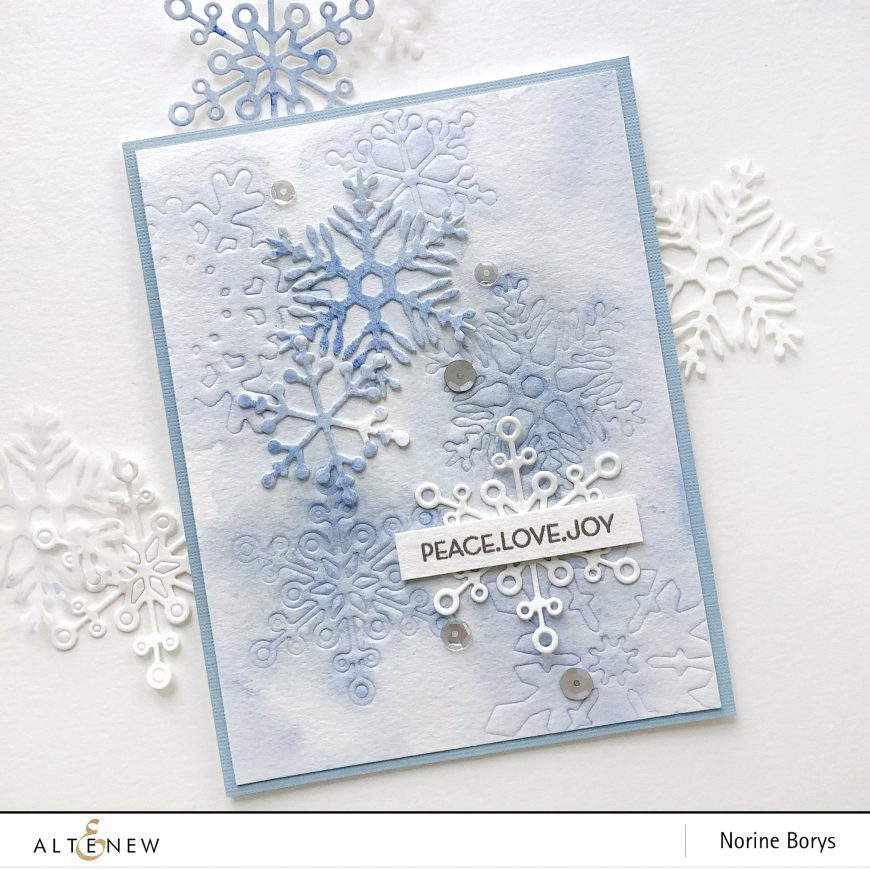 I began by embossing a design into an A2 sized piece of watercolor paper, with all the dies in the set, using a rubber mat and the embossing sandwich combo of the Sizzix die cutting machine.  This is a technique particularly suited to watercolor paper because the paper has both bulk AND resilience.  By that I mean, it will accept a beautiful, deep impression without tearing, unlike many other card stocks.
I used lots of water and a little paint (a combination of Persian Blue and Dusk colors) to paint the whole paper.  I daubed on extra color onto the snowflake impressions so that the color would pool and dry darker in the lines.  I also painted another piece of watercolor paper with the same shades of ink and dried it with my heat tool to achieve more distinct paint patterns.  Then I die cut an assortment of the snowflakes from the painted paper as well as some from a piece of plain watercolor paper.
I stamped the sentiment from the Peace Love Joy Stamp set and layered it over top a plain white snowflake die cut and added some grey and clear sequins to finish it off.
The second card is made from the leftovers of the painted watercolor snowflake die cuts plus an assortment of snowflakes die cut from vellum.  The Happy Holidays sentiment is also from the Peace Love Joy stamp set and is heat embossed with silver embossing powder.  To give it a little more oomph, I also silver heat embossed the edges of another piece of card stock and matted the sentiment with that.  I think it looks so LUXE somehow!
Next up are some gift tags made using the Peace Love Joy stamp set.  The set has a snowflake, a heart and a star, each with layers of decorative elements, and a coordinating set of dies.
I'm still away from my HOME-home where all my stash lives, and I didn't have any "To:" or "From:" stamps with me, so I just wrote it myself on the backs of each.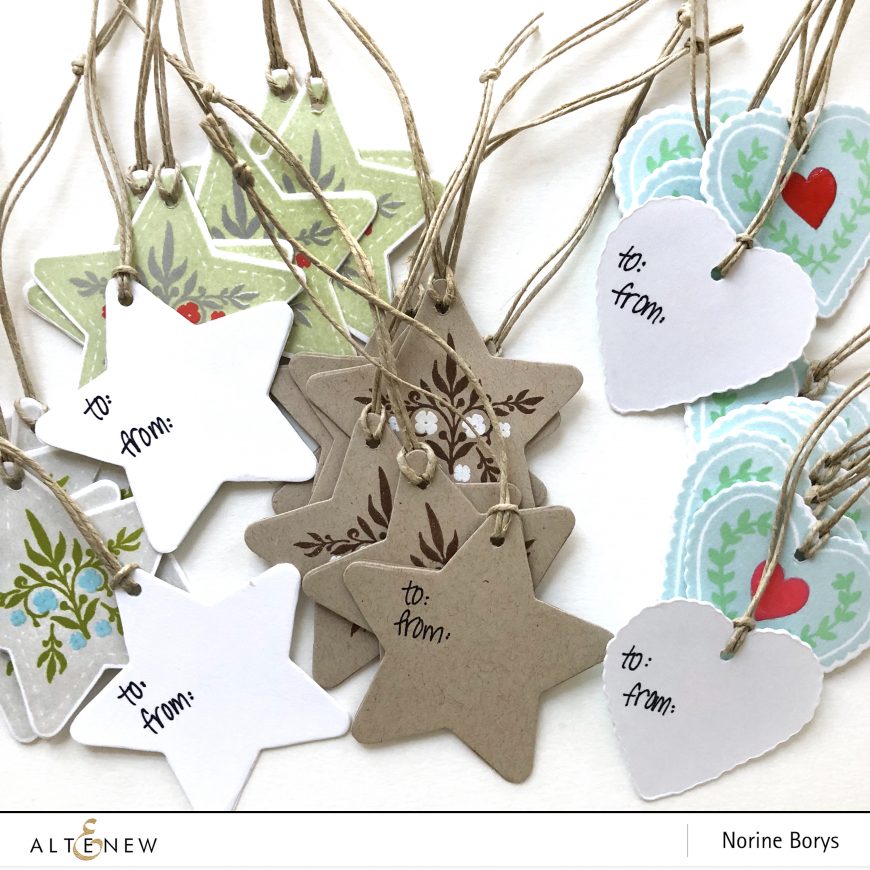 After stamping all the shapes with their layers, I die cut all the images and a second shape from plain card stock.  I layered a stamped shape with a plain shape, adhered them together and punched a hole at the top to tie a string through.  I did the double layer for some extra sturdiness.  Sturdiness says quality for me.
The kraft stars were just stamped with Espresso ink and embossing ink for the flowers, with white embossing powder.
The grey star tags above were created using Limestone, Olive and Sea Breeze inks and the green stars are made using Frayed Leaf, Silver Stone and Heart Beat inks.
The heart tags use a color combination of Sea Glass, Sweet Leaf and either Coral Berry or Pink Pearl, (I used both).  After letting the ink totally dry, die cutting the shapes and assembling the tags, I covered the heart centers with Glossy Accents and let that dry.
Your next stop on the hop is Enza Gudor.  Be sure to begin the hop at the Altenew Card blog where they are giving away 6 chances to win gift certificates of $50 each!  Yes, you read that right!  And besides that, I'm giving away a prize of one gift certificate for $30 to one lucky commentor here on my blog!  I'll post a winner by Oct 17.
Here is a complete list of the blog hop:
Altenew Card Blog
Jennifer McGuire
Lilith Eeckels
Agnieszka Malyszek
Zsoka Marko
May Sukyong Park
Virginia Lu
Kristina Pokazanieva
Sveta Fotinia
Lisa Fonseca
Altenew Scrapbook Blog
Zinia Redo
Svitlana Shayevich
Missy Whidden
Therese Calvird
Jessica Frost-Ballas
Reiko Tsuchida
Rubeena Ianigro
Sandra Dietrich
Nicole Picadura
TaeEun Yoo
Keeway Tsao
Kymona Tracey
Nathalie DeSousa
Norine Borys – You are here!
Enza Gudor
Lydia Evans
Vicky Papaioannou